Ahh pink, a color so good that an entire generation decided to claim its very own shade.
You've probably heard about millennial pink. It's been covered by just about every fashion publication going (including this very comprehensive timeline history of the shade). Whole restaurants have been created around the shade. Pantone dedicated a year to it. Drake dedicated a Hotline Bling to it. Take one look outside the window and everyone aged 15-35 is surely covered in it.
Here it is, world. Look at all that millennial pink and smell the $$.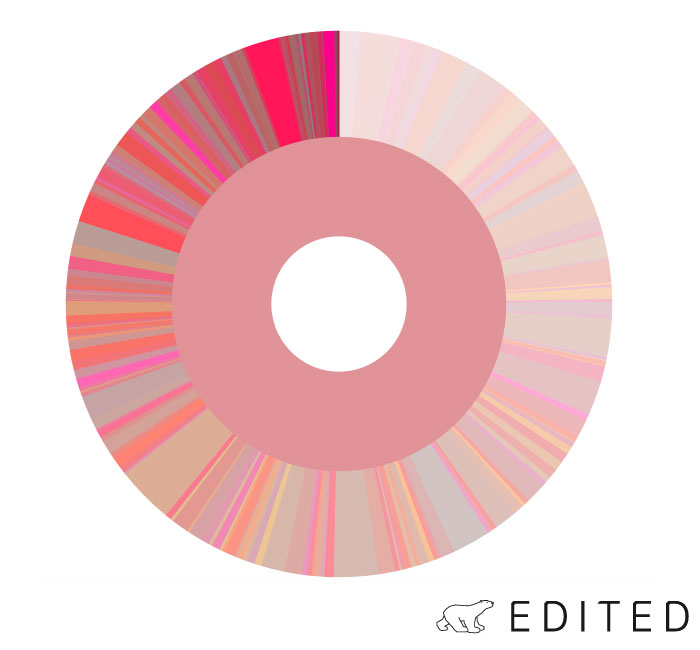 But before we go and dye everything 13-408, let's contextualize the data a little. The color wheel above only represents eight key millennial retailers' (including ASOS, Topshop, Urban Outfitters and Forever 21) worth of pink. Within those eight assortments, pink relates to a total of 5,725 products, or 6.2% of their current offering.

If we zoom out and look at all womenswear on the US market right now pink accounts for just 5% of the color mix.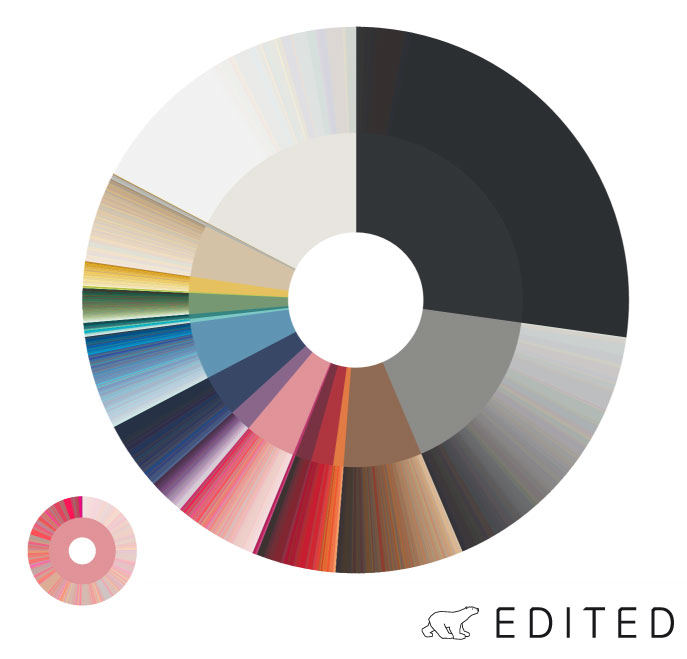 So to answer the question, is everything really going pink? No, obviously not. But even so, the trend has grown exponentially and we should definitely take a look at how.
True enough, new arrivals of pink are up in most places. They're up by 9.4% in the mass market (hello, millennials) as well as by 1% in the premium market. And increases in pink sellouts have followed, up 12.7% in mass and 16.5% in premium.
In luxury, which lead with pink last year (see: Prada and Dolce & Gabbana for Fall 2015), new arrivals of pink are down by 14% so far this year compared to last. Sell outs are also down, by 6%.
And we can see exactly how key millennial retailers have upped their investment in the shade here: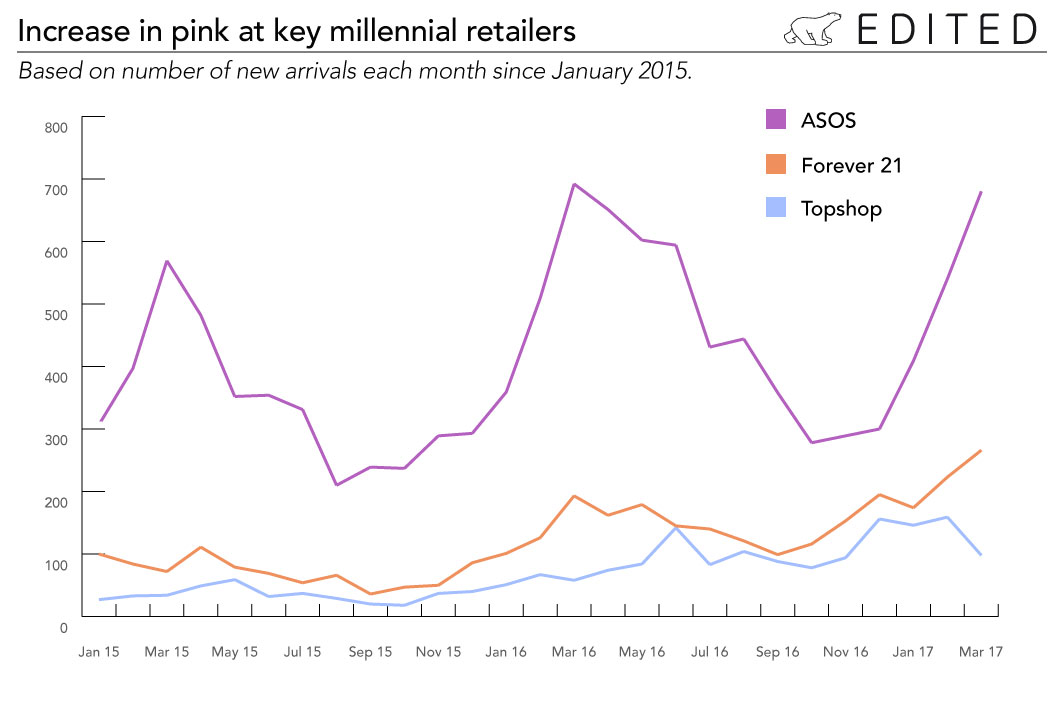 While the chart does show an upward trend, with the seasonality of the color shifting earlier into the season, it's not exactly a rip-roaring boost for the color.
In fact, let's look at the scale of its growth alongside some other buzzed-about product trends with identical timelines. Pegging it back to our original eight millennial retailers it looks like this.
Pink new arrivals are up 29% this year and sell outs up 30%.
Bardot tops and dresses are up 204% and sell outs up 46%.
Mules are up 51% and sell outs up 49%.
Cold-shouldered tops and dresses are up 170% with sell outs up 120%.
Velvet is up 267% and sell outs up 150%.
Bomber jackets arrivals are down 1.5% but sell outs up 165%.
Ruffled dresses are up 295% and sell outs up 365%.
While pink has seen an increase in new arrivals, it's not as notable as others like ruffled dresses or velvet. And even bomber jackets, which are declining in terms of newness are still out-selling the color pink.
So what is it? Do pink versions of the other trends sell better?
Well no, not exactly. The best pink performs is on cold-shouldered tops, where it comes in as the third best-selling color after black and white (you're never going to shift those guys). For the velvet trend, pink is its fourth best-selling shade. But on ruffled dresses and Bardot tops and dresses, pink is in sixth place behind colors like red and blue. For mules, pink comes in seventh and in bombers, tenth!
Hold up, how can millennial pink be everywhere and not be a gigantic trend?
You only have to do one idle scroll of Instagram to know that this is a trend. But that doesn't have to translate into soaring retail sales for the apparel business.
Why? Because pink is a merchandising trend. It's buzzy, it makes for great visuals, visuals which stand out when we see them because we've now all become so attuned to the trend's 'moment'. But it's not a trend we're seeing outstrip all other currently hot products.
Millennial pink is a merchandising trend, not a gigantic product trend.
A look at retailers' recent newsletter show how smartly they have reacted to the visual trend and pulled together edits featuring their pink wares.
If you're wondering how to win from this strawberry milk-colored moment, follow suit and merchandise your pink wears to the front of consumer's minds. But don't go overboard in placing orders for items you don't yet have on hand.
We'll be watching to see if all the press millennial pink has gotten lately will translate into increased sales in non-millennial segments of the market.
And if luxury leads the pack, even influencing millennial shoppers, which shades are luxury brands increasing on now, that will trickle through to the mass market next?
Well, black is up so far this year – by 3% from one year ago. But that doesn't make for a great color story, so why not go after green – the shade with the next closest growth right now and also backed by Saint Laurent, Hermès, Balenciaga and Calvin Klein for Fall 2017.