What brand sells clothes also worn by Kylie Jenner and Cardi B for under $50? We reveal the strategy of 2018's most Googled brand, honing in on its diverse sizing, affordable prices, and celebrity collaborations.
It makes sense to start with Fashion Nova's vast amount of product launched online each week. While more fashion brands are making strides to reduce their impact on our climate, one in seven women still considers it a fashion faux-pas to be photographed in an outfit twice, highlighting the desire for constant newness.
Enter Fashion Nova, dropping over 600 new styles per week. Is there still a demand for so much newness so quickly? We use EDITED's retail data platform to find out.
There's fast, then there's Fashion Nova fast
Fashion Nova CEO, Richard Saghian, claims his brand has "turned fast fashion into ultra-fast fashion." According to a recent interview, the design and buying team at Fashion Nova work with more than 1,000 manufacturers, mainly partnering with LA-based companies. These local manufacturers whip up samples in approximately 24 hours from the original concept, which are then photograph-ready for the in-house models within another 24 hours. In addition to the amount of newness the brand churns out each week, the depth of the assortment is pushed by releasing multiple colors and print options for each style.
And the numbers speak for themselves, as the sheer volume of products dropped each week at Fashion Nova outstrips its competitors.
Using EDITED data we analyzed Fashion Nova alongside other fast fashion retailers like Boohoo and Forever 21. The data showed that not only does Fashion Nova currently have the most products stocked in the US market, they also have very healthy performance metrics. Fashion Nova currently sits at the highest replenishment rate: 48% compared to Boohoo at 37% and Forever 21 at 14%. They also have the lowest discount rate: 38% compared to 81% and 51% at Boohoo and Forever 21 respectively.
These statistics show that, even at a full price, there is still a demand for high volume, 'ultra-fast' fashion.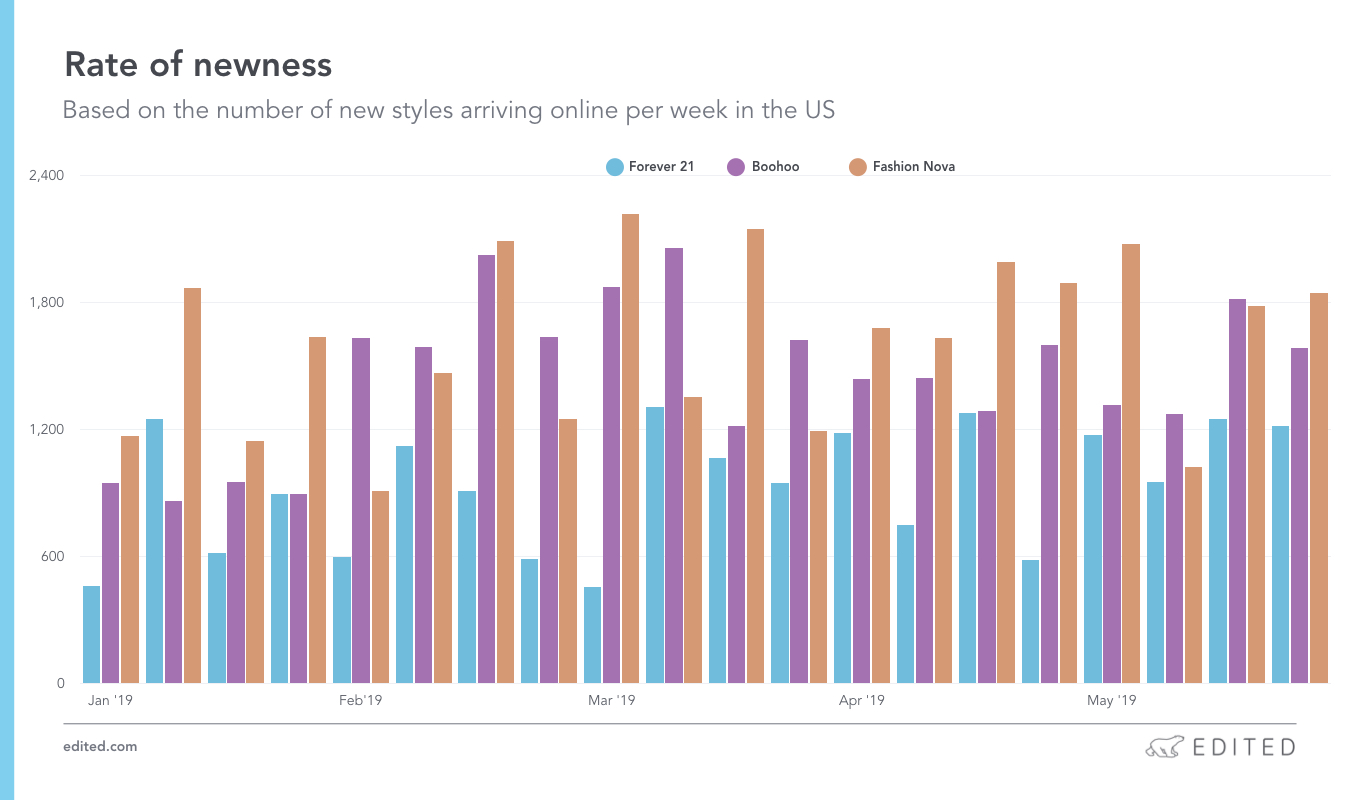 Want to compare the speed-to-market of your competitors? Learn more here.
Affordable pricing strategy
In addition to the high rate of product launches, Fashion Nova attracts consumers with an affordable pricing strategy as, according to Saghian, "overpriced fashion is dead." This strategy has remained consistent over the past year.
95% of the product currently available online is priced between $0-$50, an incentive for customers to shop at full price. With a similar pricing structure to Forever 21 and Boohoo, Fashion Nova comes in cheaper for jeans and crop tops, which together make up 11% of available product.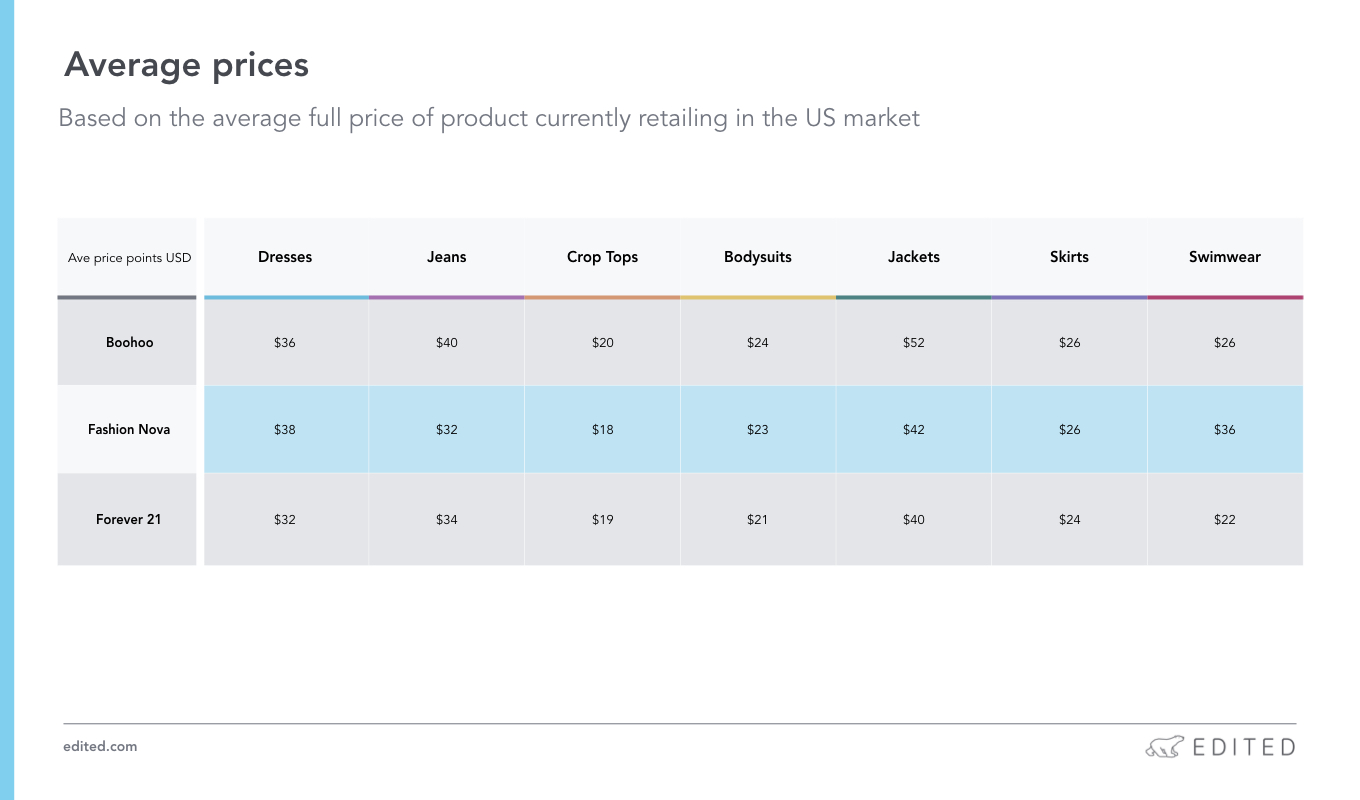 Size inclusivity
Body shape diversity is at the core of the business. With its foundation built on stretch jeans designed to fit and flatter women of all sizes. In 2017, Fashion Nova Curve was launched to cater to extended sizes without creating a separate product mix. This allows customers to shop the same romper in an XS to a 3X, something that not all retailers have been willing to offer.
Described as "the fastest growing plus size brand in the world," Fashion Nova Curve makes up 39% of the womenswear business. This puts it ahead of Boohoo and Forever 21, where plus apparel makes up 12% and 10% respectively. This category continues to gain momentum as new Fashion Nova Curve styles have increased by 35% in the past three months, compared to three months prior.
Extended sizing for menswear has traditionally been ignored as a category within retail. An area Fashion Nova is also targeting by providing sizes up to a 4X in selected products.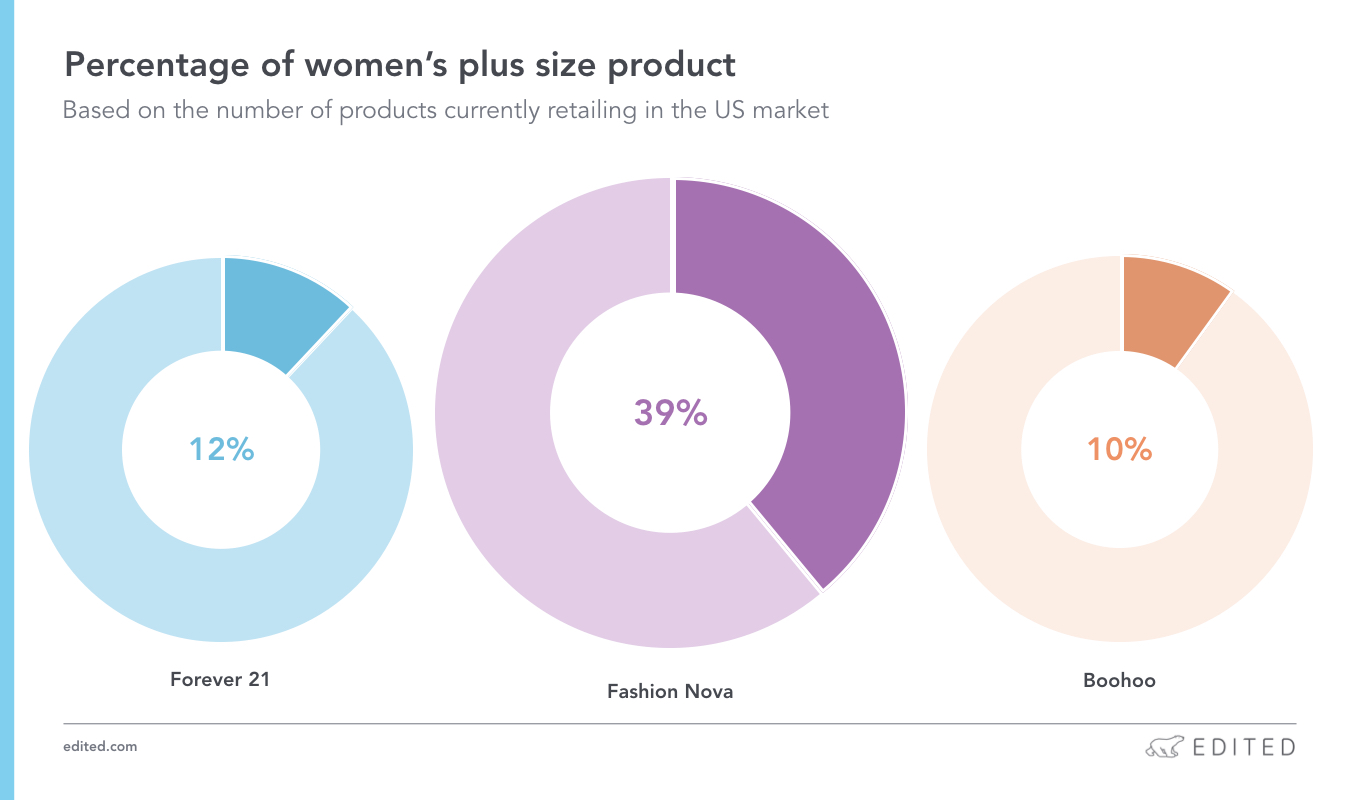 Influencer power
Although "Instagram brands," flood the market, Fashion Nova has the edge over the competition by heavily investing in influencer marketing. A relatively new player, the Californian-based company recorded an earned market value (EMV) in 2018 of over $125 million. To add some additional context, this is 3x higher than Gucci's current EMV.
Showing no signs of slowing down, Fashion Nova continuously puts its efforts into expanding its Instagram presence. They post new content every 30 minutes on the @fashionnova Instagram, which currently boasts 15.6m followers. To target specific customers, separate accounts were built to promote menswear (@fashionnovamen, 1.4m followers). And the plus range (@fashionnovacurve, 2.7m followers).
Using EDITED's visual merchandising feature, we tracked at least one email newsletter sent per day compared to Zara, H&M and Forever 21 who send 3-4 per week on average.
Influencer marketing contributes to Fashion Nova's success. Collaborative collections with high profile celebrities such as Cardi B has legitimized the brand even further. The most recent Cardi B range, launched in May 2019, was reported to have made $1m in a day. Using EDITED, we determined this collection sold out of the majority SKUs on an average of 9 days.
While working with mega-celebrities has apparent advantages, fashion brands are turning to nano-influencers to promote their product. According to the State of Influencer Marketing 2019: Benchmark Report, nano-influencers (those with less than 1,000 followers) have an engagement rate of 7.2% on Instagram. Much higher when compared to influencers with over 100,000 followers, who's engagement rate is 1.1%. Fashion Nova is ticking these boxes by tapping into its customers as influencers, re-gramming those posting with #novababe.
As the fashion industry becomes more eco-conscious, "fast" isn't the buzzword it used to be. However, Fashion Nova is proof that there is still consumer demand for high volume, low priced product… provided it has the influencer tick of approval.
Back up your commercial decisions with the power of data. Learn more here. Get in touch to find out how.
EDITED Users: Want to know how the menswear plus size market is growing? Log in to read the full report.