Is Loungewear Still Relevant?
As consumer demand wanes, new online arrivals are following suit, and have decreased 16% YoY in the period July 1st to August 15th. Re-focus your loungewear assortments on elevated and premium options, including both knitted and French Terry fabrics, to maximize sales on styles that transition from work to weekend.
Cross-merchandise lounge styles with workwear and tailoring stories to demonstrate its versatility and avoid hefty markdowns. With first discount depths sitting at a three-year high, competition on price will be fierce and will hold negative margin implications.

Email mentions of loungewear fell 58% YoY in July 2022 vs. the same month in 2021.

Rather than pushing category edits, repurpose communications to focus on subculture strategies that bolster lounge-friendly trends, such as Skater and Preppy themes.
For your 2023 lounge offering, explore alternaive fabrics to cotton, such as linen and cashmere, as not only will these offset rising cotton prices by commanding a higher price point, but will also differentiate your product assortment from basic loungewear staples.
Swap out core black and white shades for cobalt blue in 2023 as bold colors makes their triumphant return. The hue should be considered for plain hoodies and boxy tees. Neutrals also jumped from 7% in 2021 to 13% this year and make for the perfect addition to workwear edits, including fitted knit T-shirts and smart joggers.
Arrivals are Decreasing YoY
Loungewear reached peak demand post-lockdown and the days of comfort dressing, leading to retailers pulling back on the number of new loungewear options being introduced to the market. Looking across T-shirts, hoodies, sweatshirts and sweatpants, total new in products decreased 16% YoY in the period July 1st to August 15th. The most significant reduction was in T-shirts, which plummeted 18% vs. 2021. Even within lounge products landing for Fall 2022, top words used to describe arrivals point toward more premium details. Despite a reduction in products, terms like "knit," "zip" and "terry" have all observed increases year-on-year.
Men's Loungewear Arrivals 2020 – 2022
*Hover over the chart for additional data
Knit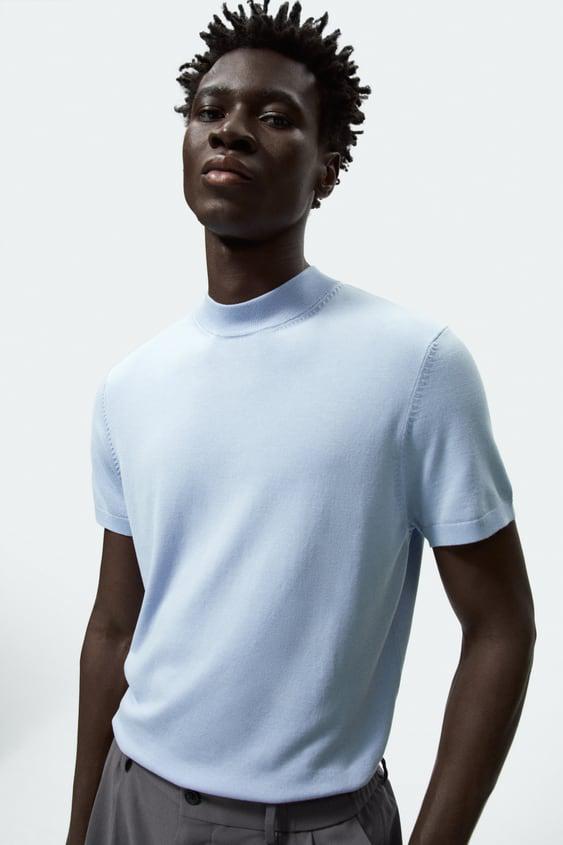 HIGH NECK KNIT T-SHIRT
Zara at Zara (UK)
Zip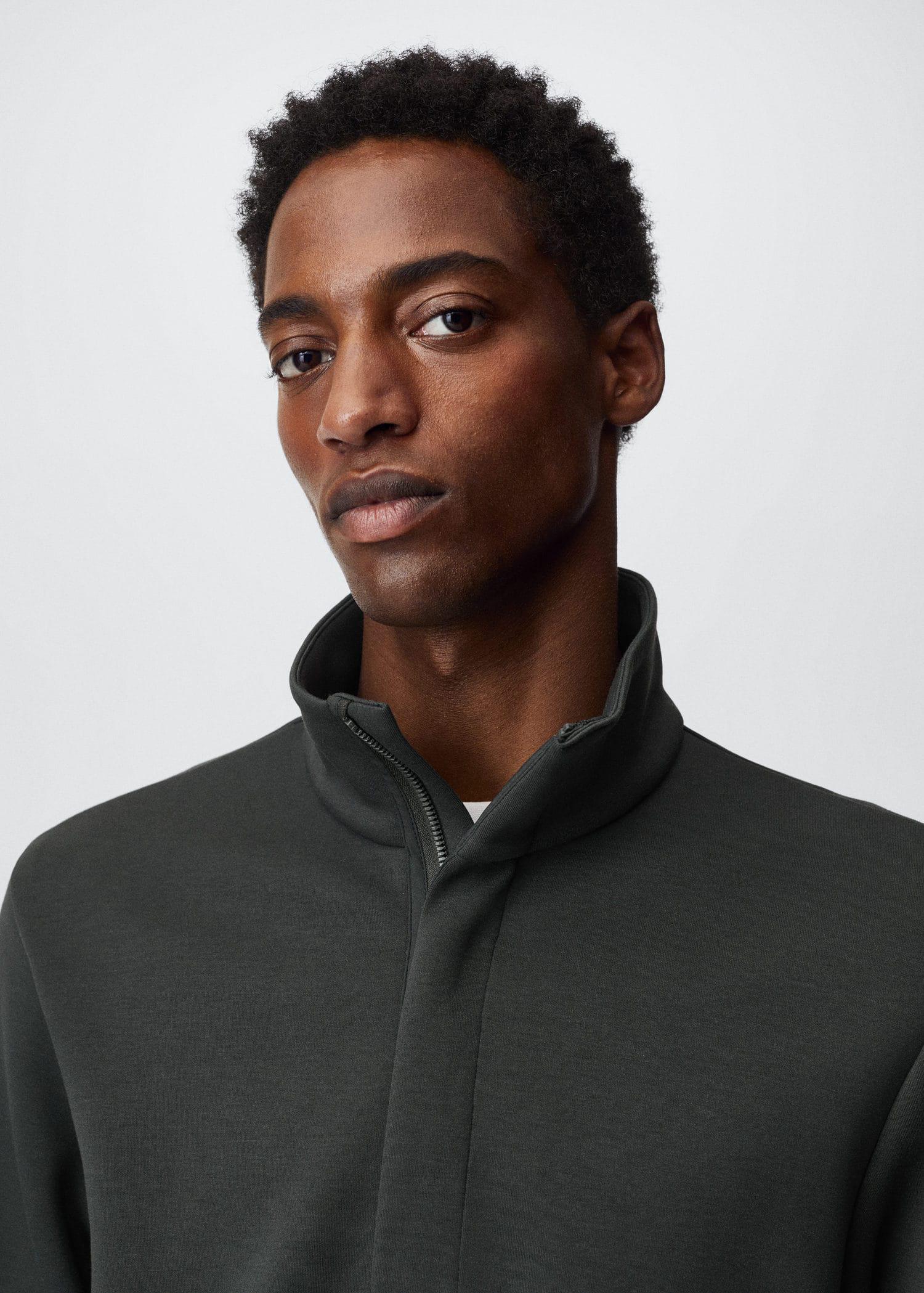 Breathable zip-neck sweatshirt
Mango at Mango (UK)
Terry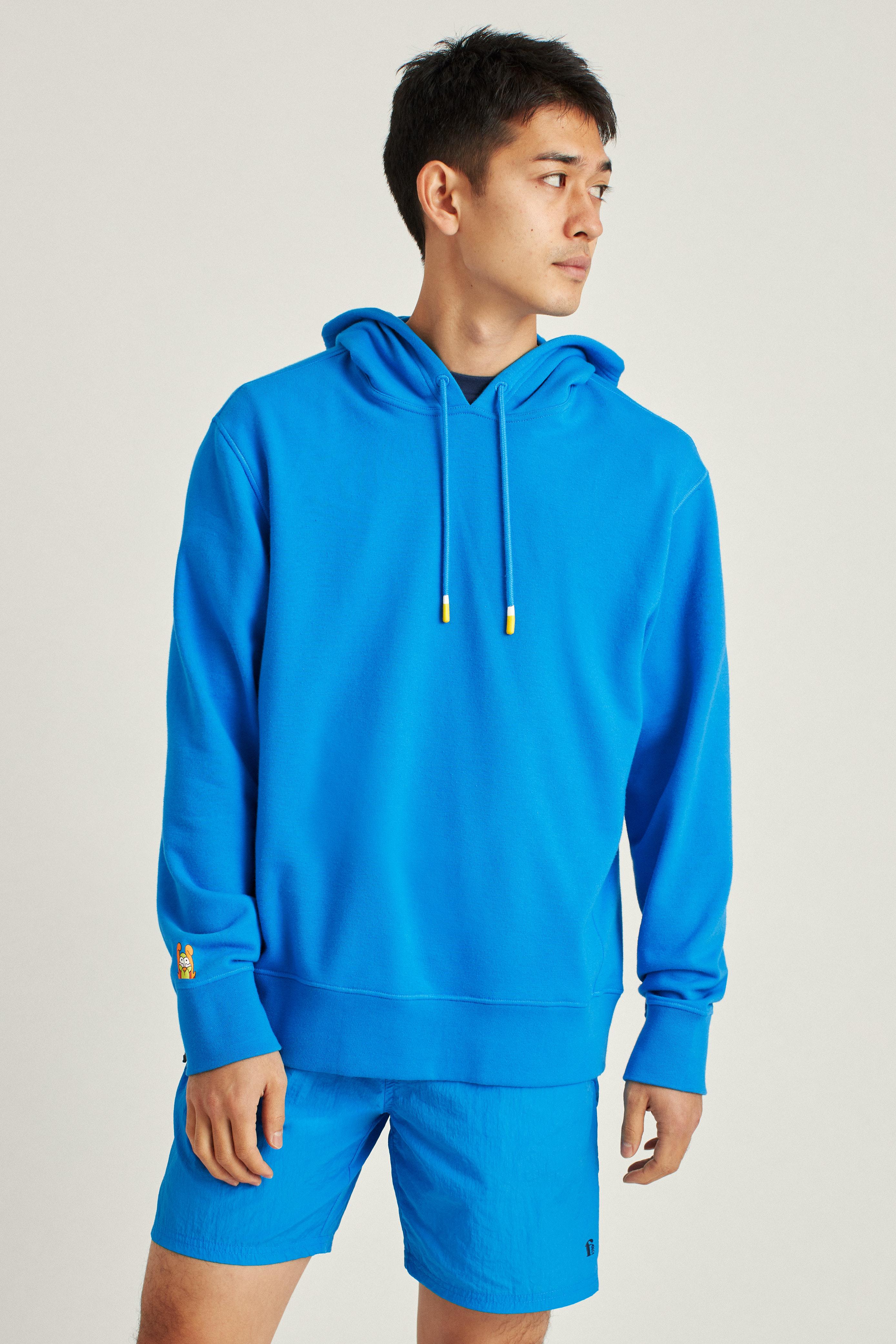 French Terry Pullover Hoodie
Bonobos at Bonobos (US)
First Discounts Hit a Three-Year High
On loungewear products, the average advertised first discount depth is the deepest it's been in the past three years (2020 – 2022), sitting at 53% versus 48% in the same period last year. With a resurgence in tailored dressing, customers are mixing and matching lounge products with smarter options like polo shirts and bomber jackets. This effect can be seen in hoodies and sweatshirts, both of which held the highest first discount depths at 57% and 59% off, respectively. However, strategic sales tactics have helped retailers clear through inventory. Hoodies experienced the fewest number of options in stock across the analyzed period compared to 2021 and 2020, but commanded the lowest advertised price – a sign of oversaturation for the category two years prior.
Loungewear Discount Depths YoY
*Hover over the charts for additional data

Tailoring Discount Depths YoY
In comparison, retailers are discounting tailoring less this year as the fall season kicks off, compared to previous years – another indication that customers are such as suiting, button-down shirts and polos sits at 49% vs. an average of 58% just two years ago. Retailers are also reducing the number of tailoring products taken to discount. In 2022, 44% fewer tailoring options were reduced compared to 2021, and 33% fewer than 2020.
Email Messages Have Shifted
Looking at retailer emails, it's clear that the conversation has shifted away from comfort clothing. In July 2022, mentions of loungewear decreased 58% YoY across a selection of mass retailers analyzed. While the category is sure to ramp back up in promotions as the weather gets colder, expect a reduction this year compared to past years as well as an increase in partywear and going out edits. Tennis and Y2K themes are two key subcultures to note as rising promotional stories.
In messaging mentioning loungewear from July 1st, newness was the primary theme in subject lines, ranging from "New Pieces That Embody Vacation" to "New Season Knits," yet the styles featured are catered more toward a customer on-the-go, and are less focused on in-home lounging. Vince positioned its lounge edit for "upcoming travel and in-office layers," while PAIGE promoted "luxe loungewear." Everlane tagged its hoodies and sweatpants as "loungewear you'll love to wear outside," and Marine Layer highlighted the category to wear for the in-between weather.
Cotton Prices are Squeezing Margins
Cotton prices in the US reached a ten-year high in April 20221Historical Cotton Data 2022 – Trading Economics hitting $1.53 per pound. Contributing factors to the increase include weather-related impacts, soaring energy prices and an increase in demand post-pandemic. However, a rise in the cost of raw materials undoubtedly puts a strain on retailers' margins if the price to the consumer does not increase in tandem. In the case of loungewear, the average full price of products arriving online is down across the board from 2020 to 2022, indicating less profit for brands. In the US, sweatpants are -18% in average full price vs. 2020, falling from $56.77 to $46.36. Hoodies are experiencing a similar phenomenon, with the average retail price on new arrivals down to $49.84 compared to $55.84 just two years ago.
$1.22 (+27%)
US cotton price Aug '22 vs. '20
$49.84 (-11%)
US average full price of new hoodies Jul 1 – Aug 15, 2022 vs. 2020
Design future loungewear styles with the rising cotton costs in mind, turning to alternative fabrics and categories. An influx in communications talking about recycled and re-purposed fabric has been observed at COS and Outdoor Voices. Tapping into materials such as linen and wool also takes the pressure off jersey-based styles and puts the focus on shirting and tailoring for smart edits and back-to-work assortments. Invest in cashmere and more technical fabric to elevate luxe loungewear edits and justify a premium price point to win back margin for your business.
What Lounge Trends are Retailers Investing In?
More Neutrals and Colors
Breaking down the menswear color mix, retailers are reducing the number of core shades and are instead bringing in more brown and neutral palettes. Black, white and grey made up 51% of the color mix in 2020 compared to 41% in 2022. Meanwhile, neutrals jumped from 7% to 13% of arrivals, and browns from 4% to 6% in the same time period.

Color is also in favor across men's loungewear arrivals, specifically blues and oranges. Blue has accounted for 9% of arrivals already this fall, up from 4% in 2020. Retailers should channel investment in Cobalt Blue, established by the runway as the next big shade for 2023. Hoodies and T-shirts should be the first focus, with cobalt iterations selling out at Zara and H&M.
Patterns Over Plain
A deviation from solids saw retailers investing more into prints, holding the ability to dress up an outfit and feed into rising themes. Patterned arrivals swelled from 33% of the mix in 2020 to 38% in 2022. Excluding graphics, stripes held the most interest at 12% of patterns, followed by checks and abstract at 5% and 4%, respectively. Buy into baggy striped tees and hoodies for Skater merchandising stories. Checked joggers provide the perfect smart casual staple, ideal for year-round workwear and lounge edits.
Stripes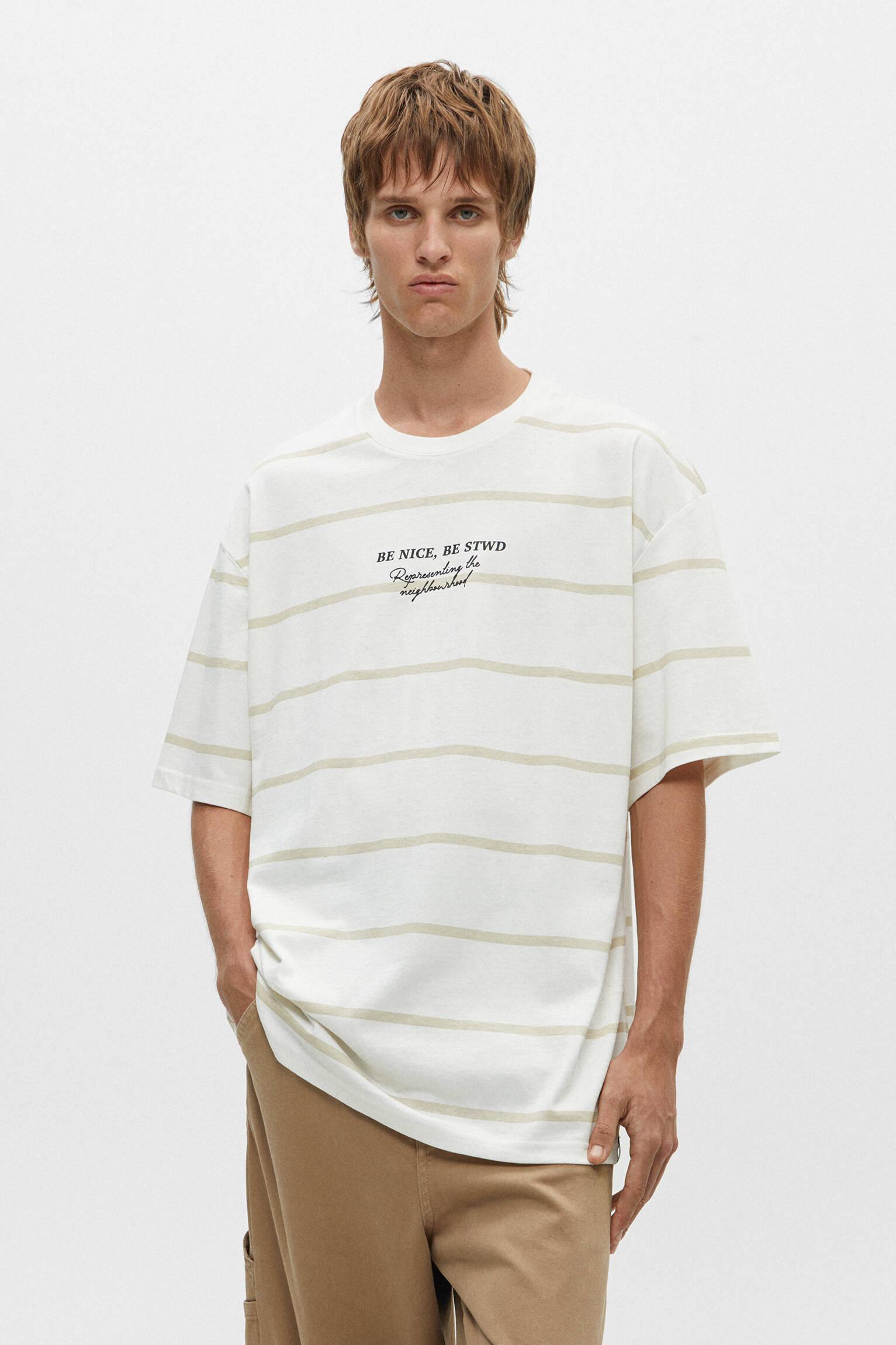 Striped T-shirt with slogan
Pull&Bear at Pull&Bear (UK)
Checks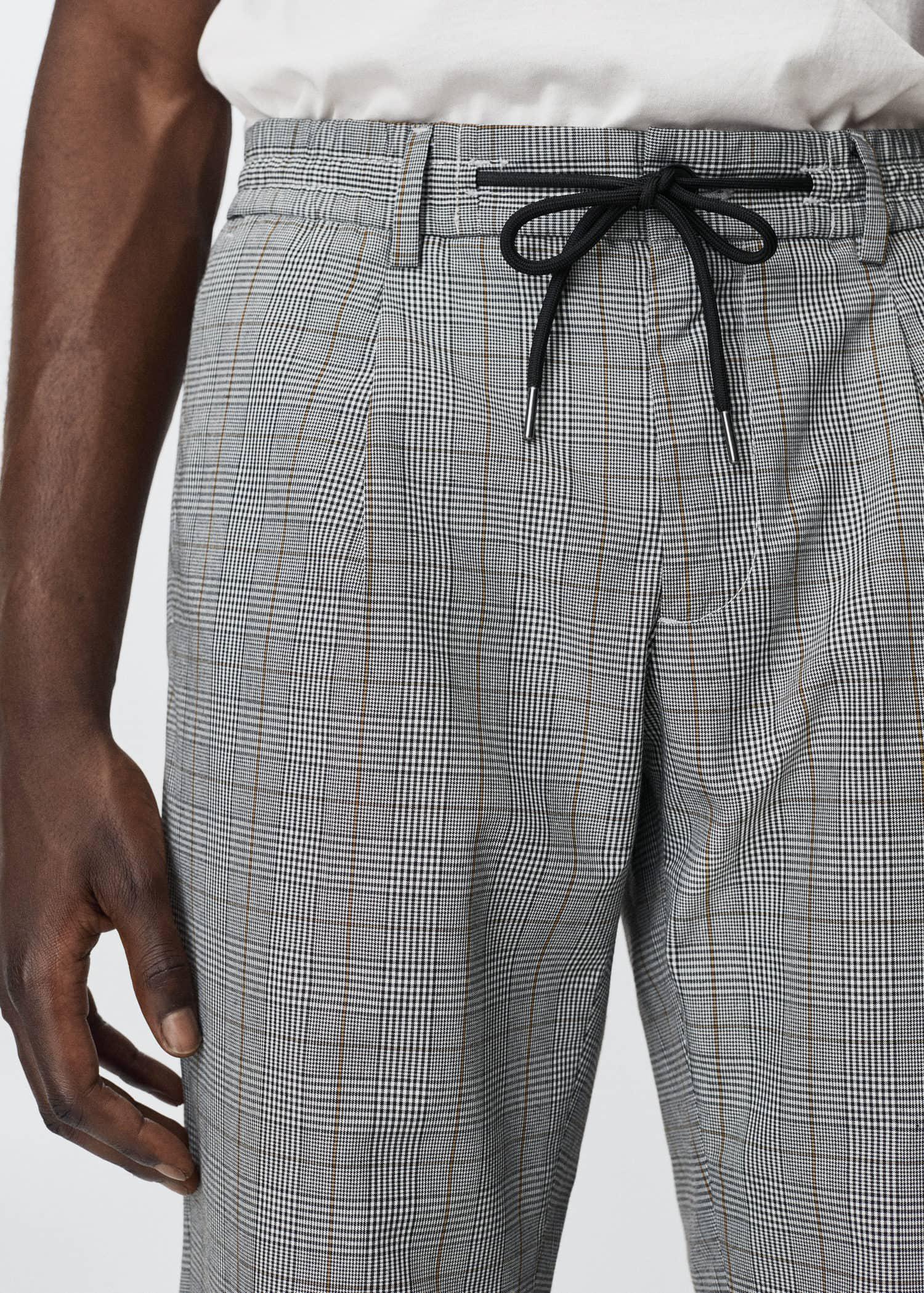 Checked jogger pants
Mango at Mango (UK)
Abstract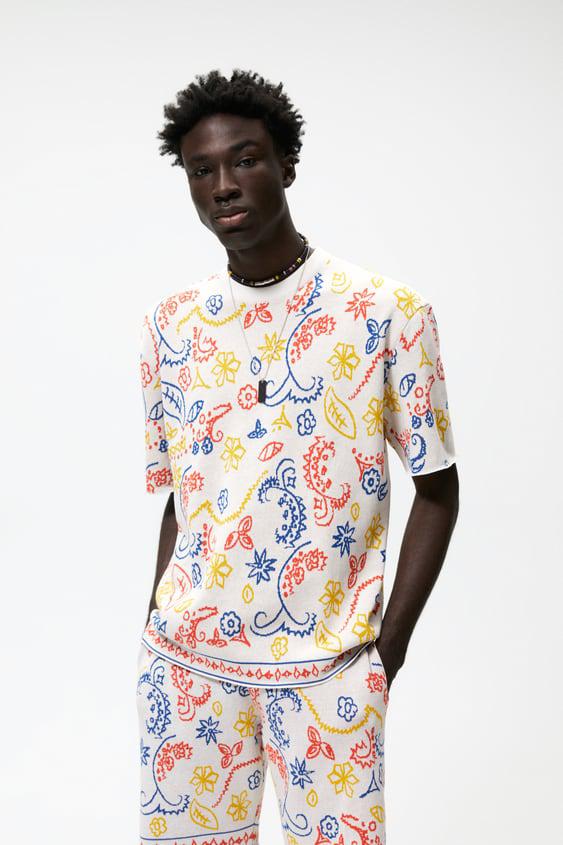 ABSTRACT JACQUARD KNIT T-SHIRT
Zara at Zara (UK)
Embroidery and Knits
Looking at top word usage across new arrivals so far for Fall 2022, the term "embroidered" shot up by 257% YoY in product names. Basic T-shirt and hoodie silhouettes were updated with small contrast graphics stitched into the chest. Embroidered logos and slogans are also a step up from screen-printed designs, making a product feel more premium and elevating its price point.

Meanwhile, the terms "knit" and "knitted" have also seen meaningful growth, especially in T-shirts, as the workwear wardrobe continues to lean to being more casual. With investment primarily focused on T-shirts at the moment, consider looking to smart joggers and polo shirts for your next product update. Preppier trends, like long-sleeve polos and sweater vests, also make for ideal comfort categories projected to be in demand for 2023.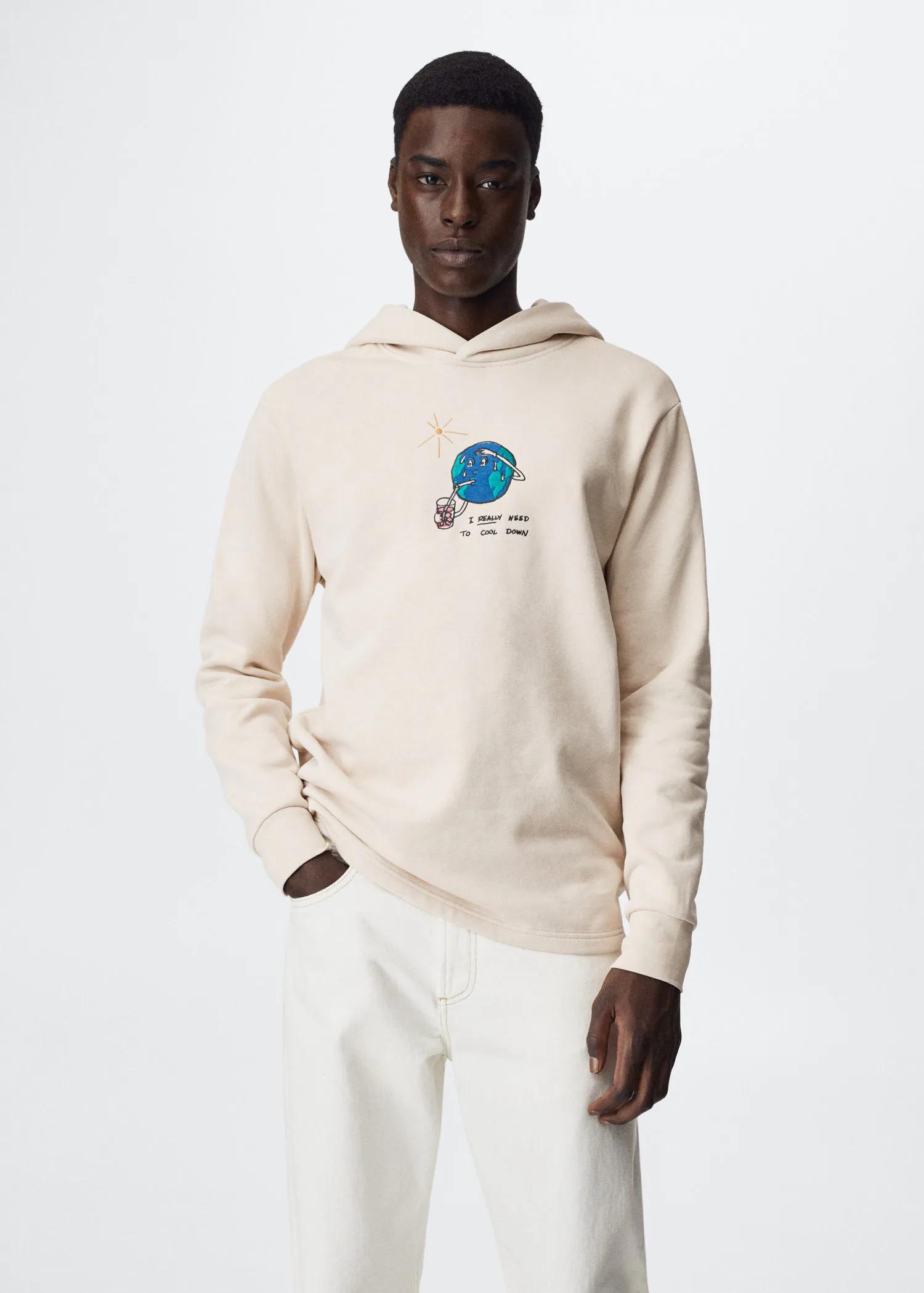 Embroidered cotton sweatshirt
Mango at Mango (UK)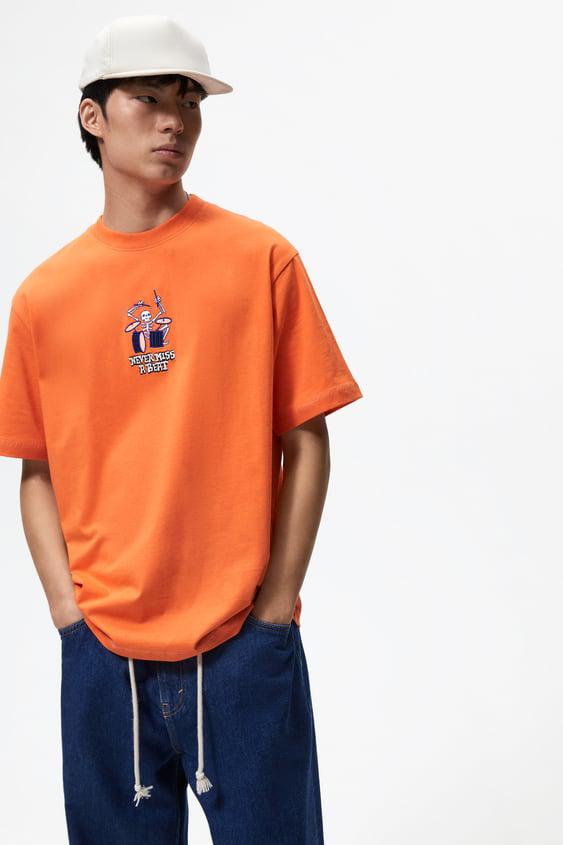 EMBROIDERED TOP
Zara at Zara (UK)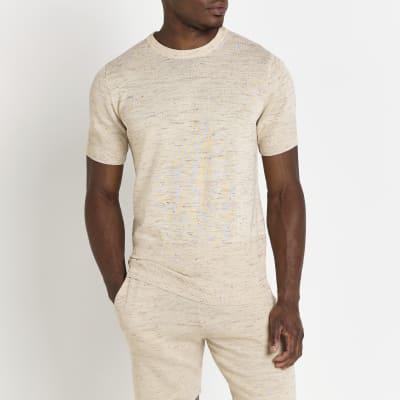 Brown slim fit Knitted T-shirt
SKU name as stated on retailer's website may not match colour displayed in image.
River Island at River Island (UK)
Appendix
Date analysis
Arrivals analyze products new in Jul 1 – Aug 15, 2020 – 2022, unless stated otherwise
Discounts analyze products first discounted Jul 1 – Aug 15, 2022, 2021, 2020
Visual Merchandising analyzes emails sent Jul 1, 2021 – Aug 15, 2022

Loungewear is defined as T-shirts, hoodies, sweatshirts and sweatpants
Tailoring is defined as blazers, suit jackets, suit trousers, polos and button-down shirts

US & UK retailers considered for chart & data analysis
Abercrombie & Fitch, Bonobos, Express, Gap, H&M, Mango, Pull&Bear, River Island, UNIQLO, Zara