With three months of retailing under its belt, how is the womenswear industry faring in 2016? The verdict is in.
We've looked at global data from Q1 womenswear (and menswear, here) to understand what's worked best. How do these color and product trends, pricing patterns and brands line up with to your own Q1 performance?
Q1's Busiest Retailers and Top Brands
Compared to the busy holiday season that was Q4 2015, new arrivals were down 8% in Q1 2016. Despite that, Yoox, La Redoute and House of Fraser kept the same pecking order as the retailers who introduced the most new products over the three month period. But there were still drops among them, Yoox decreased by 23% and La Redoute by 9%. Meanwhile, House of Fraser actually grew by 5%.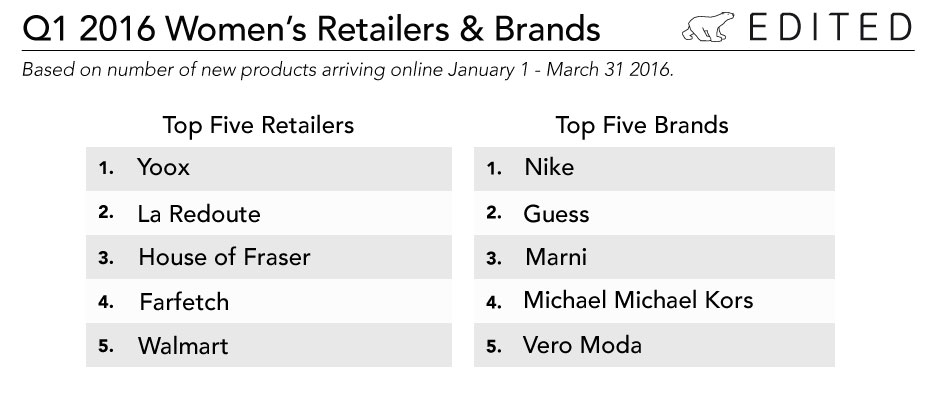 Retailers that noticeably scaled back arrivals for Q1 include Boohoo, which reduced by 36% from Q4, H&M, down 28% and Topshop down 26%. Zara, which doesn't follow the holiday calendar grew Q1 new arrivals by 54% compared to Q4 – a great opportunity for the retailer, accelerating when competitors are taking a breather.
The list of most-stocked brands was topped by Nike, as it was in Q4 2015. Its online representation grew by 9.5% from Q4. Guess climbed three places to second, Michael Michael Kors slid down from second to fourth, and Vero Moda fell two spots to fifth. Marni meanwhile increased products on the market by 21% taking it from eleventh to third.
It's interesting to note that compared to Q1 2015, this quarter was also down by 8%, a certain sign of retail caution.
Year-on-Year Pricing Up
The median price on new arrivals in Q1 2016 is up 10.3% from Q1 2015 to $216.41. However, it's fallen by 3.1% from Q4 2015. With retailers having elected to scale back on rate of newness this quarter, it also reduced discounting. Just 16% of the new product arriving in Q1 was discounted during the quarter. In 2015, 35% of new arrivals were discounted in-season. That means in Q1 retailers did a little less, but it seems to have been slightly more considered, and for that it resonated more.
Color Shifts For the New Season
In with the Spring season, out with the drab blacks and greys. Numbers of new arrivals in those two shades fell by 23% and 14% respectively compared to Q4. Another notable drop was in maroon, down 44% compared to Q4 when it was the dominant color story. This latest drop is likely to mark an end to the trend. Whites, a dominant Spring 2016 trend, were up by 18% but it is blues which have grown the most: mid tones increased by 25% and navies by 11%.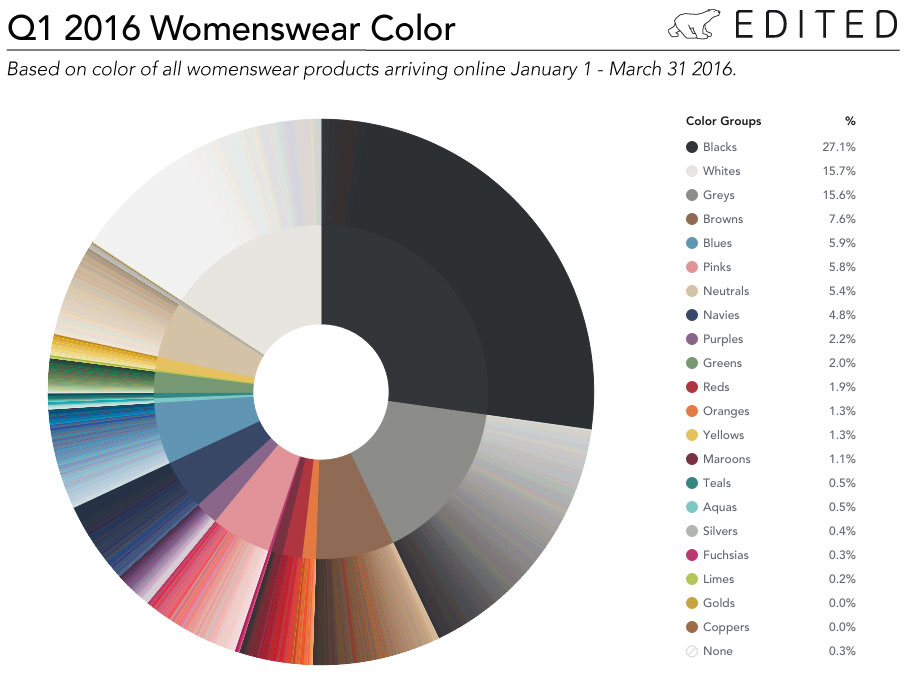 Bottoms Fell
An assortment analysis of new products arriving in Q1 2016 compared to Q1 2015 shows that the bottoms category was demoted for early Spring this year, falling from second most stocked category to third. Product numbers were down by a noticeable 29%, which saw the category lose 4% market share to other categories. Filling in that vacant 4% was beauty (up 1%), tops (up 1% and leading the season) and accessories (up 2%). Despite bottoms falling after a few seasons where separates have dominated, dresses haven't yet upped the anti, increasing their market share by only 0.2%.
In womenswear Q1, the bottoms category was demoted with product numbers dropping 29%.
The top three categories for full-priced sell outs during Q1 were tops, accessories and dresses. Below we'll break down top trends within each of those categories.
Top Tops
Cold shoulder tops, a direct runway trend, were the bestselling style of top in Q1, specifically in knitwear styles. With the warmer weather of Q2 on the way, we expect this trend to carry on right the way through summer featuring on lightweight wovens, as well as jersey. Very simple knitwear shapes in neutrals, greys and blush tones also sold very well at a variety of price points for retailers like Zara, Marks and Spencer and Uniqlo and brands like Tiger of Sweden and Loewe.
In shirting, striped shirts ruled the roost, working for labels like Victoria Victoria Beckham through to Missguided and New Look. Details like the print rotated on pockets worked well, and over-sized or 'boyfriend' shapes were popular. Cold-shouldered striped shirts also moved fast: double the trend!
In t-shirts, Adidas branded tees sold fast, with 99 new SKUs introduced for Q1 selling out in Q1. ASOS and Urban Outfitters did well with the Adidas tees which took several forms, from retro 3-stripe tees to floral prints featuring the Adidas logo.
Winning Accessories
Fendi's fur creature accessories sold fast in Q1 on bags, belts and bracelets, as well as in the footwear category. But having a wider impact on the market, and no doubt better margins for retailers, were packs, or lots, of rings. The trend for layering up various rings is now being felt market-wide, including at ASOS, New Look and Zalando which sold through packs of five, six and twelve rings.
Triumphant Dresses
Dress trends were clear cut for Q1, three dominant styles stood out from the pack. Most successful were dresses featuring cold shoulders. It's a trend that stretched across price points, with sell outs on Q1 new arrivals from Missguided, ASOS, New Look, Derek Lam 10 Crosby and many more. Cold shoulders worked best on boldly colored dresses: reds, blacks, navies. As the temperatures warm into Spring, we'll expect the style to continue selling well as some of the lighter shades come through.
Navy colored evening wear also sold very well, in maxi lengths, with lace and in skater fits. John Lewis, Next, New Look, Lipsy and ASOS all benefited from this trend.
The final dress trend to have soared in Q1 was the shirt dress which has transseasonal super-powers. Lightweight chambray (All Saints, Abercrombie & Fitch, Target), pencil-fits (Missguided), plain black (Oasis, Tiger of Sweden) and plain white (Zara, Farfetch, ASOS) all performed well. We expect the peasant dress and frill details to gear up in the next two months.
Keep scrolling for our Q1 menswear round-up! EDITED users, log in now to access category-specific Q1 reporting in men's, women's and childrenswear.