While you're tending to your barbecue this Independence Day, spare a thought for retailers. For them, the only thing getting a good grilling is the sales figures on July 5.
Always a competitive time in the calendar, this season things are more critical than ever. US retail, plagued by store closures, bankruptcies and the looming Amazon Prime Day, needs this mid-point in the year to make up for lost ground.
How much ground are we talking? Well, for starters, a 15.5% increase in discounted products this year, so far.
This year, discounts are already up 15.5% on last year.
With that uptick in reductions, what will happen on summer's biggest discounting day? July 4 promos are a third of a size of discounting mega-event, Black Friday. That means they're still pretty huge.
In fact, more products receive their first discount in the week of July 4 than in the first week of January.
So what can retailers do in the coming two weeks to secure the path ahead?
Discounting isn't the only solution
Not all will resort to discounting. Last year, Bergdorf Goodman, Net-a-Porter and Reformation didn't discount for July 4 (but did for Black Friday).
Instead, we've seen retailers pull together patriotic-looking assortments in the build-up to July 4, notably Topshop and Madewell.
Others remain steadfastly full price throughout. In 2016, newsletters on July 4 from Revolve, Bonobos and Office all pointed toward full price stock.
The discounting runs deep
But most retailers do discount, and data shows this year there's even more discounting around. In fact, so far this year there has been a 77% increase in the number of products receiving a 50% or greater reduction on first discount.
Based on a sample of 111 US retailers, that's an average of 475 more products per retailer, that have had prices cut dramatically.
What's interesting about July 4 discounting is that the majority of product is already reduced but gets further reductions on the weekend of, or day of, the holiday. So many retailers are using this event to clear out their sale section and get rid of super-seasonal product that didn't sell as well initially.
In comparison, Black Friday discounting is more temporal – discounts kick in on the day itself, to maximise the time they sit at full price during gifting season. In the chart below, you can see the drop in first discounts during the week of July 4 while retailers layer additional discounts on their sale stock. Meanwhile, Black Friday soars during the holiday week.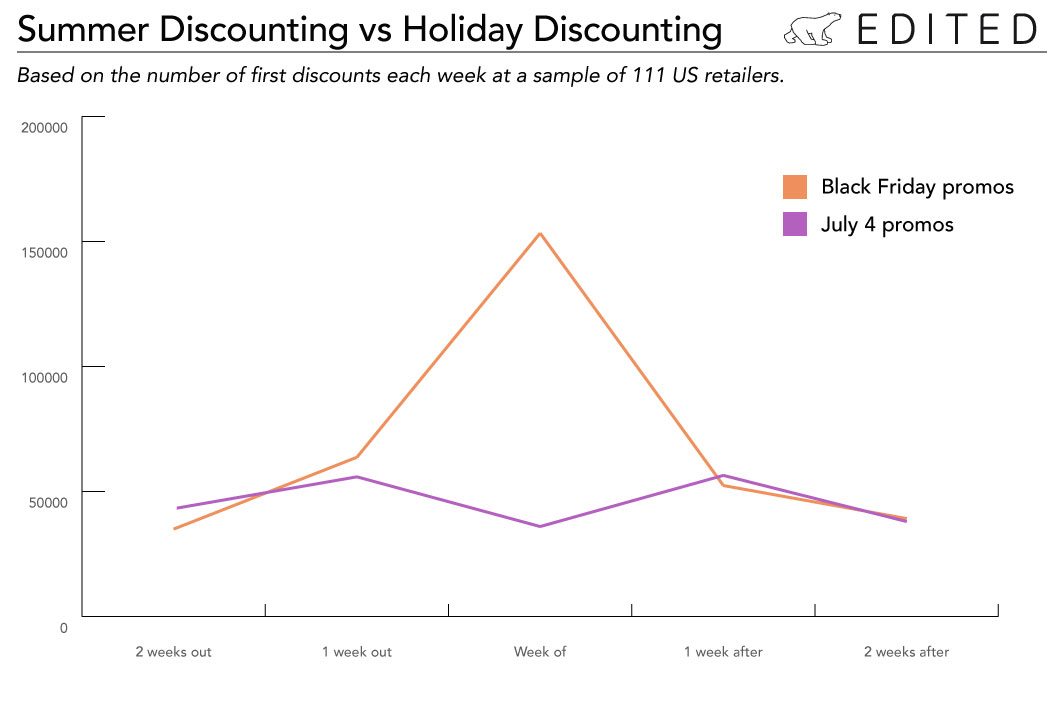 Three discounting strategies
There are three main tactics around July 4 discounting that we expect to see repeated this year:
Email codes that take a further discount from already reduced stock. Last year that included an extra 50% off sale stock at Banana Republic, an extra 30% at Ralph Lauren and an extra 25% at Michael Kors.
Site-wide reductions for the day. In 2016, that included 50% off site-wide at Loft, 40% off at Tommy Hilfiger and 15% off at ASOS.
Announcing a selection of discounted items for the holiday. Last year that included $4 selections from Forever 21 and H&M as well as sale sections at Alice + Olivia and Armani Exchange.
What to clear
The dress and tops categories are currently in need of most help. Both are rife with discounting at the retailers we sampled, and need to have stagnant trends cleared out.
Specifically, in the dress category, retailers should be looking to clear their cami/slip dresses. The style won't carry through to fall and 70% of those on the market are discounted, by an average of 54% off. Despite this, there has been a 20.5% lift in new arrivals in the past month – this stock is late to the season and needs to clear ahead of back-to-school.
Retailers should also look to slash prices on shift dresses, as 76% are discounted by an average of 54.5% off. There was a 28% uptick in new arrivals in the last month. Expect prices to drop on brightly colored and printed styles.
Cardigans and sweaters have high discounting rates and lifts in new arrivals too. Over-saturated and under-valued by consumers, you can expect to pick up a bargain here.
Highly-seasonal trend items will also need discounting. Retailers should attempt to clear summer holiday footwear like espadrilles and pool sliders, as well as items like denim shorts which are closely tied to the festival market.
Reductions of 20-30% off on these items now could save the more damaging 50-60% reductions in August and September, when the customer has less need for the product.
And what to keep
There are two bright spots in women's retail right now: underwear and accessories. They have the lowest discounting rate and highest replenishment. Needlessly slashing prices here would be foolish.
Whichever strategy you take, we wish you luck and a very happy Fourth of July!
Here's how retailers are already talking about Fourth of July: