British Home Stores has been a stalwart of retail on UK high streets for the last 88 years, and this week it joined Austin Reed on the roster of iconic British retailers that have entered The EDITED Teamistration in 2016.
For UK retailers, that's already 14 in the year.
We're left with a lot of questions, but the one that remains at the heart of them all is just a single word: How?
To say times are tough for retailers right now doesn't convey even half the reality. Last year's Q4 saw the highest reported number of profit warnings among retailers since the economic crisis. And according to figures released by the British Retail Consortium this week, full-time retail jobs in Q1 of this year of 2016 fell by 0.9% year-on-year. The largest decline since 2014.
Add all of that to what we know now about the retailer's difficult rental terms and contracts and what you're left with are some near impossible odds.
Competition Got Fierce
A lot changes in a near 100-year reign. As a budget-friendly family retailer, BHS found themselves competing on two fronts, on one against high street value retailers like Matalan, Primark and Uniqlo; and on the other the exceptionally popular supermarket apparel lines at Sainsbury's, Tesco and Asda.
While retailers like Next have fought this competition off with the breadth of their trend-led offering, BHS, Marks & Spencer and Debenhams are still redefining themselves in a crowded landscape. Another vulnerability was BHS' price architecture. Its entry and exit price points match Tesco's F&F precisely but let's remember Tesco have the edge in footfall. After all, their shoppers have to visit their stores in order to buy food.
The below chart shows that although the entry and exit points are in line, the core offering sits at a higher price point for BHS – between $14.26 and $35.65 (£12.83-£31.40) compared to F&F's more compact $8.56-$22.81 (£7.13-£19.84). This results in an average price point at BHS 58% higher than F&F's and 90% more than Matalan.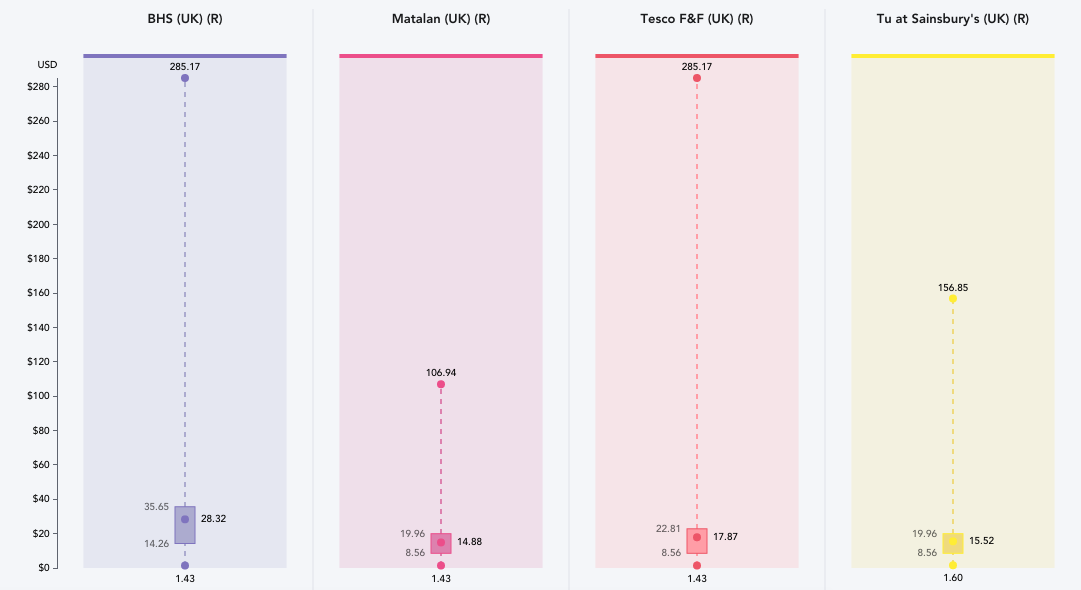 Drill down into specific products and the difference is stark. A women's floral dress on average is $63.06 (£43.29) at BHS but averages $33.54 (£23.03) across competitors Matalan, F&F and TU. Women's swimsuits are 51% up on the market and sandals 110%. Kids' tees are priced 34% over the market average, kids' sneakers 80% and men's jeans are 77% ahead of the market average price. The EDITED Teamistration aside, it's no surprise that BHS' current discounting sees an average of 39% taken off nearly a third of its offering.
Stories Sell
In retail, and more so in ecommerce, you've got to tell a story in order to engage with shoppers. Customers at every price point are used to shopping from 'Trend Reports' and having some narrative woven through their online offering. Matalan do it, Tesco do it, H&M excel at it. Lately, email newsletters at BHS have been low on scene-setting. Instead they've driven shoppers towards discounts and sales promotions.
New Directions
Looking to the future, a BHS turnaround is not impossible. Some key areas that are seeing a lot of growth are:
'Mature' shopper offering
BHS could go after the 'grey pound' with a unique product mix. Stuff that's contemporary, stylish, affordable and flattering. Longer lengths and more of those linens which sell so well. The UK population is aging. That market is wide open for the taking.
Activewear
You've already heard, it's an important category, and it has grown fast. Active lifestyles are coming to all segments, so BHS could tackle this space for their customer, with a focus on comfort and flattering fits.
Bridal
BHS have had bridal on the high street since way back. Now that ASOS and H&M have got in on the game, there's a chance to appeal afresh. With a few more directional pieces and introduction of some trend colors, BHS could have a winning offering for the family value market.
Home Sweet
Focus on homewares. Let's not forget the BHS didn't build its empire on apparel alone. And it just so happens that BHS' other strength, homewares, are doing well. According to Retail Week homeware accessories and decorations finished strong for the week ending April 17.
Retail is a flippin' tough business, it's no surprise even the one-time greats have their struggles. You've got to be market-aware, consumer-relevant and have a unique offering. It's a tall (and exhausting) order. Those up to it are tapped in 24-7, are abreast of industry changes and able to move with them. Of course, we strongly believe that empowering the industry's professionals with information and backing decisions with data is the way to do that.
An earlier version of this blog post was insensitive to the great people at BHS who have worked hard despite a tough retail climate – we're really sorry about that. We've updated the post to reflect a broader view of the retail market, and to hopefully get our true intentions across a lot better.