Blending preppy with athleisure, tennis fashion is the latest trend to infiltrate consumers' social feeds and wardrobes.
Following a pleated mini skirt boom on TikTok, the preppy tennis aesthetic has emerged as the latest subculture that's even being embraced by the Duchess of Cambridge. Read on for cultural factors, market analysis, key trends, and insights into how sportswear brands can harness the hype.
Looking to see the data behind other subcultures to tap into? Reach out for a demo today.
Why it's trending & will continue to
1. Tennis stars are today's influencers
With the rise of social media, athletes have become important figures of influence in the fashion sphere. Serena Williams famously catapulted the now-trending catsuit into the public eye, while 2020 Sportsperson of the Year and Louis Vuitton brand ambassador, Naomi Osaka, made headlines for wearing an ASOS bridal dress to accept her 2021 Laureus World Sports Award. Plus, tennis star Coco Gauff holds an apparel contract with New Balance, while Grand Slam champion Sloane Stephens recently launched a swimwear collaboration with Solid & Striped this month.
2. Outdoor sports thrived during lockdown
The pandemic fueled the rise of outdoor activities such as golf and tennis, which became a popular way to socialize safely during various stages of lockdown. A recent study by the Office for National Statistics revealed that the percentage of people increasing their time connecting with family and friends outdoors grew over lockdown, from 11% in May to 22% in July, with this increase persisting throughout the summer of 2020. Having cultivated a taste for the sport, tennis gear has now infiltrated consumer wardrobes.
3. Wimbledon is back this summer
Following last year's cancelation, Wimbledon will return to London from June 28th - July 11th. In a press release this week, the club stated confidence in increasing ticketing capacities beyond 25%, following the latest easing of restrictions.
4. It's an offshoot of the preppy trend
Fashion is in the midst of a preppy revival. With TV shows like Emily In Paris and the upcoming Gossip Girl reboot garnering significant hype, designers have also latched onto the aesthetic, which emerged as a key theme in the Fall 2021 collections.
Market snapshot
Key trends 
Tennis skirts
All-white co-ords
Cable knit sweater
Tennis graphics
Retro designs
Sporty shorts
Baseball caps
Sports socks
Sportswear snapshot
While this report focuses on trend-led products and retailers, pure-play sports brands set the bar. How does this market look?
In contrast to trend ranges which center on the tennis skirt, looking across sportswear brands, tops comprise the majority of tennis apparel, crowding 49% of the market assortment. Then the bulk of products lie in the £30-40 bracket in the UK and $60-70 in the US.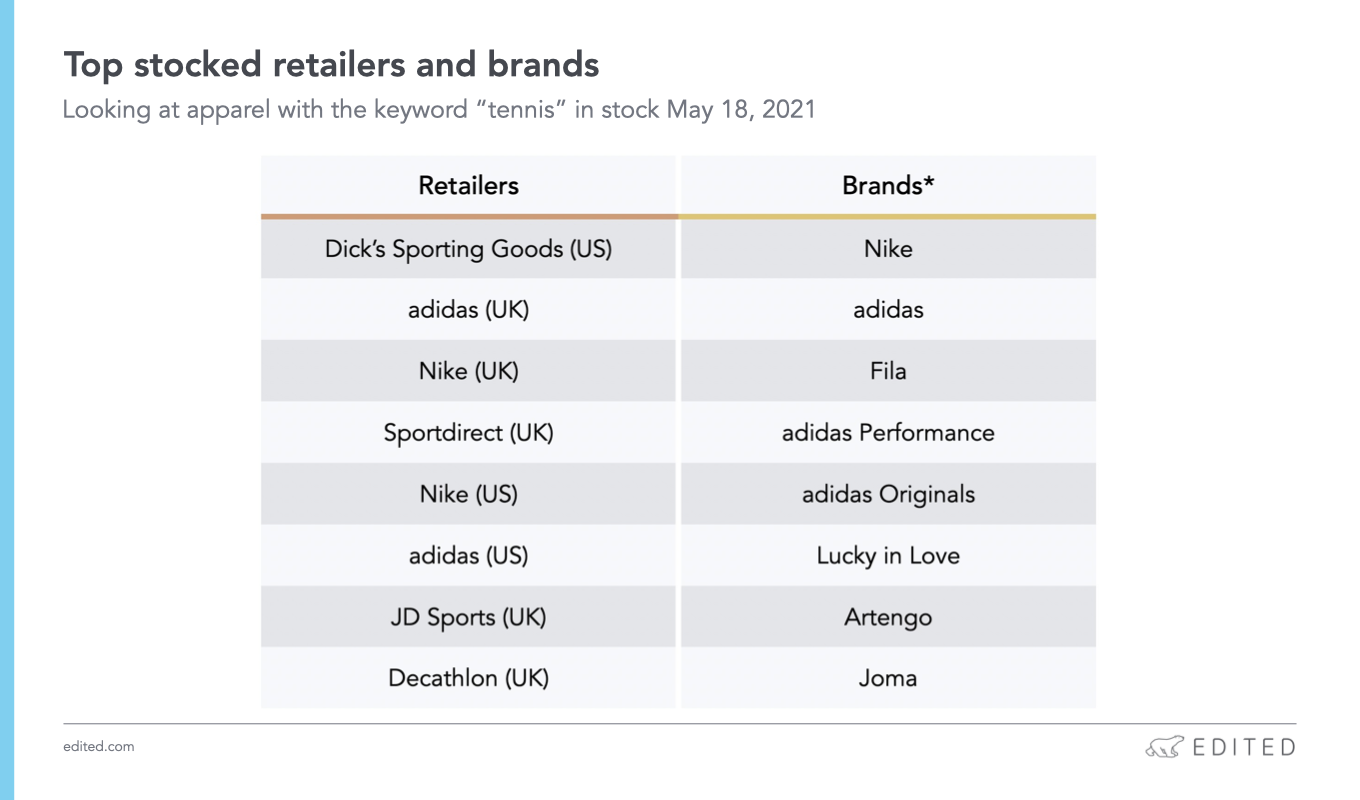 Enjoyed this report? Sign up to our weekly Insider Briefing to receive these reports in your inbox.