Last week, we published our latest report, 'The Big 5 Trends for Fall 2015', the world's only high precision wrap-up of the season. Driven by trend in retail and on the runways of New York, London, Milan and Paris, it's a retailer's guide to knowing what will sell in September.
Broken down by category (including tops, bottoms, dresses, outerwear, prints and accessories) we look at why each of the big trend themes works, which markets they're best suited to and how garments have performed in retail historically.
Featured in the Fall 2015 trends report, the 1970s theme is the standout story of the season. We're expecting retailers to go full-force with the trend from the offset – leading September's campaigns with heavily styled 70s items. Here is how data supports the 1970s trend within each category.
Tops
With their appeal to a broad range of consumers and potential for layering, we expect turtlenecks to be the most commercially successful 70s style top of the season.
Bow neck blouses and turtlenecks are the two key styles in the tops category for the seventies trend, seen repeatedly in each of the four cities and at consumer-influencing big name designers. With this February's arrivals up 208% from last year, we know this garment will be back in force come September.
Turtleneck tops were up 208% this Feb. They're topline priority for Fall 2015.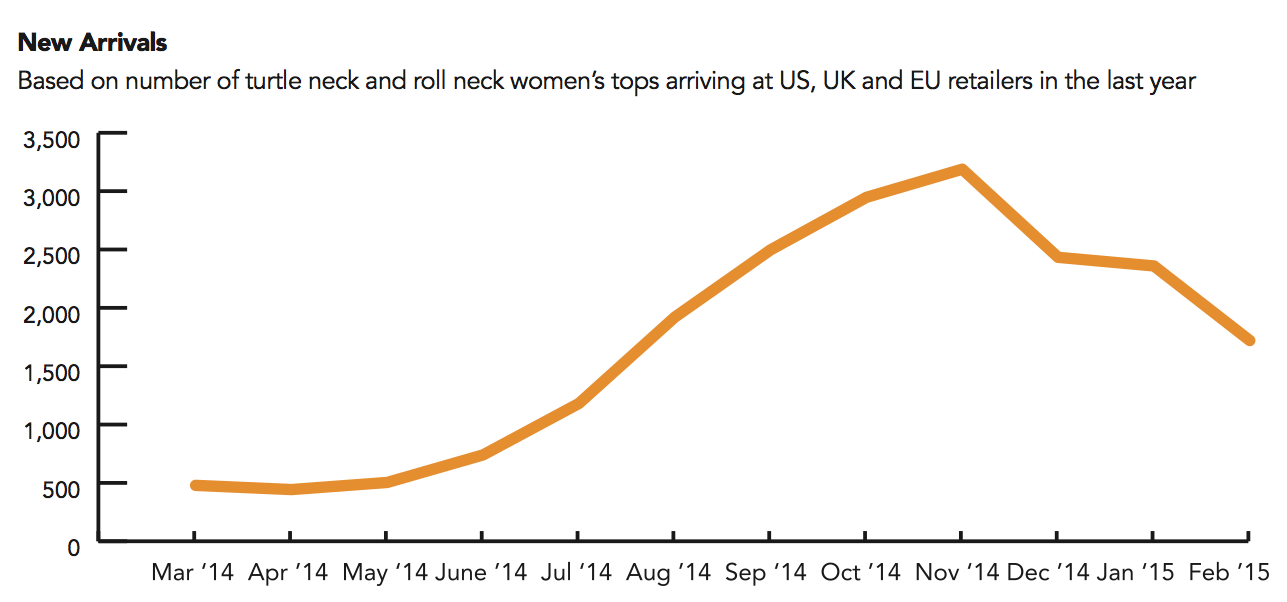 Dresses
Fringed dresses currently have the highest luxury market backing.
35% of fringed dresses currently online are retailing within the luxury market. Compare that to Fall 2015's other seventies-style dress trends – 29% of peasant dresses are luxury items, and only 23% of shift dresses. Fringed dresses will be popular across all segments, the premium and mass market should back the peasant dress trend, and cute shifts are suited to the mass and value markets for Fall 2015.
35% of fringed dresses currently online are retailing within the luxury market.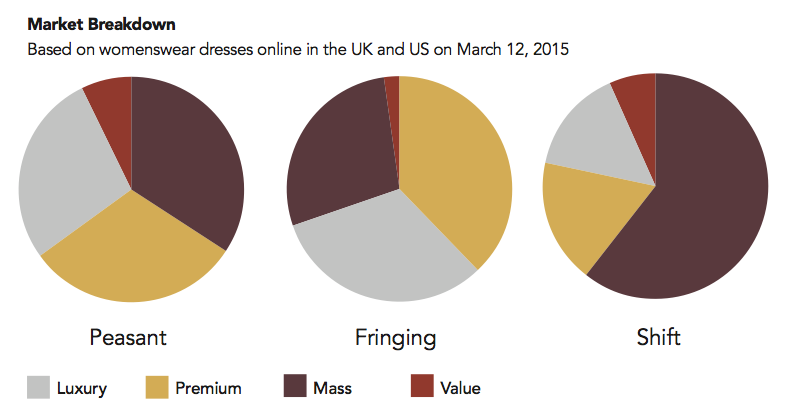 Outerwear
Retailers must not only continue to stock into puffer and parka styles, which were popular for Fall 2014 and are comfortable ground for consumers, but also include cape shapes, which will breathe newness into retailers' assortments.
In December, retailers invested heavily in puffers and parkas, so we don't expect those to disappear for Fall 2015. To create a fresh offering for Fall 2015, retailers will up the number of capes they stock. Big news on Fall 2015's runways, capes are the ideal outerwear item for the 70s theme.
Capes were up 321% in Dec '14 compared to Dec '13. They're back on the hit list for Fall 2015.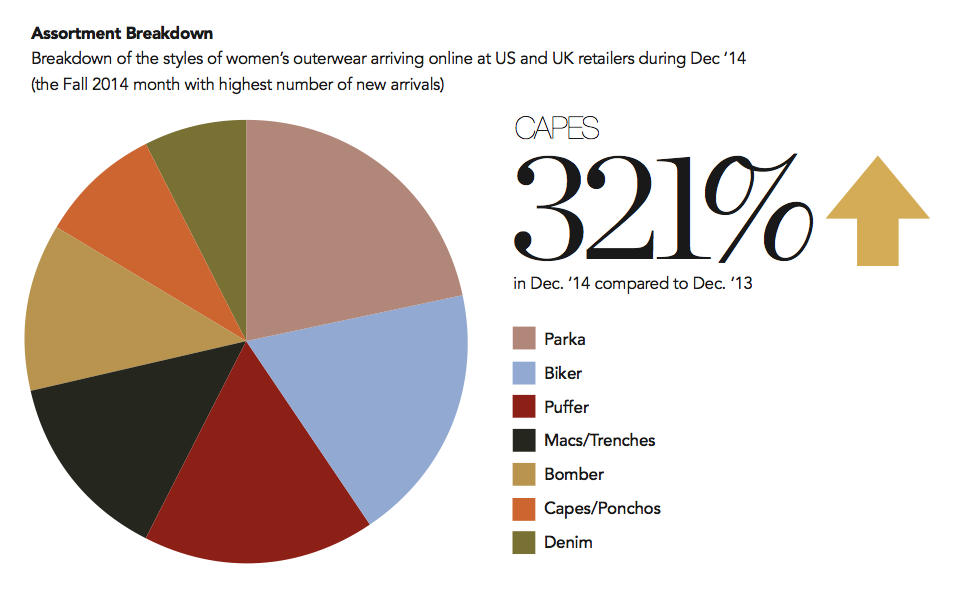 Prints
Patchwork prints currently retailing have the highest median price point, which suggests they've got a longer lifespan than retro florals or paisley prints.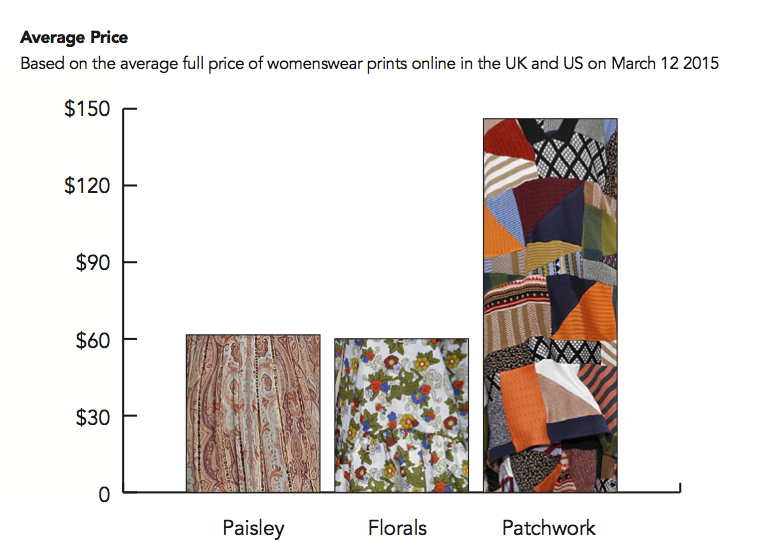 Retro florals will work fantastically on the peasant dresses, shifts and bow blouses which are part of the 70s trend. However, they've got the lowest average price point in retail currently, so this type of print is best suited to the mass and value markets. Newly popular patchwork prints carry a high average price currently, suggesting the trend is at the start of its lifespan. This is a great direction for luxury, premium and trend- led retailers for Fall 2015.
Patchwork prints, key to the Fall 2015 70s trend, currently have a high average price point in retail.
Like what you see and want to discover the other four fall trends in 'The Big 5 Trends'? Download your free copy today!
[editd-banner type="no-shadow" image="https://edited.com/blog/wp-content/uploads/2015/03/big-5-trends-fall2015.png" header="Free Report: The Big 5 Trends Fall 2015″ btn_link="https://edited.com/lp/fw1516-roundup-report-big-5-trends/" btn_text="Download your free copy today →"]Read the world's only wrap-up of the Fall 2015 season and get advice for how to price each trend and what month is best to introduce them to your customers.[/editd-banner]