Coachella is retail's gateway drug into four months of denim cutoffs, tie dye and bodysuits — and the fashion industry can't get enough. Welcome to 'festival season'.
If you've been near the internet in the past week, you will not have escaped Coachella. One weekend down, one more to go. The youngest two Kardashians are there. Betty Draper is there. Will Smith's son who doesn't believe in the concept of time is there (with shades for his third eye). Everyone's going cray cray over Tay Tay, facial rhinestones and inflatable swans. Everyone knows who's there, but does anyone know who's playing this year?
Well, it doesn't really matter. There's something bigger than guitar solos and EDM drops happening out in those fields. And if you're ready to brush it off as something for the kids, think again.
For one, Guns 'n' Roses is there. Also a thing called 'festival cougar' just landed in the press. (For the record: seriously? Since when did a) happily married, b) supermodel, Cindy Crawford, count as a cougar?) But the point is, it isn't just Gen Z retailers cashing in on their shoppers' YOLO antics. This year, everyone is getting in on it.
Looking at market data, we can see that festival season runs four months, March through June. Throughout those months, new festival-ready product arrives into store, retailers push the theme in their email communications and the stuff sells out. Discounts kick in come June or July, and by September everyone's face paint is washed off and the entry bracelets are (hopefully) clipped off.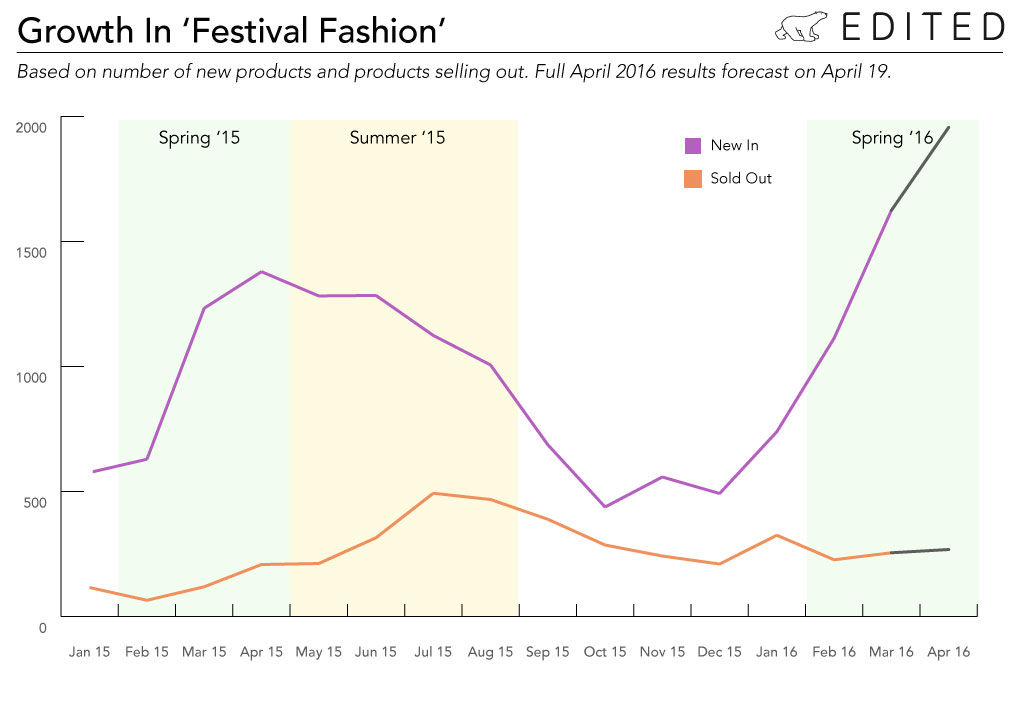 It's also interesting to note the year-on-year growth in festival season. If this April meets its full-month forecast, there will have been a 42% increase from April 2015 in products identified as 'festival' items. Mentions in email newsletters were up 35% in March 2016 compared to March 2015 and are on course to beat April by 62%.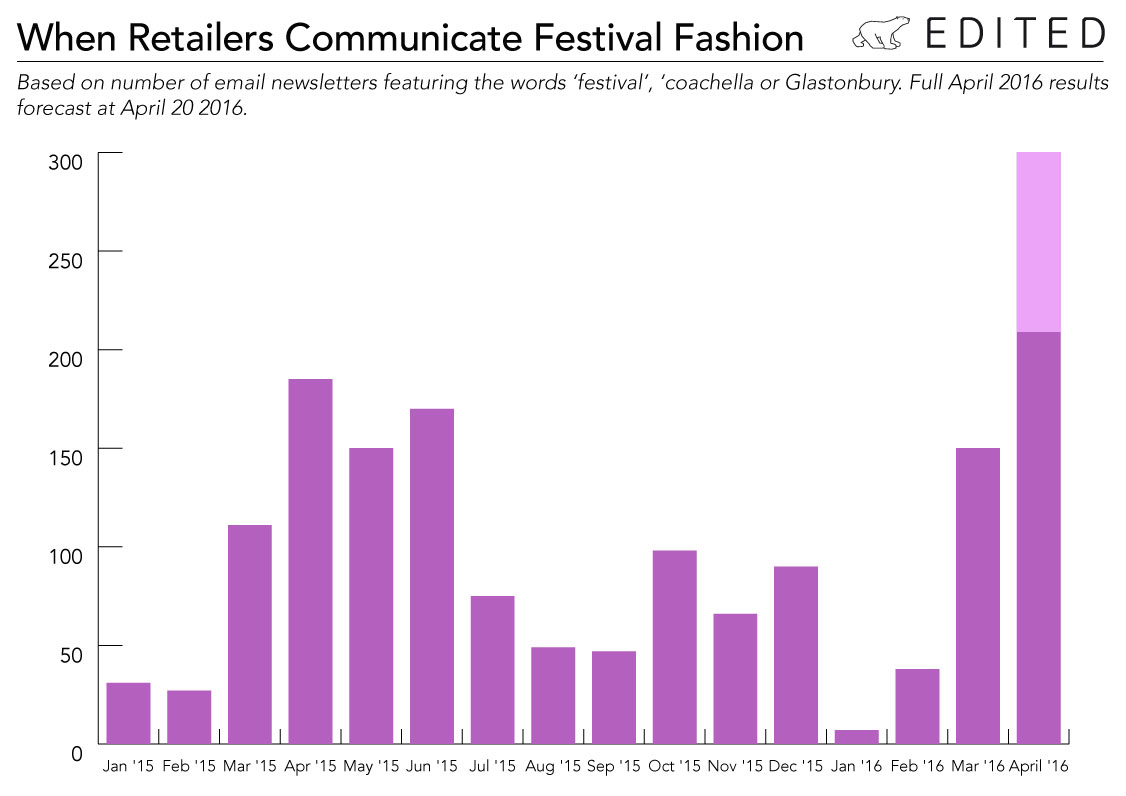 More of the market is getting in on the game. In fact, check out these newsletters. All sent this month, by even the unexpected likes of Net-a-Porter ('What to wear to Coachella'), Barneys ('Our Guide to Festival Season Style') and Diane Von Furstenberg ('Festival Essentials').
While 94% of 'festival' items sit below the $200 mark, there's an interesting 6% that includes Saint Laurent's $10,073 fox fur cape that you won't want to sit on. Net-a-Porter's 'What to wear to Coachella' selection includes tan suede ankle boots, a fringed jacket, white off-shoulder blouson and denim cut-offs. All are beautiful, but all have perfectly good analogues at Forever 21, Zara and H&M.
So is it beneficial for luxury retailers to promote similar themes at a higher price point when it's all going to wind up in a hot, dusty desert packed tight with people and draught beer? There's no doubt that the stylists of Emily Ratajkowski, Emma Roberts and Alessandra Ambrosio would get these very emails. And let's not forget as festival attendance grows in the US and UK, models and celebs aren't the only wealthy consumers at festivals.
Brands in today's markets rely more on their storytelling than ever. When it comes to festivals, with their fast-fashion dominant look, premium and luxury brands need to put extra effort into creating compelling content which justifies the elevated price point for a fringed item. One way to do this would be working closely with musicians and collaborations on video content. Opening Ceremony x Courtney Barnett? Yes, please. Brands could move in on this space.
Messaging aside, there's the product itself to consider. The 'festival look' hasn't changed too much in the last year, it's just grown in market presence. There's denim shorts, up 25% in the last three months compared to a year ago, with sell outs in the month leading to Coachella up by 79%; dungarees, grown on the market by 15% and increased sell outs by 86%; chokers, grown by 36% and sell outs up 47%; fringing increased presence by 67% and sell outs grown 118% in the pre-Coachella month.
The headline news? Bodysuits, or leotards. They've increased their market presence by 228% and increased the number of items selling out by 347%. Nearly 200 styles have sold out since the start of Coachella. But let's face it, they haven't branched out that far from the dominant look that's endured a couple of years of festivals.
Nearly 200 bodysuits/leotards have sold out since Coachella started. Thank Kylie.
Why is the trend so perpetuated? (Any Instagram starlet could use last year's imagery, or 2014's, and still look 'current' in their denim shorts, cut-out swim suit and fringed vest). Way back, when festivals were called 'music festivals', the emphasis was on, well, music. You usually just wore an exaggerated version of your normal dress code, or just your favorite band shirt. Same went for everyone, from the emo kids, to the bohos to the poi jugglers, who presumably lived at festivals. You dressed to identify with your subset, your tribe. Yet now, there's one streamlined look for all to identify with: the festival goer.
Take a look at what the artists wore onstage at Coachella last weekend. There's Halsey, in a white bodysuit. Ellie Goulding in white hot pants and crop top, Rihanna in fringing and frayed denim, Kesha in felt black hat with pastel-colored hair and a lingerie-inspired bodysuit, Kanye on stage with A$AP Rocky in tie dye and distressed denim…
These names all have the power to kick off new trends, showcase something fresh that will become hits in a Insta-second. And yet, they too wear the stuff that's in the shops now, the same stuff nearly the entire crowd is decked out in. Special shout out to Zella Day, whose fish print jumpsuit and matching headscarf was truly original.
Regardless, what happens in Indio, doesn't stand a chance of staying in Indio. In fact, it probably started elsewhere. Like South by.