Not just a buzzword, recommerce is flourishing as retailers are tapping second-hand partners to implement a circular process for a more sustainable future. Read on as we delve into the success of the resale market, the brands pioneering the movement and the recent labels entering this space.
Want to learn how EDITED data can support your retail decision making? Find out more here.
What is recommerce and why has it worked?
• Recommerce is the act of selling a previously newly bought item and extending its shelf life to a second owner.
• Due to the massive contribution to landfill from the fashion industry, retailers are seeking more sustainable processes to continue the lifecycle of pre-worn garments.
• Circular initiatives currently in focus include buy-back schemes, where retailers accept returned items to be repaired, resold or recycled into new products or partnerships with recommerce platforms.
• The success of the resale market has shifted consumer's perception of second-hand apparel, which resonates with the eco-conscious younger consumers. Additionally, more luxury brands are strengthening their relationships with the second-hand market, giving high-end product reach to a wider audience.
• The resale market helped extend the hype for items, which can often increase in value; particularly for streetwear, sneakers, and collaborations. For example, the Supreme x Louis Vuitton Danube Satchel, (PM: petite model) originally sold for $2,410 when it first dropped in 2017. It can now be found on Vestiaire Collective for $11,430.00 – a price increase of 374%.
Looking for an in-depth analysis of retail trends and industry insights? Get access to our daily reports here.
The major players
Who are the retailers pioneering this movement?
The RealReal
Launched: 2011
Offers: Luxury womenswear, menswear, kidswear, fine jewelry, watches, fine art and homewares.
Perks: A team of 100+ luxury brand authenticators and bricks and mortar stores.
ThredUP
Launched: 2009
Offers: Womenswear, childrenswear, maternity, plus and luxury.
Perks: Low price 'goody boxes', accepts donations, free shipping and returns.
Vestiaire Collective
Launched: 2009
Offers: Womenswear, menswear, childrenswear, vintage, luxury, home decor, sports equipment and art.
Perks: Buy now, pay later.
Depop
Launched: 2011
Offers: Local artists and designers, streetwear, vintage and one-off pieces.
Perks: Strong Gen-Z following, bricks and mortar stores and popup markets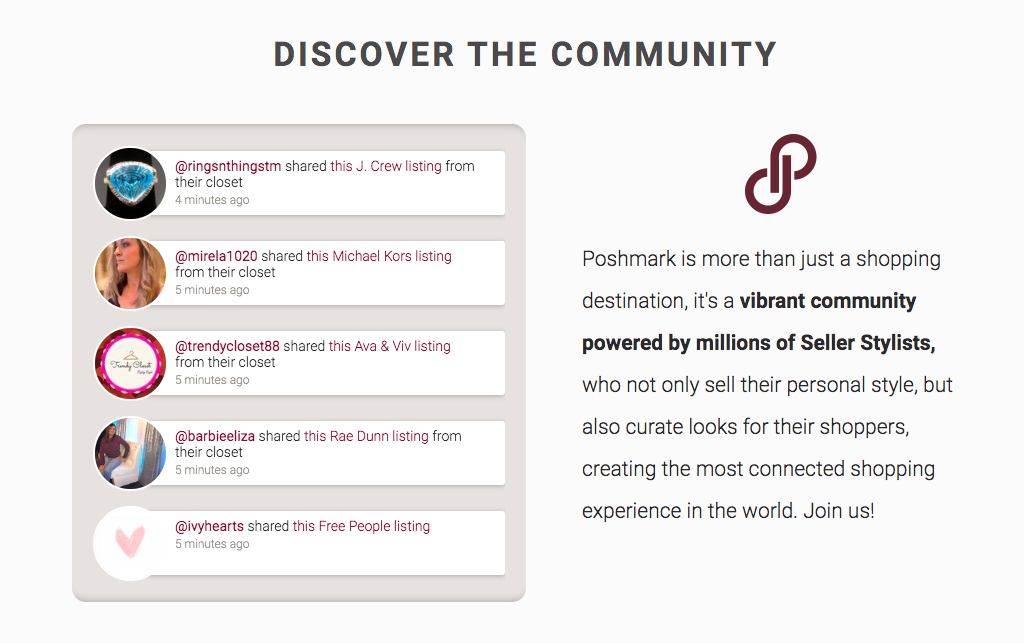 Poshmark
Launched: 2011
Offers: Womenswear, menswear, childrenswear, homewares and makeup.
Perks: Peer-to-peer selling through 'Posh Parties' and pre-paid shipping labels.
Tradesy
Launched: 2009
Offers: Luxury womenswear and bridal.
Perks: Offers professional styling and wardrobe organization services.
The importance of the sneaker resale market
Sneakers are a significant category fueling the growth of the second-hand market and are sought after items within this space. The sneaker resale market is estimated to be worth $2 billion and projected to triple in size by 2025. Platforms such as StockX, GOAT, Flight Club and Stadium Goods are the key players within this space.
Recommerce in the news
• Selfridges is taking a bite out of the $25 billion luxury resale market through a new partnership with Vestiaire Collective. The Parisian resale site opens its first permanent physical shop in Selfridges' Oxford Street store on the 30th of October.
Customers will be able to buy and sell clothes at the space which will stock 200 pre-loved designer items, including 10 rare vintage pieces from brands like Versace and Maison Margiela.
• Luxury handbag resale platform, Rebag introduced new technology to help determine the resale value of an item. The software, called Clair, can be used to instantly price unwanted items, making reselling easier and more transparent for the consumer.
• Leaders of the sneaker resale market, Goat, added apparel and accessories to its platform. Luxury, contemporary and streetwear labels including Gucci, Acne Studios, Maison Margiela, Off-White and Stussy are now available to purchase at retail price with plans for future resale expansion in these categories.
• Expanding on its Second Life model, Farfetch partnered with donation service Thrift+. UK shoppers can now donate unwanted clothes and accessories to the site in exchange for Farfetch credit.
• ASOS Marketplace has announced its charity boutique initiative will return in late Fall. Charities that will be available via the Marketplace include Oxfam Festival Shop, Barnardo's, Traid, Save the Children and British Red Cross.
• The Kardashian-Jenners ventured into this space with the launch of a resale site called Kardashian Kloset, where customers can shop directly from each family member's closet. Prices range from $20 for an adidas t-shirt to $25,000 for an Yves Salomon fur vest.
• In the UK, adidas joined forces with Stuffstr and will offer consumers vouchers in exchange for unwanted garments. The returned items will either be repaired and resold, or broken down to make new garments.
• John Lewis is also on the buy-back bandwagon. For six weeks (starting the 4th of October), customers can return pre-loved clothing from brands stocked by the department store to the Oxford store in exchange for £3 per item to be spent at John Lewis & Partners or Waitrose & Partners.
Brand adoption timeline
A list of communications from the past year around retailers partnering with recommerce sites or launching resell initiatives:
Lolë's Yellow Label Event – Oct 2018
Reformation's Partnerships – Oct 2018
Farfetch's Second Life Initiative – May 2019
Macy's x ThredUP – Aug 2019
The RealReal x Burberry – Oct 2019
Madewell x ThredUp – Oct 2019
As consumers demand more sustainable practices from the brands they shop at, it's important for retailers to take part in the second-hand market, whether through collaborations with established resale brands or creating their own initiatives. Recommerce is not just about giving new life to old items. It's also shaping the future of retail by changing consumer habits and business models.
To keep your finger on the pulse of the latest industry insights, sign up to our weekly roundup here.