London
Role Play
The PM Gallery has a rare and beautiful Madame Yevonde and Neeta Madahar exhibition. Both artists are acclaimed for taking stunning portraits of women.
New York
Super Stars: Quilts from the American Folk Art Museum
In celebration of the year of the quilt (who knew?) the American Folk Art Museum has gathered together a collection of quilts spanning the past 3 centuries.
American Folk Art Museum, Lincoln Square branch
Ending: 16 October
Sydney
Finders Keepers
Although it's a little late for Sydney siders to head down to this tonight, the indie markets are running all day tomorrow as well at the CarrigeWorks. There are over 65 designers and artists displaying their wares and tunes from the likes of Emi Davis and DJ Jack Prest.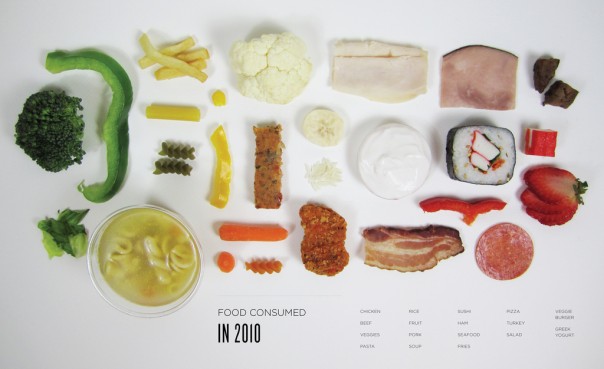 Online inspiration
Data porn
For people that get as excited about data as we do… check out this laborious (and awesome) thesis project by New Yorker, Lauren Manning. She set out to find the optimum way to visualize data, as she describes, designers often try to compare visualizations by comparing two different data sets, making it impossible to find the most suitable.
As she describes, 'Instead of seeing many excellent visualizations of all different data sets, what if you could see tons of visualizations of the same data set? What new comparisons, knowledge and structure might be developed from this?'. Her project, which is still underway, uses the data from her meticulous recording of all of the food that she consumed over a 2 year period.