Skinny jeans have been declared dead more times than Keith Richards. And yet, they persist time and time again. Is 2017 really going to be any different?
So here was are – new year, new headlines ready to eulogize skinny jeans for one last time. So let's look into the data, check the vital signs and see for ourselves how skinny jeans' are likely do in the year ahead.
If you're already an EDITED user, we've included some tips throughout on conducting this sort of analysis yourself. If you're not, don't worry there's plenty here you'll want know.
Starting with the big picture
First off, let's compare overall increases or decreases in the apparel market with the skinny jeans market. That'll put any significant changes we see in the jeans category some context. For example, if retailers are cutting back on new arrivals in general but we also see a big spike in a certain product category, we know to look even closer; the difference becomes even more important.
We'll look to the US and UK markets to answer this one, but if you've got access to EDITED software you can run the same checks on any region globally.
First up, we defined a sample of US and UK retailers – two universally compelling, yet very different markets. We'll look at the activity at our sample sets of retailers over date ranges to compare how the levels of new-in products have changed, as well as how things like sell through rates and price have altered over time.
We chose the same 44 mass market retailers we used in our January sales article. (EDITED users: you could look at just your direct competitors or define a range of retailers by price point.)
Looking at the number of new arrivals in the last three months (Oct 20 – Jan 20) compared with that same period a year ago we see very different things happening in the US compared to the UK. The US retailers increased their level of newness by 12%. Meanwhile, the UK scaled back by 21%.
What does that tell us? Well, if all things in love and fashion were fair, you'd expect to see retailers in the UK downsizing every category by around 20% and the US retailers growing each of their categories by 10%. Of course, the industry isn't that simple. And where'd the thrill of the chase be if it were?
Instead there are all kinds of everything happening across many categories – huge spurts of growth, consistency and shrinkage. But we can take that US 12% increase and UK 21% decrease as context when we drill into the denim category to hunt for evidence of increased or decreased retailer confidence and changes in consumer demand.
Zoning in on denim jeans
We then narrowed our investigation to the jeans category which revealed US retailers upped new arrivals by 16% in the last three months and UK retailers shrunk theirs by 25%.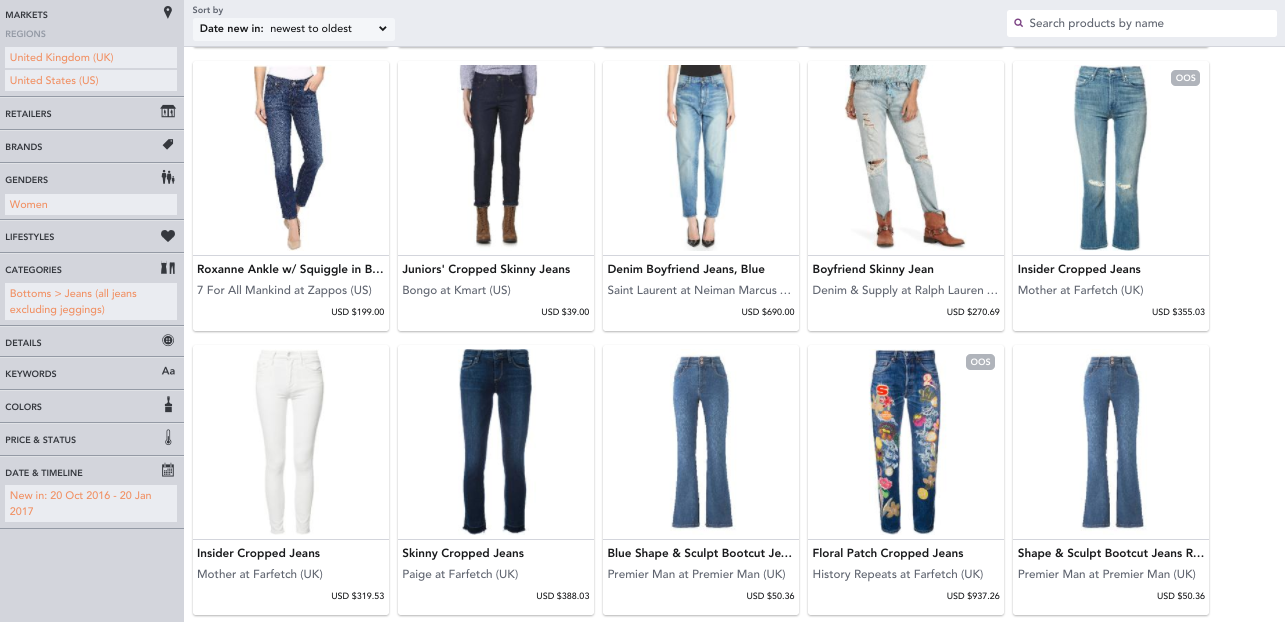 That's interesting because it shows an added 4% growth on top of the US's 12% overall expansion and an extra 4% shrinkage on the UK's 21% slowdown.
US retailers are feeling more positive towards denim compared to some other categories, while UK retailers are feeling less positive. Again, we'll need to take that insight into further analysis as we peel down a level to look at specific styles of jeans.
The skinny on skinnies
The UK has decreased new arrivals of skinny jeans by 28% in the last three months. That outpaces the general shrinkage for the category (25%), as well as for all merchandise. UK retailers are feeling less confident about skinny jeans versus other styles, like the boyfriend shape where they only cut back by 23%. (EDITED users, you can drop in every jeans style to see exactly where the emphasis is within the 'Assortment' tab).
Meanwhile, US retailers upped their stock by 11.5%. However that growth rate doesn't match the 16% overall category increase. That means retailers are placing more confidence somewhere else within the jeans category.
Less newness doesn't mean less spend
Shifting our focus from new in to sell outs is where things get very intriguing. The UK is easing off of the skinny style but it hasn't dampened consumer demand. In fact, it's done the opposite.
Full-priced skinny jeans sell outs have actually lifted by 42% in the last three months. And the average time take to sell out has gone from 88 days a year ago to 49 days in the last three months.
What can we deduce from that? Having fewer new styles on hand has not hurt UK retailers. They've sold more product at full price. Consumers are more favorable towards skinnies than retailers give them credit for!
Data shows consumers are more favorable towards skinny jeans than retailers give them credit for.
UK retailers could afford to grow skinny styles by around 3% – which for a retailer like ASOS would amount to just a few new styles a season – to bring the style's emphasis back in line with the general category shifts.
The same wasn't true in the US, where skinny denim increased 11.5%, but full priced sell outs declined 11%. US retailers, given the prevalent discounting culture which is plaguing retail right now, over expanded on the style and weren't rewarded for their efforts with more full price sell outs.
Silhouette isn't to blame
Part of the issue there was in the color US retailers invested in. Looking at the color data below shows that consumers have reduced their interest in black skinny jeans. Though it's still the most successful shade it's lost market share in the last year to blue and navies. Retailers should focus on this area for future newness.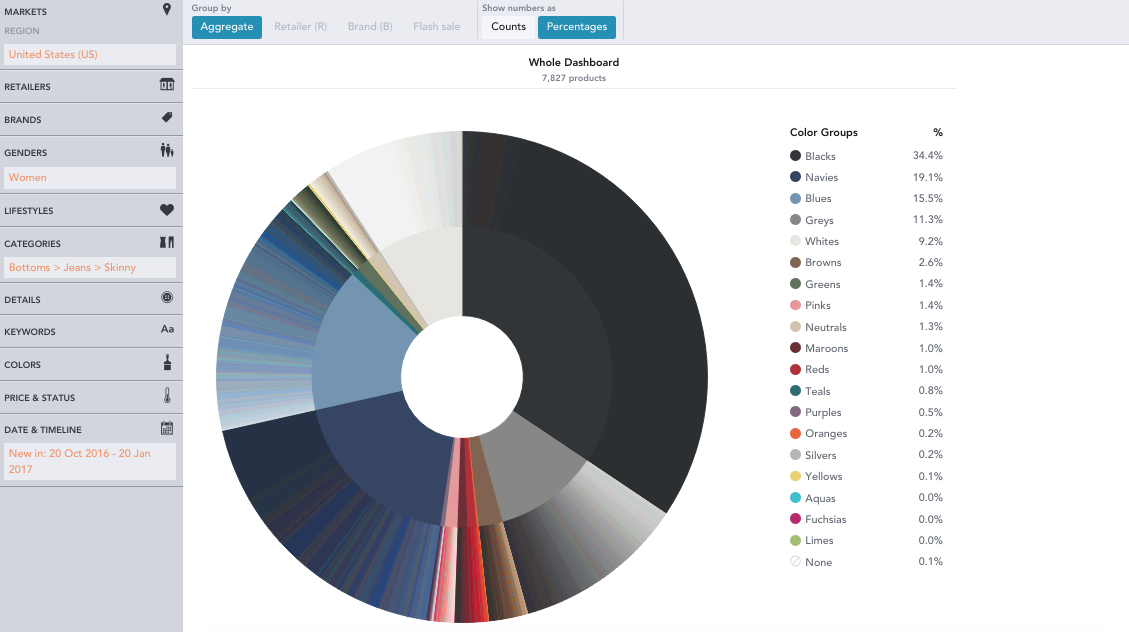 The UK market, with its 42% uptick in full priced sell outs, shrunk back on black skinny jeans by 4%. However, the US grew its black skinny denim presence. The 3% increase in black products was matched with a 3% reduction in black sell outs.
Further analysis shows that wider shapes of mom and boyfriend cuts are selling particularly well in blue shades for both the US and UK markets and are being understocked by most retailers.
If you're a denim buyer or merchandiser, this kind of information can help you spot real opportunities time and again. In this case you'd be able to see that despite headlines, skinny denim is still selling. Consumer purchase behavior is a good indicator the style will continue to sell throughout the next year.
Don't overstock and do ease off black palettes. Instead, focus on the range of blues and indigo and extras like embellishment and embroidery.
Want to know more about that, or any other trend or category? We'd love to show you the EDITED software today.