With just two weeks of the January sales season left, half of apparel globally is discounted.
That tells us there's some serious strategies at play right now. It also implies you probably don't have a lot of time to waste right now, so we'll cut straight to it.
The vital lowdown on January sales 2017
State of play in the U.S.
To understand what's happening with discounting, we took a sample of 24 mass market U.S. retailers*, across women's, men's and kids' apparel. That revealed that, so far this January, 33% more products have received discounts than this time a year ago. That follows on from 7% more discounts in Fall, despite the sample of retailers introducing 2% fewer products for the season compared to Fall 2015.
What's the cause? In-season sell outs of Fall product were down by 38% – it was a tough season for retailers which sees more than a third of products currently discounted, by an average price drop of 39%.
Meanwhile in the U.K.
In contrast, our sample of 20 U.K. retailers** reveals 27% fewer products were discounted this January than in 2016. In part that's because retailers scaled back the number of new products they introduced by 18% for Fall and a 2% hike in in-season price drops brought those discounts earlier into the season. However, the rosier January isn't solely down to shrinkage and earlier reductions: in-season sell outs of Fall merchandise increased by 12%. Product connected better with consumers this season.
The product that retailers are left with is now being cleared aggressively. Almost half of the U.K. market is currently reduced, with the average price drop of 45%. That's somewhat harsher than the U.S. discounts, where retail's slow Fall will mean retailers can't sacrifice margins so greatly.
This January, U.S. retailers increased discounts by 33% while U.K. retailers scaled back 27%.
The difference in U.S. and U.K. discount seasons is emphasised in the two charts beneath. First up, the U.S., where the bulk of seasonal discounts are applied over Thanksgiving. At no other point across the holiday season or into January do reduction rates compare.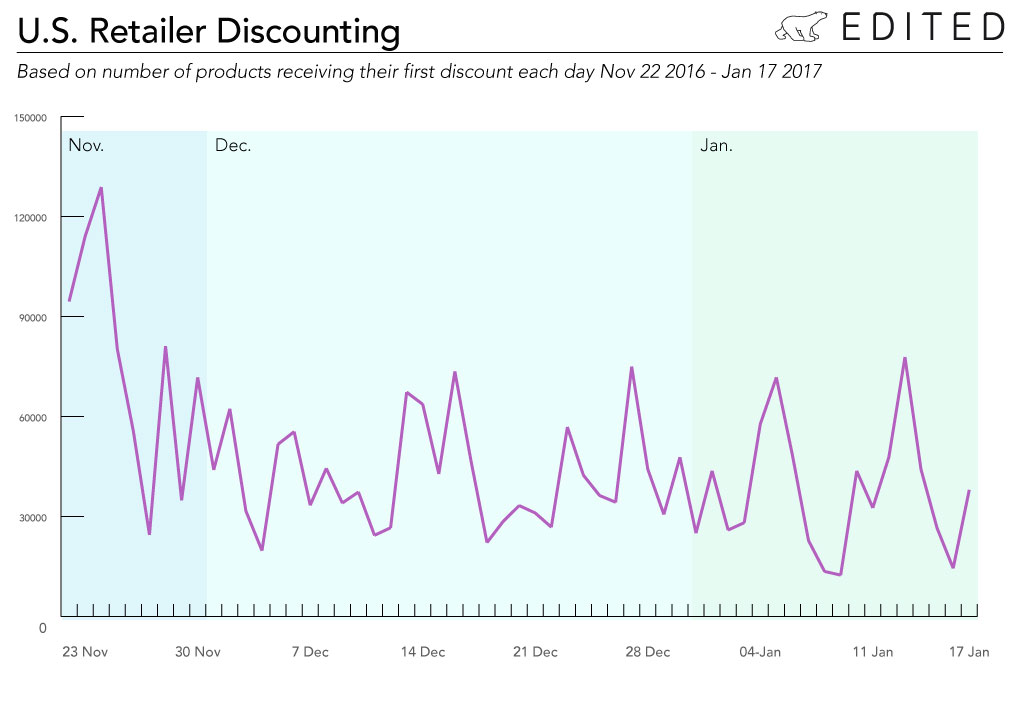 In the U.K. the picture looks completely different. Black Friday discounting is there – even though Thanksgiving isn't celebrated – but more pivotal to UK retailers is Boxing Day, a public holiday in the U.K., which marks the launch of retailers' January sales. Price adjustments hit the market right the way through December, resulting in fewer items receiving their first discounts in January, but deeper discounting, as shown in that average 45% reduction.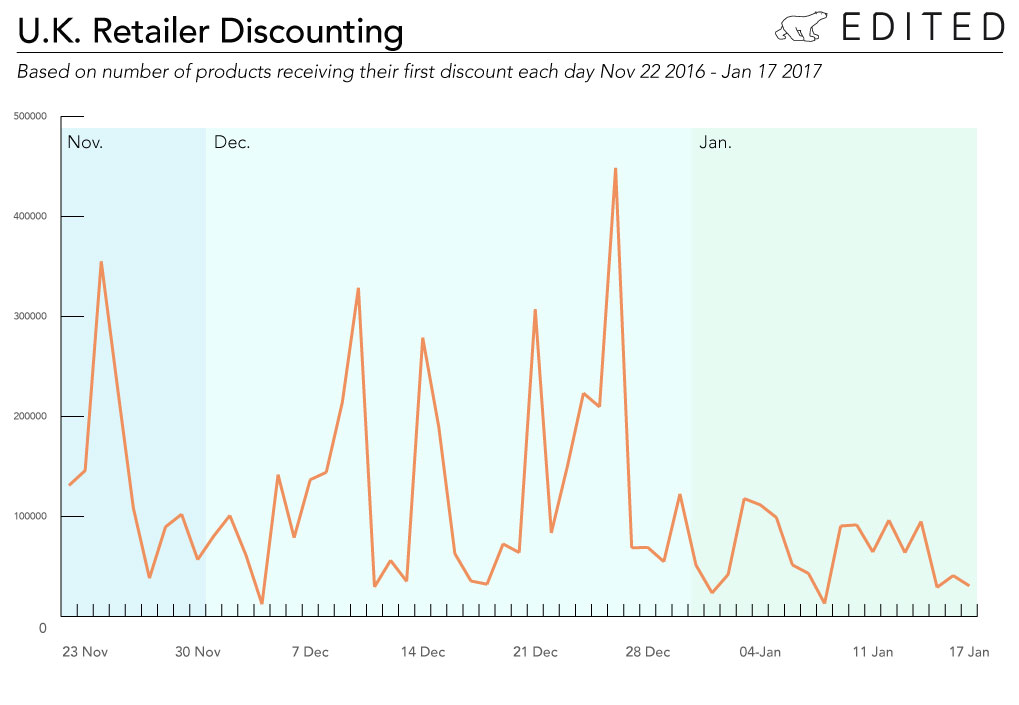 Where the reductions are
Drilling specifically into womenswear, we can see those deep U.K. discounts in the visualisation below.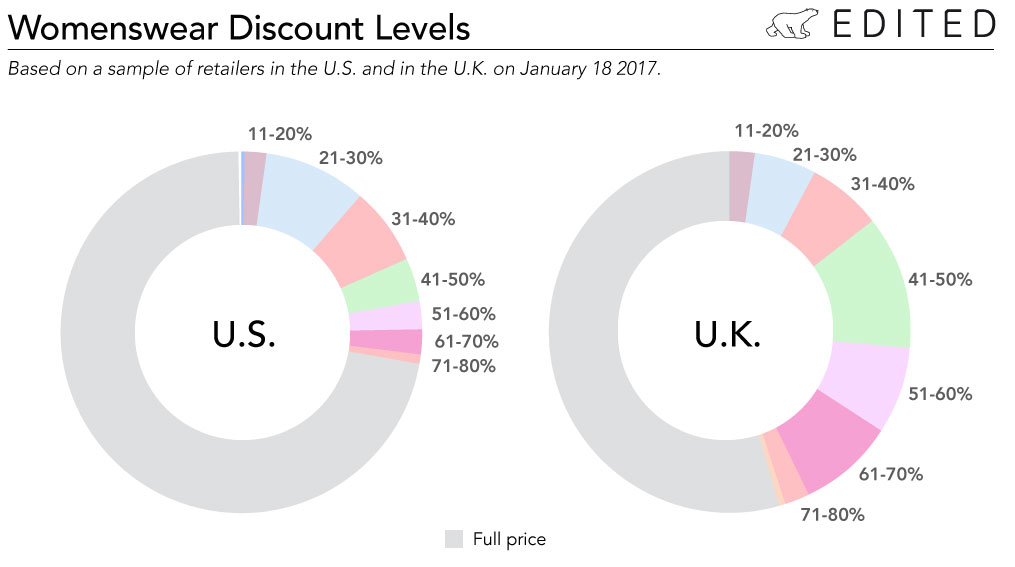 In the U.S., retailers currently favour the 21-30% reduction bracket and in the most part reductions are contained beneath 40%. In the U.K., the emphasis is on 41-50% off and the focal range spreads right the way across 31-70%.
How communications have changed
In the U.K., in line with the cut back in reductions, retailers email communications have made 2% fewer mentions of sales or reductions too. At this point in January, historic data shows us 62% of the month's sales communication has happened for the U.K. market, so we can expect to see more in the next two weeks.
Meanwhile, U.S. retailers lifted their sales communications by 14% this January, with the majority of the growth occurring in use of the word 'sale' over 'reduction', 'discount' or 'save'. At this point in January historic data shows we're 60% through the industry's sale communications.
How product moved
In womenswear, the U.S. retailers placed the majority of their discounts in the tops category, followed by accessories and dresses. Pair that data with the reduced categories with the highest number of sell outs this January and it reveals that accessories was where the discounting cleared most stock, followed by tops, footwear and outerwear. That means that dresses underperformed – they could do with higher reductions perhaps – and footwear and outerwear was potentially reduced by more than needed.
Specific products that sold fast in the U.S. when reduced include:
Jewelry slashed by an average of 44%.
Scarves slashed by 44%.
Bags reduced by an average 42%.
Boots reduced on average by 27%.
Coats with a 47% average price drop, specifically 'sweater coats'.
In the U.K., the tops category also led womenswear reductions this January, followed by dresses and accessories. The category where reductions cleared the most stocked was tops, followed by accessories and bottoms. That suggests that dresses will need further price drops while bottoms should not be reduced more.
Specific products that sold fast in the U.K. when reduced include:
Knitwear, on average slashed by 47%, specifically poncho or cape styles and seasonal sweaters.
Jewelry, dropped by an average 48%.
Bags reduced by 37%.
So what's next? Historically, the majority of discounts have occurred by this point in January. Both markets will benefit greatly from February new arrivals – the U.S. in the hope that new products connect with consumers better and the U.K.'s deep clearances will need full price stock to prevent devaluation by the consumer.
U.S. products from key categories discounted in January now out of stock.:
U.K. products from key categories discounted in January now out of stock.:
*U.S. retailers: Nordstrom, Zappos, Dillard's, Revolve, Forever 21, H&M US, Urban Outfitters, Zara US, Nasty Gal, Gap, Anthropologie, American Eagle Outfitters, Lulus, Old Navy, Abercrombie & Fitch. Express, Lane Bryant,Club Monaco, J.Crew, The Children's Place, Hollister Co, Bebe, Madewell, Aéropostale.
**U.K. retailers: Zalando, Debenhams, House of Fraser. ASOS, John Lewis, Selfridges, Boohoo, Very, Missguided, New Look, Sportsdirect, Littlewoods, Topshop, H&M UK, Marks & Spencer, River Island, Zara UK, Matalan, Gap UK and George at Asda.