There's no escaping it now. We're in Q4 – retail's pivotal quarter – and the holidays are coming. This year, there's talk of big growth in sales over the festive period, though no one can agree on how much: the NRF predicts 3.6%. Meanwhile, PwC optimistically suggests 10%. Someone's already been at the eggnog.
Wages are up, inflation is low, employment rates are looking good and consumer confidence is positive. All that points to a potentially magic festive period. However, apparel retailers should still act with caution. Consumer spending habits are favoring experiences and technology. What to do? Head into the critical season armed with data.
When shoppers buy in the holiday season
The chart below shows the number of sell outs at 26 key US and UK retailers over the last two years' holiday seasons. Each bar shows full-priced sell outs (the darker shade) as well as discounted sell outs. Although the overall trend is for an increase in the number of items selling out later in the quarter, there's also an increase in the number of discounted items selling out.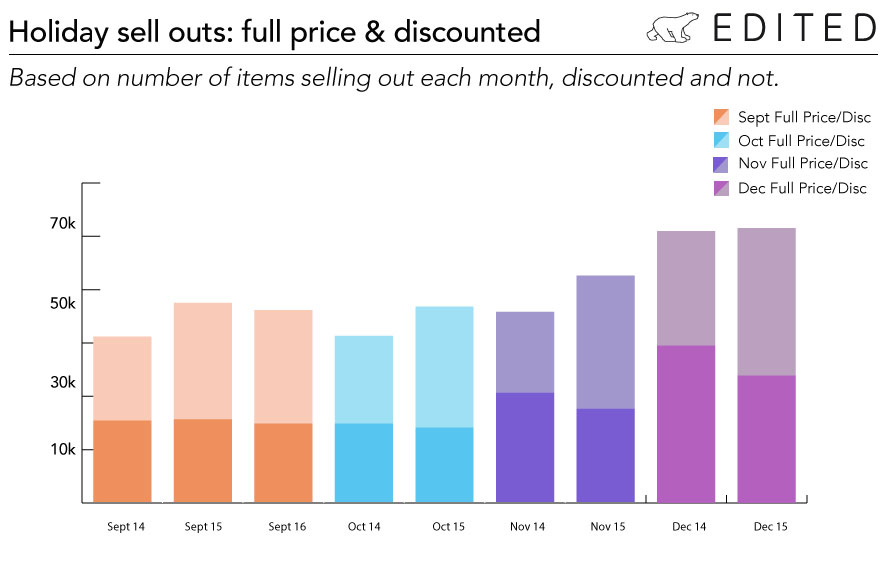 What the chart tells us for 2016: Shoppers are buying later, and waiting for those price drops. More so than ever this year: the sample showed us September sell outs were down compared to last year. If the rest of October doesn't lift, the amount of discounting will increase in November.
This holiday season, shoppers will buy later & wait for price drops. What's your festive strategy?
What do people gift?
These categories perform best in the holiday season, across men's, women's and childrenswear.
Nightwear & slippers
Cashmere
Novelty products
Accessories: key rings, phone covers, scarves, hats and gloves
Bags & wallets
Socks
Jewelry
Beauty & fragrance
When retailers sing about their discounts
It's all well and good being able to estimate when customers will shop and the stuff they'll buy – but getting them to do so is another matter entirely. Email is retail's battle cry. Here's how retailers used different levers to drive purchase in 2015.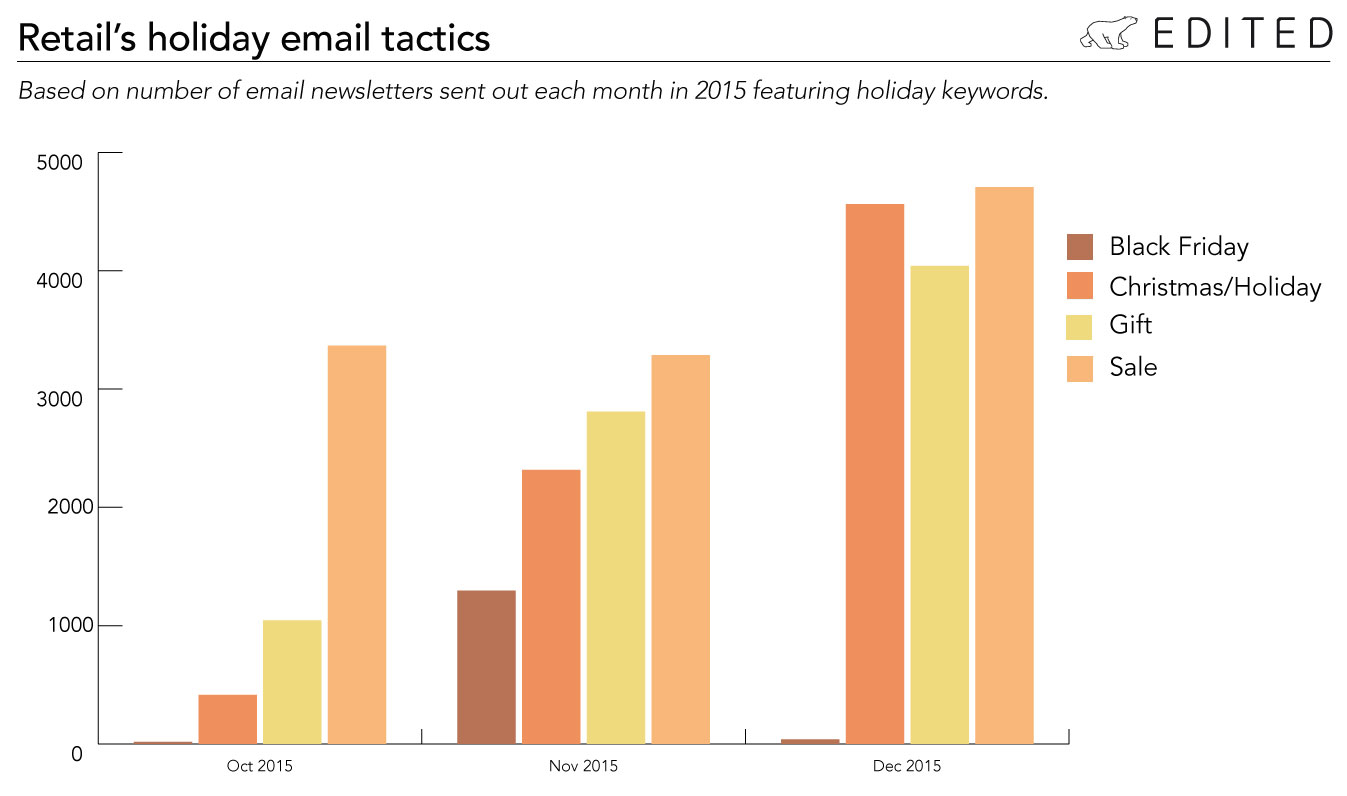 What the chart tells us: Sales promotions lead in retail's holiday communication, right the way across the quarter. There's little mention of Black Friday ahead of November, although a few retailers did mention it in December with 'Better than Black Friday' sales. If you want to draw consumer's attention to your holiday assortment early in the season, join those that discuss gifting rather than reduced merchandise.
Fall 2016's top holiday gifting trends:
Ruffled knitwear – a 'now' update on seasonal knits which always do well around the holidays. Discounting on sweaters lifts in November and peaks in December. Last December's discounted sweater sell outs were discounted by an average of 44.5%.
Sneakers – getting your hands of a pair super hot kicks will please your dearly beloved sneakerhead to no end. New releases that will sell out before Christmas include the A Bathing Ape x Adidas collaboration, the new Yeezy drop, Adidas NMD XR1s, Ultra Boost and Nike's Hyperadapt 1.0.
Leather backpacks – backpacks are still a hot ticket in both the men's and women's bag category. With the return of MCM leather backpacks making an impression in street style, retailers are following suit. The price point of a leather rucksack (on average $253) suits this piece for that 'special' gift. Look out for Fendi, Burbery and Alexander Wang.
Bucket bags – Mansur Gavriel's mini bucket bag is instantly identifiable as one of 2016's 'it bags'. Other takes on this shape will be popular through into next year. Guess, Welden and No. 21 are all well stocked ahead of the holiday season. Look out for wine tones and metallics selling well.
Velvet – a big current trend across footwear, bottoms, dresses and tops. The luxe feel of this fabric suits it well for holiday gifting. That's good news for ASOS and Zara who currently have the most velvet products in stock.
Baseball caps – another one for the clued up collectors: the season's baseball cap releases will be keenly anticipated. Look out for Chance the Rapper and New Era's restock of the No. 3 caps…
Bomber jackets – statement souvenir jackets in printed silks will be the hot ticket across mass, premium and luxury. The $263 Alpha Industries MA-1 bomber at ASOS will fly for men and the Opening Ceremony appliquéd patch will lead for women.
Slogan merchandise – what better way to say you care than with all those BFF products (more than 600 items currently online)? Perhaps only with a rare tour merch tee featuring Pablo or Bieber.
Use data to decide which stock goes on promo
Be smart about where you slash prices and sacrifice margins. The stuff that will sell at full price are those items in your assortment that are special: that new trend you moved fast on, or things that the rest of the market isn't touching. Hold tight on these guys. It's the saturated trends that will have consumers being most price savvy around. Find out which products are over-stocked and flag them up for the early reductions. EDITED users – you know how! Log in today to drill down into your category.