The day the internet was switched on, retail, whether it wanted to or not, was about to change forever. Products and, consequently, their prices were suddenly strung out in plain sight for all to see. Stacks of catalogs and long hauls to the mall be damned, here was everything in one place, for the first time ever. Price comparison made easy. And, no surprise, it turned us into expert deal seekers, each knowing how or where to get the right price for anything.
But 'right price' was/is/will always be a complex beast. One that has preoccupied retail psychologists as much as it has retail boardrooms since people began buying and selling things. Why? Because the nature of what's considered "right" in pricing is fluid. It changes with time, perspective and, yes, with technology.
Let's see what it means to today's consumers.
What does the concept of 'right price' mean today?
For retailers the right price in its simplest form, is the price that shoppers will pay and while keeping margins at target. For the shopper it's believing they've captured value without the painful reflux of buyer's remorse.
But price perception has changed. Once upon a time, price would let you know who the product was intended for, whether they were rich, cash-strapped on somewhere in the middle.
Then along came retailers like Primark and Amazon, who took what we believed to be true and chased it into the woods. And in doing so, perhaps inadvertently, nudged the balance of power in favor of the customer. Fast forward a little bit and look where we've wound up: a nasty discounting pandemic that's supposedly killing off malls two at a time and punishing anyone who doesn't discount wildly at the altar of Black Friday.
But really, things are not so bad. We live in the time of big data and customization. For every problem, a solution. We know a great deal about our customers and can now create ever more personalized experiences for them. So why not include price in that too?
Pay what you want
In an age where you can choose what you pay for an album, donate what you want to get a business idea off the ground, or even dine in restaurants where you pay what you think the food was worth, paying what you want for your clothing doesn't seem so far fetched.
But it did feel quite radical two years ago when Everlane launched its 'Choose what you pay' sale. Basically, the company–like all–over-bought, and rather than going into sale decided to let its customers select what they felt the item was worth. They even gave them three different prices to choose from.
That worked for Everlane because the brand does a great job of explaining not only the costs of manufacture, but highlighting the profit margin too.
That transparency creates a warm fuzzy feeling which makes shoppers feel like they know where their money is going. And it's confident too – it does some good mind-bendy stuff around making the shopper feel like Everlane knows its products are good enough for you to want to pay a fair price for them.
And fascinatingly, it sort of worked. Shoppers don't always go for the lowest price point Everlane offers. Yes, 87% do. But 8% of shoppers pick the middle price point and 5% select the highest. Everyone goes home happy. Or rather, stays home happy.
Can all retailers emulate Pay What You Want?
It's been proven that shoppers are more inclined to pay more in the Pay What You Want (PWYW) set-up if they feel charitable in the act. And with Everlane's fair pay and safe working environment commitments, that feeling of doing the right thing comes through.
But not all retailers have those values at the very core of their brand. Or at least, they spend less time shouting about it. Without that secondary trigger, PWYW might not be such a coup. New shoppers could use customizable pricing to score a deal and then never be heard from again. The emotional investment is low.
Other theories move the strategy on to 'Fair PWYW', which tries to forge an ongoing relationship with the shopper beyond that first purchase. It's a complicated process, one which relies on price setting after consumption, once the shopper has determined a product's value for the retailer. Then, the retailer tracks that shopper to see how 'fairly' they pay for future products. That data then tells the retailer how to promote or discount certain products to a specific shopper.
We're not all there yet. But Everlane is onto something. The industry is transfixed on measuring how competitors' are pricing their products. But in a sluggish economy, shouldn't we also be looking at what shoppers actually think it's okay to spend? After all, consumers are now experts at shopping online.
We worked out what people want to pay
It's really easy to figure out what people want to pay. Using our software we looked at the mode price point of items that have sold out so far this year at full price. The most frequently-shopped price points revealed things that people wanted even though they weren't discounted.
We did that across some pretty standard categories, ones which wouldn't have been hugely inflated by Spring trends or the whims of Kardashians. That's trench coats, the classic white shirt, skinny jeans, ankle boots, midi dress and yoga pants. We decided to hone in here on US womenswear, across mass, premium and luxury.
Here's what women actually want to spend on the mass market.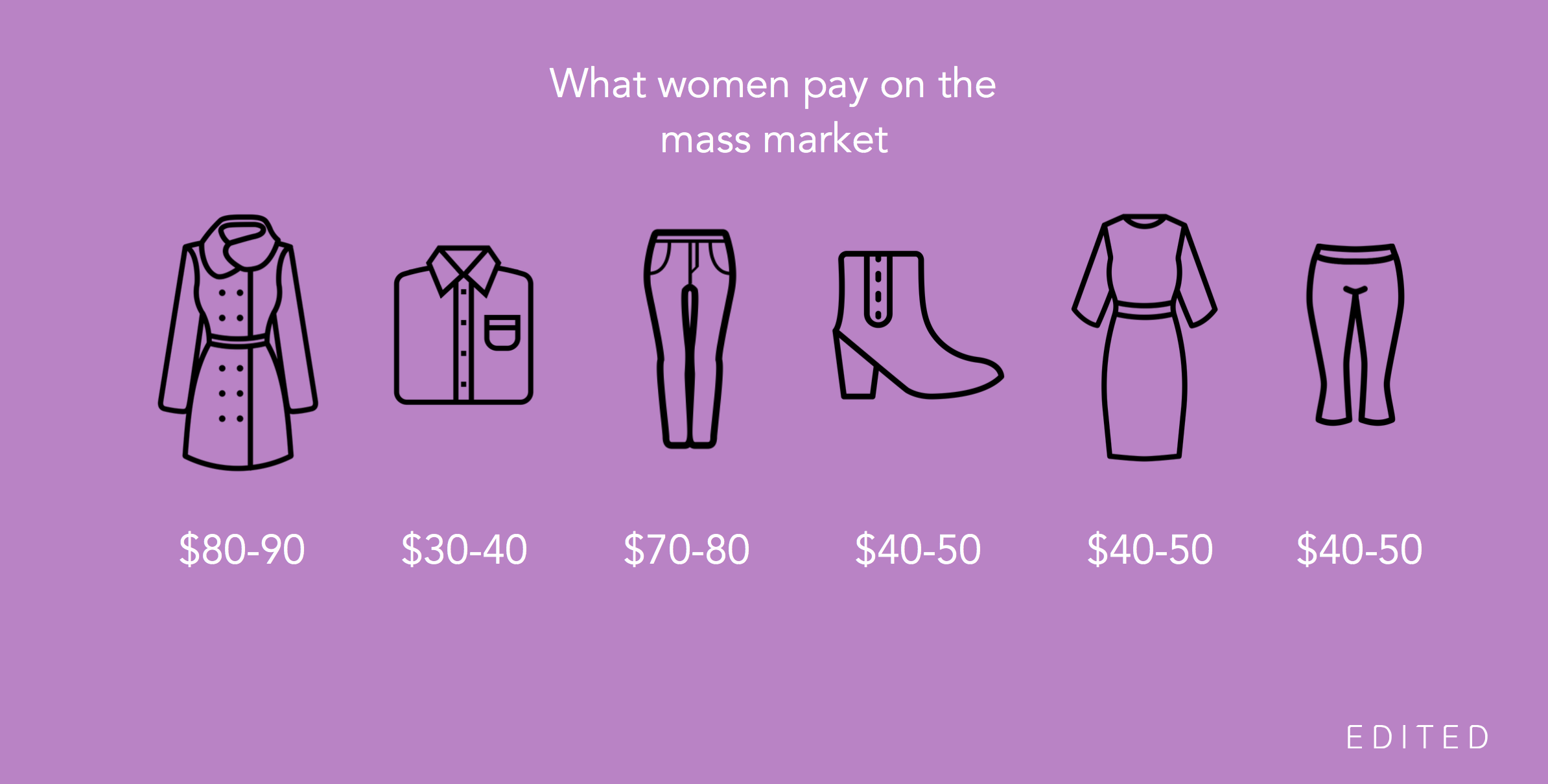 We also saw that in the UK, it's even less on yoga pants, trench coats, skinny jeans and midi dresses. The US may be renowned for its discounting, but the UK mass market has a fiercely savvy shopper when it comes to price.
Here's how the premium US market stacks up.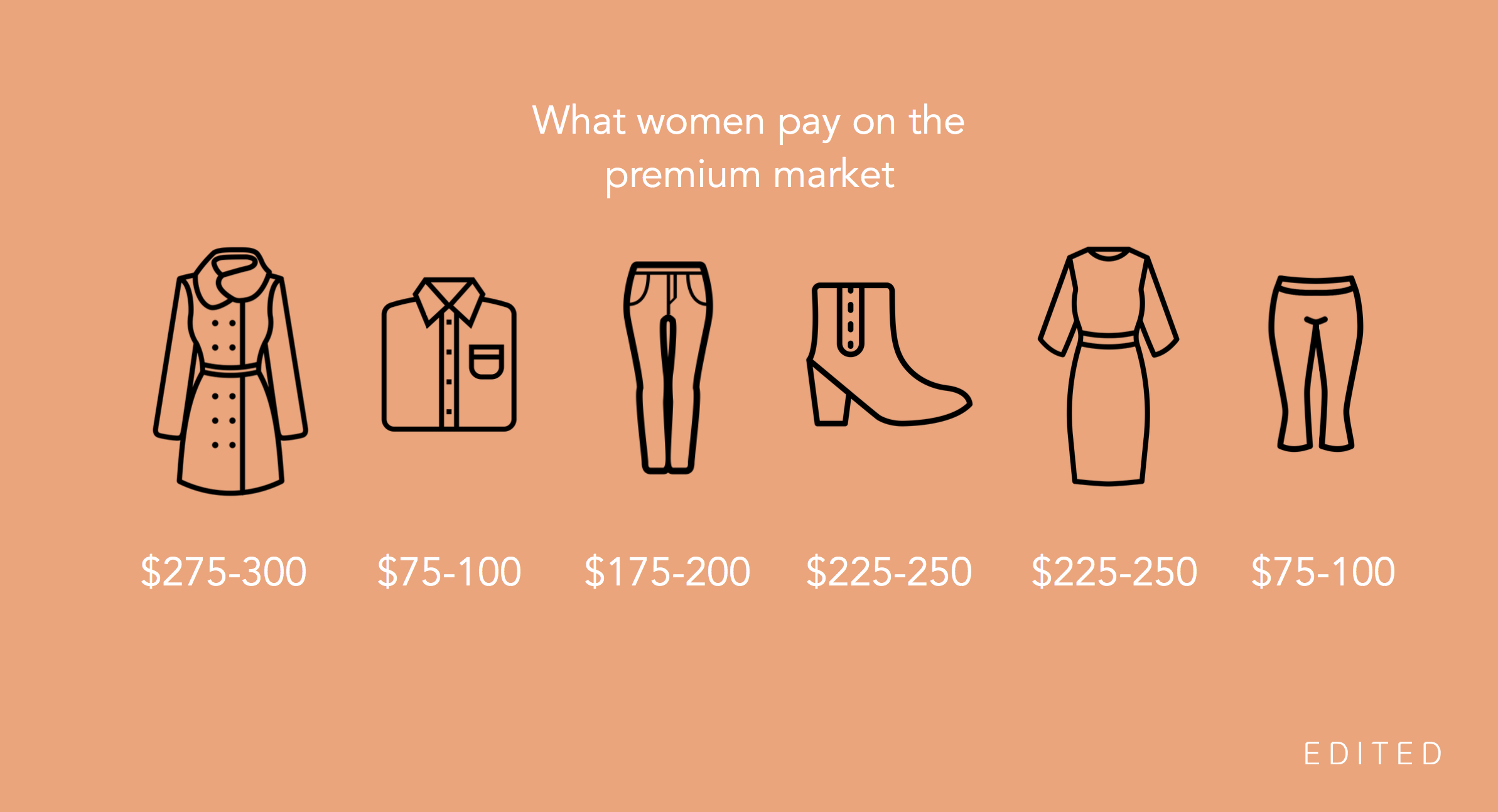 It's important to use the modal range to figure out what people elect to pay. Average price point is skewed by the outliers. It's the most-common behavior we're scouting for!
And onto the luxury market, where there are a few surprises. Firstly, women don't want to pay any more for luxury skinny jeans or yoga pants than they do for premium brands. The luxury market for these items barely exist; it's outweighed by premium.
But wardrobe classics like the trench coat and white shirt escalate dramatically.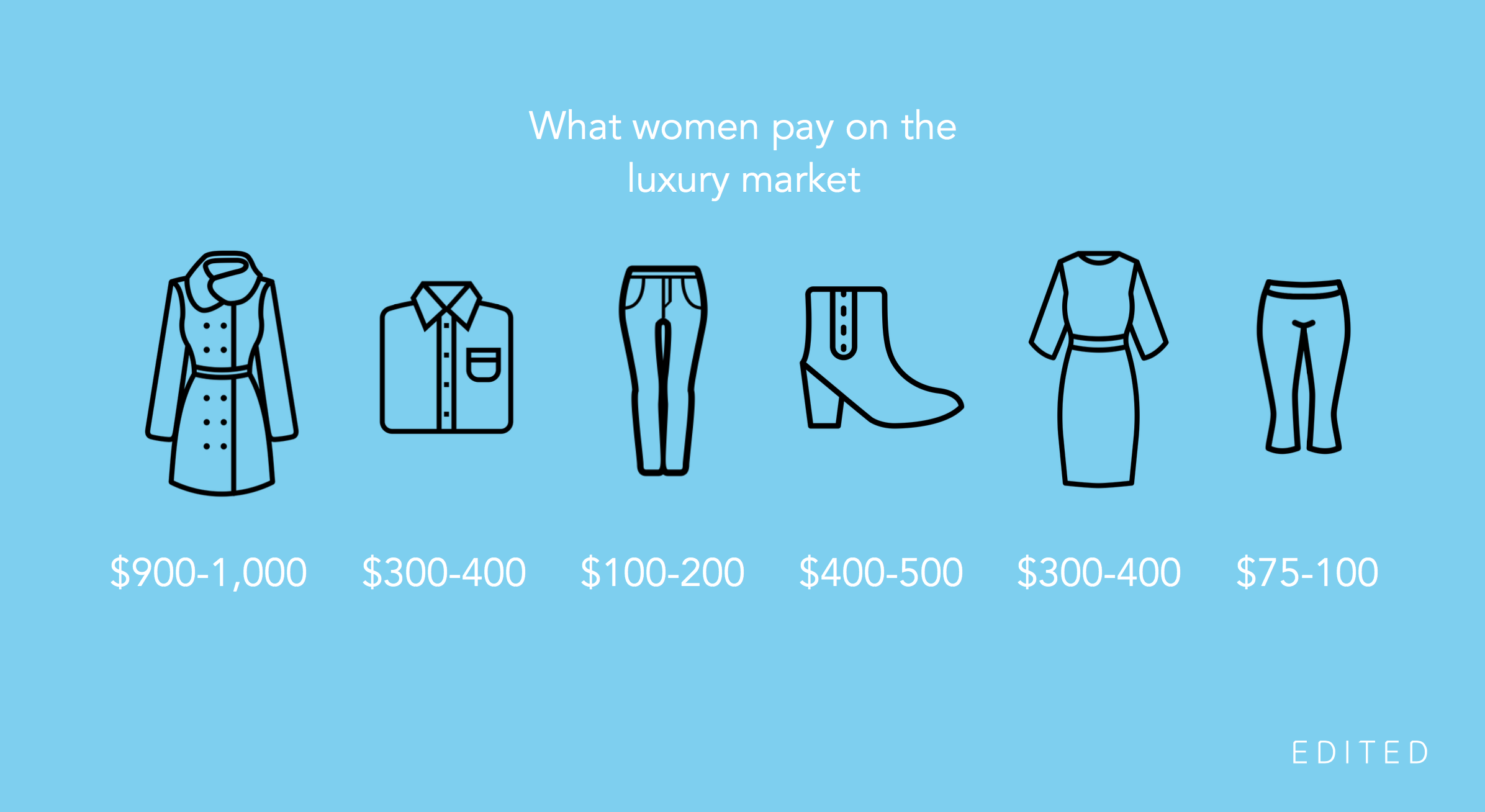 PWYW as a discounting tool
PWYW is flawed. It would require a complicated overhaul if you want to get the customer to come back. And you'd probably need to embed charity into your business plan if it's not there already. But there are aspects of the strategy that make good sense when it comes to discounting. Allowing shoppers to select their price during limited sale periods works because it rewards existing shoppers, just like at Everlane.
There's something in opening up a PWYW to your newsletter list that could not just feel pretty good, but be rather insightful to boot.
Should we be focusing less on what competitors are charging and more on what consumers want to pay?