Last year, the wedding category received unprecedented attention from the mass market thanks in part to the launch of bridal collections from H&M and ASOS. Has the union lasted? Let's find out.
Starting with the hard facts, here's where things stand. At 50 of the biggest US and UK retailers, new arrivals of wedding and bridal product was up by 6% in Q1 2017 compared to a year ago. That's pretty neat growth, but hold your applause. Here's your headline: in that same time period, sell outs of product were up 50%.
The nuptials business is firing. Or so it seems.
There are challengers to that notion. Those who question whether consumers will really shop for their wedding dresses online. There are few purchases that have historically been imbued with such emotional significance (or featured in as many rom coms). Plus, if there's any dress a shopper will spend big bucks on, surely its a wedding dress. Why, ask the nay sayers, chase the value of this garment down?
Good questions – let's answer them with data. For starters, to those who say the purchase is too emotional to be transacted online, let's face it, as consumers we're getting increasingly comfortable with buying all sorts of everything online. Lingerie has boomed in the last three years. We pick the vegetables we eat from stock images. And new technology like the Amazon Echo will only serve to further eradicate the barriers around the clothes we own and the clothes we browse.
Okay, now let's tackle the big one. Do consumers really want a mass market wedding dress? The answer is, duh, yes of course. There are customers who don't want to, or don't have the luxury of, dropping beaucoup bucks on a wear-once frock. Sure, the average US wedding costs $35,329. But there's a whole heap of people who spend (a lot) less than that.
We've heard it before, but let's refresh: millennials are in their own lane. They experience over own. (Thanks job market, housing prices, political environment and, honestly, social feeds for that shift.) That logic applies to their weddings too; there's a broader range of every kind of wedding experience happening. Aisle-minded love birds aren't in short supply.
The trick then is finding ways to get your product in front of those people. Nothing new about that challenge to retailers and nothing new about its solution either: hit the nail on the head in terms of timing and styling. To help you do that, here are some things you need to know about the wedding market.
Wedding Retail
In the Northern Hemisphere, wedding season has a good five month run. New arrivals begin to lift in March, and don't peak until July. Although the two can't be compared in terms of scale, that's actually a longer window for content than the holidays. In response to that raised awareness, weddings were mentioned 28% more often in brand and retailer newsletters during Q1 this year compared to last. Mentions specifically of 'bridal' peak in May.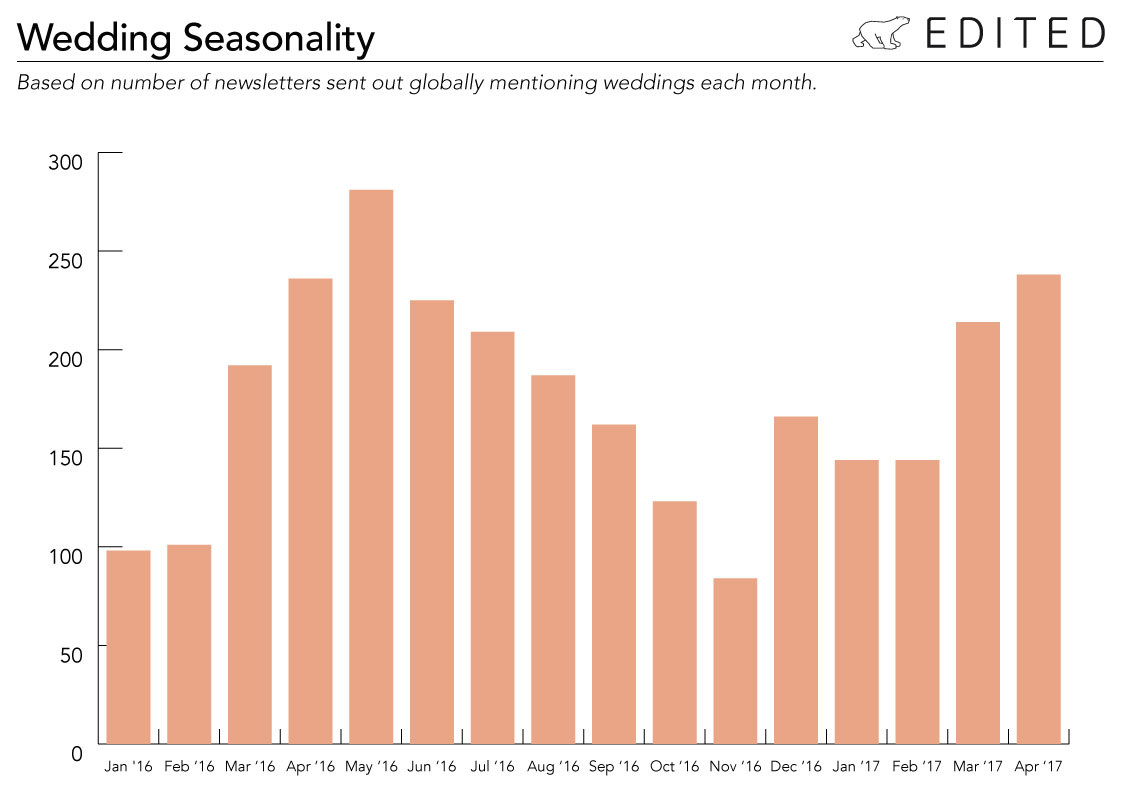 The mass market's inclusion is, naturally, impacting price point. In Q1 2016, the average price of new bride or bridal party dresses was $437.46. This Q1 that took a tumble to $292.80. Alongside wedding dresses, bridesmaid and guest dresses are getting cheaper. That's driven by consumers, not because there are more weddings happening, but because social feeds mean you definitely can't get away with wearing the same thing twice. Some brides are even beginning to wear two or three outfits throughout their own wedding.
If you're in the market to buy a wedding dress, the highest number of dresses are discounted in November. If you can bear it, hold off until March when the deepest discounts occur, with an average of 60-70% off ahead of the new season stock beginning to arrive in April.
Which mass market retailers do bridal well?
ASOS, which led the pack in mass market bridal, has grown its bridal assortment by 10.5% in Q1 2017 versus Q1 2016. The average price point on an ASOS Bridal dress is $196.25 – a 340% increase from its average price across dress category.
The line performs well too. Just 13% of products are discounted, sell through is at 55% and 13% of styles are replenished. The greater dress category sits at 67% currently discounted, 31.5% sell through and 11% are replenished. Alongside ASOS own brand bridal (and ASOS Curve, smart), the retailer stocks three other brands.
Topshop introduced Topshop Bride on April 13. Alongside bridal gowns, the line also includes footwear, nightwear, lingerie and accessories. A satin tie shoulder dress at $650, which riffs on the cami dress trend and has 5 of its 7 sizes already out of stock. The cutwork lace bardot dress, at $850, has 2 of its 7 sizes out of stock. The average price point on the bridal dresses is 800% higher than Topshop dress category average.
J.Crew's decision to stop stocking bridal altogether may have ruffled the premium market; a look at last year's bridal shows it ended up discounting by an average of 62% off. However, Whistles showed faith and introduced a line this year. Landing in February, the six styles all have had at least one size sell out so far and there's been no discounting.
Think beyond the dress
Your customer might not be buying their wedding dress with you. But that doesn't mean they're not shopping in your stores for their wedding.
H&M have been smart about this. Yes, they have a couple of wedding dresses that tap into that longtail of consumers and also act as focal pieces in marketing. But importantly, this year they've launched wedding lingerie. That makes perfect sense for the millennial shopper. It's the one category that won't feature in any social content–except perhaps for the most unabashed of sharers–and therefore might not get top ranking in a budget designed around creating digital memories.
In fact, dresses only account for 21% of the current wedding assortment industrywide.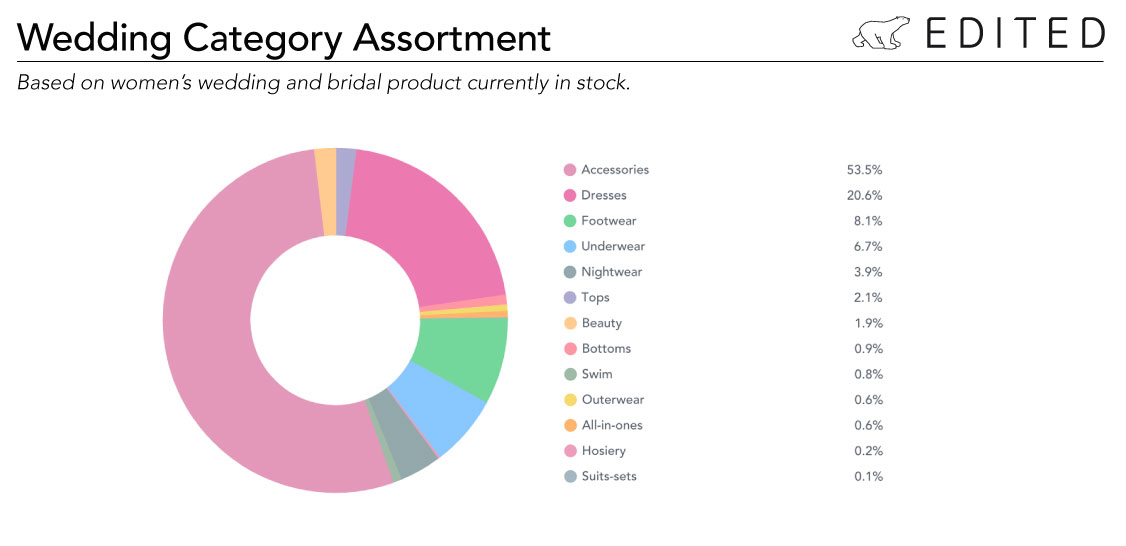 Assortments have shifted dramatically in the last year however. In Q1 2016, 44% of the retailers' assortments focused on dresses, with accessories coming in at 22% of the wedding/bridal mix, lingerie 9%, nightwear 8% and footwear 7%. In Q1 this year, new arrivals focused 36% on accessories, 29% on dresses, 10% of footwear, 7.5% on nightwear and 6% lingerie.
Nowadays weddings are their own festivals. With outfit switches on the wedding day, recovery brunches and themed bachelorette/hen do weekends. Wedding merchandise has the potential to stretch across every category. You'll even find a 'Bride' water bottle and bride emoji pin badge in this year's new arrivals…
Bridal Trends
The Spring 2018 bridal shows have just wrapped – EDITED users log in if you want to look over the latest designer collections. Here are some key trends we're not only seeing backed by luxury, but making an impact on retail.
Non-white/cream bridal gowns – maybe the whole millennial pink affair is to blame, but there's an increase in pink and blush tones.
Jumpsuit brides and bridesmaids – one piece eveningwear has hit weddings. Jumpsuits featured in the bridal collections of Viktor & Rolf and Christian Siriano and are retailing at Rosie Assoulin and ASOS.
Black trimmed dresses – ditch the no black at wedding rule and create a graphic look with black trims, as at Marchesa.
Tiered gowns – Naeem Khan and Elizabeth Fillmore were among the designers showing dresses with tiered skirts. ASOS did well with a style by brand, Maya and Whistles have included the shape in their range.
90s silhouettes – the clean, almost sporty lines of 90s bridal, revisited. Think Gwyneth Paltrow's Oscar dress from 1999 as well as simple slip dress shapes, like at Topshop.
Letting lose for the night time – more brides are choosing to let their personalities shine through once the ceremony is over. We loved the white denim jacket and 'Just Married' necklace shown at Oscar de la Renta.
Sleeve detail – it's carried over from the mainstream fashion trend. We're seeing more gowns with long, fluted sleeves or cold-shoulders.
Wedding business is booming for the mass market. Get prepped with these trends.