Today, denim is hot property. Brands are basking in their recent successes with the likes of Levi's and Madewell announcing strong sales in the past quarter.
And it's only going to get bigger – the wardrobe staple has proved its staying power and is reporting growth with the global market size of denim jeans predicted to reach $57.6bn by 2023.
At EDITED, we're constantly evolving how we use AI and data to change the future of retail – and this month we've got two powerful new features up our sleeves. With our latest price and discount-over-time tools you can smarten up your denim assortment by:
– Understanding pricing trajectory across time compared to your competitors;
– Spot when trends are ramping up or cooling off;
– Analyze discount periods over time to detect the health of your category vs. competitors.
We know you buyers and merchandisers are super busy (we work with so many of you!). We've cut out the manual work to help you spot real opportunities quicker. Not in the denim game? There are endless ways you can use these tools into your category.
Get in touch here for a demo on how we can make this work for your business!
How are prices shifting?
Understanding price evolution is essential to stay in line with the market and ensure sales aren't being cannibalized due to pricing competition.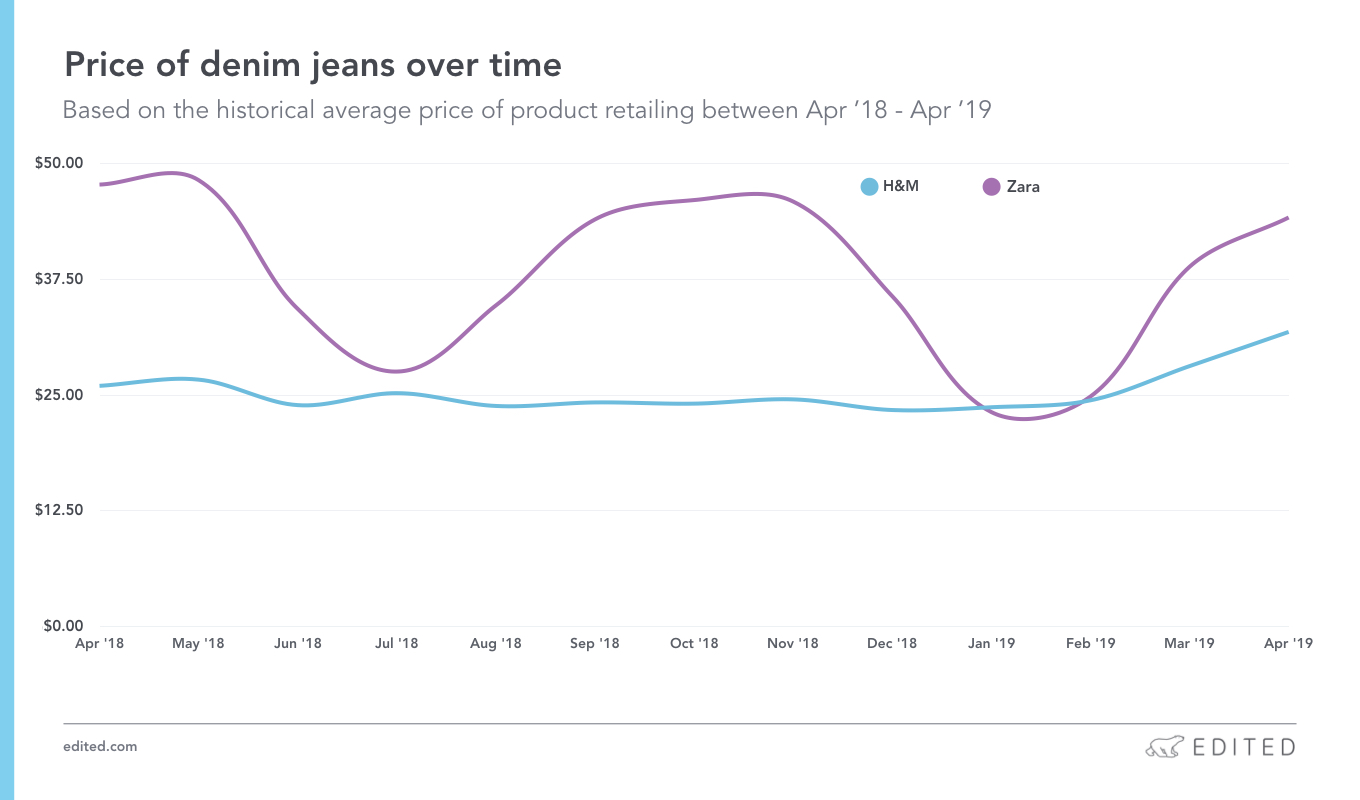 Using the price over time analysis in EDITED, we can see the shifts of the average price month by month of denim jeans in the US market. Comparing the actual price of the product at that time for H&M and Zara, it's interesting to note how each retailer's pricing strategy shifts throughout the year. On average, H&M jeans are priced lower and remain consistent. Zara's are more expensive, yet drop to meet H&M prices at distinct sale periods.
How does this compare with how your denim jeans are priced?
Evergreen vs. fashion prices
Of course, there are many factors to consider in category pricing. A major one is the differentiation between core and fashion styles. Good retailers will have a different strategy for the pricing of their never-say-die skinny jeans compared to the impossibly chic high-rise culottes. Tracking the price consistency of jean styles will help you drive margin for core items as well as justify when a trend is starting to boom or die out.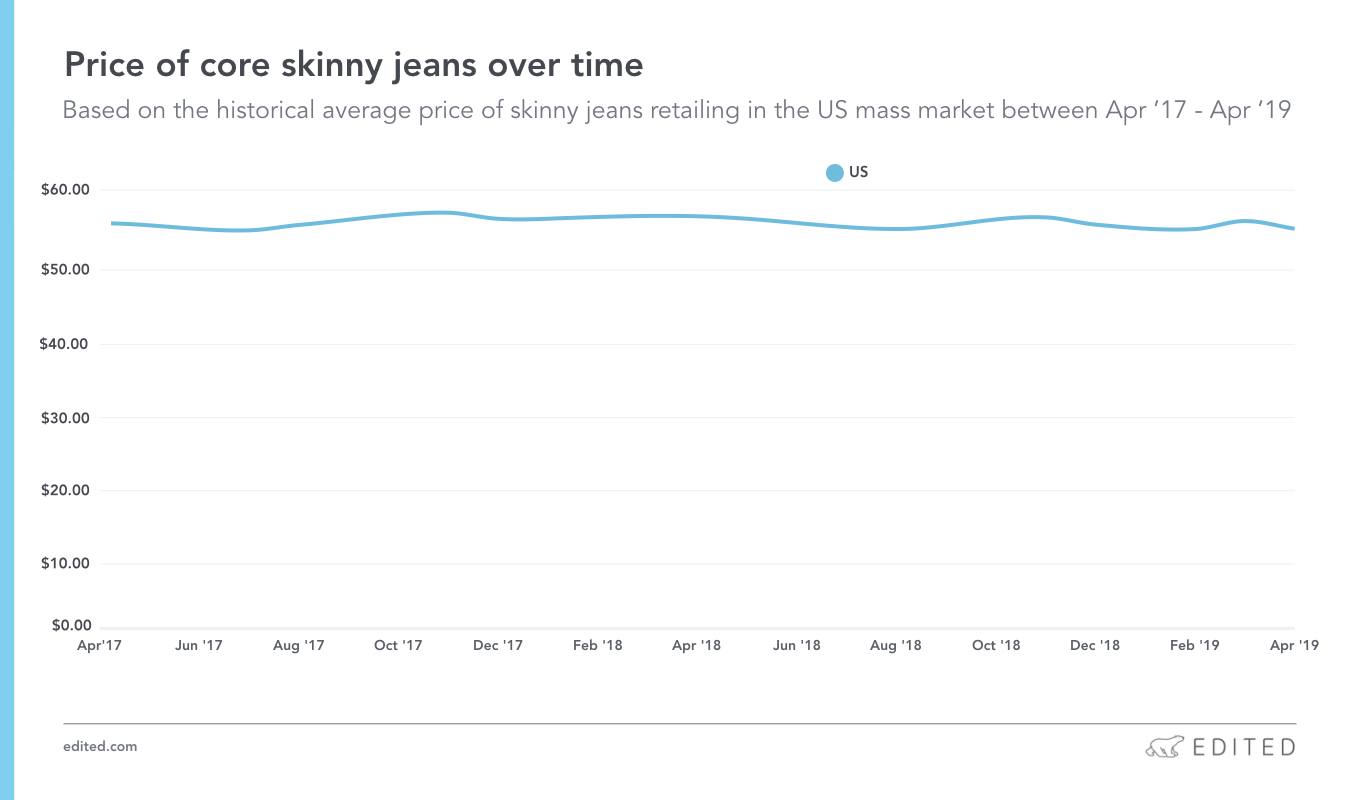 Despite the many reports that skinny jeans have had their day, they are still the bread and butter of denim assortments. Evergreen skinnies in core colors that are always replenished have kept a consistent price over the past two years. Think of this graph as a benchmark for the market. Where is your brand sitting?
Got EDITED? See the price over time chart in action in our report; the evolution of luxury pricing.
The more trend-led styles take longer to establish a stable price point. Analyzing the price over time on these styles is vital in understanding how mature a trend is. And since no one working in buying or merchandising has the time to be checking the price of denim boilersuits every day, adopting AI into your processes can take out the manual work.
Prices for these fashion-forward items start to rise as a trend becomes popular and retailers start to capitalize. If you work with short lead times, you can spot these spikes and invest accordingly. Are prices plummeting? Maybe it's time to back away…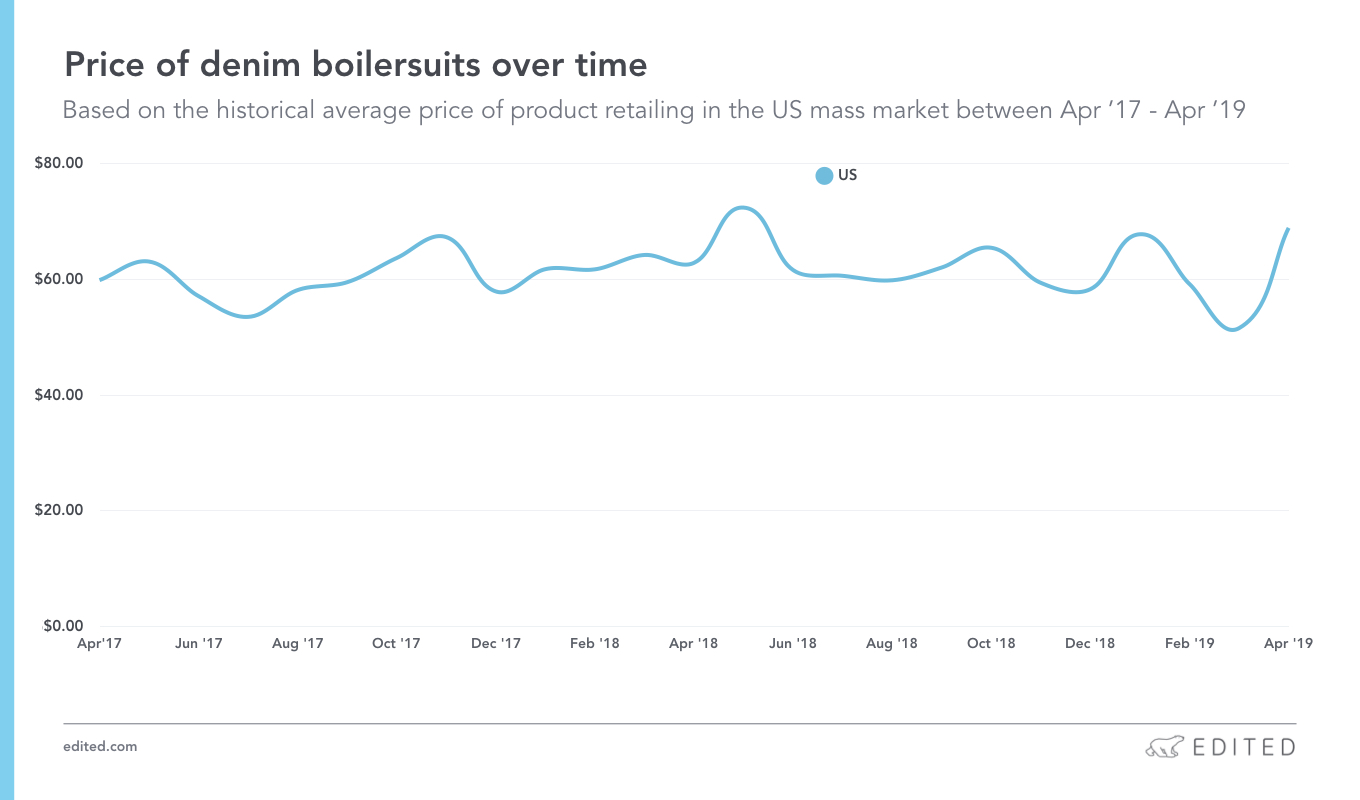 As denim boilersuits are dominating the mass market, we can see prices fluctuating and then trending up after April.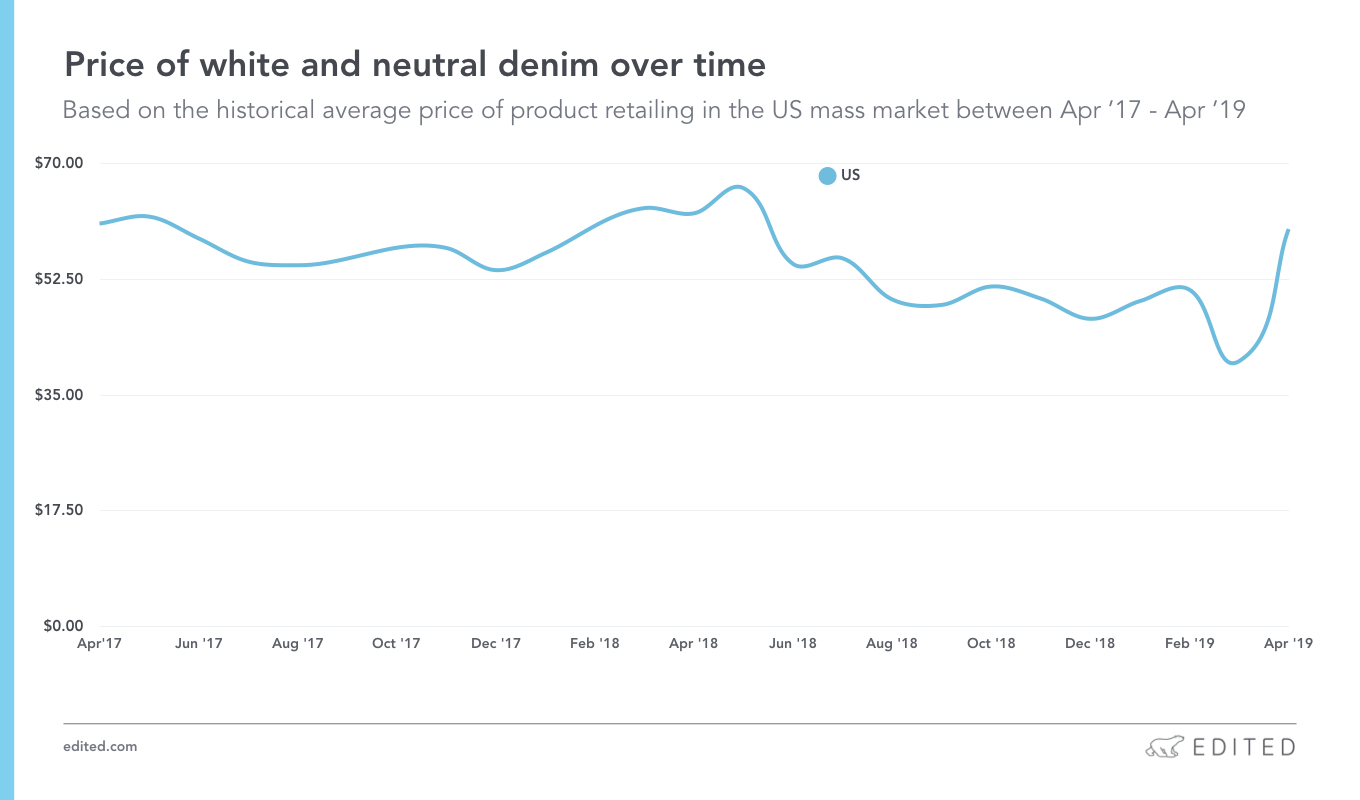 Is a trend dying or is it hibernating for winter? Seasonality plays a huge part in the pricing of trend-led product. White or neutral denim sits at a higher price point within warmer months of the year and starts to trend down when the temperature drops. Now that it's getting hotter, prices are rising once again.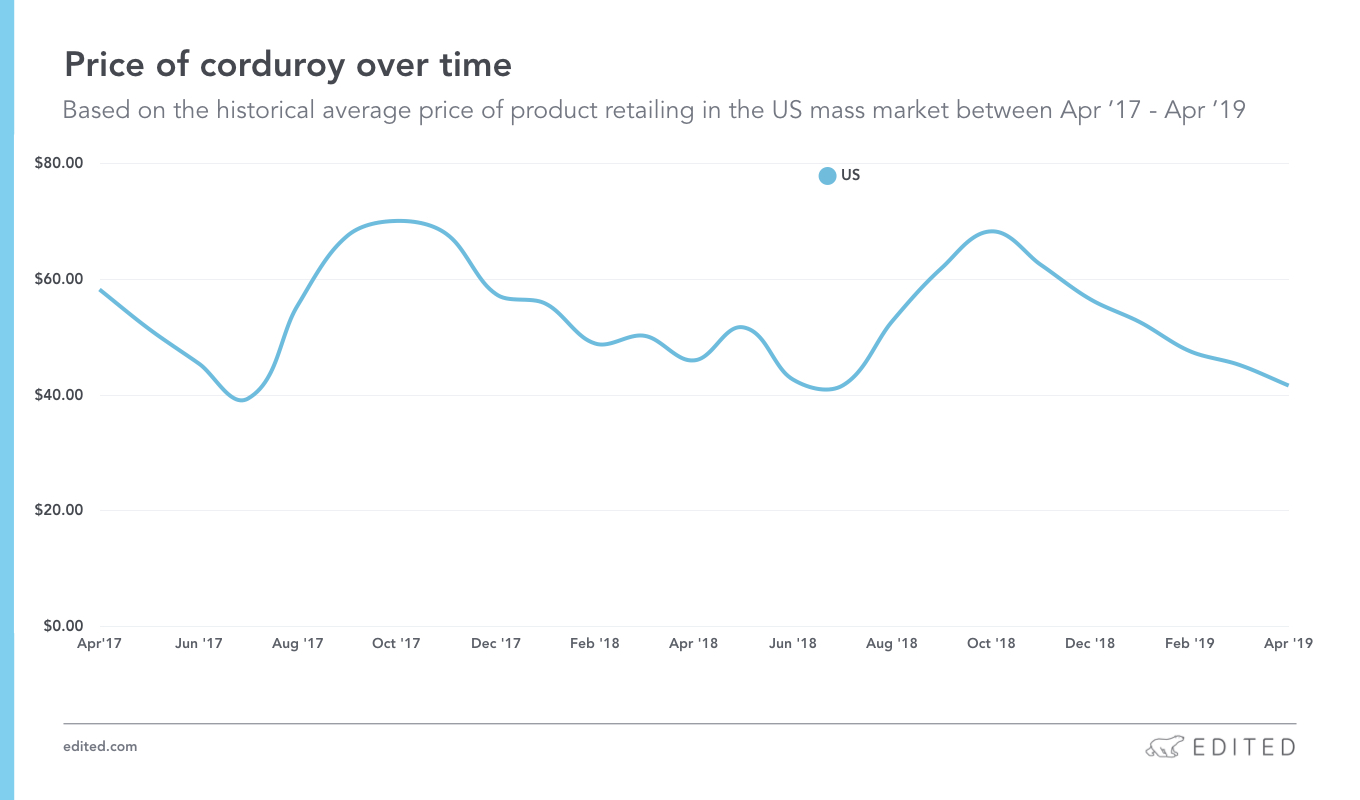 Moreover, it's a similar story for corduroy. Prices are starting to flatten and reduce while retailers back lighter fabrics for their summer ranges. Analyzing pricing peaks and troughs can help ensure you're delivering products at the right time. As we know in retail, timing IS everything!
Measuring discount health
EDITED's discount over time tool can measure the depths of reductions taken from product categories and compare it YoY. Denim shorts, for example, experience their deepest discounts in January for both the UK and US.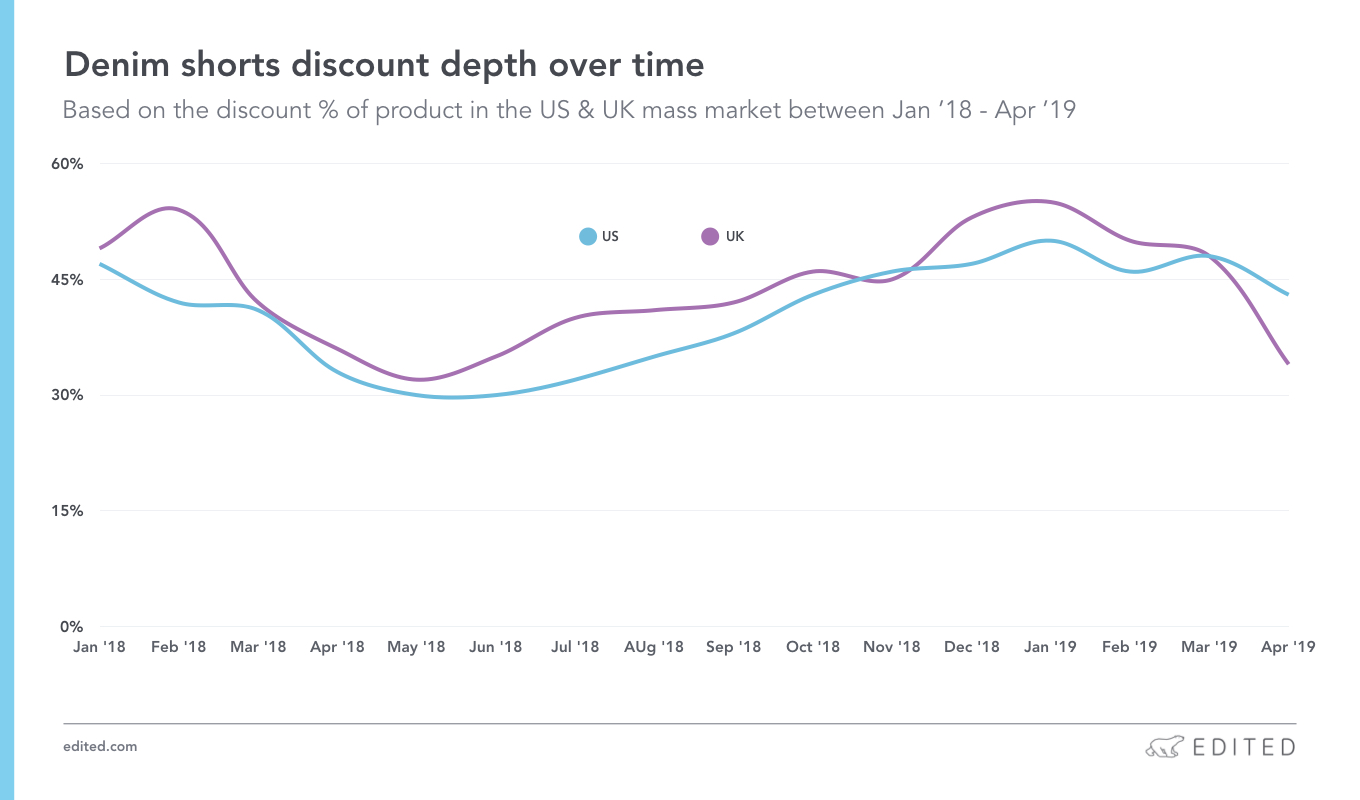 Both of these markets were stocking more shorts for that month compared to 2018 (a 25% increase in the US, a 23% increase in the UK). Comparing the discounts taken for denim shorts in January 2019 vs 2018, the UK market deepened their discount level by 12% YoY while the US increased by 5.2%.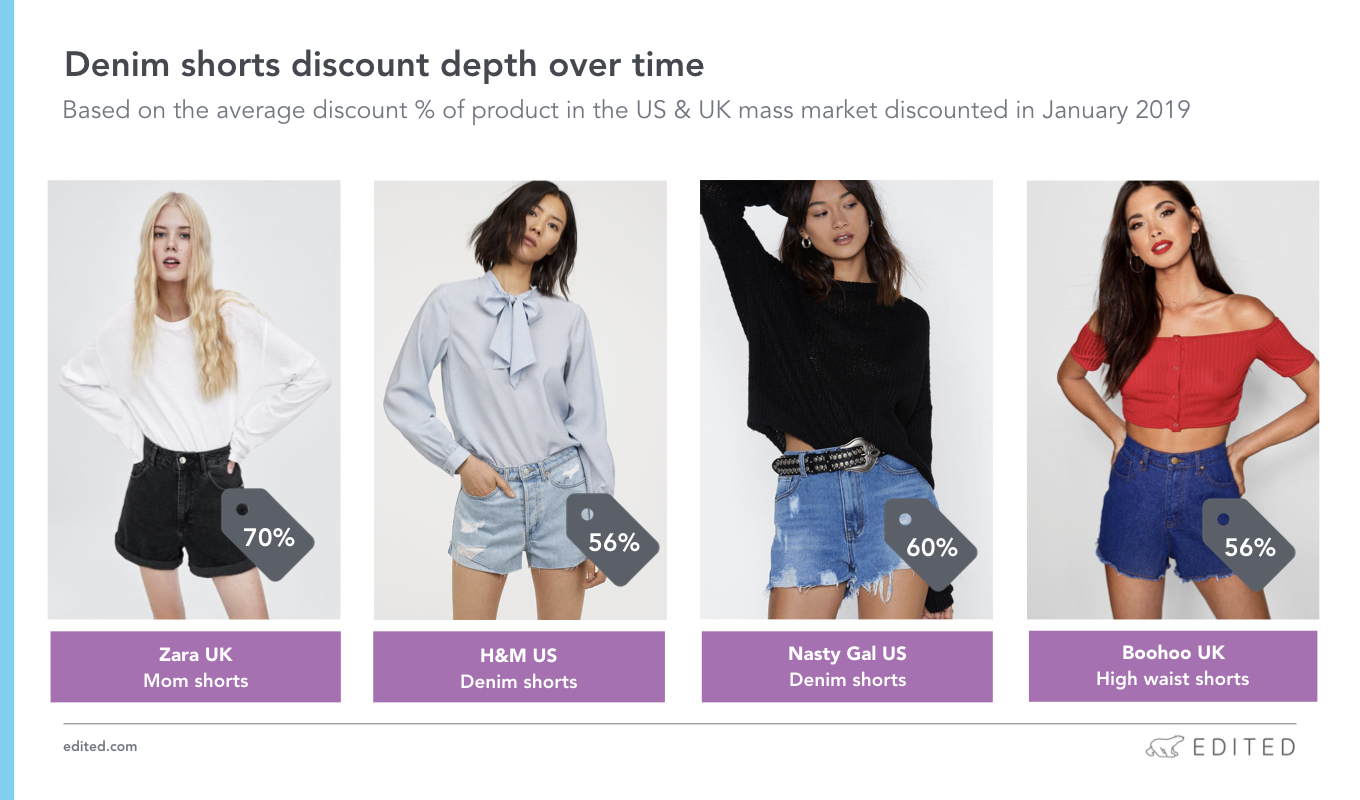 Charting discounts over a timeframe is an easy benchmark to measure the overall health of a category. Were you discounting deeper than the market average?
So, there you have it! A sneak peek at our latest pricing and discount analysis tools. If you have an EDITED login, you can find more detailed reports on these charts here.
Want historical pricing and discounting data at your fingertips? Get in touch here to find out how you can match your competition and never miss an opportunity again!