Applying scale to a trend can be tricky. There's a fine balance in fashion. You can invest in products which are very present, perhaps saturated, in the market and have a known profile. And you can be early onto a trend, in time to make lots of money from it.
Data supports the selection process for both. A good way to measure saturation against trend is to understand the ratio between newness and scale of offering. That highlights things with big recent growth. Let's take skirts, for example.
First we looked at the different skirt styles currently in stock. We then dug a layer deeper, to understand what proportion of those products arrived recently – in the last three months – compared to those items which have been hanging around for longer.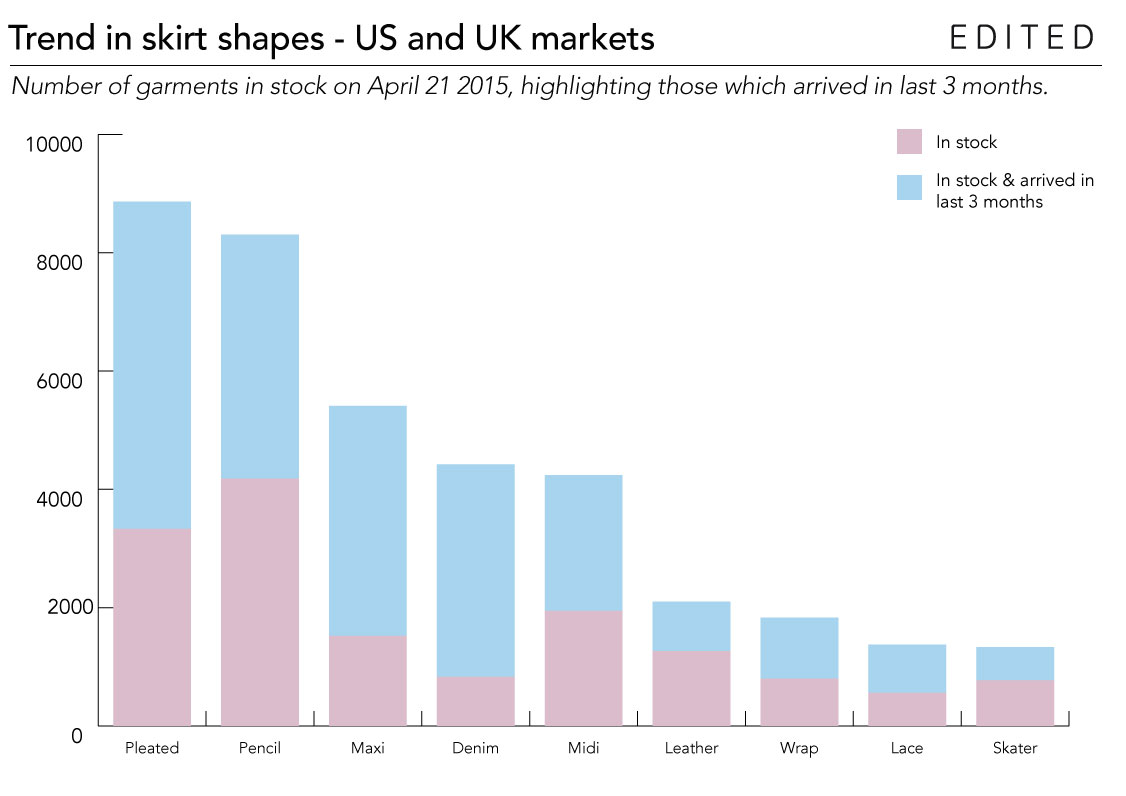 This method shows denim skirts to have made huge progress this season – 81% of current denim skirts arrived in the last three months. We know the trend isn't over-saturated yet as denim skirts are only the 4th most stocked skirt style. Denim skirts are a trend with big growth and a good life ahead of them.
Pleated skirts are also a huge trend, but they're further down the line than the denim skirt. Of current stock, 62% arrived in the last three months, but they're currently the most stocked skirt style, pushing them into saturation zone. Maxi skirts fare better – the second most stocked trend, with 72% of current stock arriving online in the last three months.
Interestingly, Net-a-Porter has profiled all three of these styles in newsletters in the last couple of months – flexing their savvy trend selection and editorial skills . Knowing when a trend is on the ascent will also help you communicate the product at the optimal time in the all-important email newsletters.
And what about skirts that are stagnating? Pencil skirts are slowing, despite their strong presence in the market. They'll ease off as a trend and return to core status – so you can expect fewer prints, less fabric experimentation and simpler colorways in coming seasons. Leather skirts have also stalled – they're more present on the market than wrap skirts or lace skirts, but those both have more recent newness. Meanwhile, skater skirts are all but dead. Their low levels of market penetration are met with only 42% newness in the past three months. Back out, back out!
Viewing market penetration and performing product counts are not powerful enough methods when it comes to making decisions about trend. Thankfully data helps you drill deeper, spot those denim market garments as soon as they begin to ramp their profile up and clear those skater skirts before you're left with dead stock.
[editd-banner image="https://edited.com/blog/wp-content/uploads/2015/03/History_calendar-view.png" header="Want to know more about how EDITD can help your business?"]Request a live demo with one of our product specialists.[/editd-banner]