Despite the fashion industry's reluctance to change, we are in an age of inclusion. As we celebrate a greater size, age and cultural diversity in the media, younger consumers will continue to look up to these cohorts for fashion inspiration.
Need proof? Champion of inclusivity Rihanna just cast 67-year-old model, JoAni Johnson, in her first Fenty Maison campaign. Checkmate.
When creating an age-fluid assortment, buyers need to avoid pigeonholing. While a customer's needs may change as they grow older, remember, age ain't nothin' but a number, and personal style should not be determined by it. Of course, this is easier said than done and often requires a balancing act between trend-driven items and classic pieces. In this report, we analyze the latter, bringing you the top-performing styles you need in your summer assortment for the modest customer.
The growth of modest edits
While modest dressing may have been previously seen as "dull" or "old," retailers like The Modist have shattered this stereotype. A customer of any age may choose to dress covered, whether it be for religious reasons or personal taste. In addition to The Modist's success, more retailers are including modest dressing edits on their website or in email communications to attract customers shopping for this style. Since 2016, Uniqlo has collaborated on a modest range with visual artist and designer Hana Tajima. From 08 May – 23 May, Zara included a modestwear edit advertised via a drop down bar on its homepage.
Getting the price right
Using EDITED's retail data platform, we charted the entry, average, and exit price points of must-have modest pieces at age-inclusive retailers. Looking at the latest styles arriving in the past three months in the UK mass market, buyers can pinpoint where their summer product sits compared to the rest of the market.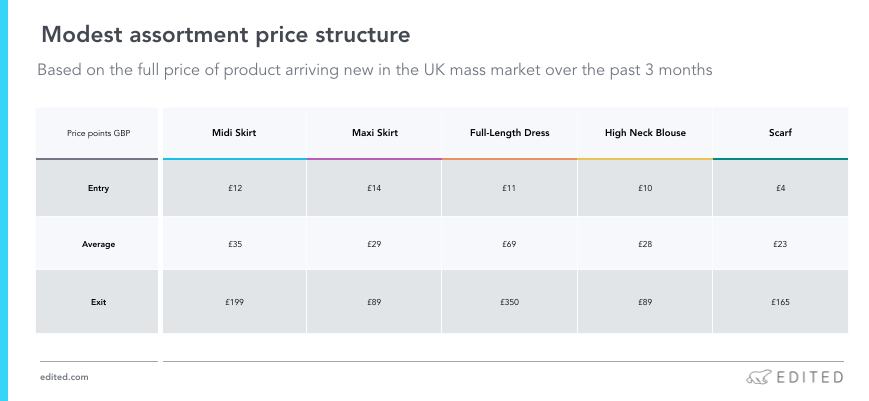 Back up your pricing decisions with the power of data. Learn more here.
Modest top movers
The three most successful styles within the modest assortment are the midi skirt, the maxi skirt, and the full-length dress.
EDITED data reveals midi skirts are the hero piece of this story. This classic style, which appeals to all ages, experienced a 57% increase YoY in the past 3 months compared to the year prior.
245 new midis have arrived in the past three months at a cohort of 15 British retailers. The top retailers buying in are Marks & Spencer (59), Bonmarché (51) and Zara (39). The success of this style has allowed brands to run core styles in multiple colors and prints. Animal and floral prints remain most popular making up 24% and 23% of new patterned arrivals respectively.
The bulk of new midis are priced relatively low, between £20 and £35. Examples of high priced styles in 100% leather and silk exist at Marks & Spencer, Whistles and Hobbs.
Best selling styles included a-line skirts, fit and flare styles, front button details, and knife pleats.
While maxi skirts continued to register as a top performing style, growth for new arrivals of this shape remained flat YoY. £20 to £38 is the sweet spot for pricing this style. EDITED recorded the highest exit price at Mint Velvet, £89, compared to £199, at Marks & Spencer, for the more sought after midi.
As for maxi skirts, 69 new items entered this market in the past three months. Bonmarché (24) was up there again with the highest number of arrivals followed by Uniqlo (17).
Best selling styles included tiers and pleats. Cotton and jersey were popular fabrications while floral and tropical prints resonated well for this skirt shape.
Compared to one year prior, full-length dresses increased 8% over the past three months. 202 new styles arrived in the UK with H&M (61) and Phase Eight (31) representing the greatest assortment. Both are examples of retailers promoting very different pricing strategies. The majority of full-length dresses at H&M were priced between £25 and £38, while these items retailed at Phase Eight between £110 and £240.
Wrap dresses were the favored full-length silhouette, and styles with tie waists and button details also saw high SKU activity. Again, floral prints came out on top, making up 30% of patterned dresses. While long dresses can register for formal events, styling with sneakers continue to be the norm within this market, appealing to customers of all ages.
In conclusion, the over 50s customer in the UK now accounts for over half of consumer spending. Tap into this opportunity and make your summer assortment age-inclusive by adding these top-performing silhouettes in your assortment. Get in touch to find out how.