We often discuss the pricing headaches associated with retail – be that frenetic discounting periods at department stores or competition around red-hot trends for fast fashion retailers. With limited flexibility, brands can get overlooked in the pricing conversation. They have a different, but no less complicated, relationship with pricing.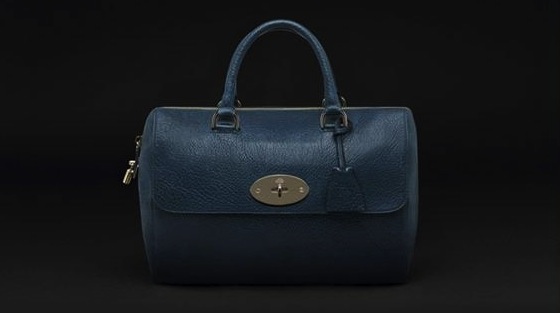 Here, based on the stories of brands like Mulberry and Coach, we explore three key challenges brands face when it comes to pricing:
1. Communicating product value
2. Growing market share
3. Discounting without damaging
Communicating product value
Brands have a task cut out for them when it comes to communicating their price point. Consumers need to feel convinced that the higher price point of branded goods is justified through quality of product and what the brand stands for. That can become problematic when that messaging is weakened or when brands attempt to reposition in order to attract more consumers.
Mulberry are a recent example of misjudging and mis-communicating their price point, which hurt the British luxury brand. In an attempt to become more upmarket and appeal on a greater scale globally, CEO Bruno Guillon pushed up pricing. This move alienated their loyal customers and left a gap in the market at the $250-800 price bracket. Sales fell by 3% – resulting in Guillon's departure. Mulberry had failed to communicate and justify the price hikes to their existing consumers, and hadn't done enough work to realign the brand's profile in order to attract a new shopper.
Looking at the retail data from new product arrivals this Fall, it's plain to see that Mulberry are trying to correct the problem, as they build back into that $250-800 bracket they neglected last year. In an incredibly competitive luxury market, it's brand storytelling that will lift their price point over a longer period of time. The brand have called in Cara Delevingne to bond with their lower-price point consumer and win back spend. It's not all bad news though. Currently, Mulberry products online have an average price point of $800.85 and only 0.3% of their offering is discounted by 30% or more.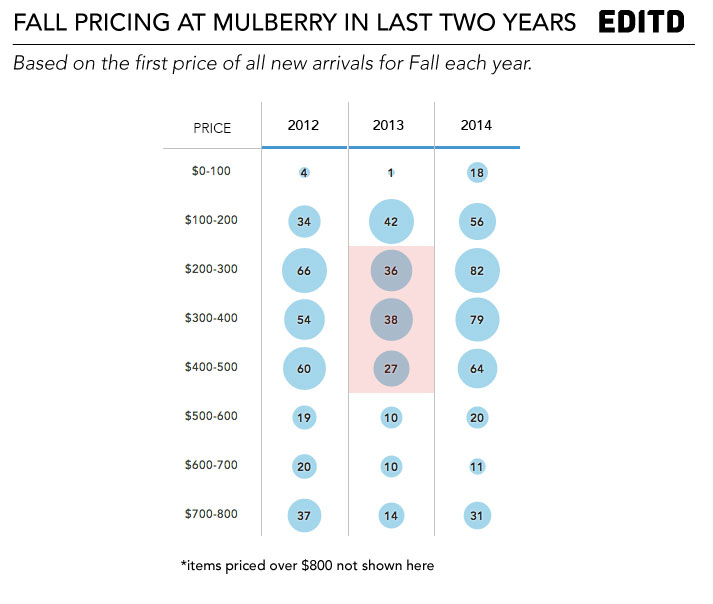 Growing market share
When brands attempt to appeal to more consumers by lowering their price point, without differentiating the brand's namesake, it can have lasting consequences. Marc by Marc Jacobs and Donna Karan's DKNY both successfully broadened their consumer reach without impacting the core brand. Coach, on the other hand, have struggled, resulting in a harsh reality check after four consecutive quarters of falling sales.
Too many factory outlets (numbering more than regular stores!), distribution of discount coupons, along with opening an online outlet, meant that Coach's customer got used to purchasing on discount. Drastic action was needed, and Coach responded by introducing more expensive items into their offering, scaling back on the discounts, pledging to close a fifth of North American outlet stores next year and cut back on online outlet activity.
Following a strong marketing campaign and a well-received Spring 2015 collection at New York Fashion Week, Coaches' Q1 beat estimates and share prices climbed 11%. Looking at their current data, Coach have 24% of their offering on an average discount of 8% (compared to 38% of products reduced at Tory Burch, on average by 9%). Compared to average pricing at Michael Kors ($231), Coaches' average price of $199 could still be lifted, and perhaps it's unnecessary to immediately draw attention to their under $100 offering on their homepage, but they are on the right path to recovery. Having full market visibility before making critical strategic decisions like these is paramount.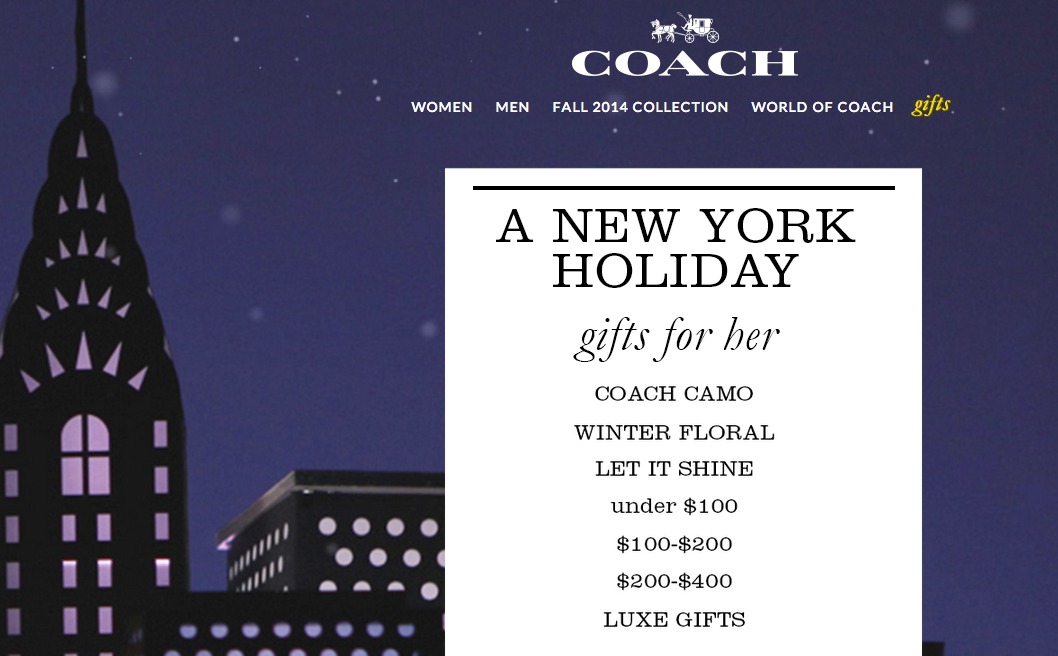 Discounting without damaging
Of course, discounting isn't always avoidable and, even for a brand, can be a healthy part of retailing. But knowing how or when to best discount without damaging brand integrity is a major headache, and that's just within a brand's own stores. Once product has gone to other vendors – boutiques, department stores and retail sites – brands often lose control of discounting.
Having a clear view of what is happening with your product at your stockists is essential. Furthermore, MSRP's (Manufacturers' Suggested Retail Price) in the US (where the product never needs to have retailed at that price point, unlike in the UK which has stricter regulations) and other outlet strategies like made-for-factory stock, where product quality is compromised, devalue the entire brand offering. The effects of these tactics are heightened with online transparency. At one point, 85% of Coach's outlet stock was made-for-factory.
The best, and only, way to deal with this strategically is to make sure the right price is the first price. Building trust with consumers is of more value here, shoppers react instantly and emotionally to price, so their belief is critical. Brands must exercise control – few brands are like mass retailers who can appeal to a huge range of shoppers. Instead, ensure the right price for the right product, and only take steps to expand your market share after taking a long hard look at the market data.