We did it, you did it: fashion month is over and we're all still standing. There's only one thing left to do: analyse the Fall 2018 trends and take note of how they'll shift in retail.
That's exactly what we've done with these, the big seven from the four weeks of shows. Fusing our runway analysis with market data, we get a read on exactly which trends the market needs and where the opportunities are with timing and price.
Get prepped for Fall 2018's trends
1. Go Western
An unlikely trend, but it's official: the wild west has made it into Fall 2018. The trend being backed by flamboyant labels like Versace and Dolce & Gabbana shouldn't surprise anyone, but the support from more streamlined and aesthetically refined brands like Hérmes, Fendi and Isabel Marant adds some mass appeal to the theme.
So how should you progress? New York's designers gave a vampy feel to Westworld-esque dresses – high necks offset with corset detailing and hitched up skirts. The story came through as less costume, more practical daywear elsewhere. We're talking leather pants, shirts with yolk detailing, cowboy boot shapes on the season's white boot and blanket wraps in a Great Plains palette.
An obvious must-have is the ubiquitous fringe trim. New arrivals since January 2016 show that last winter this detail picked up for the first time outside of festival season. In Fall 2018, bring fringe into accessories (especially belts and bags), knitwear, dresses and leather apparel.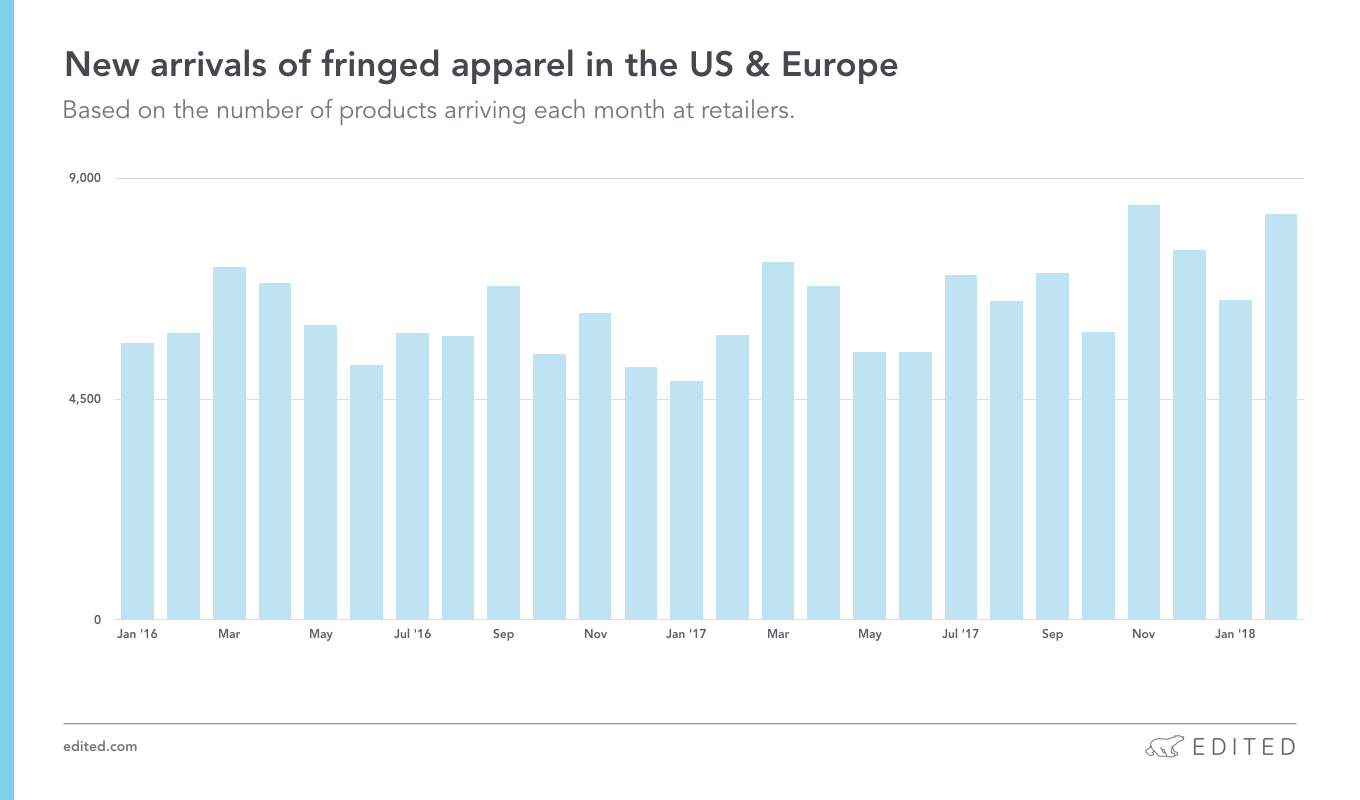 This is what Fall 2018 looks like. Meet the data-backed trends you'll be seeing everywhere next season.
2. The Never-Ending Decade
If you lived through it first time, the eighties are set to haunt you forever more. If you didn't – what a wonderful decade from which to pilfer fashion inspiration!
Designers are still enamoured with the exaggerated silhouettes and unexpected proportions of 1980s-era evening wear. It's powerful, attention-grabbing stuff, whether it's the metallic mini dresses of Off-White, one shouldered numbers from Saint Laurent the plunging necklines at Marni and Balenciaga or the zebra print at Zadig & Voltaire.
However, not all eighties garments were created equal. In fact, it's wise to check out the data before you launch head first into a range of slouchy knee boots…although data shows footwear is retail's most-stocked 80s category, that doesn't reflect in where consumers spend their money.
Looking at full price sell outs reveals that retailers under-stock on accessories and tops, overstock on footwear and have it just about spot-on for dresses, outerwear and bottoms.
3. Bold is Best
What can we say on color for Fall 2018, other than 'there's a lot of it'?
Actually, our colorwheels put it best:
While so many collections had fun with unlikely pairings of colors, Roksanda, Delpozo and Miu Miu included, it was the striking head-to-toe palettes that stood out most across all three cities. In racing green, mailbox red, sharp cornflower and mustard yellow, these single tone looks feel incredibly fresh.
But it's not all light and bright–with the rise of the Western trend, and some 70s references still hanging about, there was an increase in sultry tones of aubergine, tan, chocolate and burnt sienna too.
4. Technical Outerwear
Luxury brands have found a new way to secure the upper reaches of their price architectures: with very clever and functional outerwear. Whether you're down with science or not, our planet's weather is changing, resulting in greater weather extremes. Case in point: I write this from a New York snow storm, days after my London colleagues took a turn of their own.
For Fall 2018, taking attention off the now controversial fur coats was technical rainwear and performance puffers. Off-White and Balenciaga played with super-sized proportions, while Dior and Givenchy gave the classic rain trench a cape-like makeover.
Whether it's high-shine, or the most innovative rubberized surfaces, the message is coming through: the 'I took a taxi here' days of winter fashion are behind us, today it's cooler to dress for tackling the weather head-on.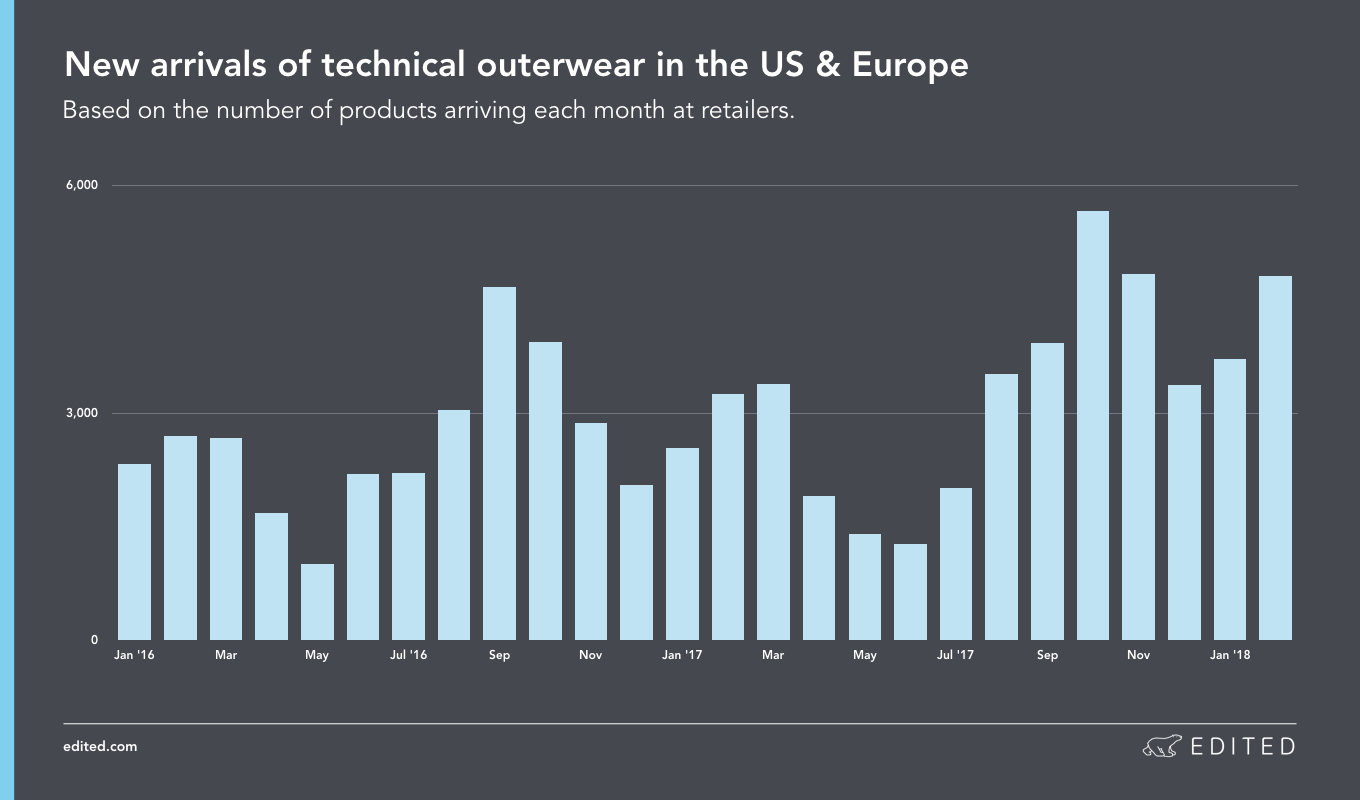 And data supports that shift, with a move away from seasonal spikes in new technical outerwear arrivals, towards a more concentrated effort throughout the challenging fall-winter-spring transitions.
5. Modest dresses
Maybe it's increased fashion industry inclusivity. Or perhaps a move away from fluffier notions of femininity. Or it could be the luxury knowing the commercial promise of regions where modest apparel is standard. Call it what you will, designers showed more dresses that were long in sleeve and hem and high in neckline.
Whichever market these garments are targeted at, this makes for comfortable, practical and elegant winter dressing. In daywear, these can be longline shirt dresses, or roll necked knits. For evening, do as Lanvin, with beautiful floor-length silks. This is the perfect way to carry off some of the season's stronger all-over color stories.
Plan your timing with care though. We can see that, historically, the highest price points on modest dress shapes hit in Q3 – July to September. It's the time of year when a long dress, boots and a jacket get you through – and ahead of those wet hem months of Q4.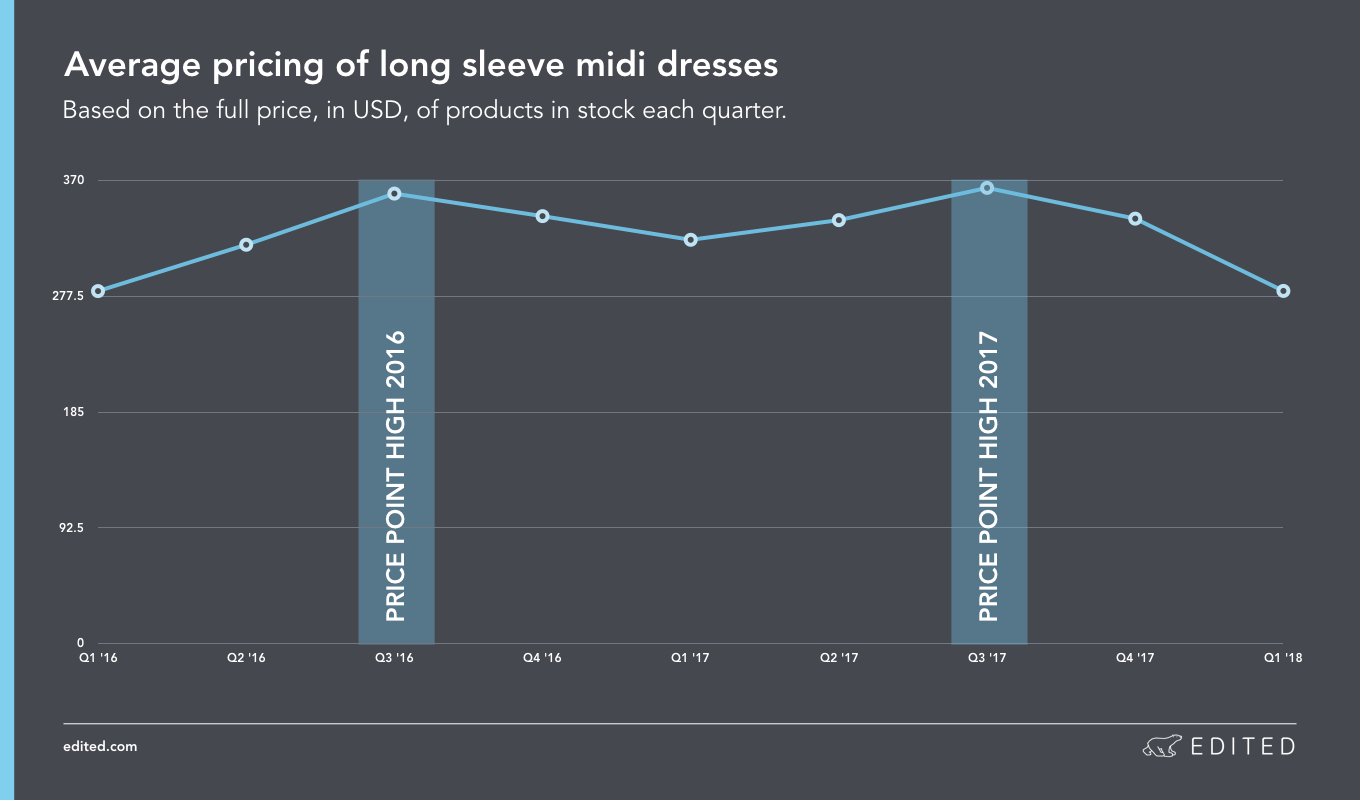 6. Sparkle and Shine
All that glitters is not necessarily gold. For Fall 2018 it can be silver, blue, purple or even iridescent if the mood strikes you.
Fully-sequinned fabrics were everywhere over the last month, which will be propelled all the more with the sequinned Oscar red carpet looks from Lupita Nyong'o and Jennifer Lawrence.
This is your festive party season answered, especially considering dresses command the highest average price point for sequinned apparel.
But don't forget the Insta-savvy teen and tween who will wear these sequins year-round. Conversational day pieces like sequinned bombers, tees, a-line skirts and crop tops will be leapt upon by this lot.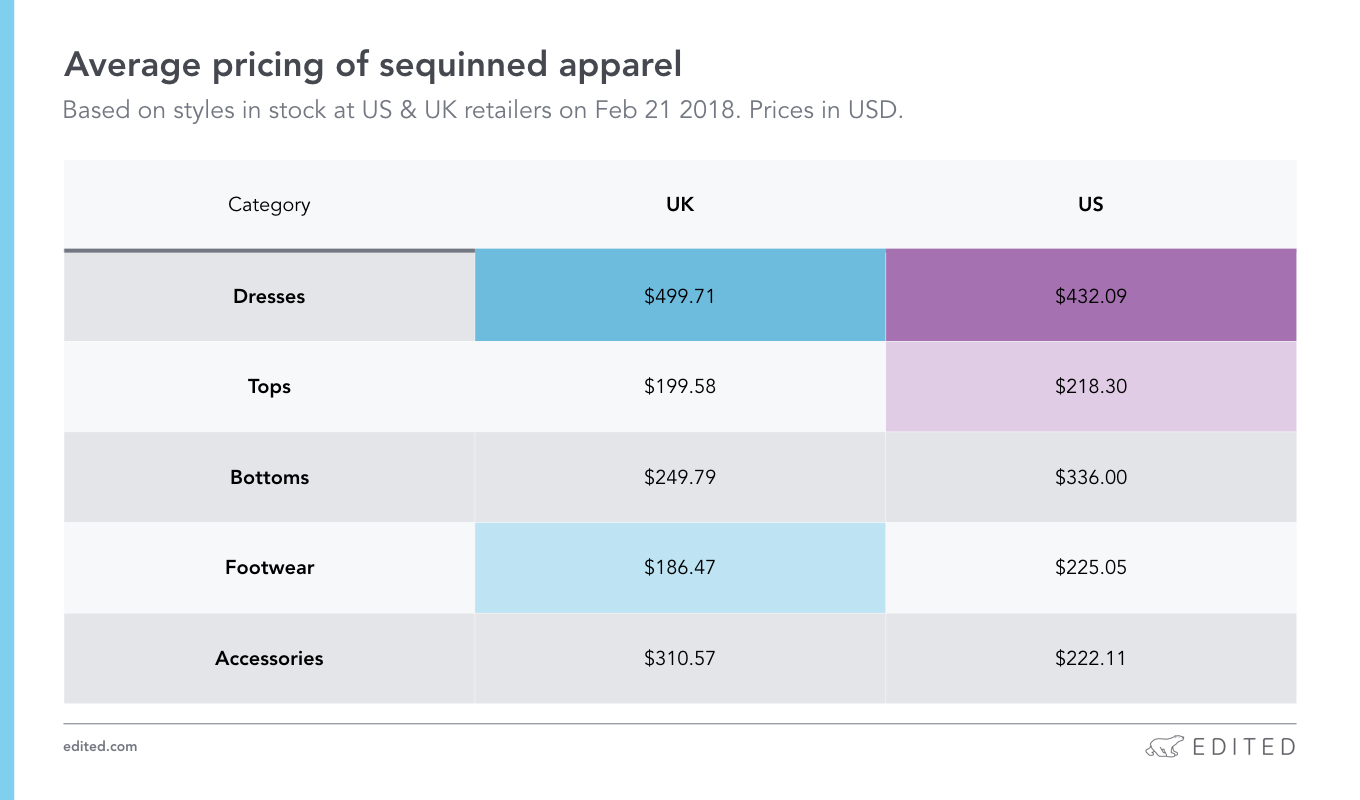 7. Sold on Solid Stripes
Bold stripes feel jaunty – they speak of summer sun. That's all part of the fun that designers were having for Fall 2018, taking unseasonal colors and prints for a hit of the unexpected.
Carolina Herrera's pocketed ball gown walks the formal/casual line immaculately. You can expect to see Burberry's rainbow stripes, which will be released this Spring, picked up throughout Fall 2018, in knits and outerwear.
But from looking at retail data on luxury items selling well right now, perhaps the biggest wins will come in boldly striped wide leg pants and jumpsuits. Rework for the winter season the types of lightweight palazzo-feel products within the gallery below. Perhaps try them in velvet or cord and you're onto a winner.
Putting trends through the data-lens is what we do best. If that sounds like something your business needs to do, chat to us and we'll help you get there.