Get a lung-full, folks; that fresh air is the promise of a new year. And while it's not, let's be real, exactly a case of so-fresh-and-so-clean, there's still a lot of good in store for the 12 months ahead of us. What exactly? That's what we're here to show you.
These are the nine retail, consumer and product trends that will shape the apparel industry over the next twelve months. Ready? Here goes 2017. Let's do this.
Retail Trends of 2017
1. Streetwear takeover
This may come as a bit of surprise but this year, sportswear (FKA top dog) is getting knocked from its pedestal by its edgier, less try-hard cousin: streetwear. We're talking skate and active brands with limited runs, in-the-know social campaigns and hyper relevant collaborations. Consumers will move on products as fast as the wifi allows and they'll sell out just as swiftly.
On a product level expect more of those simple, functional garments – the sweaters, hoodies, logo'd tees, denim, bombers and caps – but with a looser silhouette, urban prints and a cooler palette. Swot up because these themes move fast.
Bookmark sites like Hypebeast and High Snobiety and keep your eyes trained for movement across Instagram and Snapchat, that's were it happens. Brands you should be following this year include Palace, Off White, Supreme, Kith, Brain Dead, Fear of God and Bape.
Late last year we wrote about a few important characteristics of streetwear that help it sell so well.
2. Seasonally appropriate
Scores of designers have now embraced the instantly shoppable model, and more have switched up their seasons, running closer to the actual weather than the industry's formerly standard six month delay. In 2017 the entire industry will be crunching numbers on how well that's worked and plotting the next move.
In 2017 the entire industry will crunch numbers on how season shifts worked, plotting the next move.
Sure, we can see how Tommy Hilfiger sold following the runway show last September. But did those styles get replenished? How will department store representation of these brands change and is there going to be enough newness in the upcoming shows? They're all the burning questions that will be filling industry press throughout the year.
In a retail environment where department store over-discounting has devalued more than a few brands, the shift in seasonality is a great opportunity for brands to regain control by strengthening their direct-to-consumer channels.
3. Shouldering on
In 2016, off-shoulder dresses were top of the list in women's best performing trends. Along with flounces and Bardot styles, they got consumers warmed up to what's going to be an even bigger year for sleeve shapes. Leg 'o' mutton, bishop, flared, bell, extra-long, puffed, frill-lined even mameluke, you'd better revise them, so heavily featured as they were on the Spring 2017 runways.
This comes as part of a wider trend towards frivolity. The perpetuating 80s them will dominate this year (yes, again), minaudière, velvet shoes, extravagant metallic fabrics and embroidered denim.
Call it escapism? Either way, after seasons of body-con followed by cut-outs, these overblown sleeve shapes feel fresh – or at least reference historic shapes from way, way back in the reference books.
Retail trends of 2017. Number 3 = statement sleeves, part of a wider trend towards frivolity.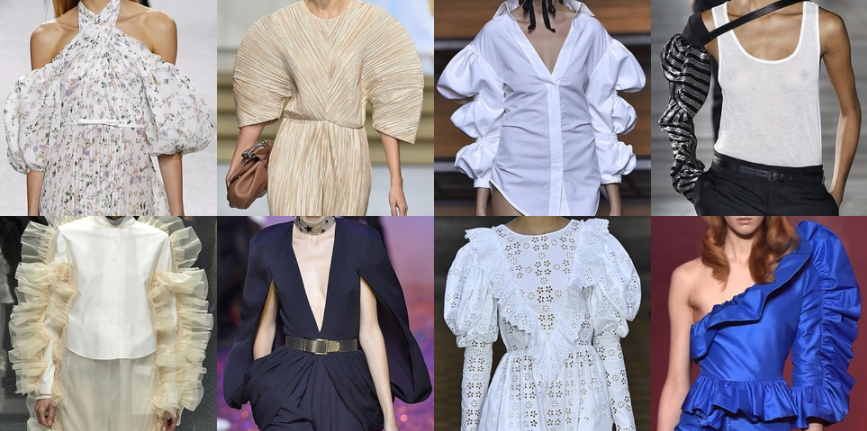 4. Tribe-defining merchandise
In 2016, tour merch practically upstaged the artists selling it. Bieber, Kanye, Beyoncé, Chance, Rihanna and Drake hit the road and brought entire retail stores with them. Tapping directly into millennials' need to affiliate, or just be ironic.
In today's confusing world, where, despite constant connectivity, isolation and disengagement is rife, consumers trying to define their place within that digital kaleidoscope are wearing their associations, awareness and beliefs right on the chest. It's that same desire partially responsible for the rise of niche streetwear brands.
In 2017, this will go beyond music and extend into any form of clothing that identifies its wearers' belonging to any kind of club, ideology or lifestyle. Slogan tees are the obvious win, but expect to see more subcultural references inspiring design on the runways this year.
5. AI revolution
It might not look like it does in a sci-fi movie, but AI is here. Retailers are already using it and using it well. In 2017, we'll see the breach widen between those that do and those that don't. In 2017, it's all about making shopping personal and frictionless. Do that for time-poor consumers and the rest will sort itself out.
With the aid of helpful chatbots in SMS and messenger apps, or by suggesting looks based on customers' shopping history, social profiles and interests retailers are able to tailor the shopping experience, which should now not only feel seamless but insightful and inspiring. Cosabella go one step further and use AI to make decisions on how their site looks and flows in real-time, to optimise traffic conversion.
6. Ones to watch
This year will be defined by two luxury brands. First up is Gucci, riding the Alessandro Michele led turnaround story of the decade. Items from the label's Spring collection will be on every one's hotlist – the logo sweatshirts, flatform shoes, bejewelled specs and ornate bags will sell like hotcakes when they hit stores in a few weeks time. Will the brand move away from eclectic chic for Fall 2017?
Then there's the hottest ticket in town, Raf Simons, and his new role at the reinvigorated Calvin Klein. Simon's clean aesthetic has been missed since he departed Dior in the fall of 2015. This new pairing will be fascinating – watch as he shakes up the sporty, all-American image of CK with his own brand of minimalist ingenuity.
7. Pink power
Pantone had declared a shade of green called Kale will be 2017's hottest. We respectfully disagree. Green looks good on about 4% of the population. Besides, kale (real kale) is so 2015.
Instead, this year in retail will be defined by shades of pink. Sure it's not a color coming from left field, but it will be the leading commercial palette of the year. From Miami blasts of flamingo to the girlish tones of blush and nude. Solange digs it. Chloé and Chanel endorse it. Topshop will be retailing it.
8. Service industry meets fashion
By now we should all get it: consumers buy mobile first. If your product isn't easy to buy on a handheld device, you're going to miss out on sales. In 2017, we need to move a few steps forward. Consumers are spending less on apparel and more on experience and tech, so retailers need to find ways to bridge that divide, and mobile offers that opportunity.
What services around fashion and apparel could be offered with UberEats style apps? Returns, designer rentals, dry cleaning, repairs and styling could benefit from some Silicon Valley attention in 2017.
9. Reassessing sustainability
Mass market fashion has spent the last ten years getting faster and cheaper. Meanwhile, newer retailers like Reformation and Everlane are educating consumers on the journey and true cost of their products, as well as the damage prevented through ethical creation.
Conscious groups of consumers are growing in number and 2017 will be the year when every retailer should question how they're going to fulfill the opposing pressures of newness and sustainability. Is the answer in recycling or recycled materials? Can it be found in season agnostic, multi-purpose apparel? And is there really a space for mass market retailers to enter this game? The next twelve months need to present some of the answers, if not all.
In 2017 all retailers should question how to fulfill opposing pressures of newness & sustainability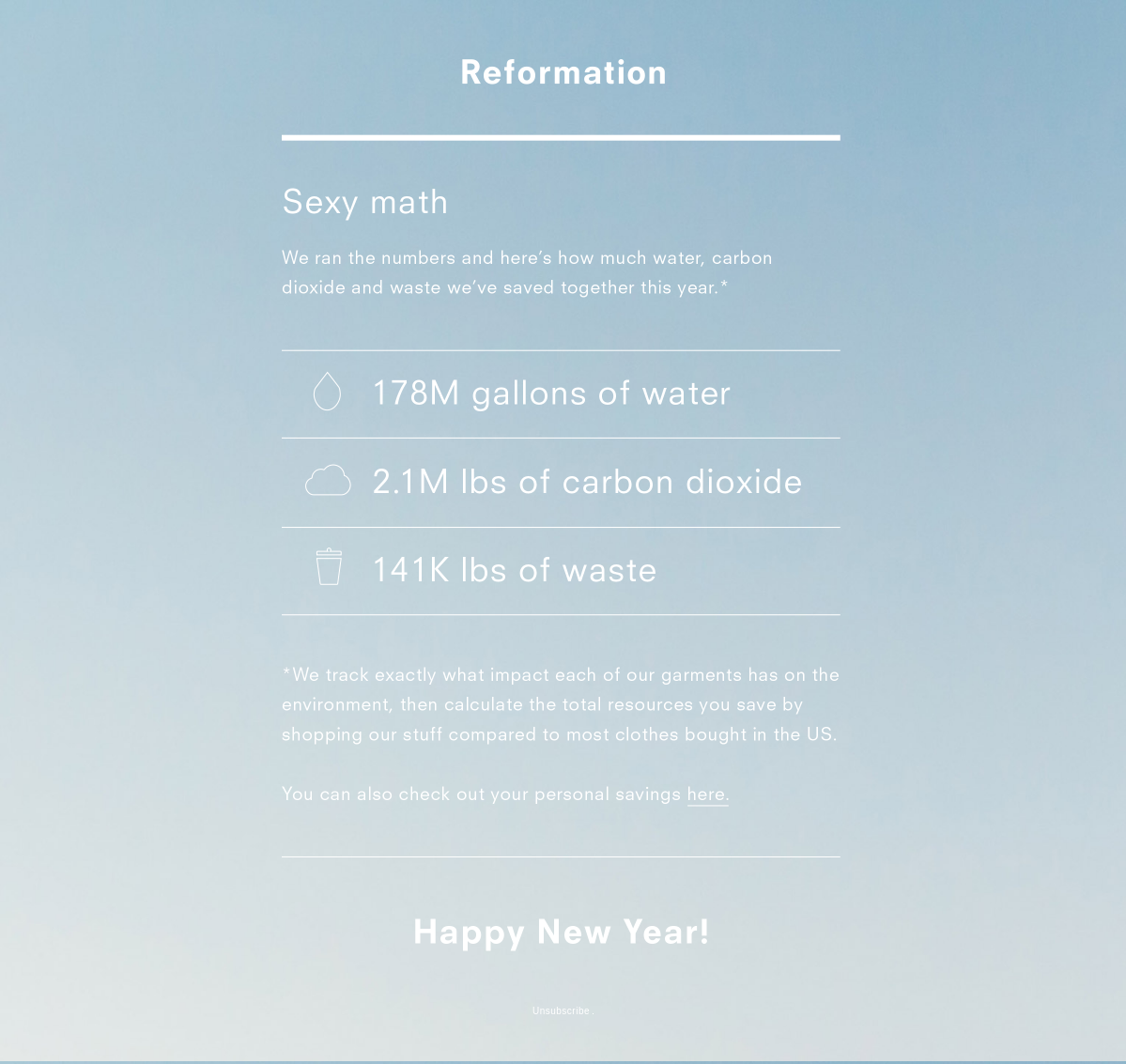 We're here to help retailers make the right decisions around product, price and timing. If you want to make big data your thing in 2017, talk to us today.