If continuous discounting and long-lasting trends are anything to go by, consumers are suffering from retail ennui.
What's going to pick retail up? Probably not more bomber jackets, hoodies and ruffled tops. (But rest assured those trends were of course on the runways and will naturally be backed by the mass market again).
What we need is a blast of the new to invigorate retail and to reignite consumers' passion. We need to push new categories, moving boldly into new opportunities.
But embattled retailers aren't in a position to take dramatic risks on out-there product. They need to lure consumers without backing mad-cap trends. So what is the perfect balance that delights consumers while making purchasing a no-brainer?
Here are the five trends, products and categories that retail needs in Spring 2018 to engage consumers and revitalise the retail experience.
Do more colors!
Millennial pink was a hoot. We all had a moment there, right?
The thing is, a supremely specific trend like this can limit sales more than it supports them. As we all know, trends these days are adopted at breakneck speed. Therefore, if you have one dominant color story for a season, everyone is very visibly going to have it fast.
So why limit sales by just serving singular color stories? Those dominant yellows and oranges right now are polarising. But the customer who doesn't want to buy into orange, doesn't necessarily want to just wear neutrals, so where is the alternative story?
There's a whole rainbow of color, so use it! There's a current gravitation towards unique color pairings fit for striking social media updates, that's working in retail favor.

So for Spring 2018, go after the lilac, the red, the electric blue, the lime green and don't forget those shades your own shoppers have a track record of adoring. The merchandising fun will come in clashing unexpected combinations.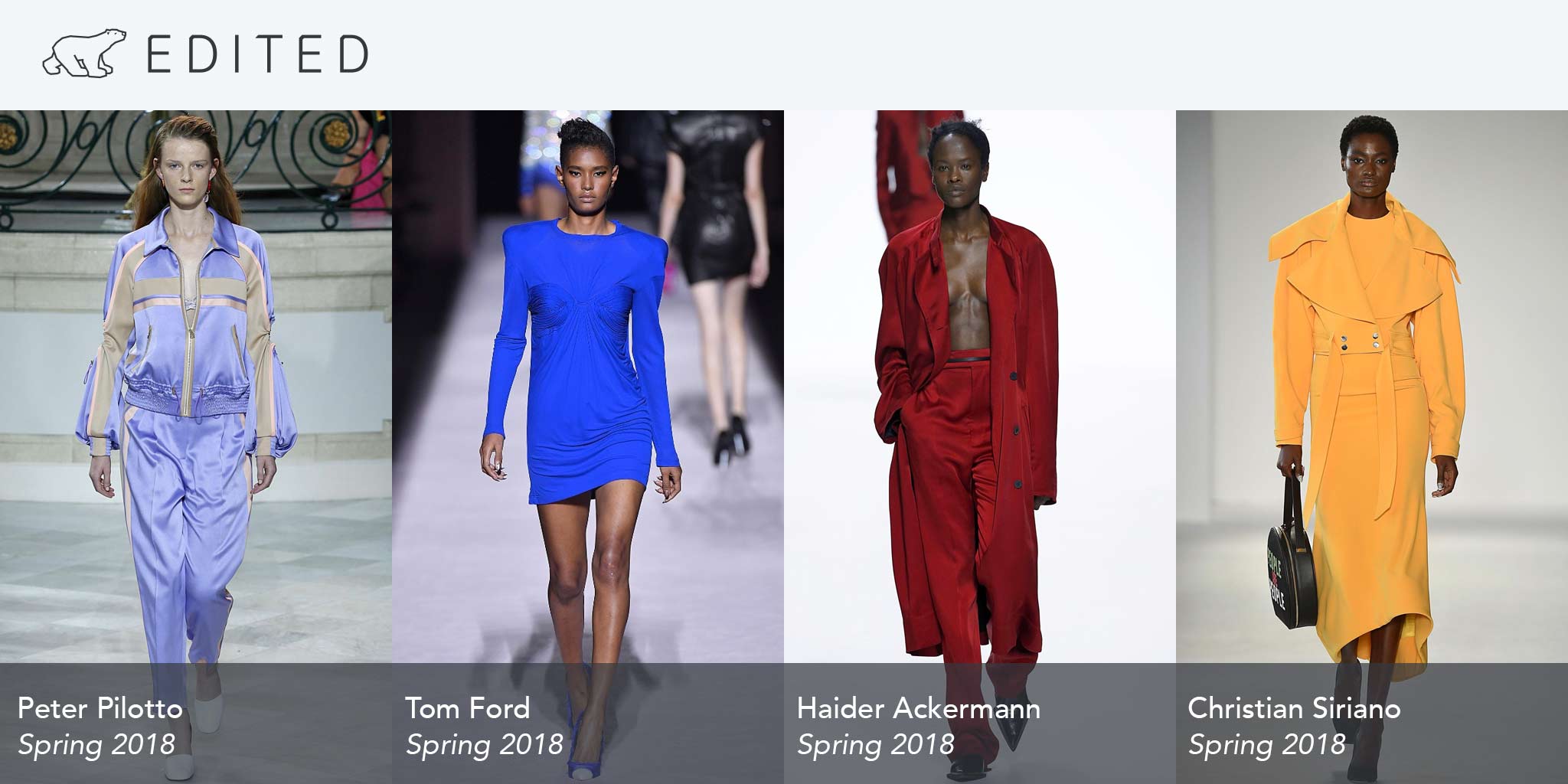 Why you should avoid the next millennial pink + other Spring 2018 trend advice.
Blur seasonal lines
Most retailers have been stung by overt seasonality and unpredictable weather. And thanks to globalization and e-commerce, geographically-specific allocations aren't defined like they used to be. Now you have to speak simultaneously to your customers on both coasts and, for some brands, even across both hemispheres.
Thankfully, consumers want to dress functionally and comfortably right now. That means layers and versatile fabrics which will help retailers lure new season spend from the very start of the season, building in seamless drops.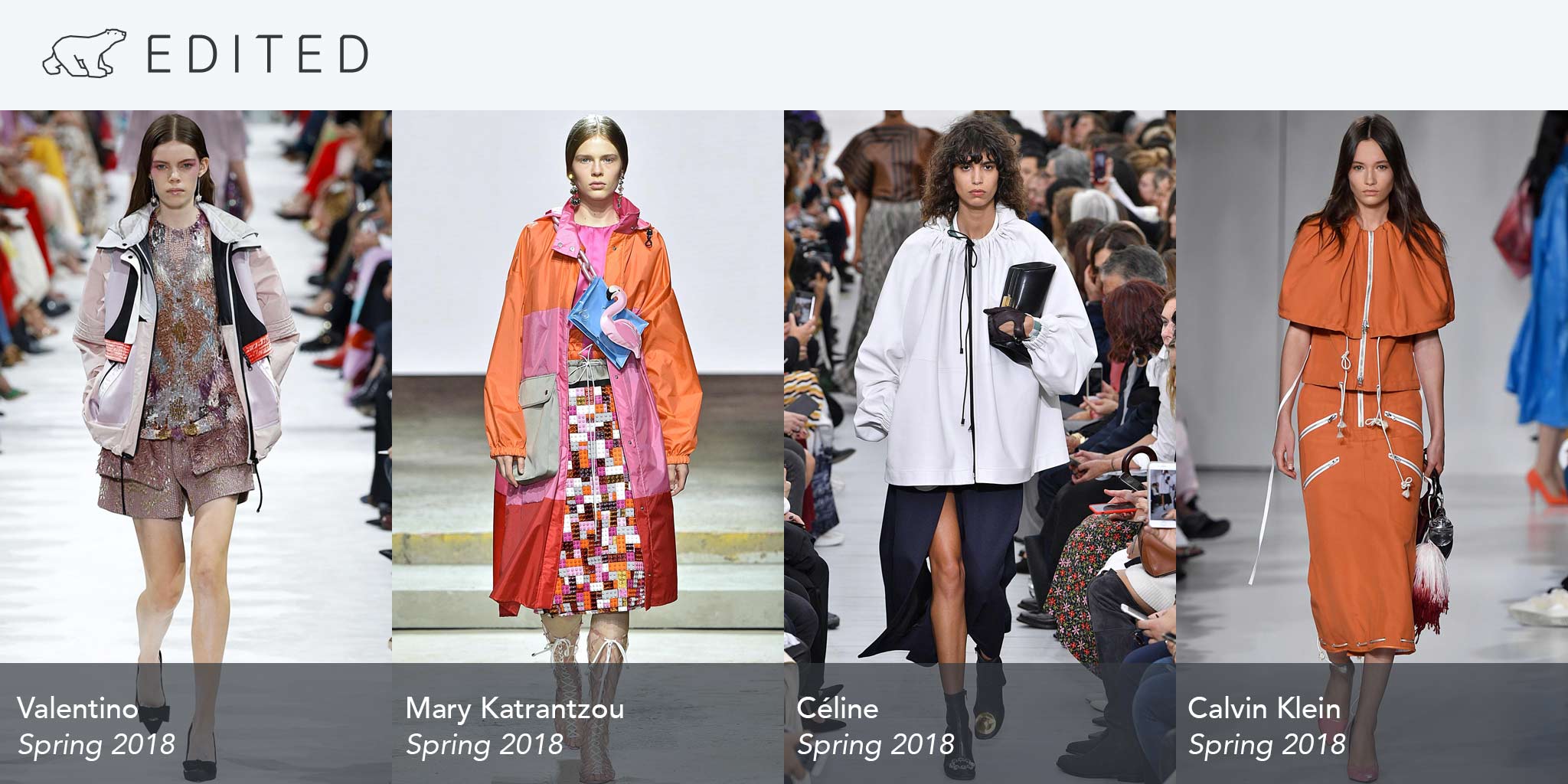 Spring 2018 gave us many ways to bolster assortments with hyper-wearable garb:
Outerwear – There were lots of options for technical outerwear – you could go for oversized and colorful raincoats like those seen at Calvin Klein and Mary Katrantzou. Or try the season's checked print on rainwear from Burberry and the checkerboard longline styles from Dior.
Meanwhile, Valentino and Balenciaga offered up ultra-luxe technical jackets in block colors. Staying dry never looked so chic.
Functional footwear – You should take note that Crocs returned to the runway. The Balenciaga ones will get picked up, but you shouldn't try to emulate them – instead think about the customer need behind such trends.
Waterproof, lightweight, comfortable, pull-on, plastic, colorful. There are things you can do around these key aspects that will tap into the ugly-shoe moment.
Fastenings – Spring 2018 is about fastenings you could secure a tent with in strong winds. Drawstring waistlines, hems and even necklines at Céline, flyaway straps, d-rings and popper fastenings, making their way onto daywear and eveningwear.
Make statements
Logomania is back, right across the board. It makes sense for luxury brands to tap into branding right now. For one, today's shoppers are hyper-loyal, 'collecting' their branded purchases. They carefully curate their online personas, bringing together identifiable branded items to tell their personal 'story'.
And as the mass market is getting speedier at adopting luxury trends, having logoed items differentiates luxury, and spins the brand's heritage story, so vital in connecting with shoppers. Versace, Loewe and Gucci all put their name front and centre on sweaters and tees, while Max Mara and Fendi brought back their house monograms.
While that's desirable from a luxury brand, there are also ways for mainstream retailers to tap into the statement need. Try limited runs of slogan tees, illustrator collaborations, selfie-worthy earrings and look-at-me sunglasses.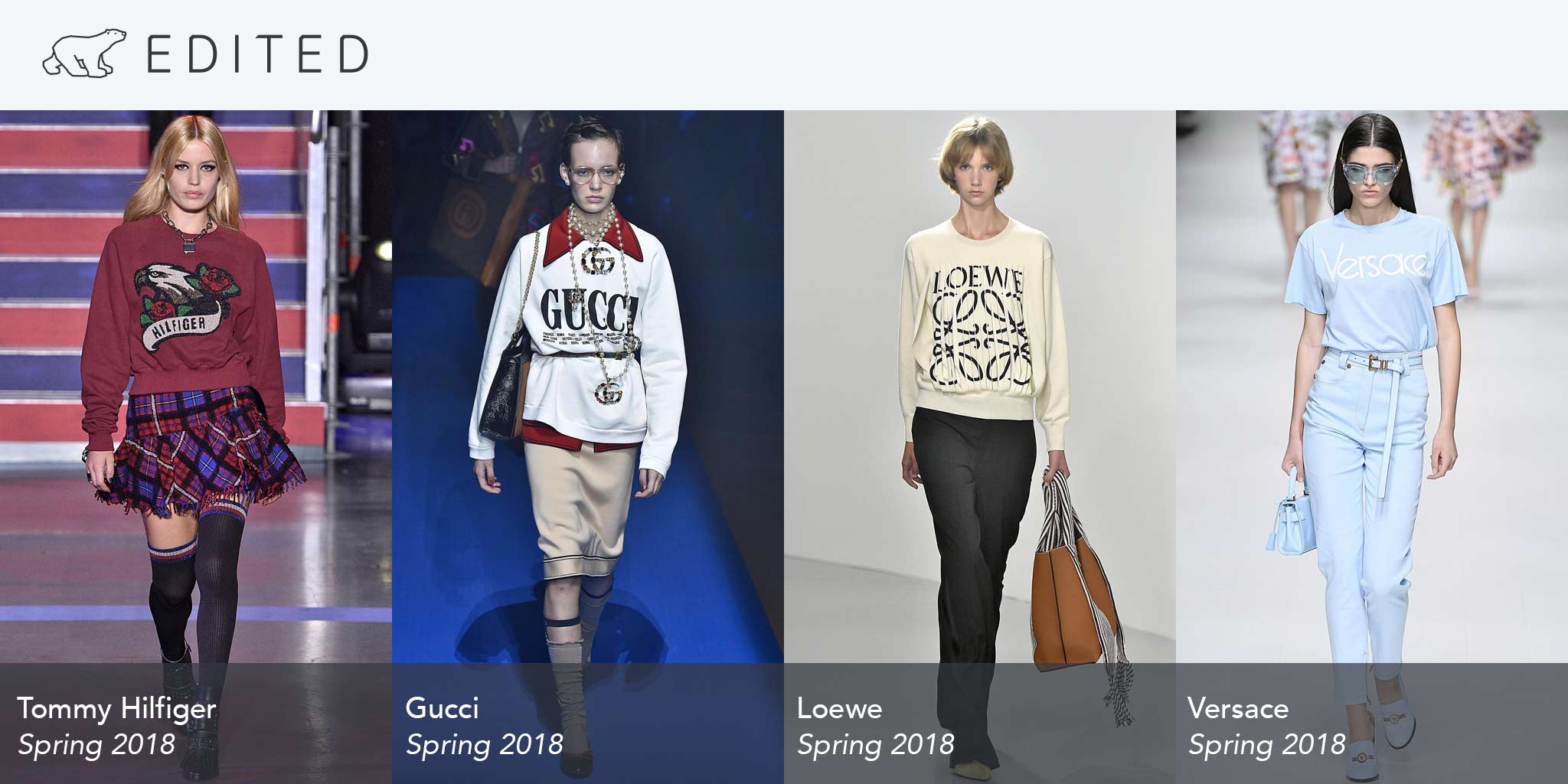 Try the new modesty
There's a buttoned-up look coming through for Spring 2018. We're talking covered busts, long sleeves, ankle-length skirts and a general modesty that feels cool and understated. It's also hyper-inclusive demographically, which is a great thing.
This trend doesn't mean that flirty looks are overlooked for the season – far from it. The sheers, side split skirts, revealing cutouts and dishevelled sexiness are there for sure. Just as they were last season, and the one before it. Instead, embracing modesty feels new.
So how is it done? At Off-White and Stella McCartney it was leg o' mutton sleeved tops giving a hint of the puritanical, even more emphasized in the nightshirt-style cotton dresses in crisp white at Jil Sander, Anya Hindmarch and Victoria Beckham.
Then there's the high-necked maxi dresses with a romantic feel from Valentino, Etro, Tory Burch and Temperley. There's even something quite straight about all the classic checked prints coming through.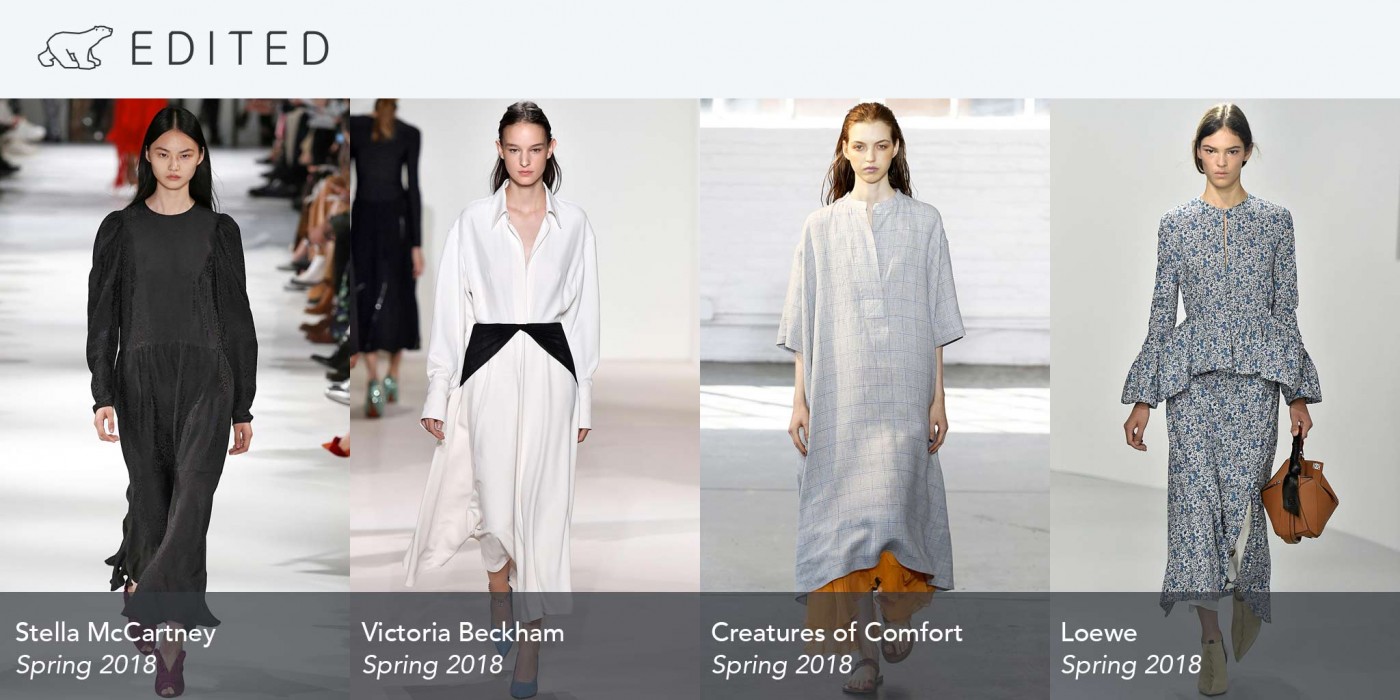 Revitalise workwear!
In recent years, the workwear category has been pushed out thanks to oh-so-casual millennial dress codes. In many work places, skinny jeans became de rigour, followed soon after by a parade of leggings and sneakers.
The problem is, it's the same stuff people right now want to wear outside of work, meaning retail misses out on an entire category of apparel.
Spring 2018 offered some ideas on how to lure trend-led consumers to 9-to-5 clothing. Namely, blazers. They're back, in a big way. Double-breasted, sharp-shouldered and oversized or pinch-waisted, the best on show were at Dior, Tom Ford, Givenchy and Versace.
Pair them with midi-length pencil skirts, as at Tibi and Fendi, the aforementioned modest dresses, checked and skinny stripe prints and fuller-volume dressy pants. Trench coats, pleated kilts and smart shirts complete the look.
Importantly, the workwear movement hits upon three key thematic trends for the season: the 80s, the 90s and androgyny. Follow it at the right time and the pay check will be all yours.