Buckle in: summer sales season is in full swing. Chances are you're either busy a) snapping up bargains or b) retailing like the pro you are. So less words, more action. Here are five charts that sum up the state of play.
When the discounts happen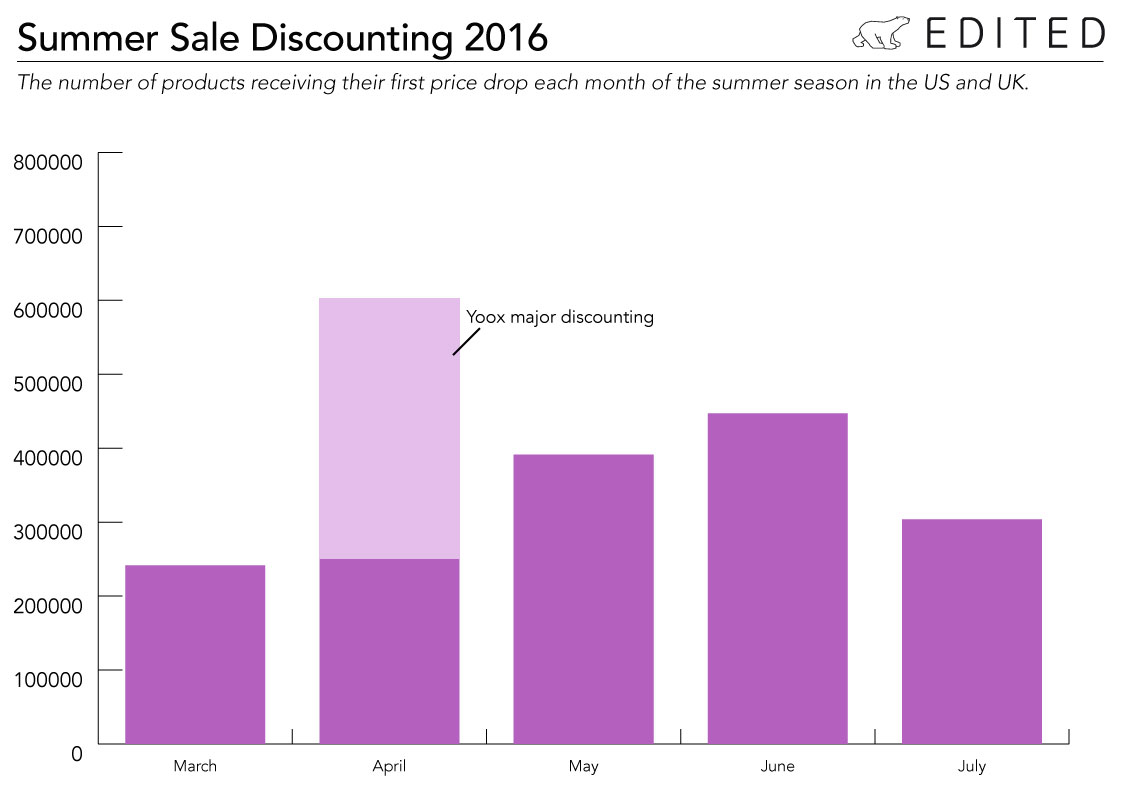 With more items added to its seasonal sale than the rest of the US and UK combined, Yoox turned April's discounting up a notch. Setting that aside, June is when summer discounts peaked across the rest of the market.
Compared to July, there are historically about 25% fewer products that get discounted for the first time in August. Instead, further price drops on already-reduced items are what to look out for over the coming weeks.
Who's Discounting?
Between June and July, the majority of price slashes occurred on the mass market, where the average discount on a single item was 45%. The premium market was similar, on average taking 44% off prices. The value market had the least room to maneuver, on average slicing 42% from the price. Meanwhile luxury, with its high mark-ups, took 50% off prices on average in June and July.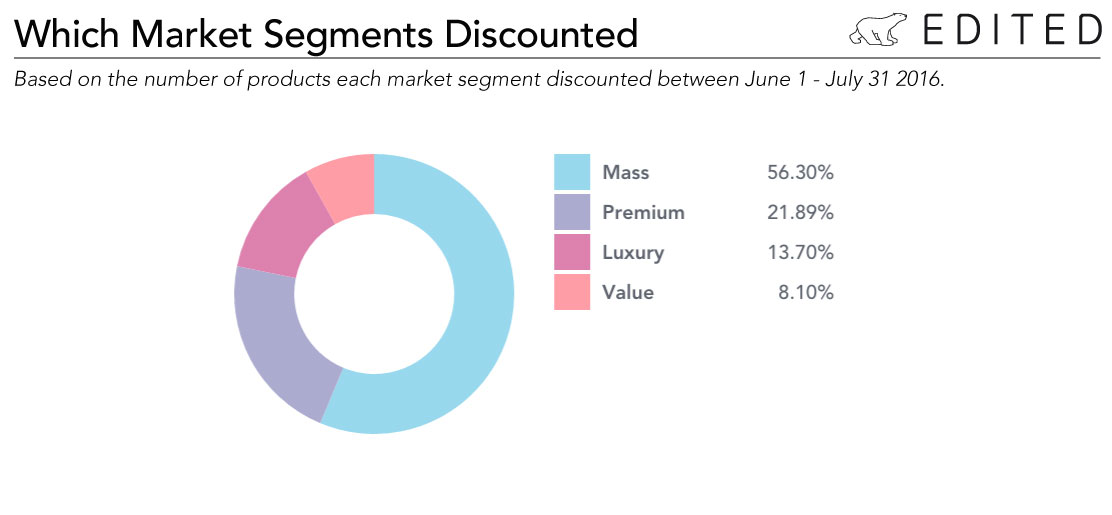 What got discounted?
Tops had the most discounting. They represented more than a quarter of women's apparel discounted in the peak summer sales months. In case you're wondering, that popular cold-shoulder top style only represented 2% of discounted tops. Tank tops made up 10%.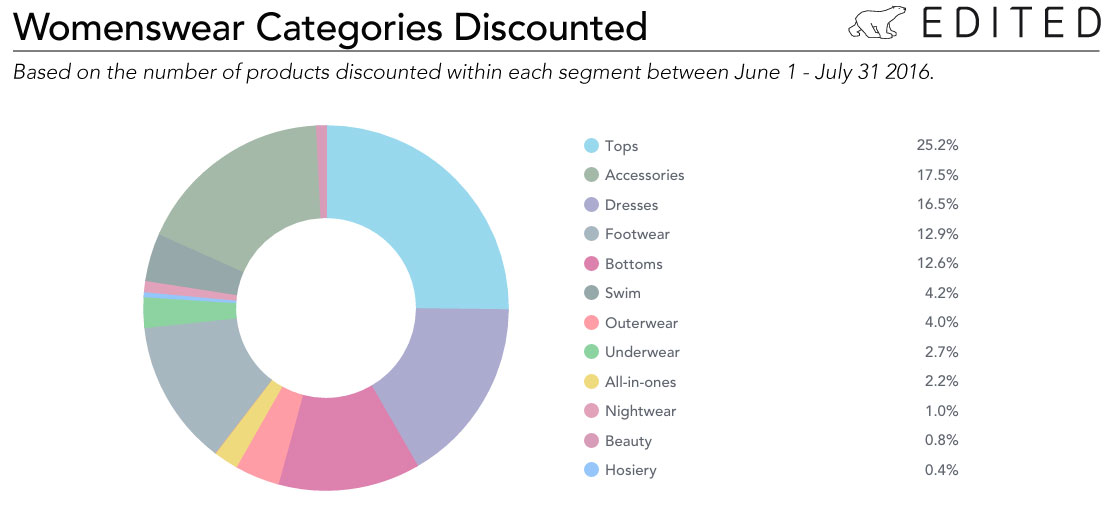 Dresses had some big discounts too – normally the fifth most-stocked category, they represented 16.5% of June and July reductions. And it's no surprise to see swim getting discounting attention at this time of year.
Getting that magic discount percentage
There are certain discount percentages that just seem more appealing than others. For the consumer, there's a balance between feeling like they've scored an unexpected win on a valuable product, versus having found something with a huge price slash that no one else probably wanted anyway.
So where are the sweet spots? We analyzed the percentages retailers mention most in their email newsletters during the summer sales period. Turns out 50% is the most popular, with 20% and 30% following.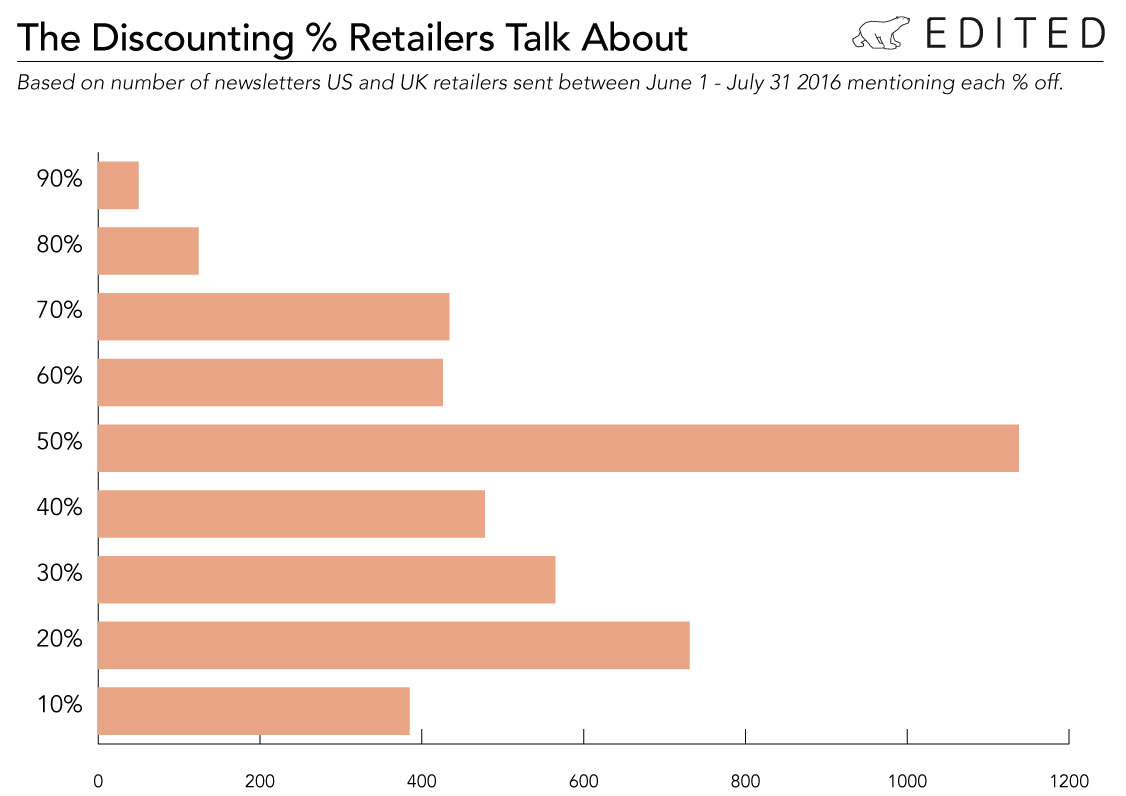 Here's some of those bigger discounts:
How it stands right now
Now that we're in August, 44% of global apparel is currently discounted. In the next few weeks, Fall collections will start arriving in earnest. That means retailers have a tight window to clear summer stock, which drives discounting higher.
The chart below shows the five most discounted categories and their current average reductions. With rumors of a heatwave in the UK, and Labor day a few weeks out for the US, deciding on those reductions while keeping enough stock on hand will be a balancing act.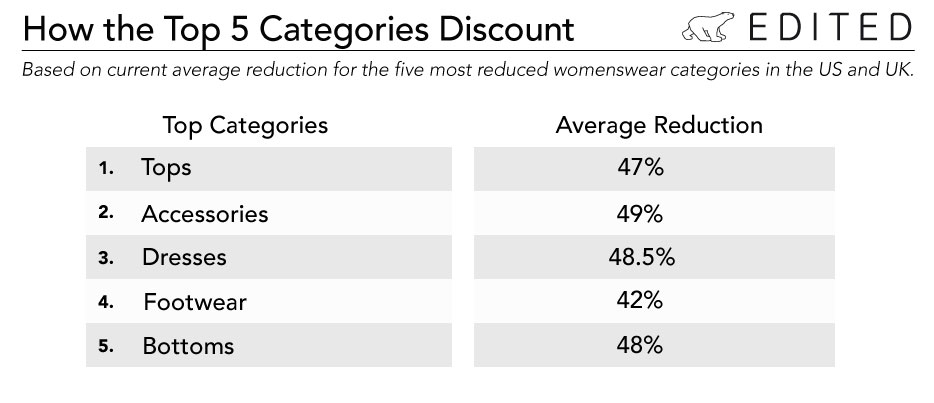 We help retailers to discount healthily, and better still, secure the right price the first time round. Talk to us today if you'd like to know more about that.
50% off is retail's sweet spot for summer sales discounting. Retailers mention it most in emails.