Luxury fashion is having an identity crisis. Actually, that's not true. It's the luxury market's observers who are losing the plot over what luxury is today.
The influence of streetwear and the hirings of its best designers in the most luxury of houses– Demna at Balenciaga and Virgil at Louis Vuitton–has seen a surge in headlines questioning the fate of luxury in a time of logo t-shirts and hoodies.
This is what they're equal parts terrified of and fascinated by:
Are raincoats and dad jeans and bulky sneakers really luxury today? According to market growth, the answer is a resounding yes, with high-end streetwear behind a 5% lift in luxury sales last year.
And considering the global sneaker market was up 10% in 2017 to $4 billion, it's fair to say luxury wants a piece of the sizeable pie.
Let's take a look at the luxury market, both the old school houses and the new entrants to the luxury game.
What is luxury ? What does that look like online?
The luxury market lagged with its entrance to digital, but now all cylinders are firing.
These are the most super-luxe brands online currently, as judged by the proportion of the offering priced $5,000 or more.
Marchesa – with 38% over $5k
Elie Saab – 24% over $5k
Oscar de la Renta – 11% over $5k
Hermès – 9% over $5k
Tom Ford & Brioni – both with 7% over $5k
Incidentally, Hermès, Elie Saab, Brioni and Tom Ford all have sneakers in their full offering.
And here is the single most expensive luxury item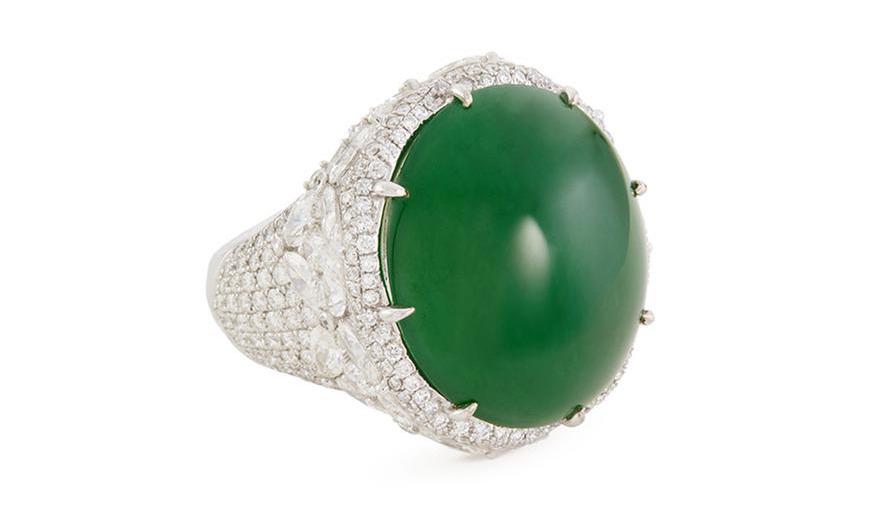 This jade ring, retailing at Hong Kong luxury store Lane Crawford, costs $2.4 million dollars. The same sum of money would get you two franchised Taco Bell restaurants opened (or 22 Subway outlets, but let's focus on luxury…).
In fact, Lane Crawford has 54 items currently retailing online for over $500,000 and only begun retailing this super-luxury price point online last September. But it's not exactly a price point that's representative of the wider luxury market.
What is luxury pricing?
We can see how starkly different the luxury market is when we look at what proportion of its offering is priced less than $200 compared to every other segment.
Just 20% of luxury products currently selling online are priced under $200. That compares to 65% of premium, 95% of mass and 99.3% of value.
Digging deeper into that under $200 range in luxury (EDITED users, there's your cue and here's your login!), you see it's swimwear, childrenswear, denim and yes, sneakers.
Consumer casualization and streetwear changing luxury
You'd be hard pushed to find a luxury retailer that hadn't increased its sneaker offering over the last few years.
Ssense has grown its women's sneaker offering 146% since 2016, Net-a-Porter is up 101%, Farfetch 97% and Harrods 65%. I could go on, but you get the point: across the market, sneakers are up a total of 246% since 2014.
However, average sneaker price, which has grown by 4%, is behind the 10% standard growth across the luxury market between 2014 and 2018.
Slowing that price trajectory is this: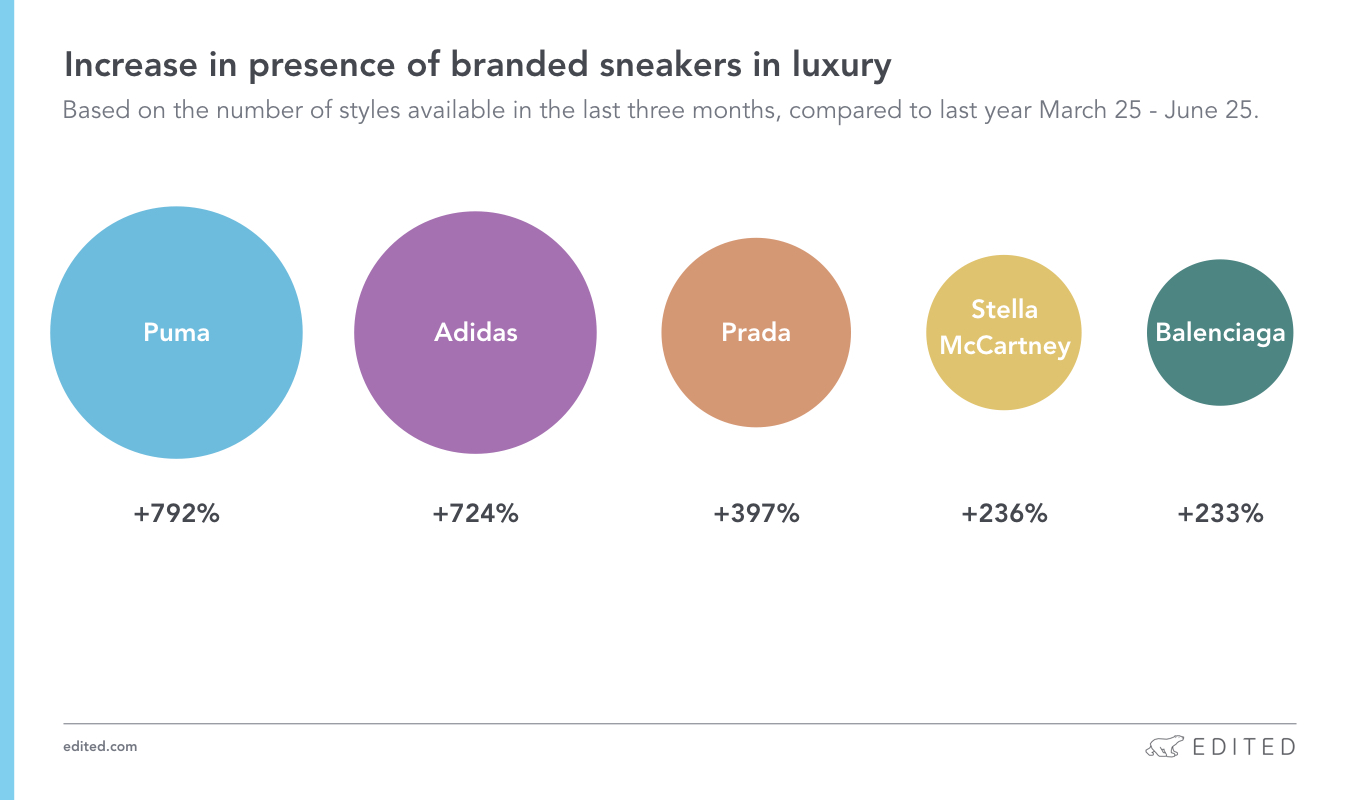 Puma has increased its luxury presence by 792%, Adidas is up 724% and Nike has climbed 57%. Yep, the sportswear brands and a new wave of luxury competition.
Although 29% of luxury footwear is in the sneaker category, it still means the majority of luxury shoes are not for sports!
The majority of shifts are upwards
If we track pricing back over the last four years, we can see that the biggest shifts in luxury are away from the lower end of the price architecture.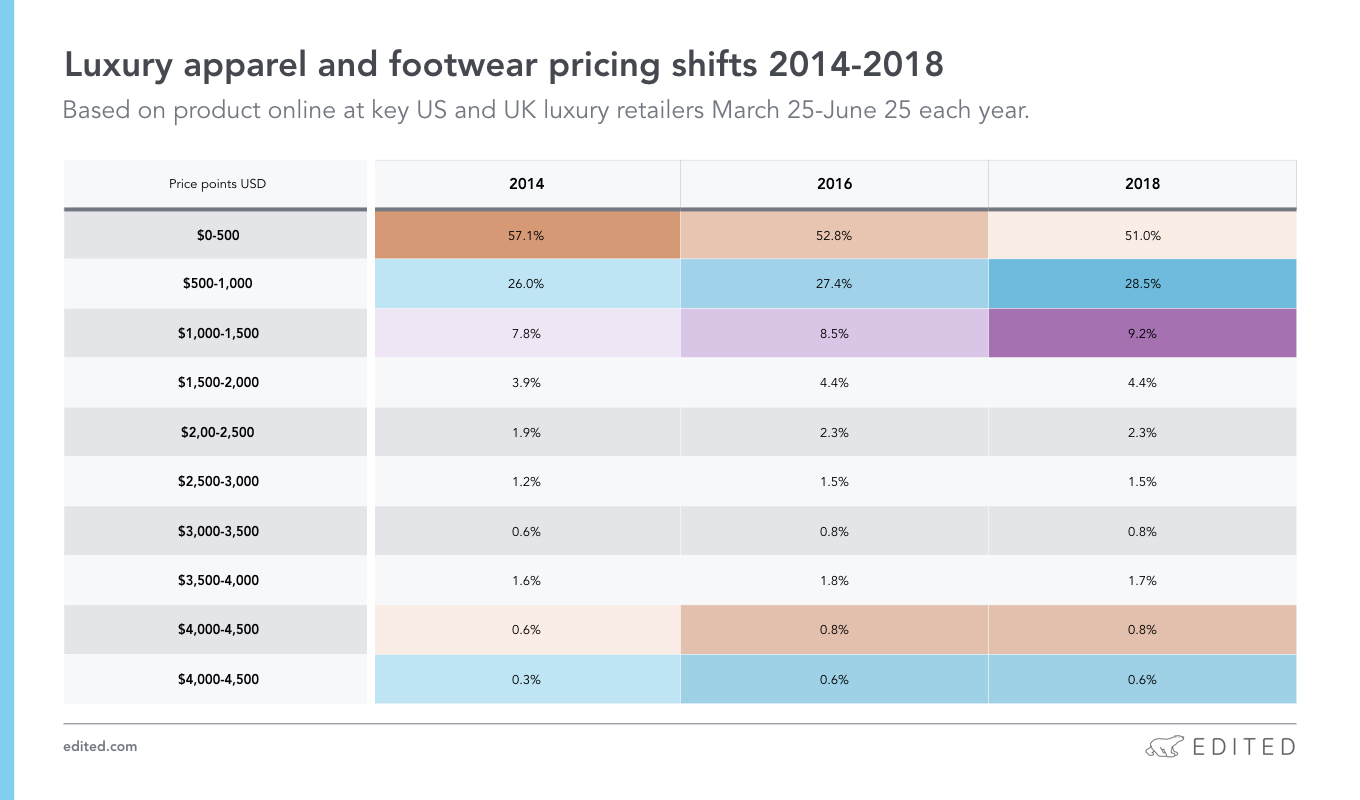 And that upwards movement has happened regardless of a 259% increase in luxury hoodies since 2014, a 411% increase in logo'd t-shirts and 312% increase in sweatpants.
Luxury doesn't need to fear streetwear – if anything it's complementing the market and bringing new shoppers to its doors.
Then there's the apparent death of the 'It' bag
The luxury bag market is reportedly shifting too – with consumers turning away from the seasonal 'It' bag.
A dig into some pricing data shows some bluff there. The below chart shows how pricing emphasis has shifted very little in the last four years, particularly at the sub-$400 end, accused of stealing the luxe market.
There has been growth at $400-800, but that is matched by growth above $2,000.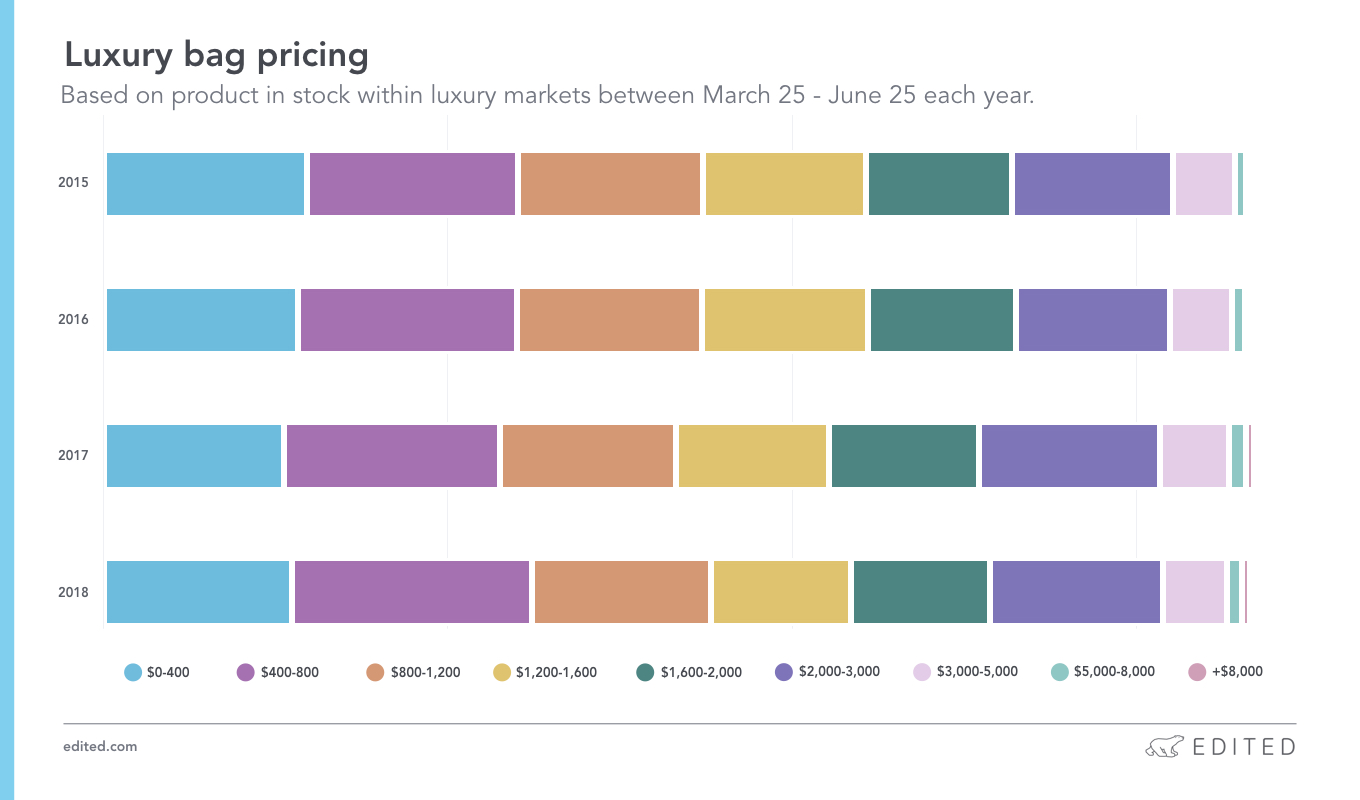 The key difference in the market is who the biggest players are. The five brands below have had a stronghold on the luxury market online in the last few years. But their ranking in relation to one another has shifted dramatically.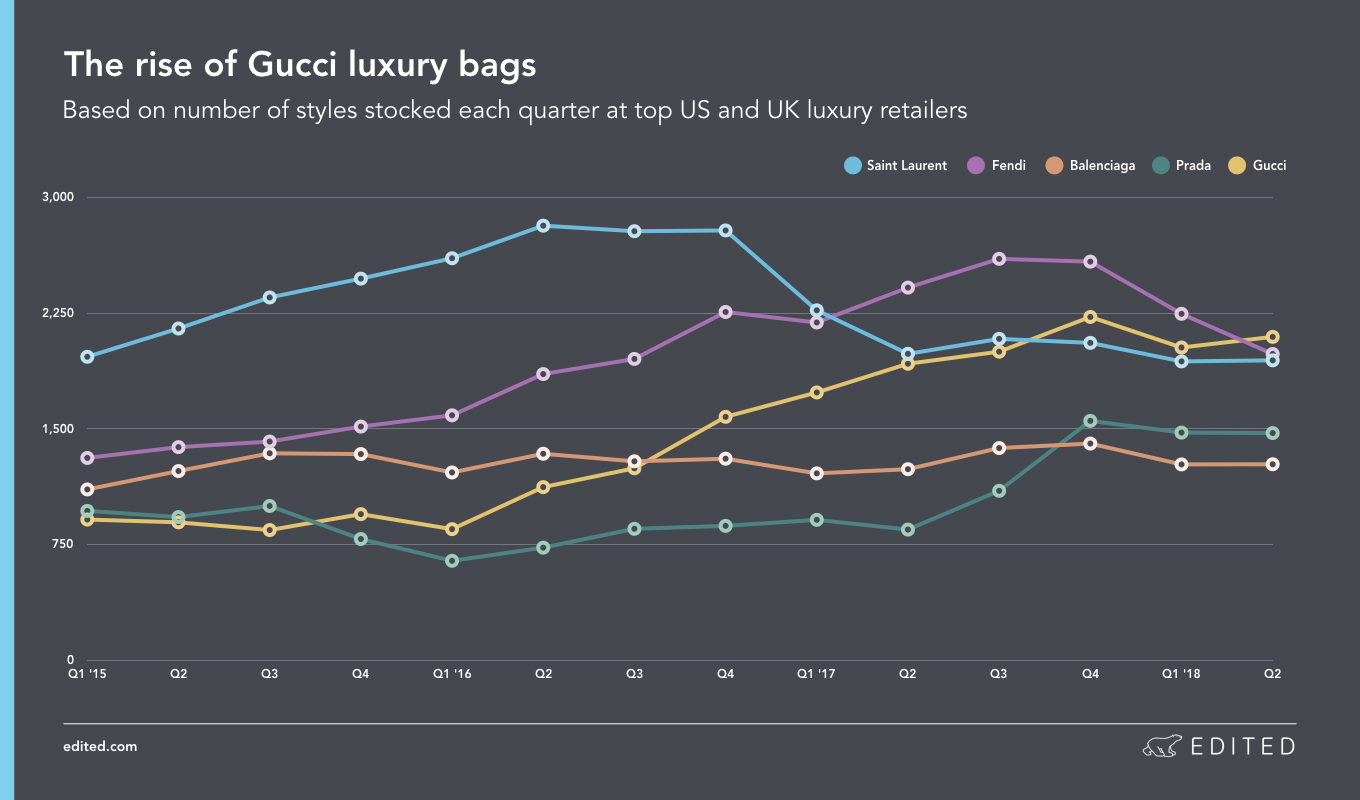 We can very clearly chart Gucci's rise from fifth place in 2015, to first this quarter. And it looks like that has come at the cost of Saint Laurent, which enjoyed a high point in 2016, but crashed to third place at the end of last year.
Meanwhile, the so-called disruptors of luxury bags – brands like Off-White, Cult Gaia, Les Petits Joueurs – don't yet make it into the top 40 most-stocked brands. (Though Off-White is the 10th best-selling bag brand so far this June.)
Mansur Gavriel is an exception – now the 19th most-stocked brand in the category with an average price point of $808.70, founded just six year ago.
To street or not to street?
'New luxury' doesn't really exist, or rather, fashion markets are continuously reinventing and embracing newness. Any brand or retailer that hasn't done that has come unstuck, as has been well-documented in recent years.
Streetwear does operate a little differently, and its characteristics are influencing the market. But street style 'drops' are luxury – they require you to have some kind of capital. It's just that capital has shifted from finances to knowledge and/or social capital. So given that a product's exclusive price is no longer the draw card of luxury, the market is reliant on focusing on brand.
The best brands and retailers aren't fighting that, they're embracing it. In the last three months mentions of the word 'heritage' have been up 40% in retailers newsletters compared to the same time last year.
Barneys is collaborating with Highsnobiety on 'The Drop' hosting street-heavy retail events in NYC and this month in LA. Bergdorf Goodman too has entered the fray, collaborating with Kith on a range of entirely sold-out apparel.
Make way for the youngsters?
Bain & Co say millennials and Gen Z will account for 45% of the luxury market by 2025. But, 8 years from now that puts that consumer groups average age at 31 – not all that different from the current luxury average of 34.
It's not that luxury is about to be hit by an onslaught of teen tastes – instead the shifts are in the values and priorities of these consumers. They have grown up around digital, they celebrate diversity, can detect authenticity at 1,000 feet and have unmatched geographic mobility.
The industry shouldn't waste time worrying that t-shirts are the new luxury. It's true that they make up a part of an increasingly complex market.
But instead, let's focus on polishing up brand story and product and price differentiation for the new consumer.