There's a tension in fashion between the traditional wholesale brands and new direct-to-consumer brands.
On one side, wholesale has felt robbed as these sexy new D2Cs, who've nailed social media, have come in with their finely tuned brand narratives and retail margins.
On the flip side, after initial boom, many of the D2C brands have seen their customer growth plateau without having formed retail partnerships to get them through the next stage of expansion.
Wholesale plays a very necessary role for many brands (and increasingly, even D2Cs). Brands that might not have their own stores, might not have their own footprint in other regions or might not have a broad enough offering to create their own engaging content.
Wholesale no longer has to be the weaker position.
Happily, there has never been more technology at hand to help strengthen wholesale brands along their supply chain. Virtual showrooms, 3D design and tools which give brands full access to the market without the need for their own retail sales data. Us included!
So how can wholesalers wholesale better?
Knowledge has always been power. It's the scale of that knowledge that has shifted, thanks to artificial intelligence and big data. These days, to win at wholesale you've got to get clued up, to a new level.
Know where and how the wholesale market is growing
Using EDITED data, it's fast to see how the wholesale market has changed over time. Next has increased its offering of brands stocked on its UK site by 10% from last year (excluding private label), adding brands such as River Island, Missguided and Dorothy Perkins.
Following this trend, Zalando has seen a slight increase in the number of brands offering new product year-on-year. ASOS is focusing on the growth of activewear labels it stocks.
EDITED insider tip: With a couple of easy filters in EDITED, you can see quickly exactly how a retailer has shifted its brand offering over time. Drop in a date range using the 'In Stock' Date & Timeline filter and then see how many brands the retailer stocked using the 'Who & Where' analysis tab.
Why not analyze the 20 most stocked brands today compared to two years ago at one of the major department stores. Are contemporary brands coming through more, or is sportswear climbing up the ranks?
Ask: what does this customer really want?
One of the biggest headaches for a wholesaler is entering new territories blind. On new turf it's essential to tailor your assortment to the customer in that market.
Whether it's a new region or a new relationship with a wholesale partner, you've got to do your homework and analyze what's working well.
Lay it all out: what opportunity is there within a retailer's assortment mix that your brand can fill? What are the key shapes, colors, and patterns in this space? Is the product or trend already oversaturated in this market?
It might surprise you how much bestsellers shift within different regions at one retailer. Here's a comparison of bestsellers from ASOS in the UK and Germany from the last month: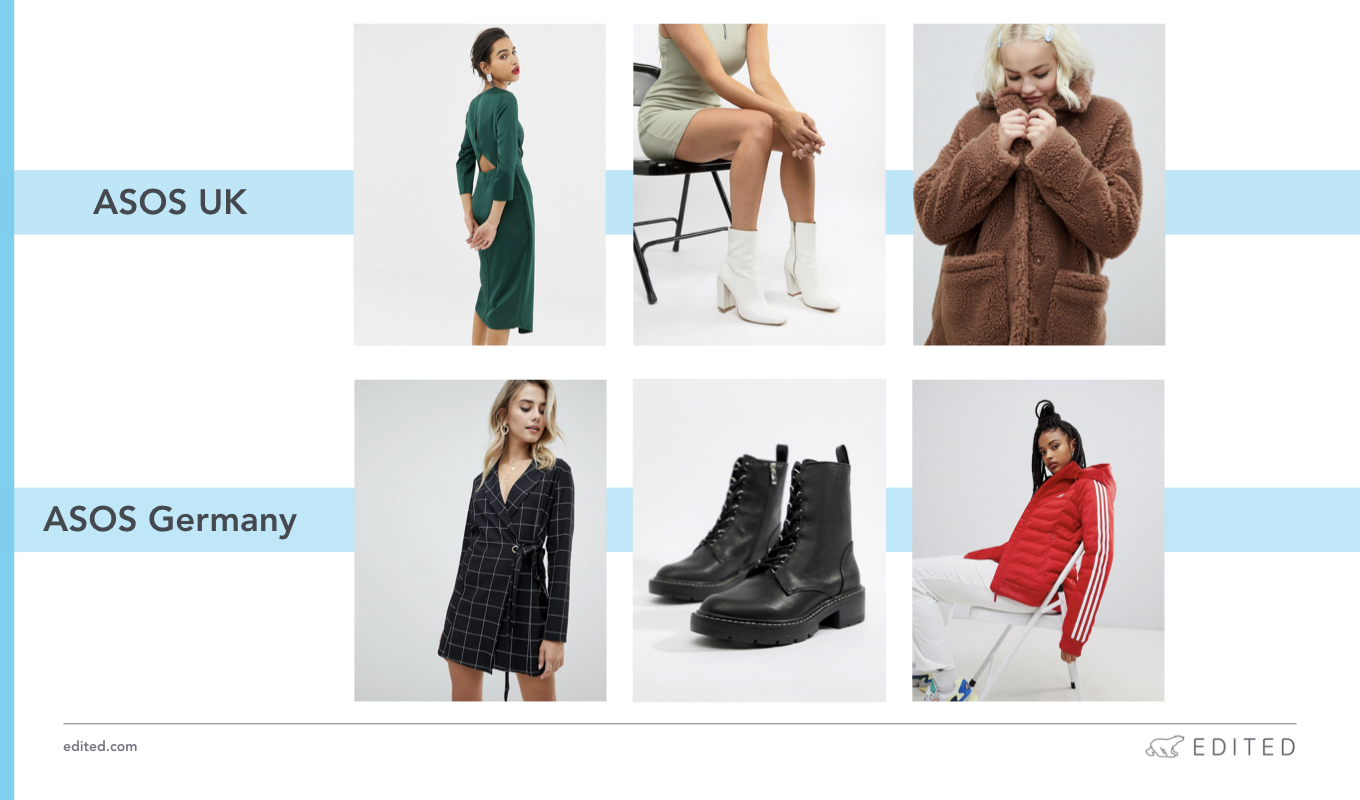 Know your price point
It's essential to understand the pricing structure of a new market. Does your brand stack up alongside its competitors at a potential new retailer?
Pinpoint the entry, exit and average price point of key categories. It minimises the risk of entering new space over or underpriced.
It also comes in handy if you're experiencing pushback from a wholesale partner suggesting your product is priced too high or too low for their site. Arm yourself with knowledge of the market and have the data to back it up!
How does a competitor's price structure at a wholesale partner differ from their own site?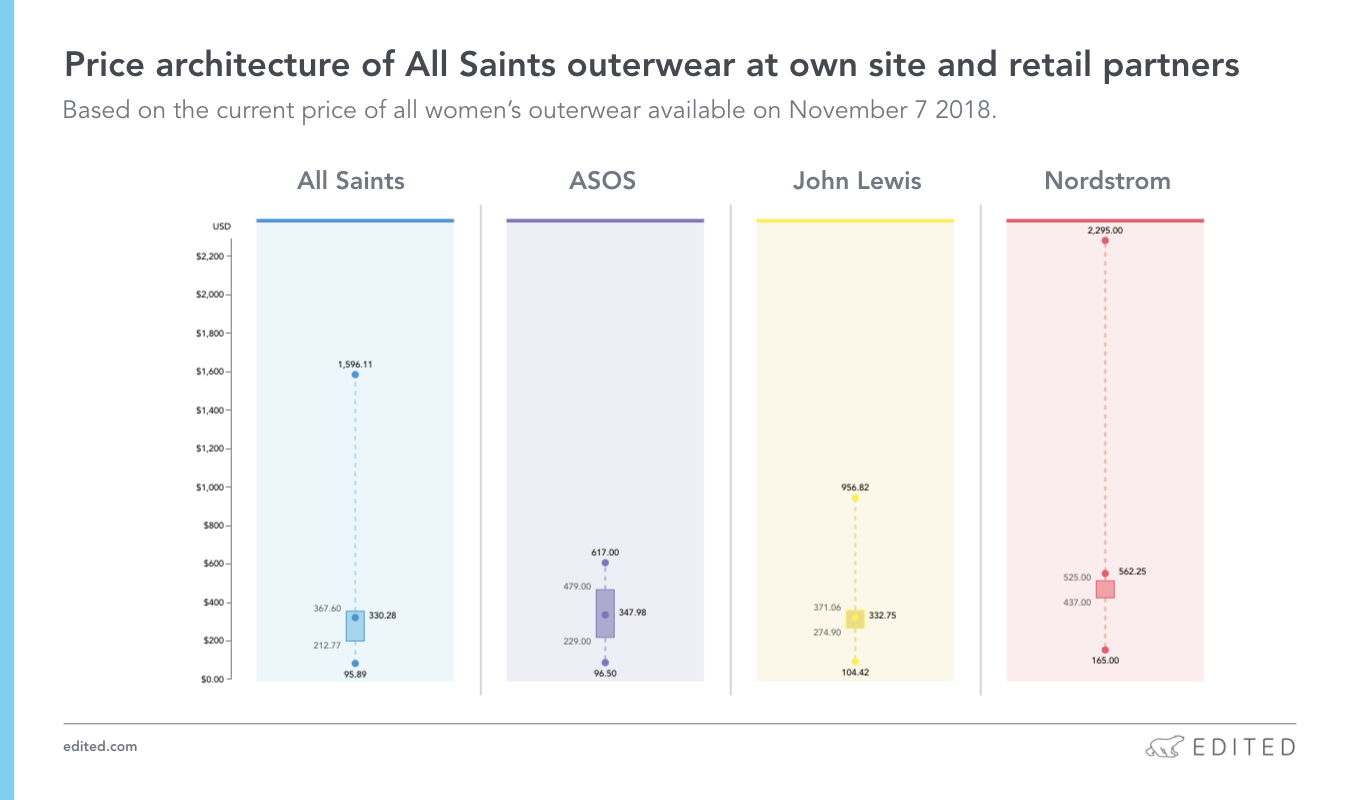 Understand your discounting
One of the risks in wholesale is the lack of control over what happens to your product once it's with the retailer. What will they discount and by how much?
As a wholesale brand you need to have visibility of the depth, range and distribution of discounts taken across a brand's assortment. Research what the retailer is doing with your competitor brands and see how that has changed over time.
How does the level of discounting differ from your own site to your wholesale partners'? Are styles heavily reduced on their site which are working well for you?
For example, 56% of Adidas menswear at ASOS is currently discounted. And 35% of this product has a price reduction of 50-60%.
But with Adidas womenswear at ASOS, discounting is more conservative, with 52% of the assortment discounted and only 17% reduced between 50-60%. If you're Adidas, knowing that information might impact the weighting of product you attribute to the retailer.
The luxury wholesale fashion market is worth $275bn
If you're in luxury wholesale, you'll know that consumer is a completely different beast. They will tirelessly compare prices across a number of different retailers for the 'it' item.
EDITED will help you stay ahead of that, with instant visibility on how the same item is priced cross-market.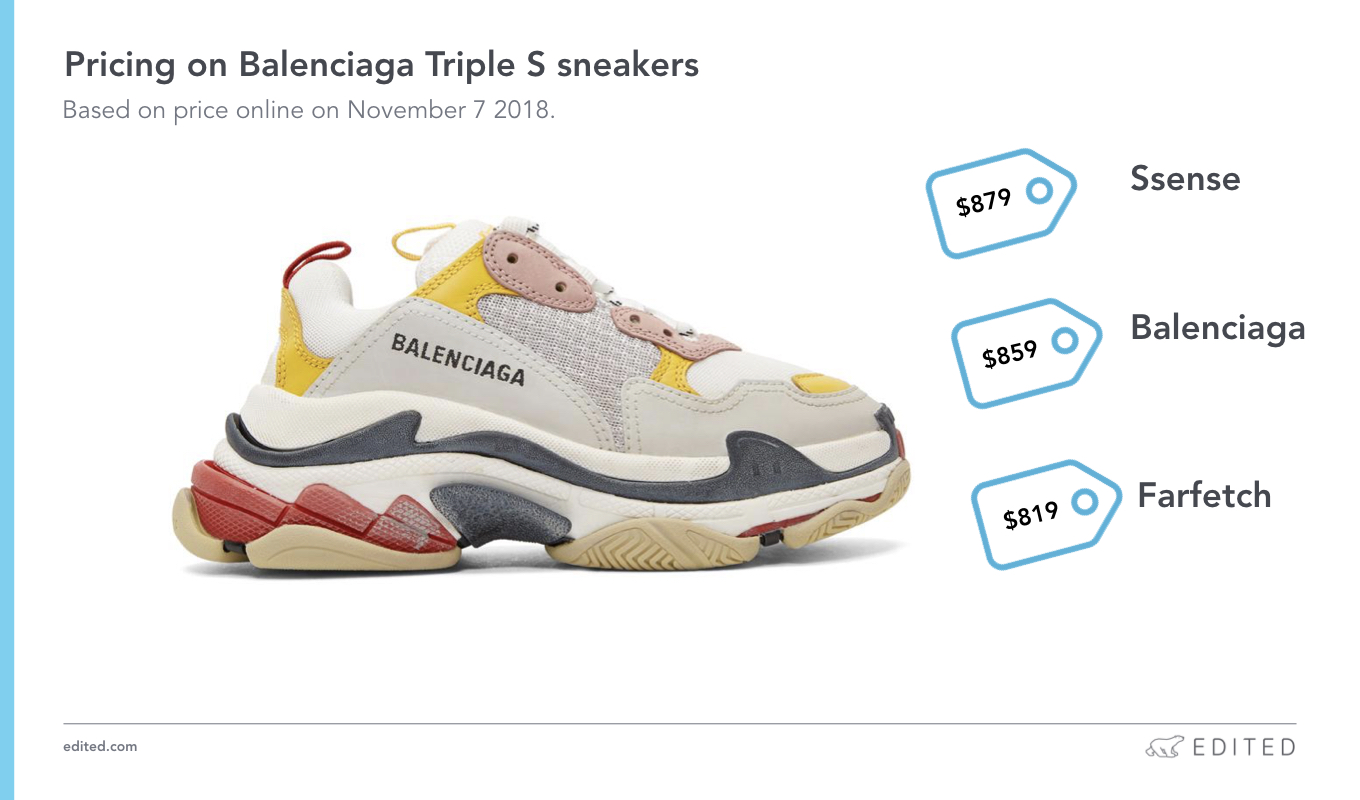 Monitor brand perception
After all that work ensuring product and price is on point, it's crucial that your brand looks good on a wholesale partner's website. To minimise risk, there are so many things a wholesale brand has to ask itself.
How is the retailer marketing your brand? What products are they promoting and through which channels? Which other brands' products are they promoting next to yours? Is there an opportunity to be featured more?
We can see here how differently retailers have marketed the Calvin Klein brand in the last week:
One thing is sure – wholesale isn't easy. But it's ok, we've got this.