Season, done! After thousands of runway looks and a month long tour of the world, albeit via live streams and social media feeds for many, the Spring 2015 shows finally draw to a close. Amid celebrity gossip, elaborately staged shows and hyped new designers it's easy to lose sight of that which is tangible and commercial from the month. Designers have been accused of playing it too safe, or for withdrawing into whimsical but irrelevant lands. Thankfully data analysis enables us to cut through superficial buzz and reveal the defining trends destined for solid commercial success next season.
In our end of season report, we've covered all you need to know about Spring 2015: the trend themes, the garments retailers should have in their new season assortments, the prints and fabrics that shouldn't be overlooked, the colors guaranteed popularity and the designers' whose shows generated the highest levels of online adoration. Who came out top?
Here we share an excerpt on one of the key themes. You can download the full report, for free today!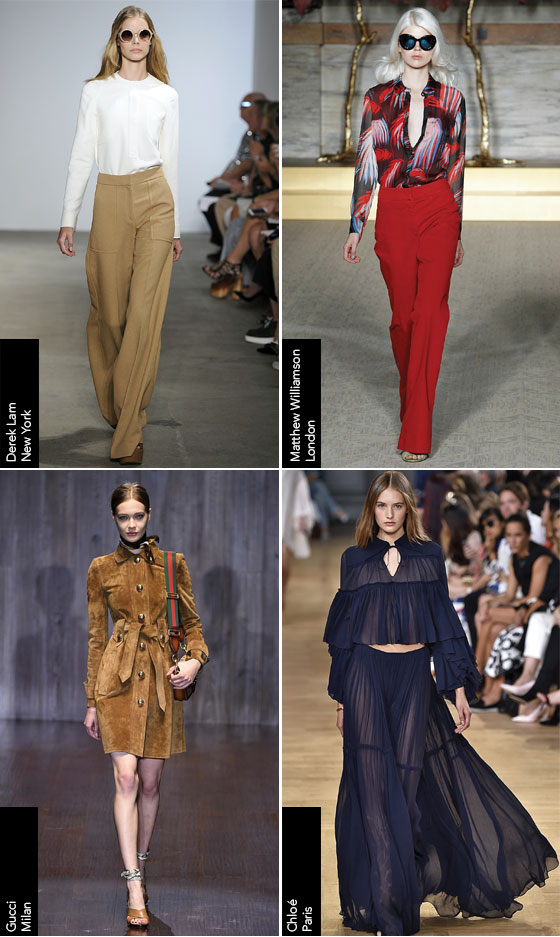 A love of all things 70s is the defining trend of Spring 2015, evidenced strongly in each of the four cities. Given its high runway coverage, we know this will be a hit across all market levels in Spring. There are three approaches to this trend.
The first, is to embrace all things Woodstock, calling out to the bohemian and festival-bound consumer. Billowing peasant dresses, crochet knits, rainbow stripes, patchworked suede and acre upon acre of fringing are your go-to motifs. Alberta Ferretti, Tommy Hilfiger, Francesco Scognamiglio, Chloé and Dries Van Noten exemplified this take on the decade.
Sadly, modern life decrees that we have to leave the love-in and return to the city at some point. That's where 70s luxe tailoring stepped in, kitting the runway out with flared and bell bottomed pants, elegant jumpsuits, blouses layered under fine knits and tunics layered over fluted trousers. Trench coats were belted, neck scarves looped and aviators topped it all off. Karen Walker, Gucci, Acne, Emilio Pucci and Derek Lam were doing the legwork here.
And from day to the night – the final stem of the 70s trend saw us take to the disco dancefloor. Saint Laurent's goodtime dresses in metallic leopard and peacock prints, the glittered platform heels, the velvet Hendrix jackets – all summarise this theme. Elsewhere, Henry Holland's psychedelic florals and flirty metallics and Coach's pastel coloured furs spoke of glass-raised hedonism.
Our full fashion week round-up report covers the key themes, garments, details, prints, fabrics and colors. It's available to read now.
Join your colleagues in buying, merchandising and design in downloading the full report to see the rundown of Spring 2015's top 10 trends.