2019 is proving to be the year of female sports setting records for some of the world's most historical sports moments. We've seen Cori 'Coco' Gauff become the youngest player to qualify for Wimbledon and the USA's women's soccer team win their second consecutive FIFA World Cup title.
Female sports have always lacked the hype and recognition their male counterparts received, but times are changing rapidly. This decade has defined itself as an unprecedented time in female sports. There are more women in high level positions like head coaches and even owners of male dominated sports teams.
This recognition isn't going unnoticed as brands outside of activewear are all participating in different ways to champion this narrative. EDITED's retail data platform analyzed how the retail industry is rolling out assortments based on two prominent US female team sports.
The Women's World Cup Effect
The Women's FIFA World Cup this year blessed the world with not only another summer of great soccer, but also an influx of women's soccer products brought in across sporting goods retailers and department stores.
Compared to last year, our data tracked over 500 new soccer related products. The vast majority of these products stocked consisted of T-shirts and jerseys. Sporting goods retailers like Fanatics and DICK'S Sporting Goods are the top two stockists at 255 and 129 products respectively. However, retailers like Walmart and
Macy's are breaking into the top five list too. This trend suggests that there's demand for this product and retailers are capitalizing on it. Although there's work to do, female sports are getting the praise they deserve. While it may seem small, it's encouraging to see retailers stock more sports-related assortments, and align their drops around particular sporting events.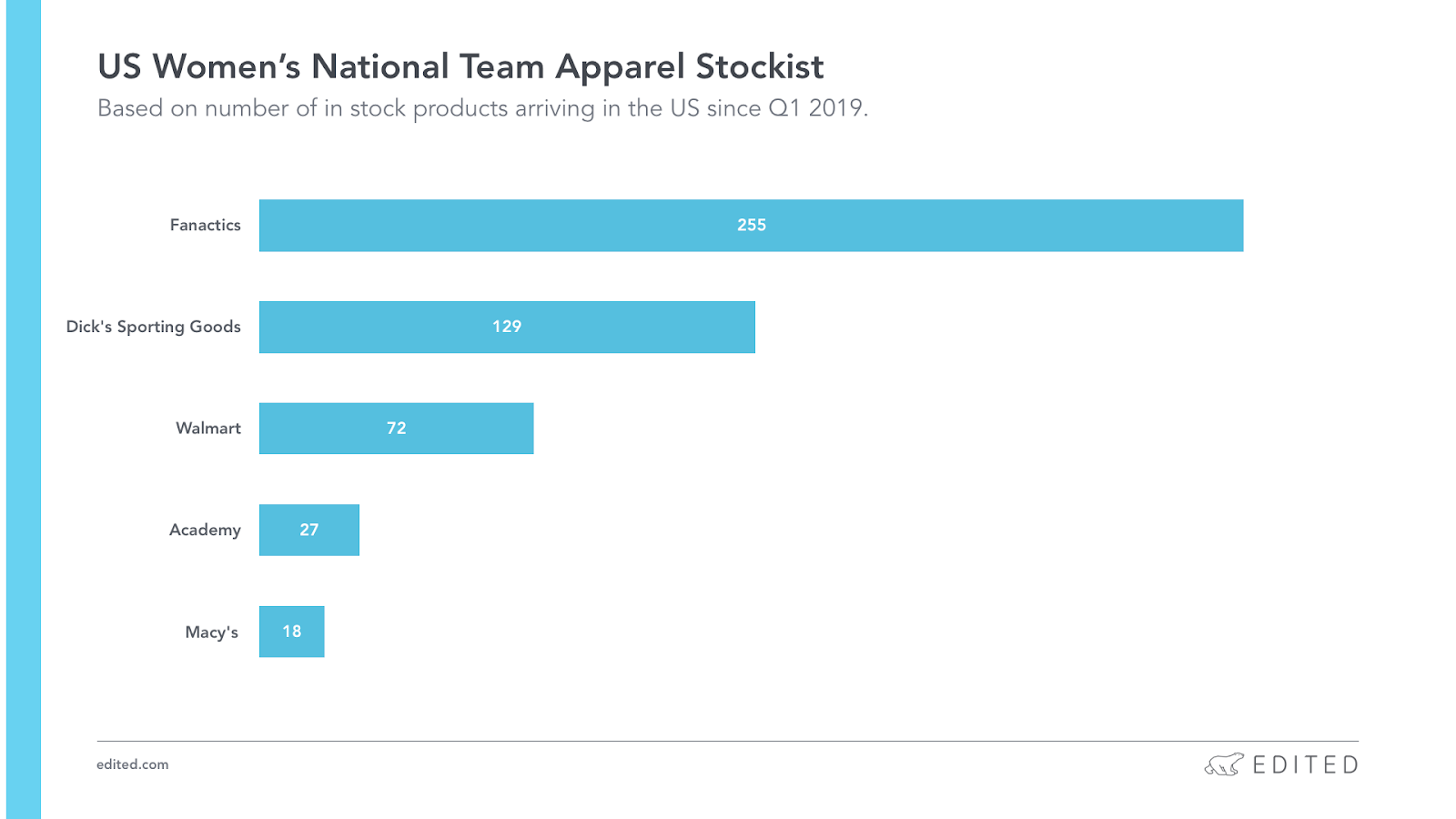 Want to know how we pulled this analysis? Get in touch here.
Using EDITED's visual merchandising technology, we tracked the different usage of female empowerment messaging across email communications over the summer. French retailer Sézane sent an email ahead of its home team taking on the USA with positive female messaging including phrases like 'future is female'. With there being a big focus on female empowerment and equality, more retailers should look to bring this topic to the forefront to showcase their support for female athletics.
Rise of the WNBA
Founded in 1996, the WNBA may not be as popular as its male counterpart, but fans are showing a growing interest in the women's league. In stock products across WNBA apparel in the US have grown 261% YoY. This is not only representative across existing sporting goods retailers but first time investors as well.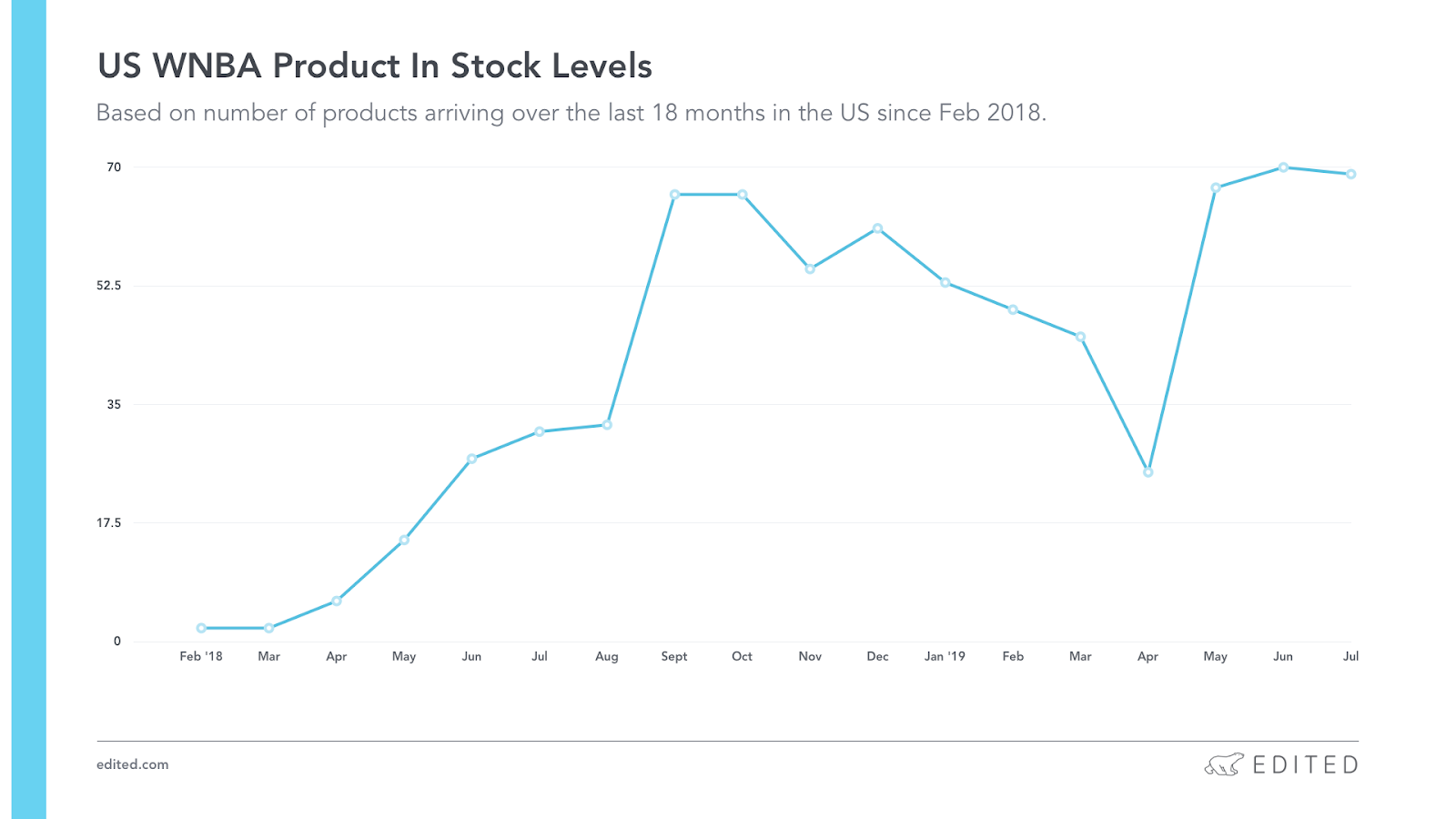 More importantly, we're seeing price democracy across the board for WNBA products. The entry price point is down from $22.00 last year to $7.99 this year. Whereas the exit price increased from $75.00 to $139.99. EDITED's retail data shows that the average full price commanded for WNBA products has risen dramatically, while the number of products discounted has declined. WNBA apparel is not only accessible for fans but also shows it consistently sells well for retailers who invest.
Sports trends to look out for
The world of athletics has not only influenced the runway, but has successfully translated well into the mass market. For example, sports jerseys were prevalent on the Spring 2020 runway and athleisure influences remained strong. Last year Nike only stocked $35.00 Dri-Fit t-shirts, but have shifted investment to exclusively offer premium $100.00 WNBA jerseys. By hitting two birds with one stone, it provides a higher selling item for the brand and taps into a strong trending style.
There's still a ways to go for female athletes and sports, but there's no denying its growing popularity and the necessity for brands to support in any way they can. With EDITED, brands can do just that while monitoring the market in realtime.
Want in on acing your sportswear assortment? Get started here.
If you're already an EDITED customer, check out further analysis around the rise of female sports in our report on 3 Women's Sports Influencing US Retail.
Research and analysis by retail analyst Krista
Want to know more about how EDITED can help your business?
Request a live demo with one of our product specialists.
GET A DEMO →