Think the activewear boom isn't relevant to you and your shoppers? Think again.
This chart shows how the sports segment has grown at retailers that don't traditionally skew active. We're talking the likes of H&M, Zara and Forever 21. So, boom or bust?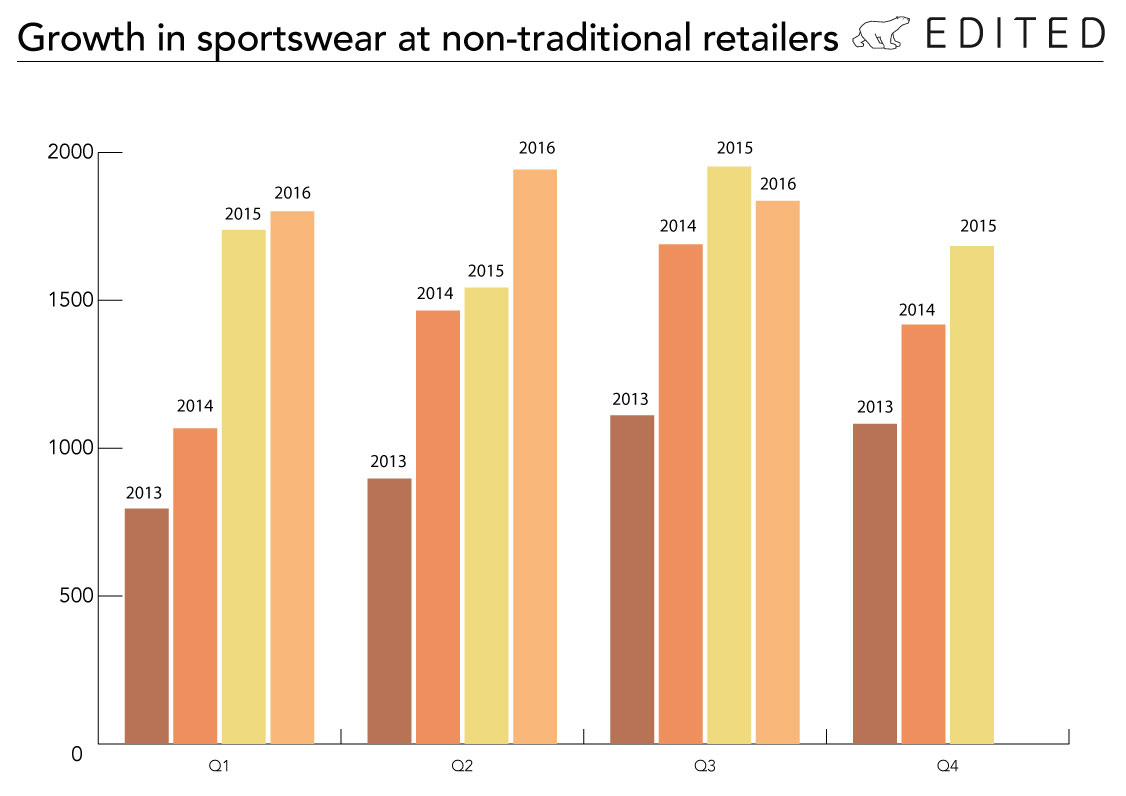 What you're looking at here is the number of new sports products arriving each quarter from 2013 through to 2016 at top US and UK women's retailers.
And we're not just talking about items merchandised as sporty – so scrap sports luxe (runway trend) and athleisure (a styling trend). These are products – apparel, accessories and footwear – which are retailed with the specific purpose of working out in. We've even built an activewear filter powered by machine learning and data science, to help our users analyze the market and to help us dig up the following…
So what's the chart telling us?
Sportswear soared in 2014, seeing the most yearly growth and climbing 45% from 2013. The second quarter was pivotal, showing 37% growth from 2013. Overall growth continued into 2015, lifting 23% by year's end.
But it doesn't stop there: this year, even without Q4 stats in, we're only 1% down on the full year from 2014. Sportswear is still climbing, albeit at a steadier pace than in 2014. That's healthy – retailers are now able to replenish on successful core lines they've brought into stock, rather than continually introducing new styles.
And remember, these are the retailers without sportswear expertise, so the sustained growth is impressive and indicative of the widespread demand for active clothing.
What's it showing for Q4 this year?
Traditionally, the third quarter (July – September) is the year's biggest. However, there was a 5.5% decline in newness between Q2 and Q3 this year. That shouldn't be a concern to retailers.
The chart shows us that actually retailers stocked more heavily into Q2 this year than they do historically – a 26% lift from Q2 2015. Instead, retailers are probably getting a longer full price run on Fall sportswear, ahead of the competitive discounting.
Ahead of Q1, when retail marketing heavily focuses on health and wellness (those New Year's resolutions drive great sales in this space), we'll expect Q4 2016 to lift instead of decline. Sure enough, a quick check on the EDITED software shows that so far in Q4 (October 1 – Nov 10), newness is already beating Q4 2015 by 17%.
EDITED users, log in today to see for yourself which sports products at non-traditional retailers are selling best. We were talking all things activewear at our EDITIONS event in New York this week. If you couldn't make it, catch up on insights from Kith, Michi and Carbon38 right here.