The luxury market is evolving at a rapid pace, and we have the data to prove it.
The overall luxury market grew by 5% in 2018 to an estimated €1.2 trillion globally. Within that, personal luxury goods outperformed the market growing by 6%. With optimism for continued growth, new technologies and shifting consumer needs present new opportunities in luxury.
Players in any industry are turning to data analytics to keep up with ever-changing trends and to maintain a competitive edge. With some retailers resistant to this change, others are welcoming new technology and data into their everyday decision making processes. Take it from a luxury expert himself. Emmanuel Gintzburger, Chief Executive of Alexander McQueen gives his secret on how to get creative with tech.
"We are heavily invested in data. The figures inform how we expand our categories." – Emmanuel Gintzburger, CEO @McQueen
Aside from incorporating data analytics, focus on luxury has shifted to a balance of exclusivity and accessibility through changing portfolio structure and pricing architecture. This balance has affected how luxury pricing is perceived.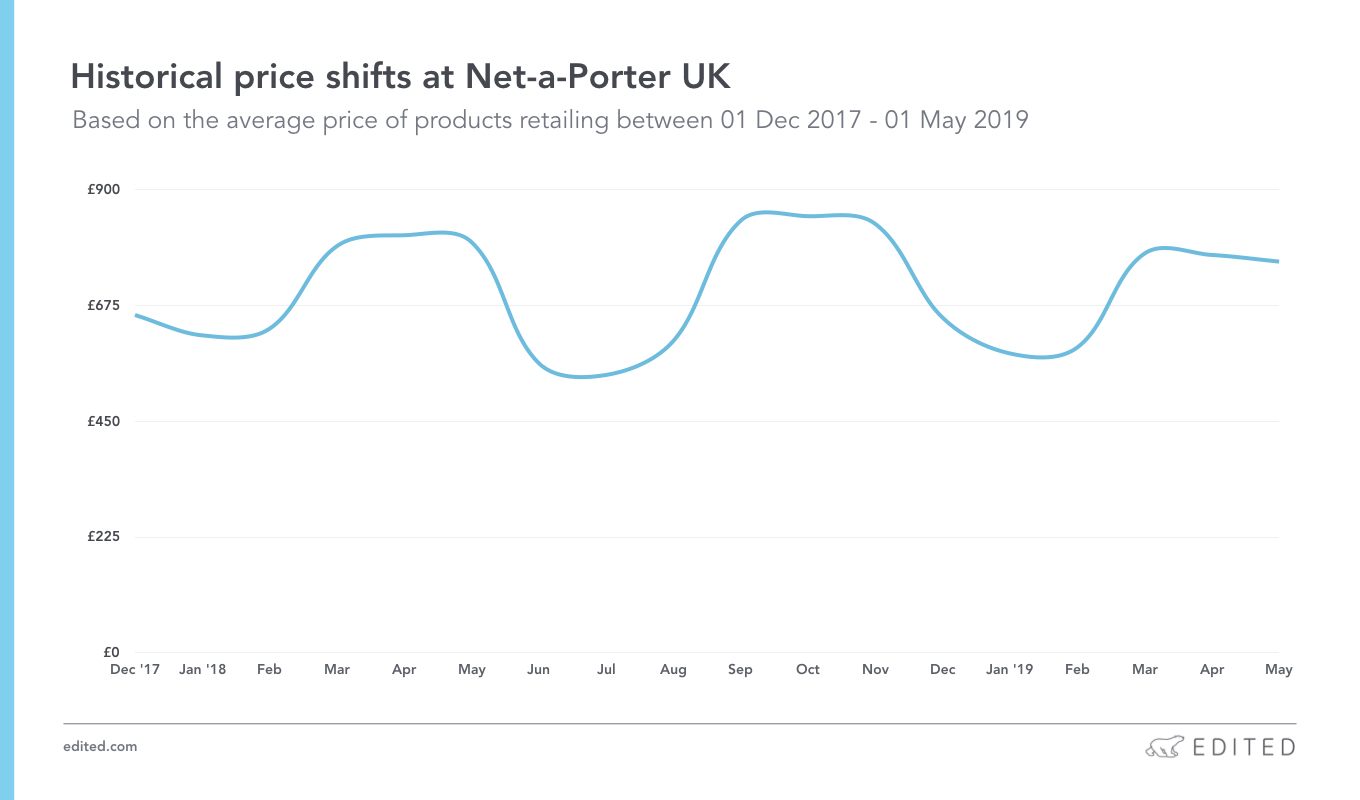 Net-a-Porter, for example, has seen sharp price fluctuations, especially at peak sale periods. The retailer has experimented with exclusive preview sales to their VIP guests, showing how this balance influences access to luxury.
To help spot new opportunities early and understand the price trajectory across any market, we've created a subscription package specifically for luxury brands. With these exclusive features you can understand the price variances of your competitor's products across different markets and whether there's an opportunity to increase or decrease prices to be in line with the market.
Get in touch here for a demo on how we can make this work for your business!
So what kind of insights can you see from this type of data? Let's explore what's happening in the luxury market.
Are luxury prices shifting?
Last year, Generations Y and Z attributed to 33% of luxury purchases, and made up 47% of all luxury consumers. Many luxury players are shifting their product and marketing strategies to attract a younger consumer, but do these shifts affect pricing?
Using our price-over-time tool to understand the pricing trajectory across the UK, we look to price shifts over the last 18 months.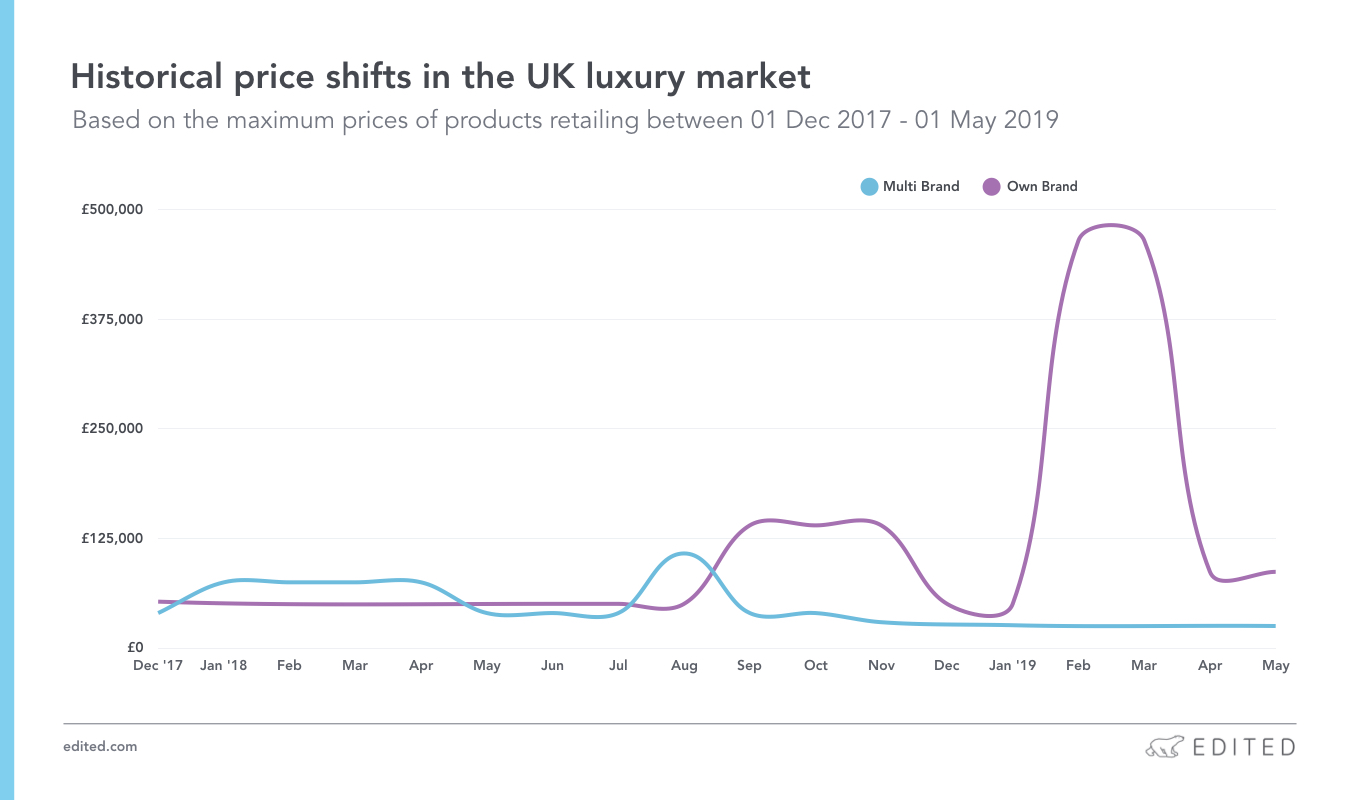 This reveals the continuous stocking of expensive items at luxury brands' own sites in the UK. The spike in January '19 correlates with the Louis Vuitton Malle Coiffeuse (vanity trunk) retailing for £140,000. The maximum prices at multi-brand retailers began to decline from September 2018 onwards as retailers stocking these brands are buying less into a product with a high price tag.
Pricing shifts like this also question the importance of brand compliance and value retention. Luxury branded retailers don't follow trends, they create them. But they still need to make sure they're launching at the right time and at the right price. Monitoring the price and performance of products at a brand's own e-commerce site vs. where they are sold at retail partners is crucial to spot where your pricing is out of line compared to the rest of the market.
The rise of capsule collections
Many retailers are tweaking their seasonal injection strategies of core categories. Within luxury specifically, we note the rise in trend pieces compared to continuous products in their assortment. What we can learn from Rihanna's fashion launch with LVMH, for example, is the idea of shifting from traditional collections to capsules, or sporadic product releases. This type of model aims to keep the brand current, appealing to consumer's needs for newness and inclusivity.
EDITED's price-over-time tool help to understand the pricing trajectory across a market. If we look at when capsule collections are being introduced, we can also look at how the prices differ from traditional collections. Are they demanding a higher price point and are they selling out at that price? We can see that here with Gucci.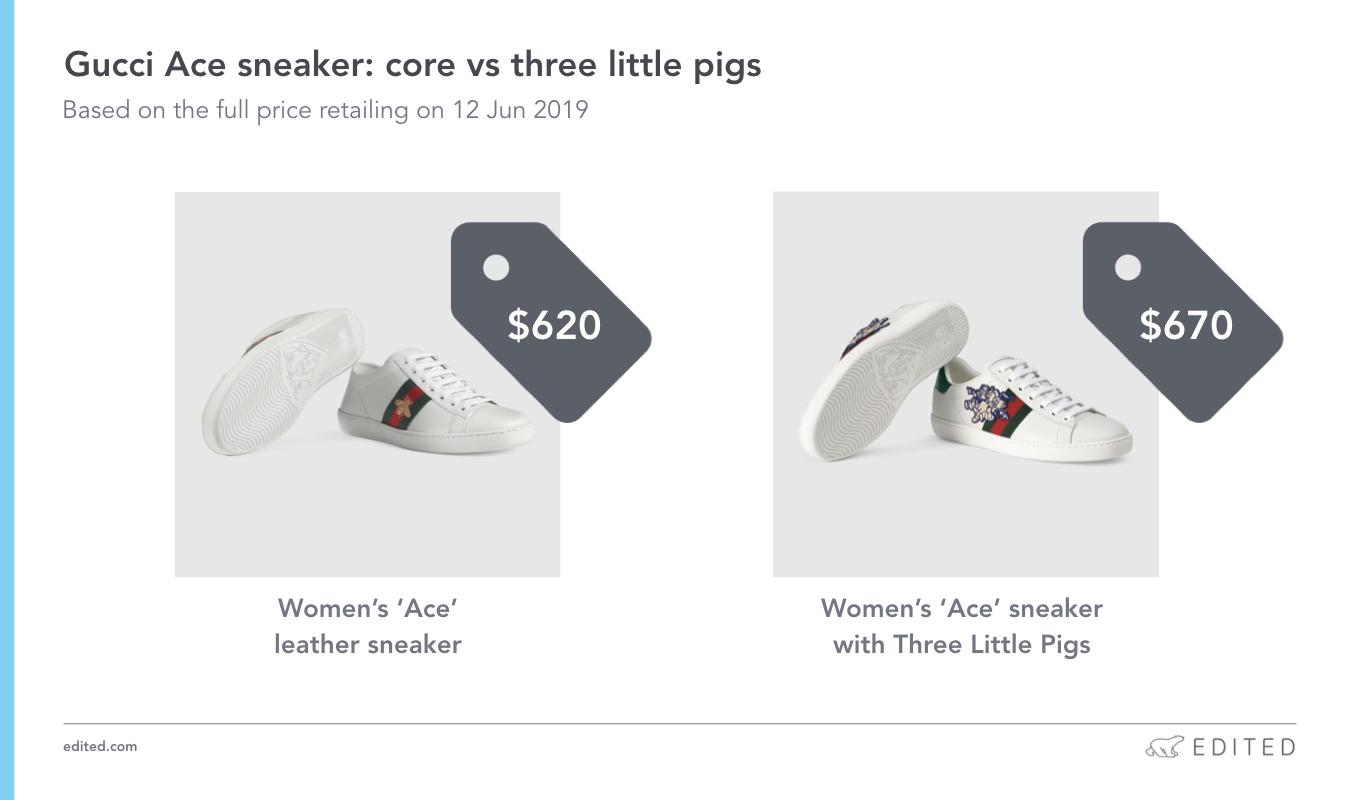 Gucci's CNY capsule collection paid homage to the Three Little Pigs and featured the design across their assortment, such as their signature Ace sneaker. The capsule sneaker retailed and sold out at a higher price than the original and didn't require any discounts.
With luxury consumers favoring both fashion and newness, capsule collections are a way to meet this demand. So, we've made it easier for luxury brands to spot where the gaps lie within product and pricing globally.
Want to see more insights around this? Get in touch here.
Want to know more about how EDITED can help your business?
Request a live demo with one of our product specialists.