WARNING: What you are about to view is certainly NSFW. (Okay, it is really.)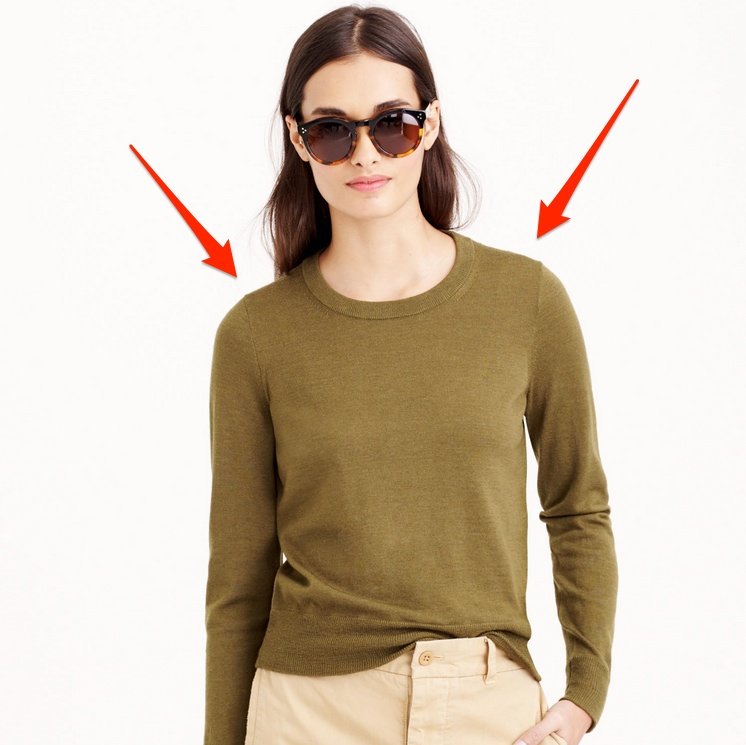 That, folks, is J.Crew's Tilly cropped sweater. You might have read about it in the press recently, it's the sweater-turned-scapegoat largely blamed for J.Crew's sales dropping 5% last quarter and big personnel loses. Such is its power to shock the industry.
An article on Slate, quotes a so-called J.Crew "obsessive" as saying, "The Tilly was a disaster. An absolute disaster. They should not have gone that way." An understatement considering the company blames it (yes, a sweater) for 175 layoffs, one of those their head of women's design. That's a lot to fall on such narrow shoulders.
A sweater with the ability to cull 10% of the corporate staff and 47% of its price. This was a big misstep indeed. Let's go back to the beginning and take a closer look at what went wrong.
Meet Tilly. She's what J.Crew describes as the "slightly shrunken cousin" of J.Crew's popular Tibbi sweater. First problem: no one wants the 'slightly shrunken cousin' of anything. There must be more positive ways to describe the sweater than as the poor relation.
What else about Tilly? She begun life on November 12, 2014, at $75.00 USD. After a short and disastrous run of luck, she's now $39.99. Tilly also comes in 15 colors. Yes, FIFTEEN. And they read like the tracklist to a pop record, including hits like lemon, ruby, marled azalea and bright spearmint. Unless your company is called Crayola and you make colorful crayons for children, this is plain overkill.

On account of the scandal, J.Crew don't refer to Tilly by her name anymore. She's gone undercover as 'Merino wool crewneck sweater'. But a moldy rose by any other name, smells just as moldy. The customer reviews prove it. Sure, there's some positivity from J.Crew's devotees. But they're outnumbered by frequent mentions of it being "too too short". One review helpfully points out "its fatal flaw was its boxiness". Another review, titled "hahaha", explains, "the color is also disappointing– the marled azalea looks a sweater from the juniors rack at TJ Maxx." Many reviewers comment that they "don't see it being all that practical for work." Oh J.Crew, we hope you're listening to this.
So what went wrong for J.Crew here? Were cropped sweaters D.O.A?
Let's look at five sweaters that have sold well in the Tilly-gate era. We can use these to better understand why Tilly was not a hit.

1. Stella McCartney's Mixed-knit Puff-sleeve Sweater at Neiman Marcus
This crop commands its $330 USD price tag thanks to shape detail – something Tilly entirely lacks. The shoulder shaping is enough to usher this otherwise basic garment into covetable territory.
2. Country Road's Cropped Knit Cape
This $117 USD beauty first sold out just three days after its arrival online in late April. A restock subsequently sold out too. Why does it work? Quirky shape (nope, Tilly) in a safe shade (nope, Tilly). Sure, it's winter in Country Road's native land, Australia, but Tilly was first introduced in November.
3. Lulu Lemon's Bhakti Reality Short Sleeve
This $68 USD number from Lulu Lemon literally whipped the business from under Tilly. J.Crew still don't have an activewear range and seeing as Tilly was pronounced NSFW, their customers would be wearing this style of pullover casually. J.Crew currently cannot compete with "Naturally breathable cotton yarns, strategically placed open hole knit and a loose fit help us get rid of excess heat slowly so post-class shivers are a thing of the past." Come on J.Crew, with your quality finishes and technical ability it's time you got active.
4. Abercrombie & Fitch's Heather Cropped Sweater
Hell's bells, we have this $48 USD A&F sweater lashing J.Crew. Why did this one work? Because it was made for teenagers. The very people who want to, and can, show off their midriffs.
5. Topshop's Knitted Slubby Crop Sweater
See above. Also, J.Crew, please note the safe palette of these two crops despite the teen market. No bubblegum or knickerbocker glory stuff here.
J.Crew's current problems run deep, indeed we've written about that here and here. Of course, we are all aware the recent job losses aren't down to poor Tilly alone. However, it does serve to highlight how much just one product miss can hurt a company. Put in the research, make it relevant to your customer and you can avoid scandalizing the nation. Hopefully.