Instagram influencer marketing is a $1.7 bn industry, with the tech giant ranking as the most important social media channel.
The platform is showing no signs of slowing down, with over 1 bn users as of March 2019 and over 500 million daily users on Instagram stories. And the app is forever expanding. It recently introduced a "checkout feature", allowing users to buy items directly from the app, shaping the way we shop.
The growth of influencers over the years has seen payments for sponsored posts skyrocket. New features will allow accounts to "boost" sponsored posts, this gives brands a greater reach for branded content. And you can say goodbye to those annoying spam accounts liking your pics. Instagram is working to remove fake follows, likes and comments. This helps brands who work with influencers reach those with an authentic following.
So, can we measure the impact fashion bloggers and celebrities have on a trend from a post on the gram? You bet. Brands can track the rise and fall of a trend in the market by using data. This gives them visibility on which insta looks to get behind and which to pull back on.
Find out how much the cow print trend increased after Kylie Jenner posted a photo in that swimsuit (spoiler alert: a lot!). But first, how have social influencers changed the way fashion trends form?
Disrupting the cycle of trends
Trends used to come about in two ways: they either trickled down from the runway or bubbled up from the street.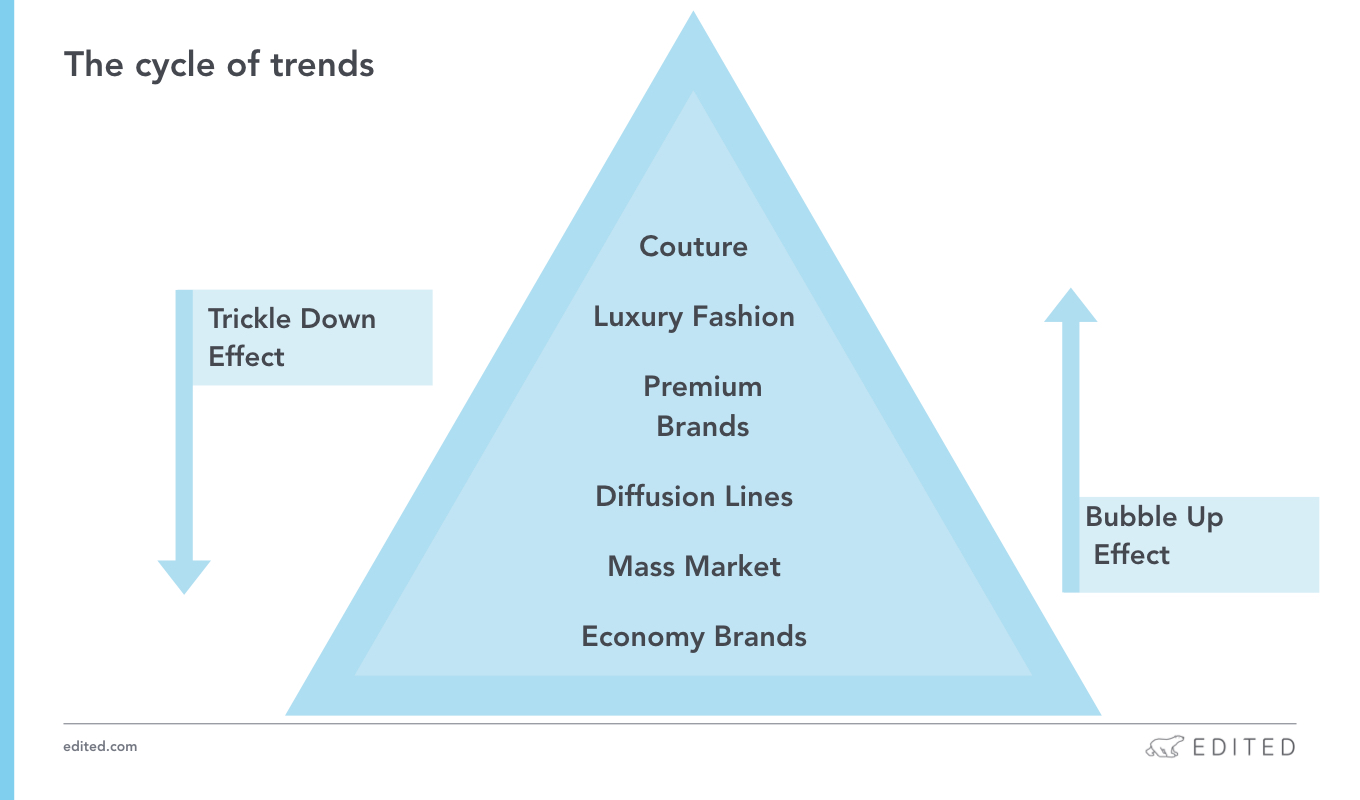 This method made it easy to pinpoint the lifecycle of a fashion trend. But, due to the rise of social media, it's fair to say this now looks outdated.
Rather than a neat triangle of upwards or downwards movement, today trends work like a cycle. With each part of the wheel improving and challenging the last. A trend can start at any point, and will carry on through the wheel. The reactivity of key mass market retailers can provide rapid feedback on which trends have been successful and which haven't. Viral social media trends can disrupt any part of this wheel as consumers take direction from influencers in real time.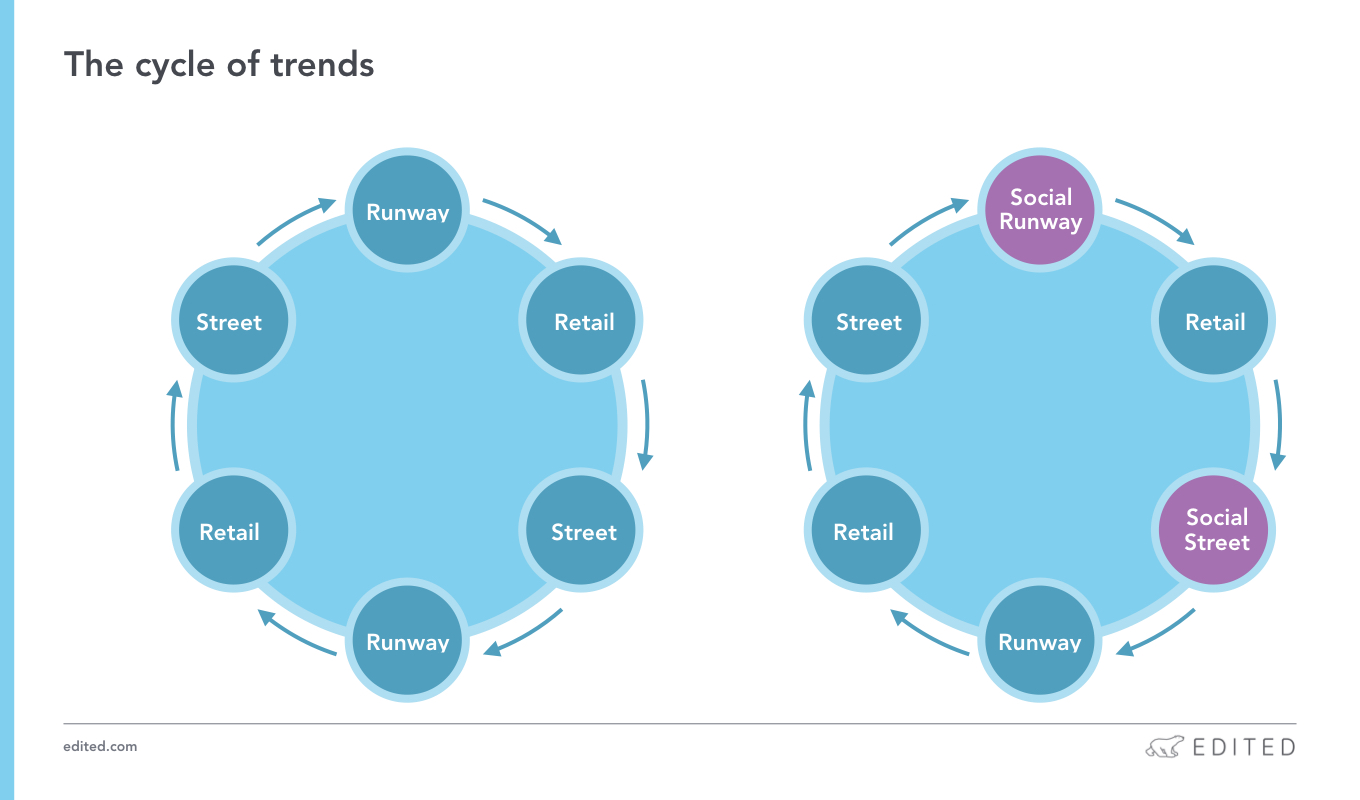 Here's some recent successful trends that have been bolstered by fashion influencers and celebrities on Instagram.
The rise and rise of neon
The return of this '90s trend was spearheaded by Kim Kardashian West back in August 2018. Kimmy stepped out in a custom Yeezy neon pink dress for sister Kylie's 21st birthday. The whole affair was documented on Instagram, and almost instantly, Fashion Nova teased neon products inspired by the sisters birthday ensembles, including the neon pink dress.
Neon is hot in the Kardashian-Jenner clan and other social influencers, creating more demand for this color palette. Spring 2019 runway shows saw neon hues favored among designers such as Off-White, Blumarine, Christian Sirano and more.
With both the runway and influencer tick of approval, highlighter hues began to flood the market. We charted the increase of new neon products against popular Kardashian-Jenner Instagram posts. New arrivals and likes on posts trend upwards, especially from January after Kendall Jenner posted a pic in a neon green milkmaid top racking up 7.7 million likes.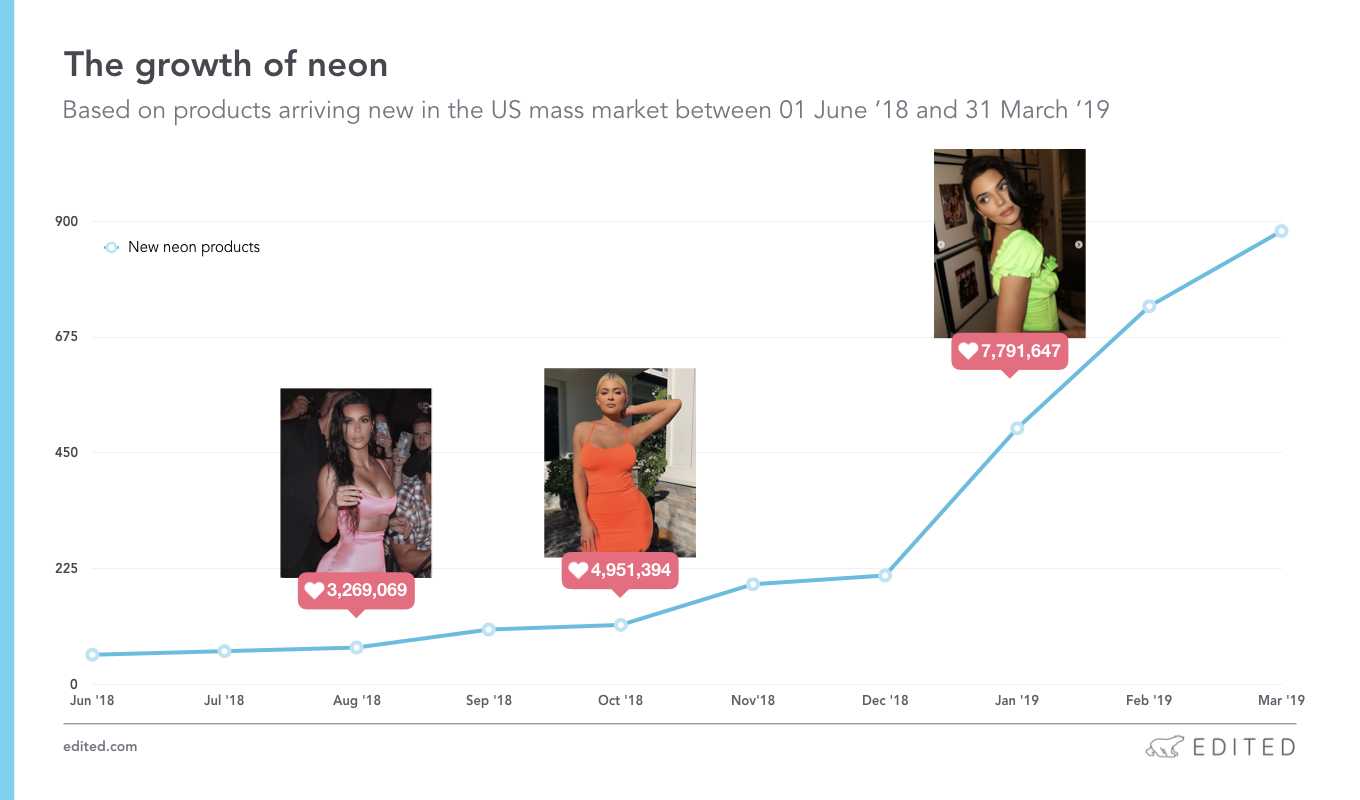 Since Kim's post in August until now, new neon product has grown a whopping 743% compared to a year prior. On Instagram, #neon is currently associated with over 10 million posts. Check out the below mass market products which have seen recent commercial success in the US market.
Want to know the 3 most successful interpretations of the neon trend? Log in to your EDITED account and check the report.
The staying power of animal print
Animal print established itself as a staple pattern in the posts of fashion bloggers and celebrities alike. As a whole, animal print has seen a 371% increase in the US mass market since 2016 with leopard as the most dominant followed by snake print.
Leopard print products have increased by 345% since 2016 and snake print by 427%. The below graph reveals how both of these prints have grown over time.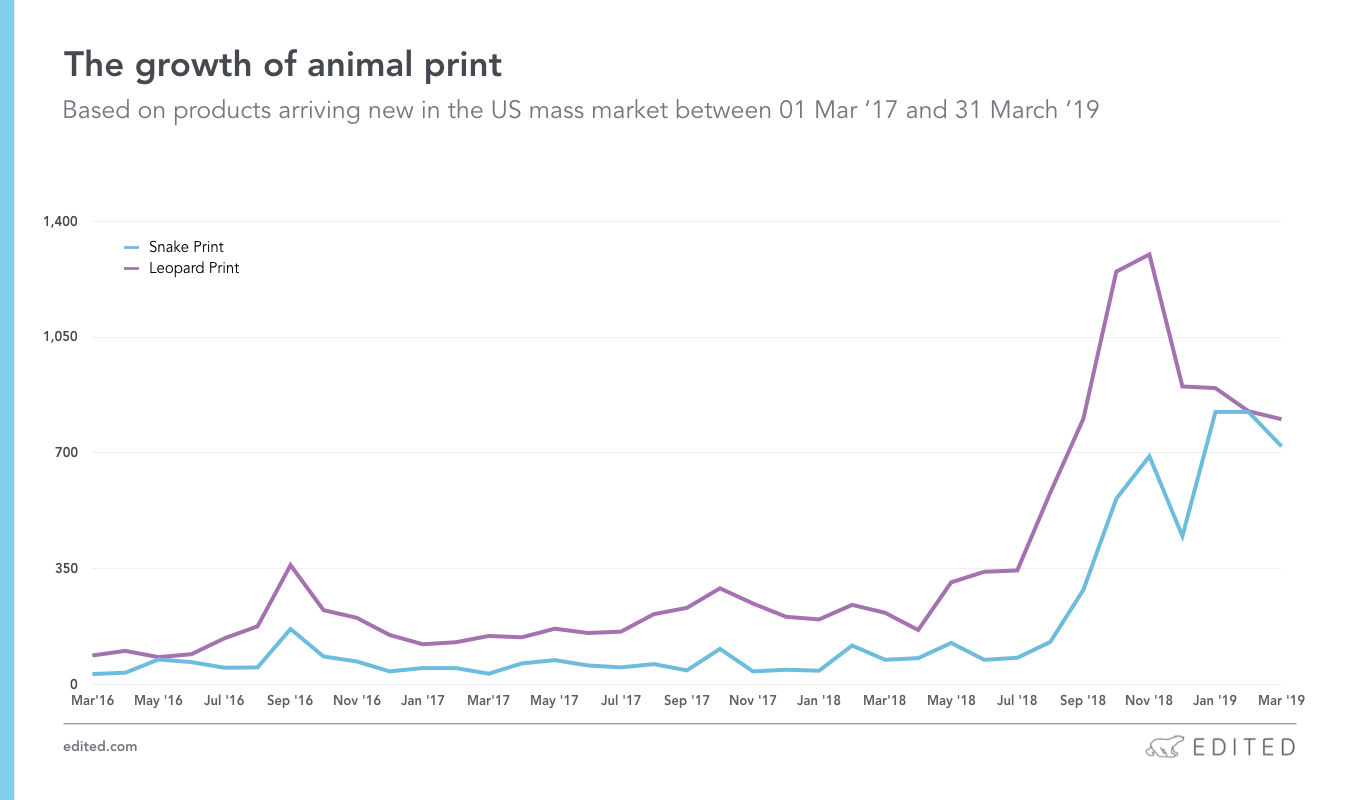 While leopard dominates this market, the number of new snake products is catching up to the alpha print. This suggests snake print will continue to be an essential trend, almost as important as leopard print, in seasons to come.
After Kylie Jenner grammed a picture in a cow print swimsuit, the print increased 260% over the past three months compared to three months prior. Other skins favored by influencers that are trending up include zebra by 9% and tiger by 6%.
Influencers in communications
Brands and retailers are increasingly incorporating Instagram within their communications. This gives their product more exposure to new audiences to help generate sales and develop brand identity. It's common practice for brands to promote a hashtag for customers to use when posting their outfit. This helps brands build a strong sense of community and creates their own league of influencers.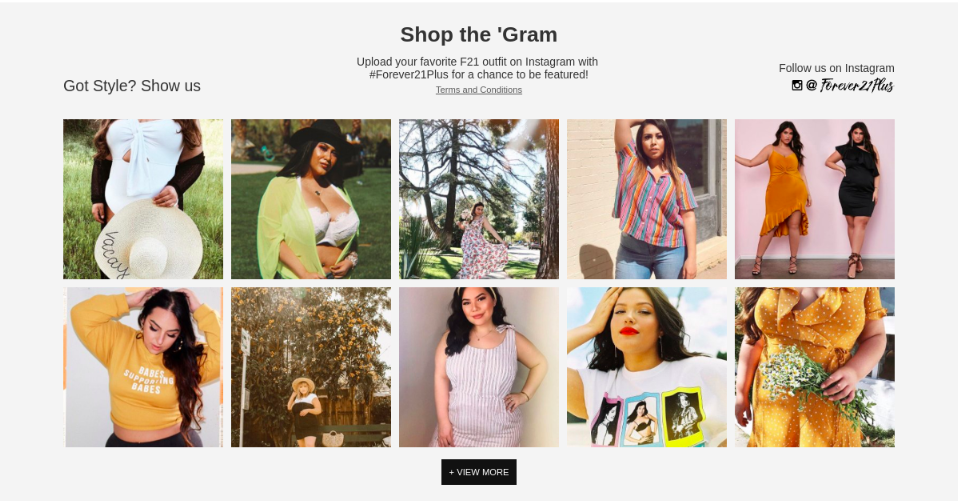 Zara recently launched a collaborative Instagram account, @livingzara. Each week, a new influencer takes over the account to create content featuring items available to shop directly from Instagram.
Influencer-approved trends to track
What else are the 'IT' crowd wearing and sharing? Here's a collection of trends that dominate the Insta feed.
1. Boilersuits – they were out in full force during the Fall 2019 shows. The utility one piece continues to reign as a staple item over the coming year. The data speaks for itself, as new arrivals in the US increased by 30% over the past 3 months compared with 3 months prior.
2. Hair slides – Anything reminiscent of the '90s is hot property right now. The US market experienced a 2% increase of hair clips YoY. The amount of new hair clips in the past 3 months have increased by 135% when compared to three months prior.
3. Neutrals – The antidote to the neon trend, beige and ecru shades are a favorite of brands and influencers alike. Neutral tones have seen a 22% increase YoY in the US mass market.
4. Tie Dye – Just in time for the festival season. The tie dye trend is going wild in the mass market with new arrivals up 803% over the past 3 months.
EDITED Tip: Each week, our analysts compile the most prominent trends seen on Instagram into a handy report. Save yourself hours of scrolling by checking out our Trending Reports.
Research and data by kayla, Market Analyst.