We're back with part two of this week's denim market focus, today looking at specific products and trends in women's jeans. If you didn't catch it, earlier in the week we shared insights about the pricing and timing of the denim industry, revealing areas of opportunity and the high price point of men's denim. First up, we'll look at the big trends in new arrivals.
The Newest Trends
Segmenting new arrivals by the market/price point is a great way for retailers to spot when a trend moves from luxury, into premium and then becomes relevant for the mass market. When a trend hits the value segment, or if it goes straight to value, retailers may want to avoid future investment in it.
Here, we've looked at trends in the new product arriving into each market segment. For the luxury and premium market, we've looked at everything arriving in the last month and for the faster moving mass and value, we've looked at new arrivals in the past week.

Luxury
The luxury market has shown a wealth of exciting trend direction in the last month. We've spotted a large amount of grey washes including those from DSquared2, J Brand, Isabel Marant Etoile and Stella McCartney. Patchwork and appliqué patches are also big news, with new products on the market from Ashish, DSquared2 and Alexander McQueen. Embellishment is a trend justifying the luxury denim price point – Versace's latest are studded, Tu es Mon Tresor have run pearls down the sides of theirs and Stella McCartney has embroidered pied-de-poule symbols on theirs.
Most noteworthy is a new direction in length. There have been numerous new arrivals in cropped jeans which finish anywhere in the few inches around mid calf. Marni, Acne, DSquared2, Stella McCartney and Marc by Marc Jacobs have all dropped version of these in the past month.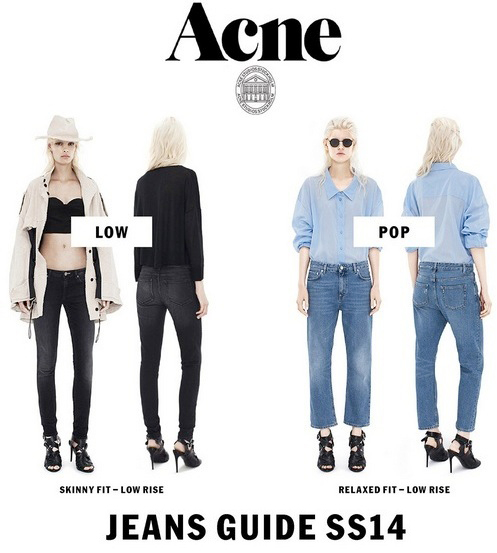 Premium
The premium market echoed the patchwork trend seen in luxury, with new arrivals from Erika Cavallini Semi Couture and Current/Elliot. The 'mom' jean shape continues to be big news, with Madewell, Free People and Rag & Bone all arriving online this month. Pink jeans from David Kahn, MiH and Blank NYC have been stocked by retailers this month and similarly attention grabbing are the printed styles from Tommy Hilfiger (floral allover) and Ralph Lauren (bandana print). New ripped knee styles are still arriving into stores, from Paige Denim, J Brand, Citizens of Humanity and Siwy – this is a killer trend that won't be disappearing anytime soon.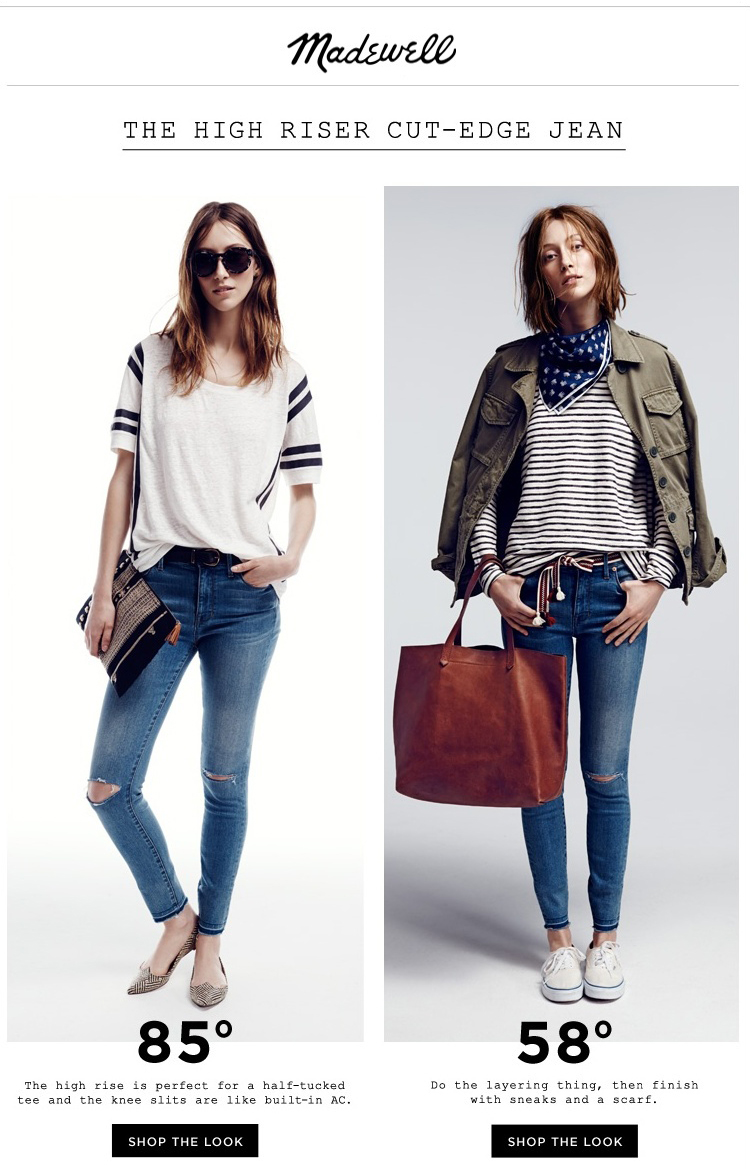 Mass
Newness in the mass market in the last week comes from an unusual black lace trim on ASOS's Ridley Extra Skinny jeans, at $64. ASOS have also introduced a number of loose fit jeans, from their own brand as well as Whistles and Cheap Monday. Popular features of this style are high waist, mid wash and ripped knees.
Value
New drops in the value market include extreme acid wash denim at Boohoo and Forever 21, and Balmain style biker jeans from Woolworths South Africa. Boohoo have introduced an interesting pair of bow-sided jeans.
Cut to the core
In a key category like denim, having a successful and well-balanced core range (the items which are consistently restocked each season, and rarely go into the sale) is just as, if not more, important than timing the newest trends correctly for the market. With market analytics, it's easy to analyse the currently in stock jeans styles, which arrived into stores between early 2010 and mid 2013 – with the 1+ year since arriving and a full price indicating a consistent seller for a retailer.
Selfridges' Goldsign Misfit slim mid-rise jeans are a perfect example of a core item. They were first seen at the retailer on the 16th November 2010 and are still in stock, across nine sizes at their original price of $438.65. Shopbop's elastic-waist pull on flared jeans by Blank Denim have also been in stock since late 2010 and have risen in price from $78, to $88. On the mass market, Topshop's Petite Moto Black Leigh Jeans are amongst their most consistent styles. At $64, and first seen online on the 17th March 2012, the six sizes of the product have been restocked for over two years, and have attracted 54 reviews on the retailer's site. The majority of core styles are straight or skinny leg, in black or mid-blue denim.
With extensive data on each and every category across women's, men's and childrenswear, apparel buyers and merchandisers access EDITD on a daily basis to underpin their decision making.
To find out more, take the tour.