Four cities, five weeks, hundreds of shows, thousands of garments and a handful of spring trends that will really connect with consumers. It takes a whole lot of analysis to get through that load, and happily for you, our analysts have been hard at it.
Here, we share the eight biggest spring trends of next season, all based on their commercial influence and each underpinned with data to support their adoption.
Eight Big Spring Trends for 2017
1. The No-Brainer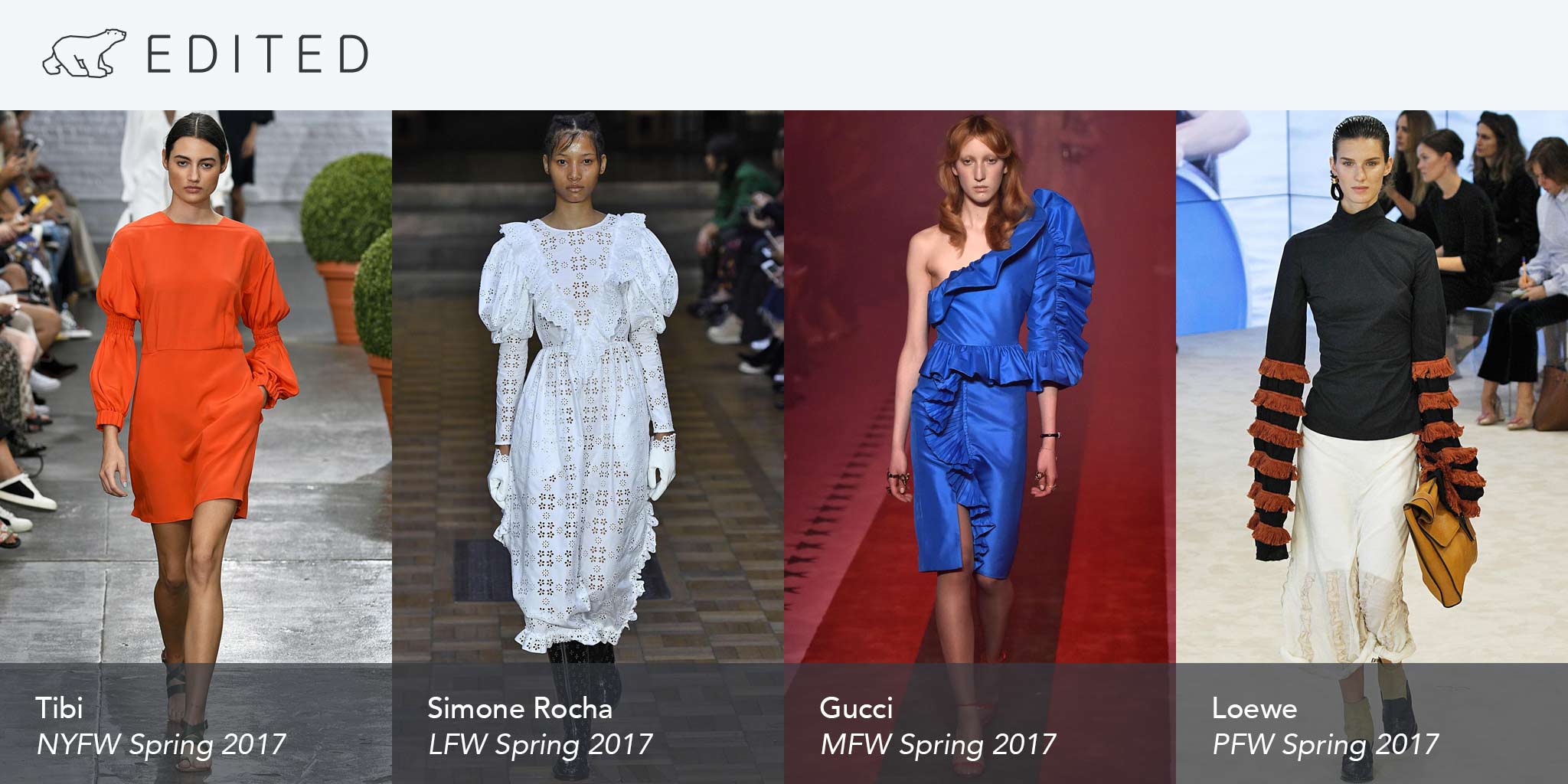 Ornately 80s or decadently Renaissance: design teams around the world, reach down your historic reference books. Statement sleeves are the feature of the season, with designers in all four capitals agreeing wholeheartedly. You had a hit with cold-shoulder and Bardot styles in Spring 2016 and a myriad of sleeve shapes burst onto the scene for next season. This feels new, edgy and slightly challenging – a formula that, done right, will result in a chorus of cash registers ringing out. Look out for princess sleeves, leg o' mutton, fluted and structural dolman. Miss this one and you may as well skip the season.
2. The Wedding Season Dress

The off-shoulder, single flounce dress was Spring 2016's occasionwear leader, so what's next? A whole lot more flounces, that's what. Partially driven by Gucci's batty-vintage leaning of the last few seasons, these ultra-feminine dresses were seen across each fashion capital. You'll need a floral print, some frills or ruffles (ideally on sleeves) and sheer fabrics. Extra points for velvet burnout techniques or lacework. This isn't contemporary, nor is it streamlined. This is a fussy look, but all the more frivolous for it.
New arrivals of last season's ruffled dresses picked up dramatically in March, as retailers launched their Spring campaigns. Through to July, new arrivals stayed steady, and lofted in July, peak wedding season. Fall 2016's gothic prairie looks will keep consumers warmed up to this style – Zara's currently leading the mass market with the style.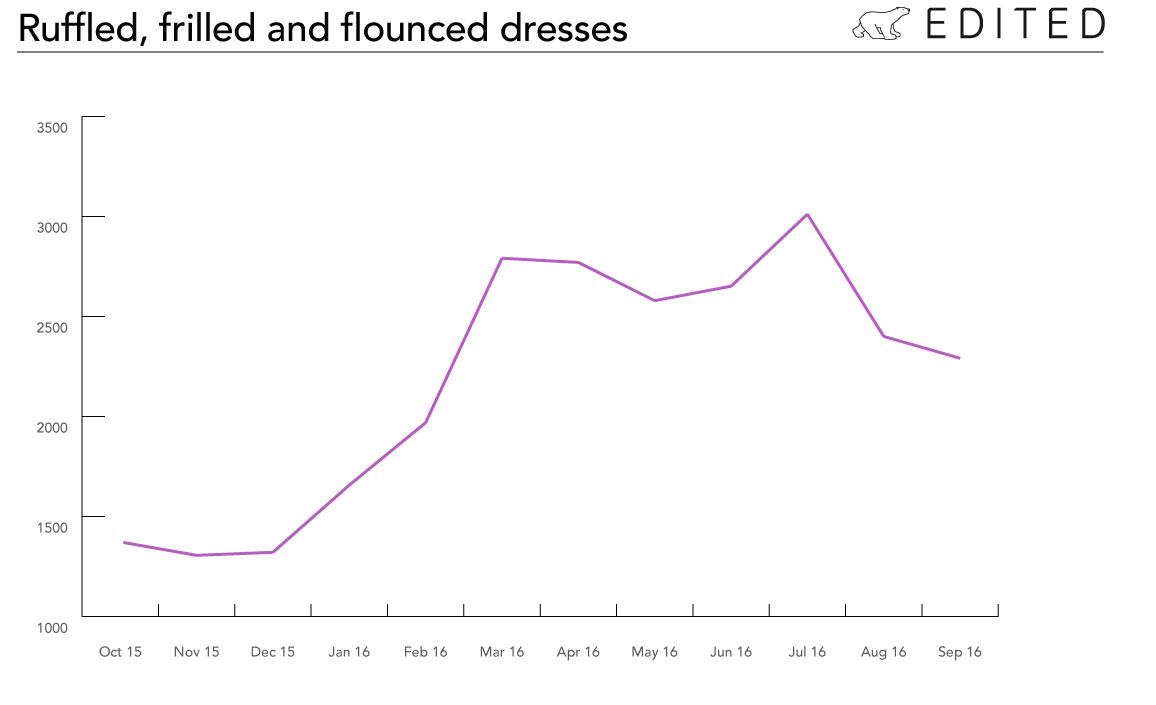 3. Denim's Direction
Denim gets some serious bling for Spring 2017. That's great news for retailers, as embroidered and patched denim was the hottest ticket in the category for Summer 2016 with Zara's patched denim jacket, Topshop's floral jeans and Marc Jacobs' shrunken moto jacket all stand-out commercial hits. In the last six months, there have been more than 2,500 embroidered denim items arriving online, 31% of which arrived in the luxury or premium market. Marc Jacobs and Roberto Cavalli have ensured interest carries on into Fall 2016, with their dark washed, embroidered and patched styles.
Moving into next season, move Spring 2016's florals on with an array of embellishments which range from metalwork, to sequins, embroidered animals and emblems to appliqué patches. The garment silhouette they were shown on stays loose, with wide jeans, oversized boxy jackets and loose dresses. Last summer, it wasn't jeans that were the most successful style of embroidered denim. Skirts and shorts performed best, at a $30-40 price point, and jackets, at a $50-60 price point.
4. Summer's Shoe Staple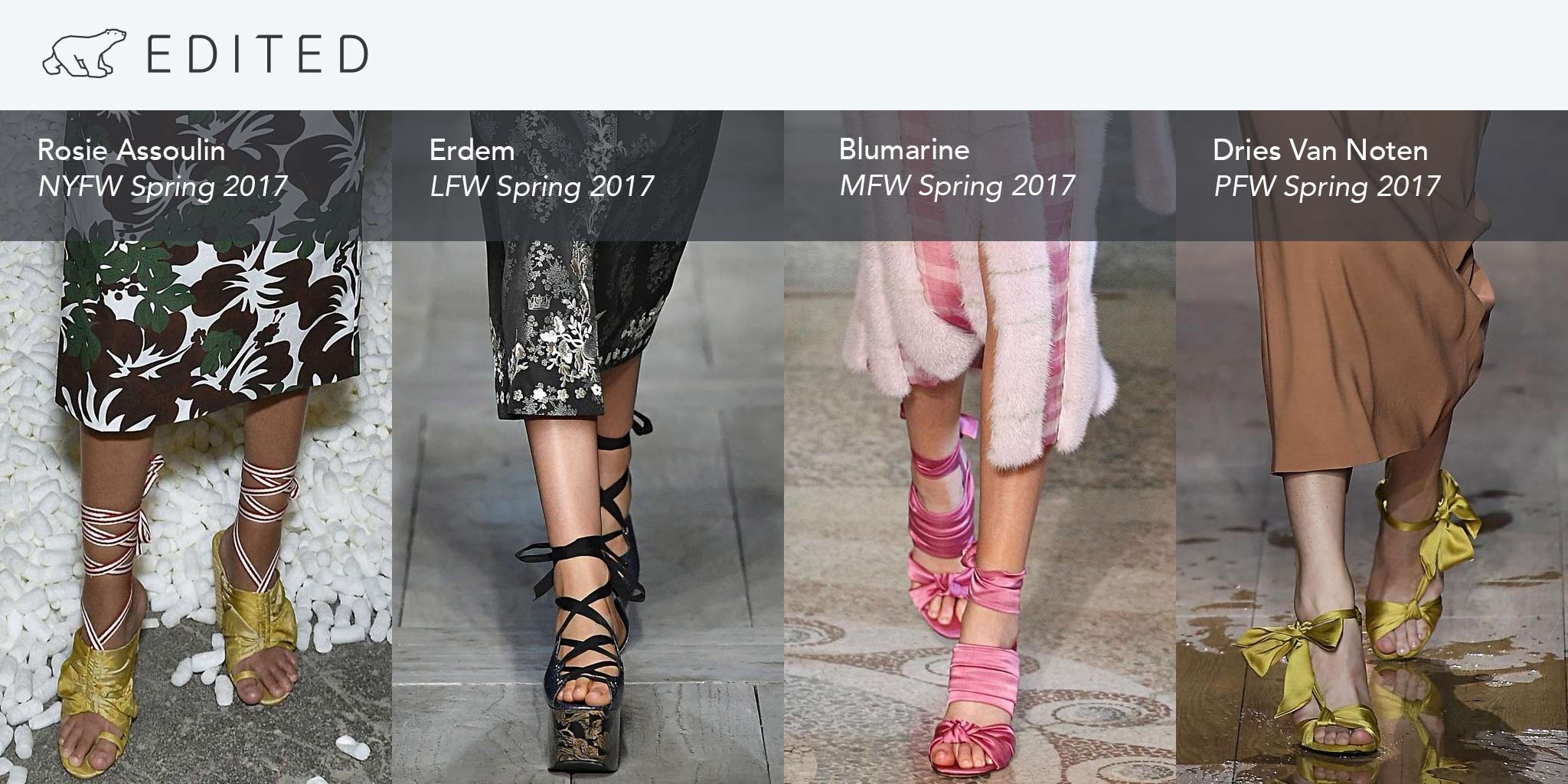 Never mind the sliders and the sneakers (we know you'll have those covered), the tied-up sandal is the new shoe style of the season. Whether it's slim ribbons or big bows, get your party shoes laced for next summer. Satin bows in jewel tones will work on evening footwear, while espadrille-like calico ribbons are a great option for daytime styles. Espadrilles sold well in Spring 2016, so update them for the new season with a platform, or in metallic tones – those silver shoes aren't over with either.
5. The Activewear Make-over

You didn't think activewear had been relegated out of Spring 2017's trends did you? The leisurely look is still key and that should be music to retailers ears, given the sporty lifestyles and functional demands of shoppers today. Jogging bottoms, leggings, sweatshirts and hoodies: all the basics, you've probably covered. So Spring 2017's addition to your activewear lines should be a tech-y raincoat. In unusual tones (no dog-walking navy or forest green numbers here), baring prints, drawstrings and trailing volume, Spring 2017's jackets are hyper-useful. Make them cropped, think about breathability and you'll appeal to the outdoor-exercising consumer in those tricky early months of spring.
There's a shortage of activewear rain items, as identified on with our new Sports & Active filter (more on that soon!) With a little over 1,000 technical sports raincoats currently online, the market is currently cornered by Regatta, Helly Hansen and North Face. Time to bring some high fashion cool to this market.
6. The New Season Bag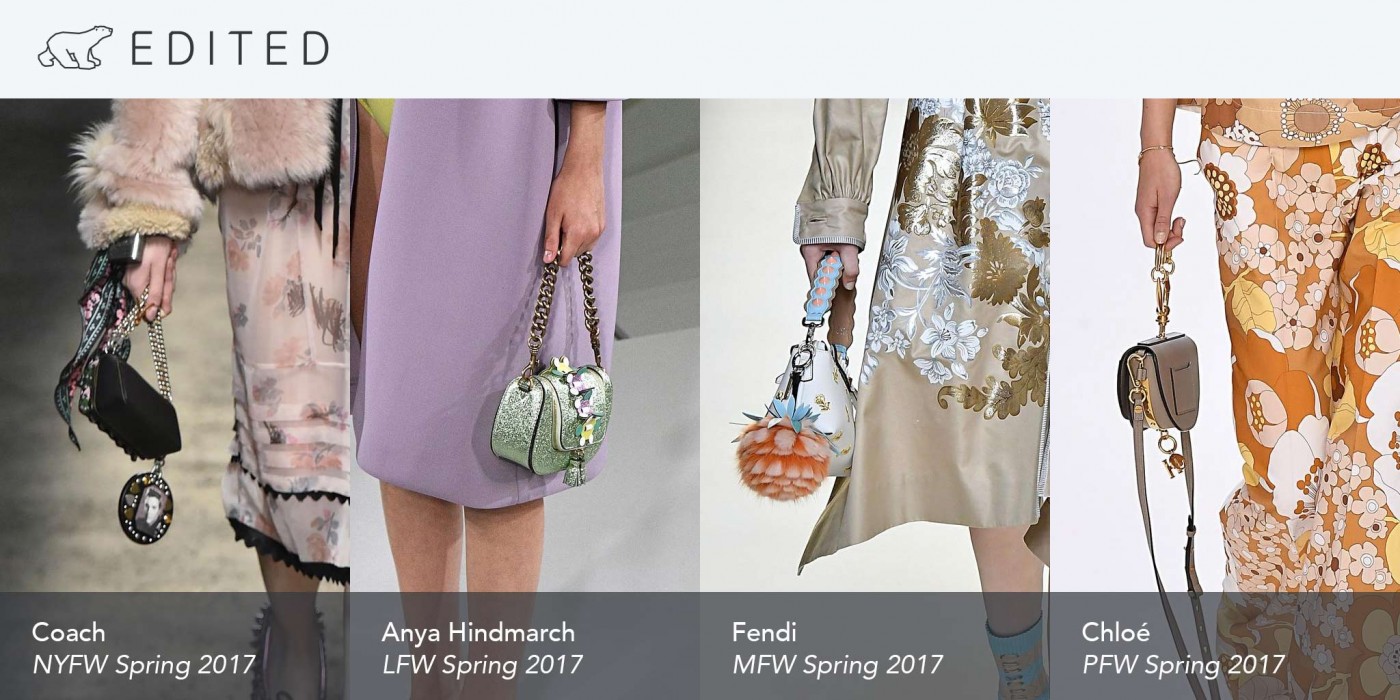 Have some fun with toy-sized bags next season: teeny weeny bags are the ult-luxe statement and a bit of irreverent fun. Trinket-like small leather items were decked out with appliqué, dangled bag charms and ornate chains. Between Q4 of 2015 and Q3 of 2016, there was a 28% increase in the number of new miniature bags arriving online. Though mini bags by Givenchy, Stella McCartney and Alexander Wang are the most stocked right now, that growth shows this trend is no longer solely the reserve of the luxury market.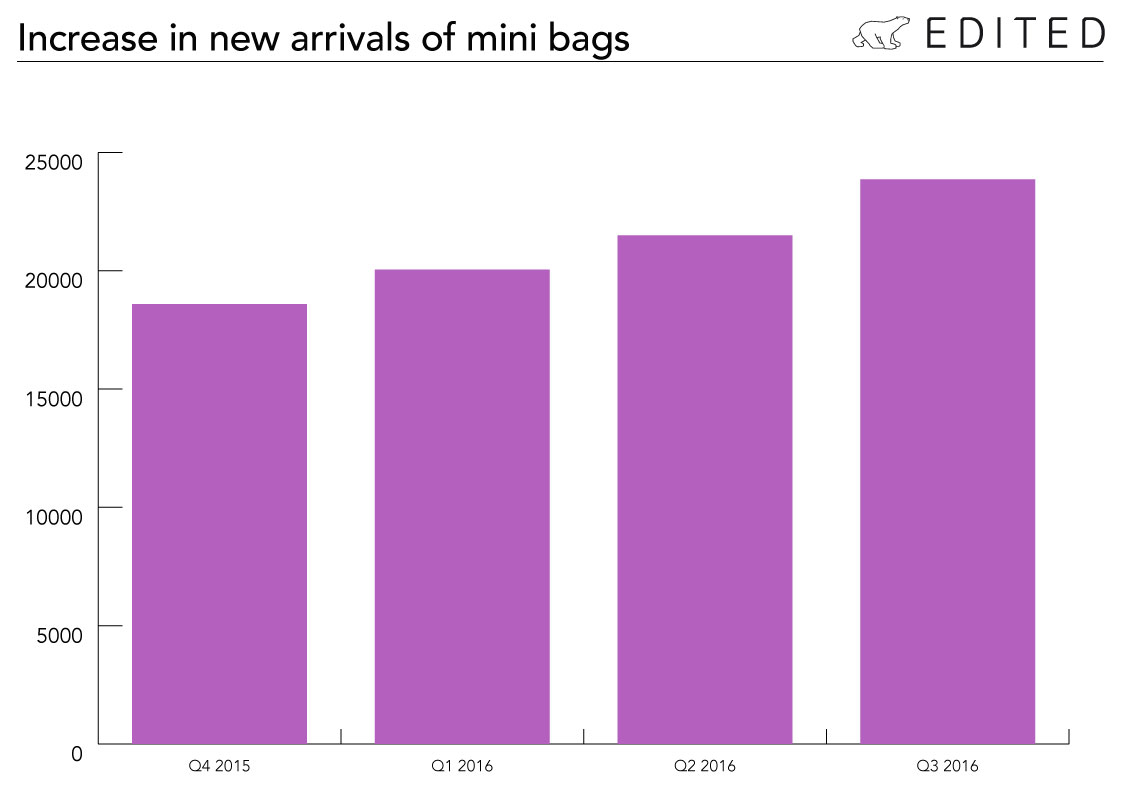 7. The Spring Print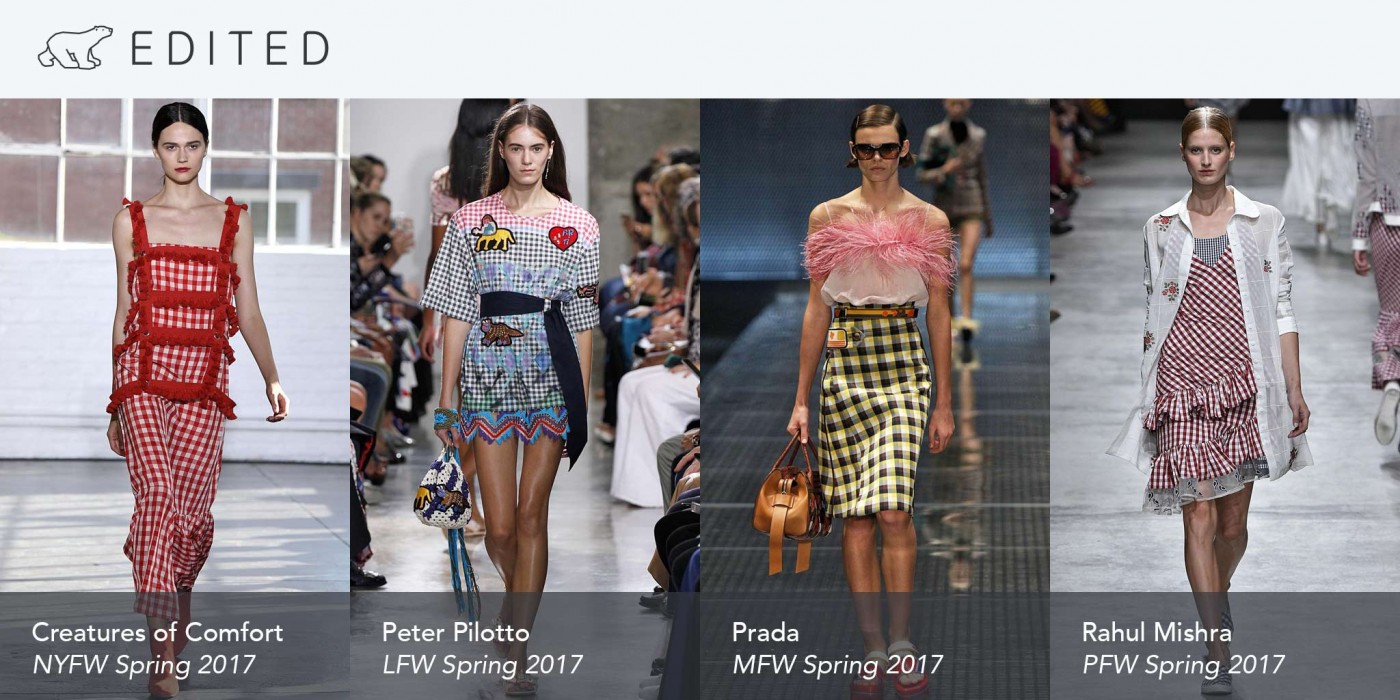 When Altuzarra sent out a sea of gingham in Spring 2016, there were murmurs of it being the print of the season. Well, that was nothing compared to Spring 2017, when a whole host of big name designers joined the picnic-y ranks. Red was the most used shade of the bold print, though many times designers worked a few colors together across a couple of garments in one look. That's one way to lift this print trend from preppy to punk-y (or at least punkier…). Throw on a few appliqué patches, cut the garment on the bias, give it an asymmetric hemline and hey presto, you'll have a new season winner on your hands.
8. The Defining Color
It's red for Spring 2017. Our colorwheel below is compiled from color recognition software, which every single runway image passes through. That means our new season palette is determine by data, with each color weighting reflecting precisely what designers sent out. Collections were heavy on white, as we've seen over the last few seasons. No surprise in the return of pale pink either – that's been selling well. A nice addition is the jolt of magenta. But the big new color story is the vivid red, so often used in head to toe looks. It's a bit naughty, a bit daring particularly when done in lace or sheers. Give it a try, then place front and centre.
EDITED's Spring 2017 color trends are decided by color software, letting data reveal the big stories.