Ariana Grande brought N*Sync up on stage. Louis Vuitton and Off-White designer Virgil Abloh performed a DJ set. Childish Gambino unveiled his collaboration with Adidas via AirDrop.
And now, for the stuff you didn't know! Read on as we reveal what retailers can learn from Coachella 2019 to help them nail the rest of the festival season.
The Coachella Valley Music and Arts Festival sure has come a long way. Back in the '90s, around 25,000 guests were in attendance and tickets only cost $50. Now, 250,000 people flood the desert. And $50 might get you a pair of socks from Kanye's 'Sunday Service' merch, but you'll have to fork out $429 for a ticket.
Last weekend, the sun set on the end of another festival, leaving us with outfit envy and plenty of memes to remember the occasion. Coachella sets the tone for the rest of the festival season, so keep these points in mind when planning your upcoming ranges. Glasto and Lollapalooza are just around the corner!
Communications are key
Coachella communications in the US increased 3% on last year. The first festival-themed emails came from Adore Me on March 01, where the retailer pushed a 'festival favorites' edit. This was swiftly followed by Calvin Klein, promoting a competition to win tickets to Coachella alongside themed products. Curated product pages were the most popular theme with retailers highlighting the standout trends: plenty of coordinated sets, tie-dye, neon, and chunky sneakers. Missguided pushed a price-focused offer with the message, 'festival wardrobe from $9' on April 13. Known for influencer-heavy marketing and an elaborate presence at Coachella, Revolve promoted the most festival content in their email communications. Mentions of 'Coachella' or 'festival' for Revolve boosted from 16 in 2018 to 23.

The "Influencer Olympics"
Pegged with the above moniker on Twitter, brands harnessed the power of social media at Coachella across many a party and pop-up. Revolve, again, lead the way creating shoppable links of festival looks on influencers in social and email communications. Other activations included hosting an invite-only 'mini Coachella,' #revolvefestival, with many celebrities and influencers in attendance as well as the #hotelrevolve installation to promote swimwear.
Need inspo on festival brand activations? Check out how brands such as H&M, Chloe, Levi's and more joined forces with influencers for Coachella here. Don't have EDITED access? Get in touch here.
The discounting aftermath
After Coachella wrapped up, US mass market retailers started discounting their festival edits. Two days after the event, 20% of festival products were marked down with the majority discounted between 50-60%. This was driven by heavy reductions taken at Nasty Gal. Diving further into product assortments, 26% of festival wear discounts were in the dresses category. This was followed by tops at 22% and footwear 15% – something to make a note of for planning upcoming festival drops.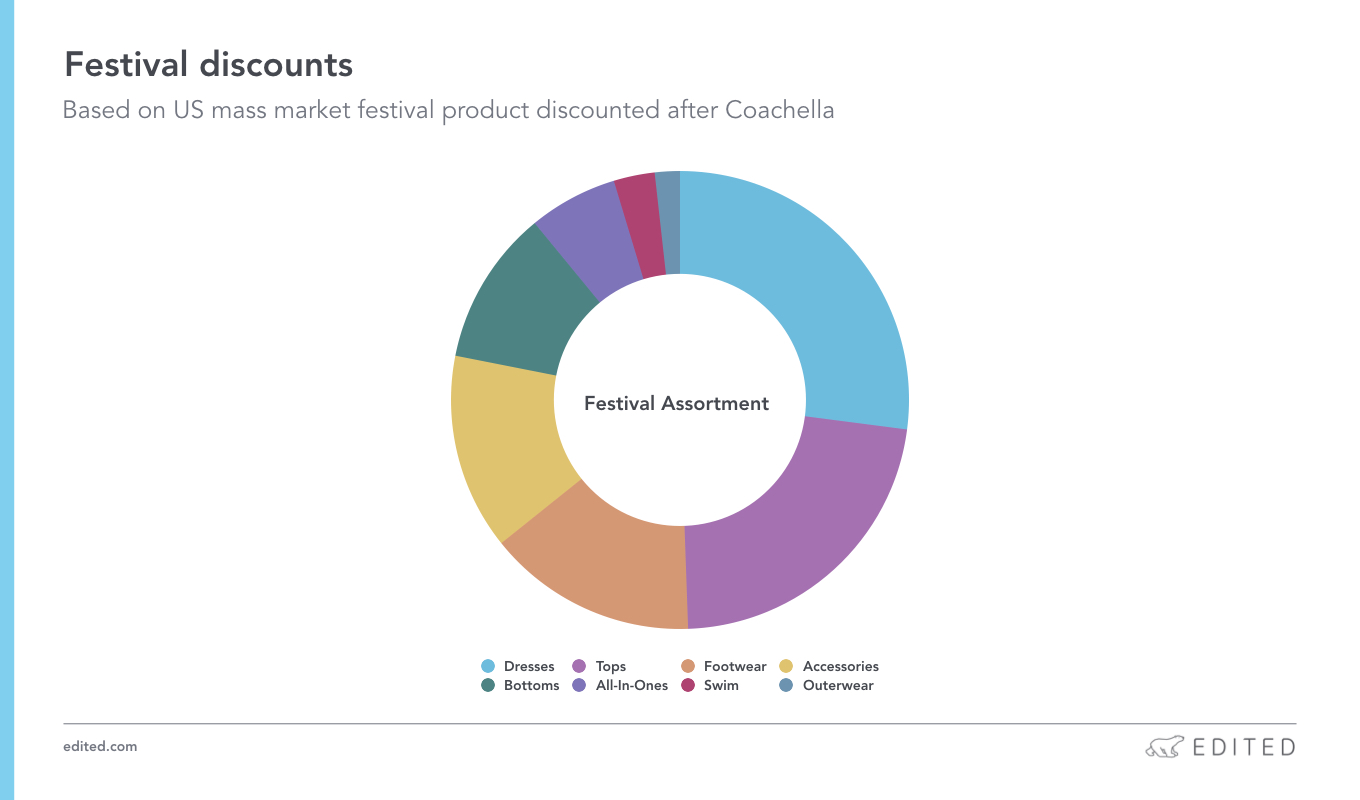 EDITED Tip: Want to know how you can sell more but discount less? Chat to us today and get a demo.
How have the major Coachella trends evolved over time?
In line with the color scheme on the Spring 2019 runway, neon was everywhere at Coachella, making its mark as the top festival trend. US retailers boosted their assortments accordingly, as neon products arriving for Coachella increased a tremendous (wait for it) 1,255% YoY! If we break that down, the major players investing were fast fashion trio Missguided, Boohoo and PrettyLittleThing who combined, accounted for 74% of neon styles arriving in the US market. Within the neon trend, lime green emerged as the must-have color for festival season, accounting for 29% of neon products followed by neon pink at 24% and orange at 18%.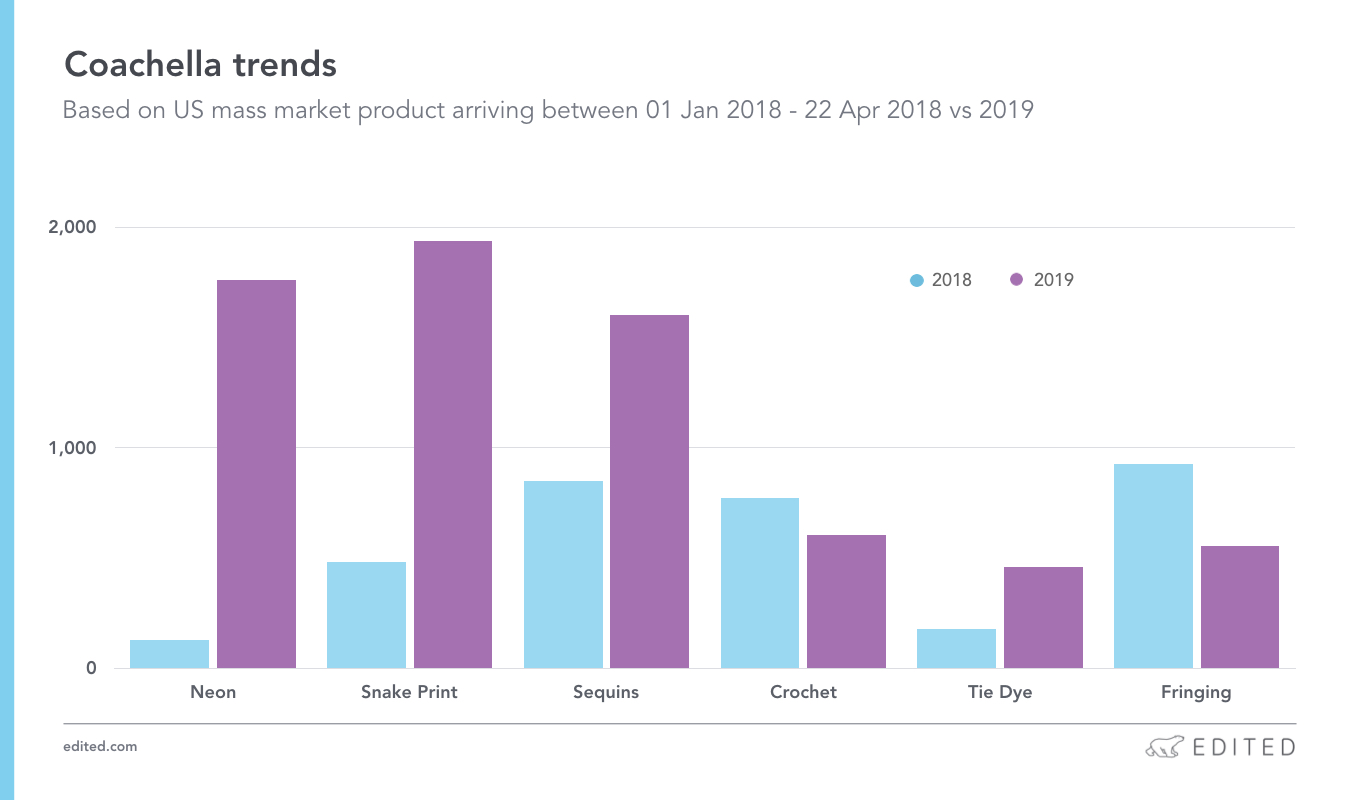 Animal prints continued to be popular with Coachella attendees, however, was noted to be less prominent than previous years. Snake print was seen as the major animal skin at the event, which saw a 303% increase YoY in retail.
While fringing and crochet items, a Coachella staple, were out in full force, US mass retailers pulled back their investment on these trends. Instead, tie-dye items saw a 160% uptick YoY, a favored print in dresses and crop tops.
No bumbag? No problem
Amazon delivered the goods this year by providing storage lockers to festival-goers. The locker system let guests shop their Coachella needs across categories like beauty, fashion & accessories, camping gear and more. Each day over both weekends, Amazon drivers delivered customer orders to the lockers.
This tactic reached a much larger, receptive audience advertising their Prime service. If the concept proves to be a success, this move lets brands and retailers help delight customers and bring convenience to their lives. All while they're dancing to N*Sync.
EDITED Tip: So, did you buy into these Coachella trends? For a full review of what festival-goers were wearing, check out our attendee style reports for apparel, footwear and accessories.
Research and data by kayla, Market Analyst.