Flash Sales is a tough business. So we've built a tool especially for Flash Sale retailers (and people who want to monitor the market) that lets you analyse flash sales just like we monitor the rest of the retail market.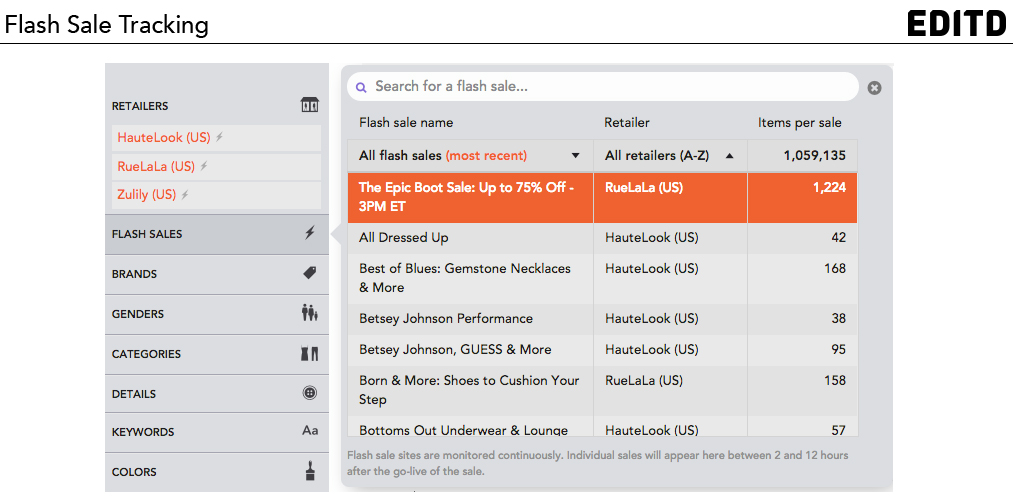 We monitor Flash retailers, like Gilt, Rue La La, Haute Look and Zulily. In Market Analytics, when you see the lightning bolt mark against a retailer, you know it's flash. And when you choose one, the new Flash Sales option becomes automatically available.
There're a few things that we've added to the Flash Sales product view: we show how soon the sale ends and also calculate the merchandized discount percentage – which helps you understand how the discount has been merchandised (from MSRP) across different retailers.
Like any dashboard, you can save a Flash Sales dashboard. And it's just as easy to set up alerts to see when something changes, or when there's something new going on.
Even if you don't flash, this is important for every retailer and brand.
Particularly in the US and increasingly in Europe, Flash Sales affect the marketplace and how consumers shop for brands. It's more important than ever to understand what customers are buying and at which prices. For brands, compliance and the flash channels are really important to watch. And for flash retailers, what can be more compelling than to understand how a product has traded outside of the flash market before you offer it?
[editd-banner image="https://edited.com/blog/wp-content/uploads/2015/03/History_calendar-view.png" header="Want to know more about how Flash Sales can help your business?"]Request a live demo with one of our product specialists.[/editd-banner]