Last month ASOS launched its own-brand bridal offering, a collection which includes 13 wedding dresses priced between $135.00 and $356.00. This week, H&M will join the party, introducing three bridal styles as part of their Conscious Collection. Are brides really going to buy their wedding dress on the high street, or more to the point, online?
Well, yes, they will – this article's title gave the game away. Three of those 13 styles at ASOS sold out in under an month and another seven have less than half of their sizes left in stock. Compared to the average price of an ASOS own-brand dress, these bridal dresses come in somewhere between 300-948% more moolah. A price hike for the occasion, accompanied by premium packaging and delivery via specialist carrier services.
Of course, ASOS haven't launched this bridal offering on a whim. Their hugely successful bridesmaid and guest offering has done a roaring trade for the e-tailer, alongside bridal lingerie, footwear and accessories. And they've previously stocked bridal styles by other brands. That includes the $93 'Bridal Pleated Bust Maxi Dress' by Chi Chi. The white sweatheart-bodice gown arrived online on January 8 and had sold out across seven sizes by February 1.
Is this a gimmick or a phase? Surely there aren't that many brides out there who want to purchase their dress online? And even fewer who want that dress from a fast-fashion retailer known for their bargain prices?
Well, we called it at the start of 2015: we think this is just the start of a big market opportunity. Beyond cheap prices, H&M and ASOS are also renowned for directional trends and for being exceptionally relevant to their customers – a customer base which for each is now enormous and global. Why wouldn't loyal shoppers seek out bridal styles here?
Weddings, and attitudes towards them, are also changing. As we all know, property prices have sky-rocketed and job markets are, well… you know that too. The focus of people in their 20s and 30s has changed, 'milestone' events are coming later and priorities are in constant flux. In midst of all this generational upheaval, a wider range in wedding type has come to be. The fairytale princess mold was never for everyone and these days, the alternatives are aplenty. (And better still, same sex weddings mean there can be two brides to dress!)
Also, let's not forget that new generations have a more complicated relationship with luxury product of any kind. For them, experience is often more important than product. That too could be reflected in how much couples want to spend on the clothing at their event.
As consumers we've also become used to an amazing amount of choice, particularly in apparel. When we see something on a celebrity, we expect to be able to buy it right away, at a price point of our choosing. It's to be expected that that array of choice and speed should touch weddings too. Kate Middleton popularized the 'bride's outfit switch' in 2011. It's now quite common to see a bride change mid-wedding or before she hits the dance floor. Having a range of price points and styles makes this an option for many brides.
There's over 53,000 'wedding' or 'bridal' items online. 55% of those are on the mass market.
Start digging and you'll see clandestine bridal references at other mass market retailers. Nasty Gal have an entire 'White Dress' category and Forever 21's Wedding Shop includes a 'Little White Dress' category.
And hey let's not forget, there's a helluva lot more opportunity in weddings than just the bridal dress. Hair accessories, bags, lingerie, footwear and sleepwear all have big mass market potential even for the bride who'd never dream of buying her dress at a mall. Forever 21 smartly promotes a bachelorette/hen's offering.
It's worth remembering that bridal dresses can double for prom for the most feminine of sweet-16 shoppers! ASOS France actually don't refer to the bridal offering as wedding attire. Instead these dresses are renamed 'Long graduation' or 'Prom Dress'.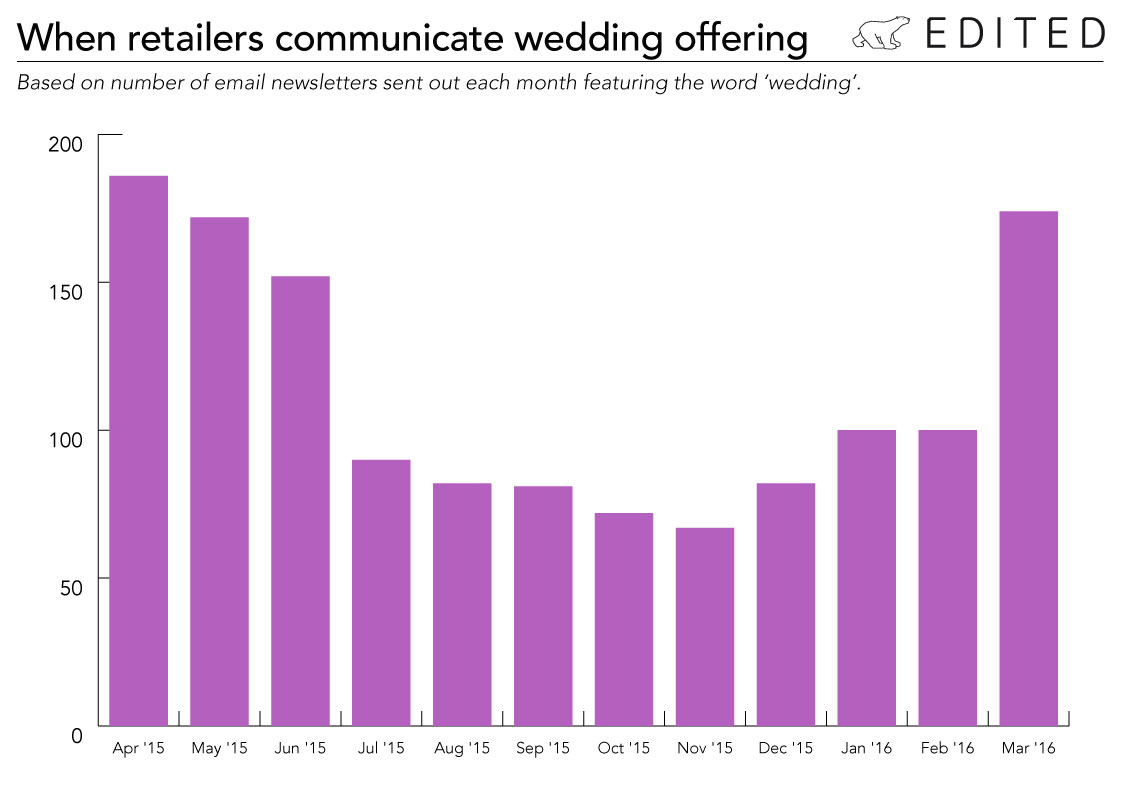 The premium market have already made big inroads into bridal, with Ted Baker and J.Crew leading the pack. And of course luxury ecomms players are already pros. If a retailer like Net-a-Porter can have a bridal dress assortment which spans the enormous price range of $263 (Needle & Thread) to $26,947 (Dolce & Gabbana), then there's absolutely space, and cause, for the mass market to take a turn at the wedding game too.
Undoubtably, if a customer is buying a wedding dress online, they're entitled to an experience that goes beyond the average checkout and delivery. We're talking video footage, specific fit details and not just free, but simple returns. Get that right and there's a market ripe with opportunity awaiting retailers.
Congratulations to EDITED's own deb.li and her partner Cesar, who got engaged last week! Good to know there's plenty of options out there, right guys?