The ongoing pandemic disruption once again rendered most runway shows to a digital format. However, designers continued to serve looks to inform future buys, which we've combined with data from the EDITED Market Intelligence Platform to create a one-stop report for retailers to empower their decision making. 
COVID-19 has altered traditional retail processes, making reliance on technology a must-have. The ever-changing landscape means businesses need to be more reactive than ever. Retail professionals can no longer afford to spend countless hours poring over collections to identify the most successful trends or manually comparing prices. Additionally, with international buying trips on hiatus and working-from-home the new normal, these processes have received a long-awaited overhaul.
Here's where EDITED comes in to help you digitally plan and prepare for Fall 2021 and beyond. Our in-house Analyst team reviews every look from the runway and applies their expert knowledge of what's working commercially for shapes, colors, patterns, fabrics and details across core categories, so you know the winners to back every time from the comfort of your home.
Get in touch for a demo on planning a failsafe assortment and keep reading for the analytics-approved trends to range.
Time to party – at last!
With comfort dictating trends of late, occasionwear has been left in the background to gently simmer over the past few seasons. However, demand is about to reach critical mass as global vaccine campaigns continue to roll out and roadmaps to reopen locked-down regions are communicated. During the height of the pandemic, designers used their collections to convey a sense of escapism and craft a vision for the post-COVID world through bold colors and shapes. Now, we're starting to see this become a reality as joy radiates in fashion to respond to the new dawn approaching. Loungewear finally took a backseat and the catwalk heaved with inspiration for better days ahead. There was no shortage of 80s influences with sequins, mini cocktail dresses and voluminous sleeves spearheaded by Versace and Moschino.
Bright hues shone across fall collections with hot pinks, royal blues, sunshine yellows and scarlet reds standing out, as well as animal and psychedelic prints. Heels saw a resurgence with disco platforms, square toes, super-strappy sandals, Mary Janes and jewel-embellished vamps of note. The time is ripe to reintroduce this silhouette into ranges with high heels in the US and UK mass market experiencing a 32% increase in majority SKU sell outs over the past three months vs. the three months prior. Mini bags, chunky rings and statement bangles are easy buy-ins to bring the story to fruition in your assortment.
| | | |
| --- | --- | --- |
| | | |
| Dries Van Noten Fall 2021 | Lanvin Fall 2021 | Moschino Fall 2021 |
| | | |
| Osman Fall 2021 | Philosophy di Lorenzo Serafini Fall 2021 | Versace Fall 2021 |
Regencycore
Riding on the ladylike coattails of the Cottagecore and Vintage Femme aesthetics from previous seasons, Bridgerton-inspired looks were showcased by Erdem, Marni and Simone Rocha, signaling the continued success of regal looks in the mass market. Retailers can commercialize debutante styling through maxi and empire line dresses, full skirts, feminine hair accessories, gloves, pearls and beading detail.
Regencycore is another core trend to play with color. Rich jewel tones and metallics are a fall staple, while pastels were unseasonably present on the runway, especially in accessories. Soft, dreamlike hues can help inject some calm and whimsy feelings into ranges after months of stress and uncertainty.
| | | |
| --- | --- | --- |
| | | |
| Alice + Olivia Fall 2021 | Antonio Marras Fall 2021 | Erdem Fall 2021 |
| | | |
| Fllumaé Fall 2021 | Marni Fall 2021 | Simone Rocha Fall 2021 |
Make note of the hottest hues and check out how the Fall 2021 color palettes boiled down: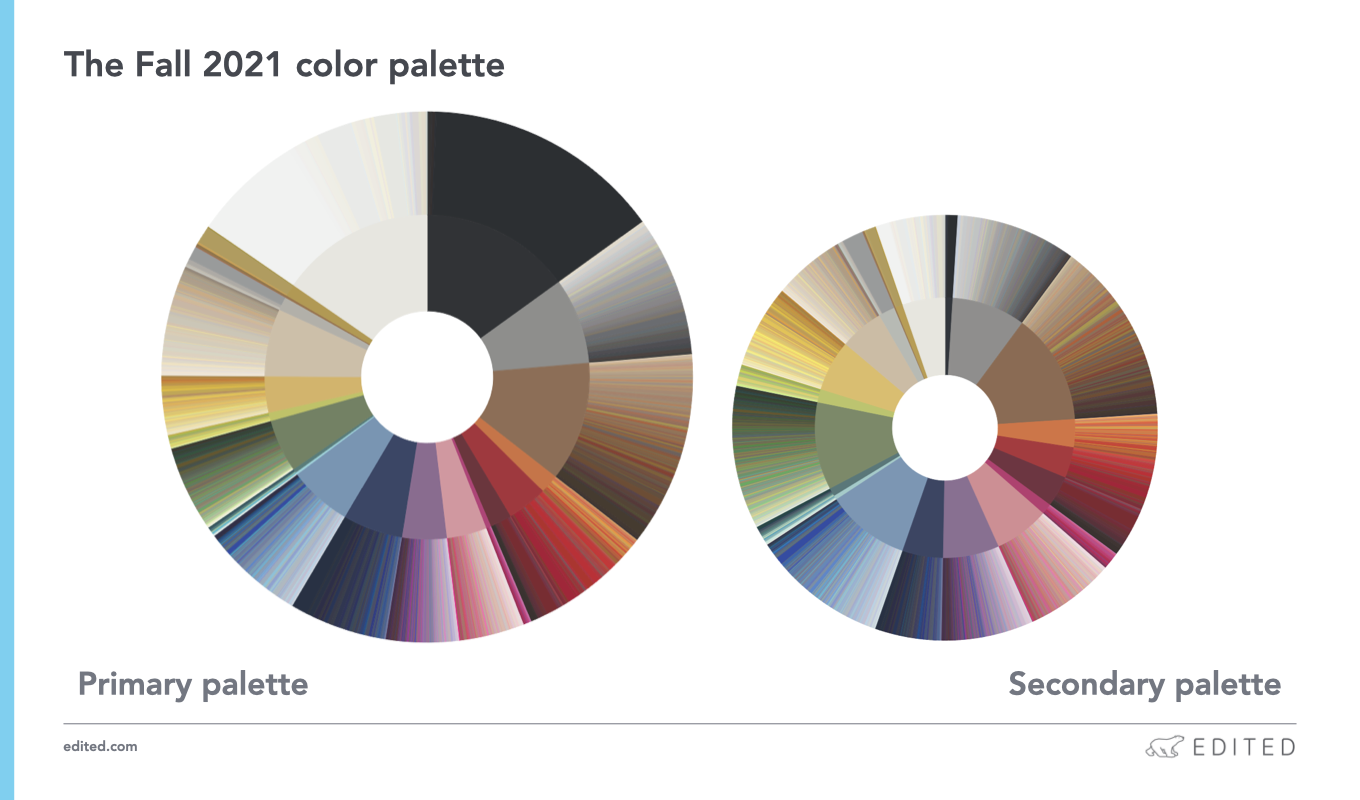 The primary palette shows every instance of color on the Fall 2021 runways for womenswear across New York, London, Milan, Paris, Stockholm, Copenhagen and Berlin while the secondary palette shows the key color stories within.
Our image recognition software detects the color of every product online so retailers have full visibility of the seasonal hues to invest in. Reach out to see our color wheel in action.
70s timewarp
It wouldn't be a runway season without nods to years past. For fall, a melting pot of trends from the 70s, 80s, 90s and 00s were displayed, giving mass retailers ample eras to draw inspiration from. The 70s stood out as one of the most commercial trends to invest in, drawing parallels with the shift in politics and protest culture we see today. Anna Sui and Etro were among the designers evoking peace and love through paisley prints, tie-dye and fringing.
The warm earth tones synonymous with this trend can serve as a palate cleanser to the loud hues that will feature with partywear. Footwear and accessories are an easy win for this trend, with the catwalk approving platforms, western boots, snake prints, bohemian head scarves and retro sunglasses.
| | | |
| --- | --- | --- |
| | | |
| Anna Sui Fall 2021 | Blumarine Fall 2021 | Cinq à Sept Fall 2021 |
| | | |
| Etro Fall 2021 | Isabel Marant Fall 2021 | Vivetta Fall 2021 |
Preppy
A trend gaining momentum from the Pre-Fall shows and fashion's continued love for nostalgia, preppy influences that wouldn't look out of place on the Gossip Girl set took the runway by storm. Checks were the ubiquitous print of the fall runways, already making up an 10% of patterned apparel sell outs in the past three months. A market-ready pattern, they can instantly refresh co-ords, suiting and classic outerwear pieces for fall and be remixed in checkerboards, plaids and argyles.
Complete the look by taking note from designers like Philosophy di Lorenzo Serafini, with letterman jackets and berets, or Elizabetta Franchi, which channeled the rich horse girl aesthetic with jodhpurs and knee-high boots.
| | | |
| --- | --- | --- |
| | | |
| Blazé Milano Fall 2021 | Dior Fall 2021 | DSquared2 Fall 2021 |
| | | |
| Elisabetta Franchi Fall 2021 | Philosophy di Lorenzo Serfini Fall 2021 | Sandy Liang Fall 2021 |
Bundled up
Showing no signs of slowing down, Fall 2020's duvet dressing trend is back, bigger and cozier than ever! Snuggly knitwear and puffer jackets are the most commercial buy-ins, while off-the-shoulder, shawl-inspired outerwear à la Prada and CHB are a more directional investment for smaller product runs. Then for the real risk-takers, COVID-friendly balaclava sweaters made a splash at SONIA CARRASCO's London show.
Texture is a crucial element for this trend, so incorporate fuzzy fabrics and faux fur, the latter of which increased in new season sell outs by 8% between fall 2020 and 2019. A welcome trend when the temperature drops, look to this aesthetic to increase basket spend. That means lots of layering, scarves, gloves and beanies because baby, it's cold outside!
| | | |
| --- | --- | --- |
| | | |
| Fendi Fall 2021 | Givenchy Fall 2021 | Jason Wu Fall 2021 |
| | | |
| Max Mara Fall 2021 | Prada Fall 2021 | SONIA CARRASCO Fall 2021 |
Sex appeal
On the Spring 2021 catwalk, playfully risqué influences emerged as an antidote to loungewear. This naughties-themed trend continued into fall, fuelling occasionwear's comeback with sheer details, exposed bras, thigh slits and open backs. However, this season, the aesthetic isn't exclusive to partywear. New York designers updated cozy midi dresses with daring cut-outs and paired relaxed jeans with corsets, merging comfort and sex appeal.
Key elements associated with sexy dressing are continuing to land in the mass market, proving its chops as a year-round trend. Since the start of the year, new tops and dresses arriving new described with cut-outs have risen a collective 7% YoY.
| | | |
| --- | --- | --- |
| | | |
| 16Arlington Fall 2021 | David Koma Fall 2021 | GCDS Fall 2021 |
| | | |
| Givenchy Fall 2021 | Jonathan Simkhai Fall 2021 | Versace Fall 2021 |
The future of loungewear
While occasionwear took center stage, designers continued to include aspects of loungewear in their collections, with comfort now embedded in designs and people's way of life. However, loungewear has evolved and elevated, lending itself to many of the themes mentioned above, including bundled up and sex appeal. Stirrup leggings were spotlighted on the runway as a directional bottoms update for hyper-fashion brands. Designers such as Fendi are fine-tuning pajama dressing, while ribbed, knitted and minimalist lounge sets were spotted at Tiger of Sweden and Salvatore Ferragamo.
Despite heels resurgence, comfort footwear will hold its appeal with clogs and slippers surfacing as key trends across Milan and London shows. Mass retailers continue to land products with new sweatpants increasing 55% since the start of the year vs. last year and hoodies 15%.
| | | |
| --- | --- | --- |
| | | |
| Brunello Cucinelli Fall 2021 | Calcaterra Fall 2021 | Markarian Fall 2021 |
| | | |
| Rosetta Getty Fall 2021 | Salvatore Ferragamo Fall 2021 | Tiger of Sweden Fall 2021 |
Enjoyed this report? Sign up to our weekly Insider Briefing to get reports like these directly in your inbox.