Over the last five weeks and four capital cities, designers have been cueing up their hopes of what consumers will want next Spring.
Our analysts have been poring over those collections to detect the underlying commercial messages.
Packed full of trends from each city, make them yours right here. Hell, if you're into stationary, print 'em out and staple them together. Want to know Fall 2019's biggest trends? Sign up here.
Here are your essential Spring 2019 trends.
1. Vacation aesthetic
There's a new vacation-inspired aesthetic in town. At surface level, you can read it as escapism, on the runways it came across as worldly eclecticism.
The look is travel apparel for every day. It's made up of several key pieces – all of which you'll want in your assortment for Spring 2019. Sarong-like wrap skirts, Bermuda shorts, tie-dyed tees and boxy Cuban shirts. Don't forget the sunscreen.
Key accessories build out the look – a waist bag, pearl and shell jewellery and headscarves. There's even fishnet tops and dresses and crochet sheaths for the highest summer.
This trend is ideal for festival season but it also speaks to sustainability, with an emphasis on uncovering treasures, locally, and celebrating individual style rather than one definitive interpretation.
2. Street's update
You know it: right now, what's cool in streetwear is what's cool. You should be seeing Off-White's neons and picking up the phone to the fabric supplier. (Those shades also appeared at Stella McCartney and Gucci if you needed more confirmation.)
What else for streetwear? Well, we called it: cargo pants are on. Big pocketed, tough fastening cargo pants in khaki and muted military colors. Some were tapered in the leg, most were high waisted. Long trailing belts completed the look, even more so worn with a pair of heels.
The style has increased 103% in retail in the last three months – hold tight as this one will only grow more for Spring 2019.
Elsewhere for the street aesthetic, neoprene came back (moving away from the sports luxe take when done in super-size silhouettes) and the staple hoodie keeps on getting reworked. Cycling shorts are a critical piece once more for Spring 2019.

3. Head-to-toe color
Gone are the days when show attendees would be discernibly wearing the current season's hottest trends as they received their update on what next season would be about.
These days, not only can trends stick around for longer but they're just as likely to be kicked-off by street style. And the edgiest of street style influencers can have just as much consumer sway as a leading runway show.
On both the Spring 2019 runways and on the city's streets, vibrant color-blocked looks reigned supreme.
Use head-to-toe color-blocking as a styling tool in Spring 2019's visual merchandising. Grass greens, electric blues, vivid lilac and strong yellows.
This direction is catnip for the Insta-hungry young consumers, while also allowing the super-fashionable to flex their style muscles. Here's how the four cities' palettes boiled down: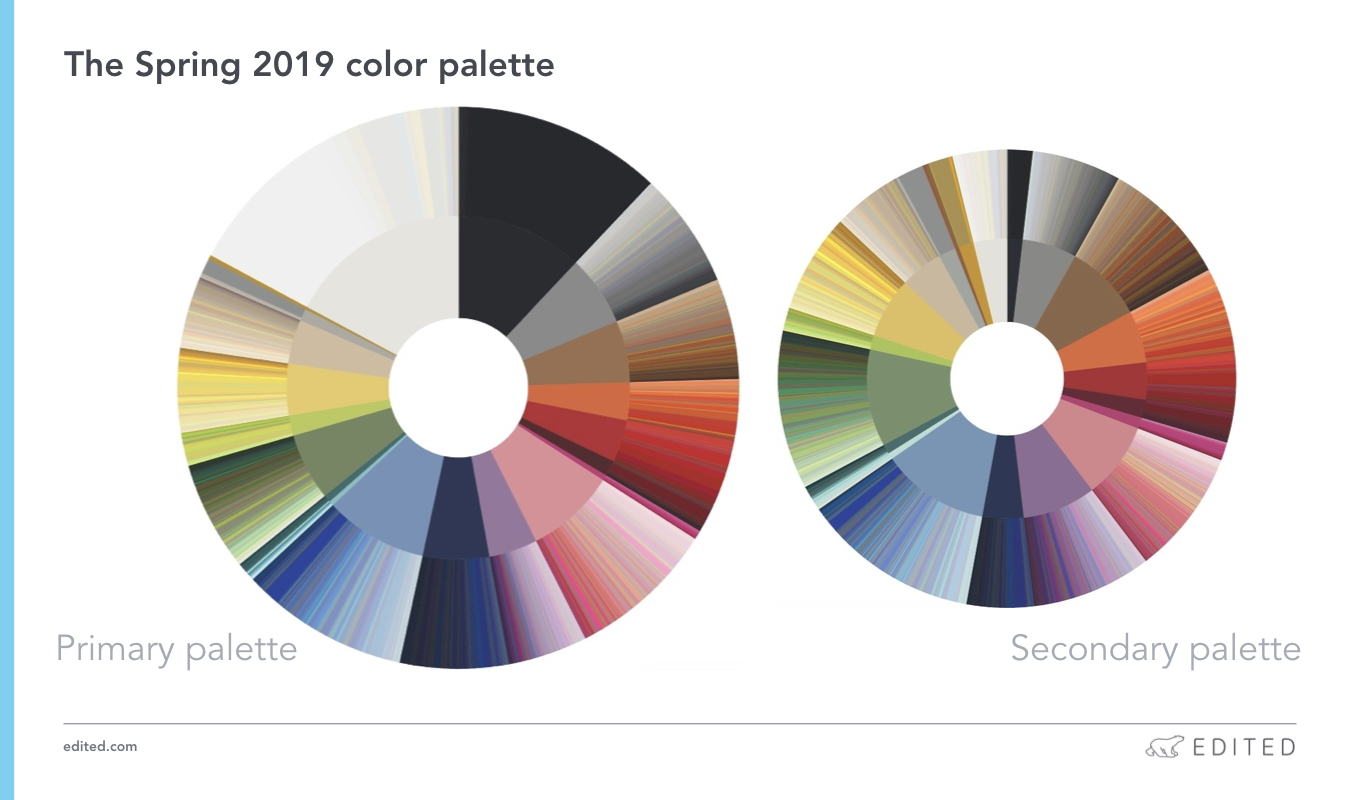 4. Animal magic
Leopard print, snakeskin, cow hide, deer hide, crocodile print, tiger print, zebra print…they were all there on the Spring 2019 runways, so cast your animal print fears aside and get close to the wild.
Classic leopard is the easiest route to take on the mass market, though Off-White's neon snakeskin will be riffed aplenty.
Animal print represented just 6% of new printed arrivals in womenswear in the past month – beaten by the likes of graphics (27%), florals (15%) and stripes (12%). However, animal was the third bestselling print in the last month.
That early consumer stirring is evidenced in the street style of the fashion capitals, where leopard and chetah prints were leading stories.

5. Counter (selfie) culture
Not all consumers want to embrace color – for some it's just not their jam. Instead, these shoppers might experiment with form, fabric and layers.
There's a gothic movement increasingly present on the runways and in street style that doesn't scream 'look at me', instead it says the opposite – and in this Instagram era that mystery is the real cool.
For Spring 2019, save a little space for the dark side. Think about layering pieces, and experiment with sheer fabrics and cape-like sleeves.
Retail is warming up for this trend, with a 64% increase in new arrivals of black womenswear in July-September this year, compared to last.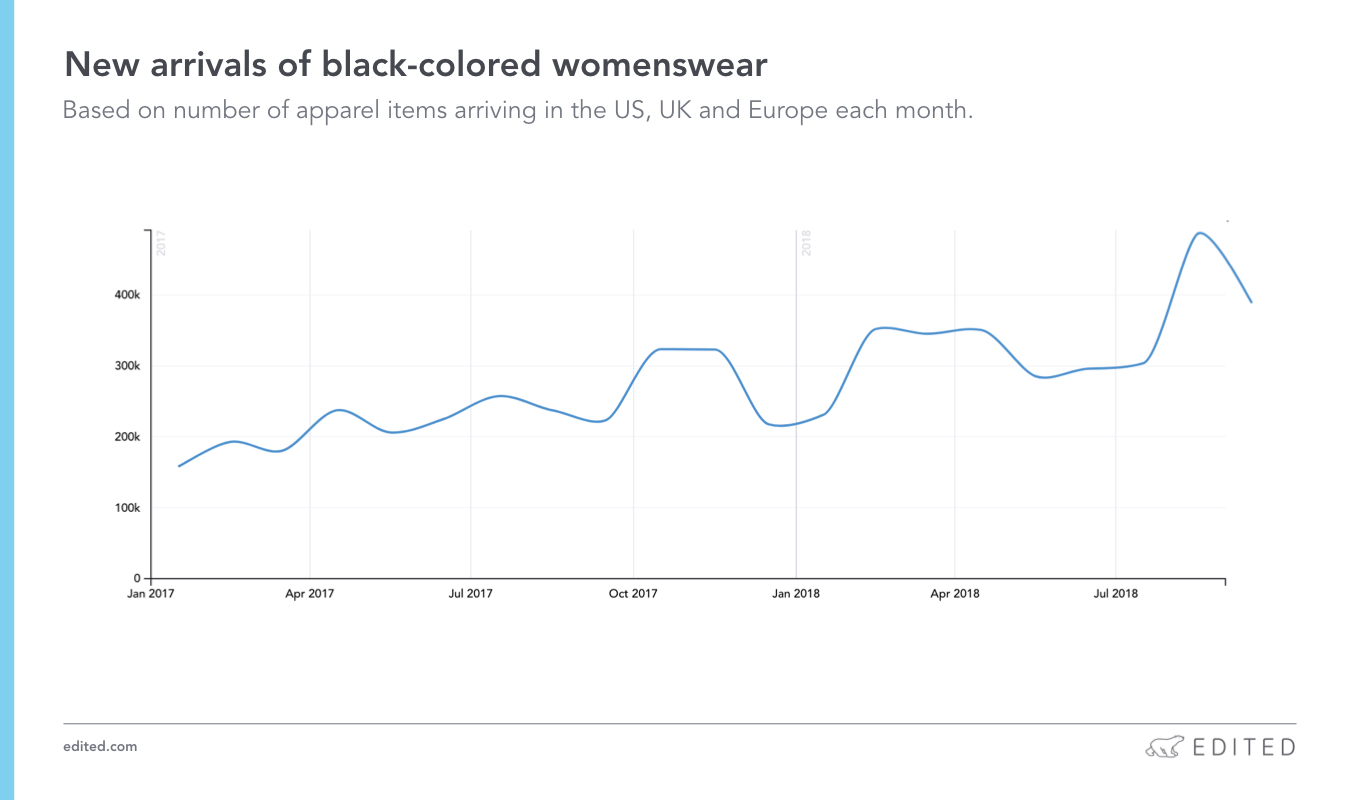 6. Denim is back
With big shifts in denim retail recently, innovation in the category was needed. Thankfully designers found it for Spring 2019 with a whole host of new directions coming through.
Rather than banishing your denim offering to its own corner next season, these new product directions will lead entire visual merchandising campaigns. We're talking super-oversized trucker jackets, loose-legged jeans and denim cargo pants. Don't be afraid of color or of layering up multiple shades in one look.
In fact, patchwork was popular, seen at Proenza Schouler and Stella McCartney, so get creative with your color-blocked denim pieces. Ruffles ruled in details for another season, and this was carried through into the denim category too, alongside dramatically frayed hems.
The key denim takeaway? Bleached-out, or even tie-dye, washes. It's beachy and a little lived-in – a palette that Isabel Marant, Acne, T by Alexander Wang and Nobody denim have got in on early, introducing pieces for Fall 2018.
Want to know more about how EDITED can help your business?
Request a live demo with one of our product specialists.