Calling any Spring 2017 trend definitive after just two of four fashion week shows can feel like a fruitless task. By the time the Paris shows draw to a close (still more than two weeks from now), so much hype and noise will have been hushed into a murmur. That's not very helpful to retailers. So instead, here are just five London trends, all backed by data, which you can move forward on with certainty.
1. Historical Romanticism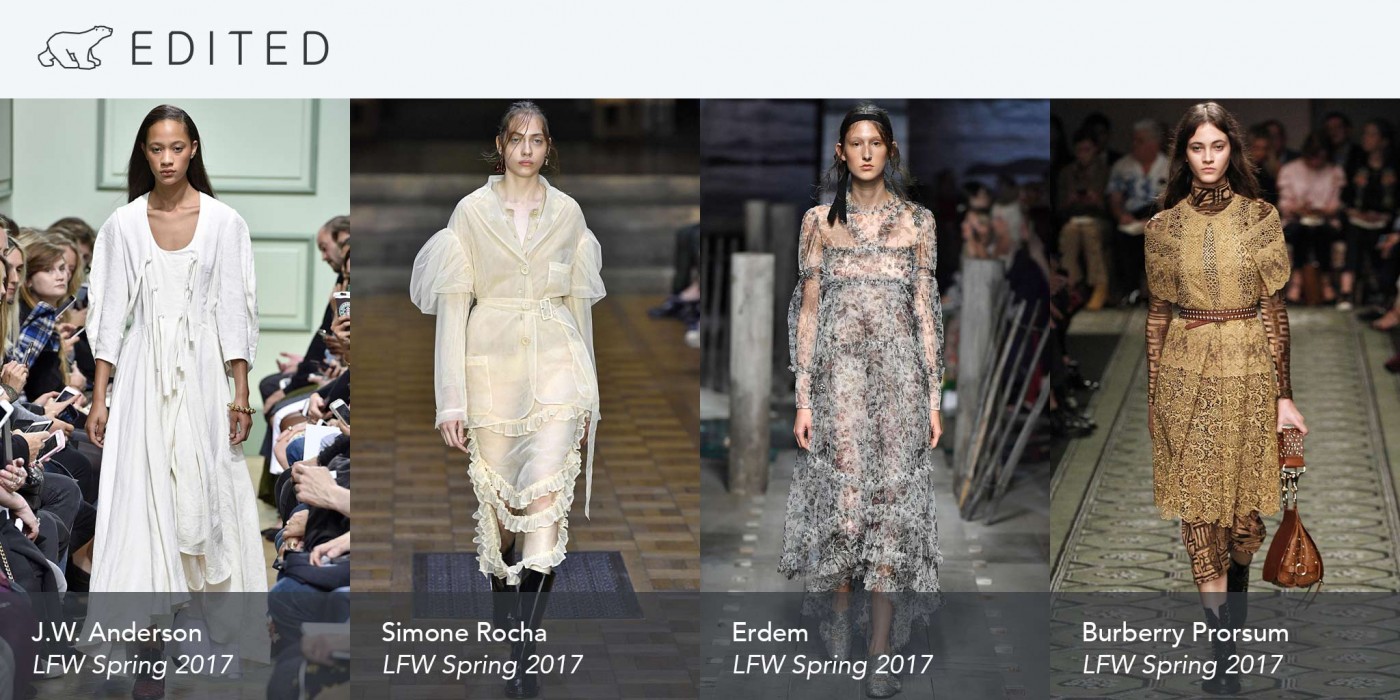 What: Imagine one of John William Waterhouse's maidens went out last night and had a little too much mead. Now give her an edgy haircut and some clunky accessories and you're done. Follow that gothic-boho formula and Spring 2017 will be a breeze. Kind of.
Why: It's all about dresses. Thanks in part to Vetements' uber-popular trailing floral dresses of Fall 2015 and partly owed to the swathe of designers who tapped into the dark prairie looks for this fall (Proenza Schouler, Chloé, Gucci and Alexander McQueen).
How: Focus on sheer fabrics, hazy florals and ruffle-edged trims. Never go shorter than mid-calf and always feature some kind of sleeve interest, whether it's a bishop sleeve, a full sleeve brought into a narrow cuff or a dramatic puff. Introduce these pieces as early in the season as possible: there's layering potential and they'll fuel new season content.
2. Croc Attack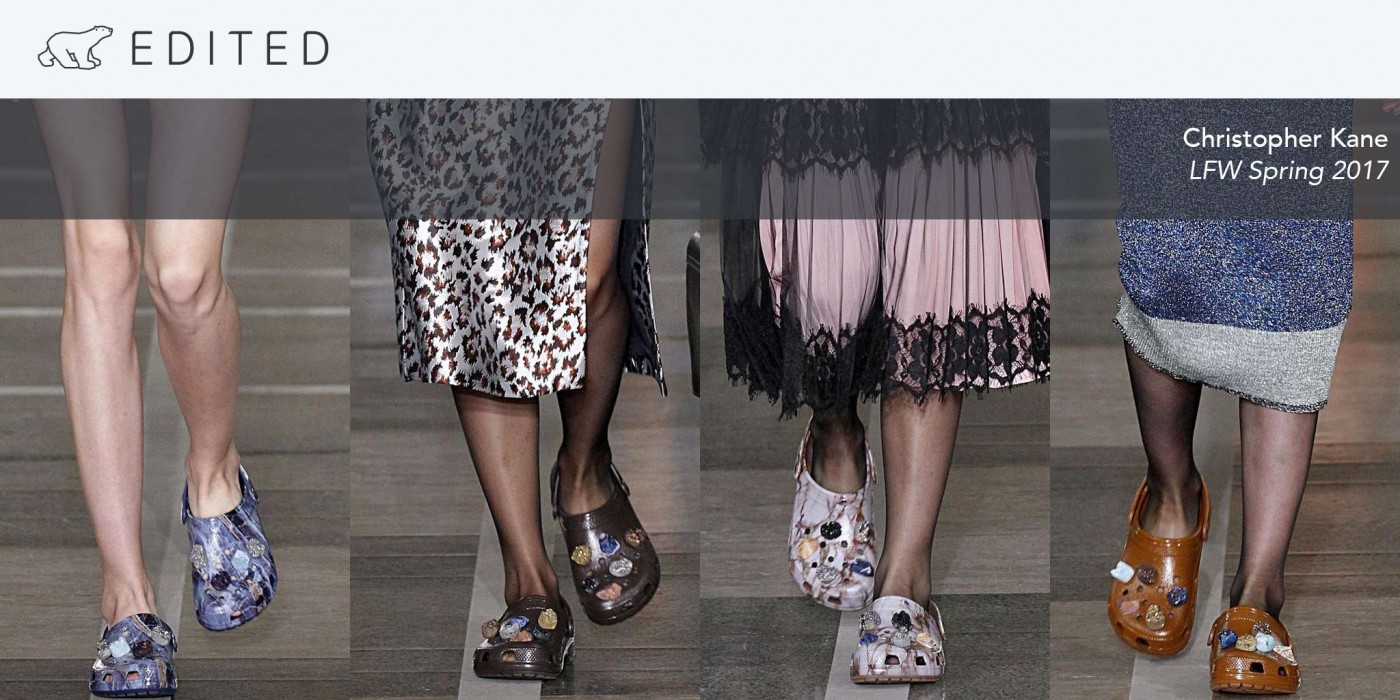 What: We're sorry, we really are. This one's all on Christopher Kane.
Why: Blame sartorial irony, blame the current demand for function over form, blame the downright sarcasm of the fashion industry, blame whoever you want – and then buy into it. Like the Birkenstock, the slider, the Teva sandal and hell, even dial back as far as the flatform, ugly shoes possess a certain charm. They work in retail, so cast your scorn aside and make way for the shoes formerly worn only by toddlers, the elderly and your strangely reclusive colleague.
How: Make it bejeweled, because if you're bringing in ugly, you might as well do it with conviction.
3. New Denims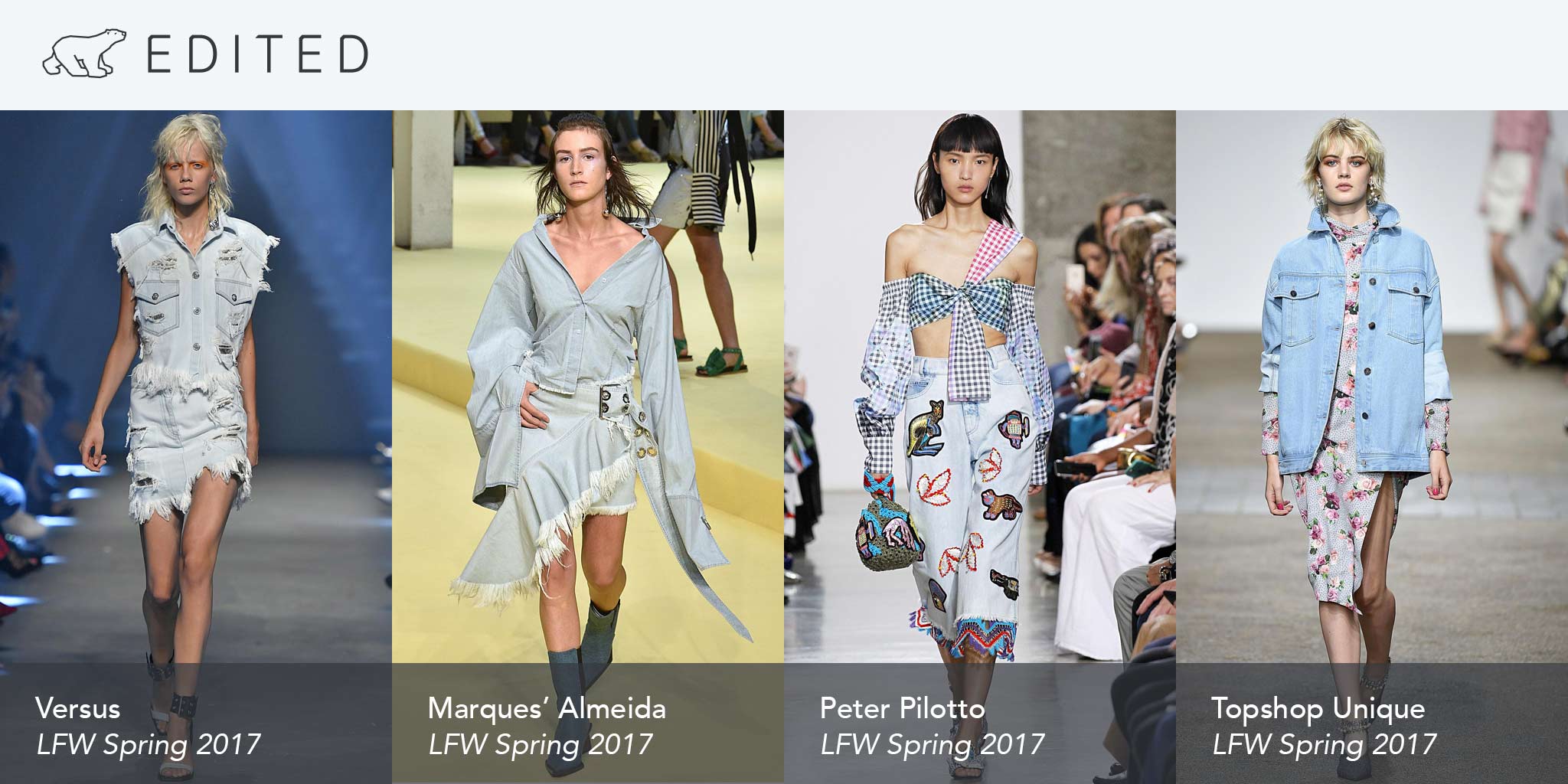 What: Pale denim done every way. The cropped-length, wide-leg jeans at Peter Pilotto, embellished with animal patches and the oversized denim jacket at Topshop Unique are retail-ready (literally in the case of Topshop).
Why: Denim is crying out for an update. The skinny jean trend inflated the category and then went stagnant, leaving the category in search of a successor. While London's shows didn't deliver an heir apparent, they did breathe refreshing innovation into the category. Given that the street style stars outside the shows this week were clad in denim, it's fair to say consumers want it. It's now over to retailers to supply it.
How: Washed out is key, and throw a frayed hem in for good measure. The asymmetric and dishevelled looks at Marques' Almeida will be popular in luxury. On the mass market, water it down with high-waisted wide-leg cropped jeans, scattered patches and distorted proportions on jackets and shirts. Embroidered, patched and rip-knee styles were Zara's bestsellers for Spring 2016. Given the fast sell-through of its products, consumers are no doubt left wanting more.
Be cautious however, a few pieces in your line is all this trend can take right now: though 10% of the denim jean arrivals in the last month have been wide-leg or flares, there's a dominant 79% in skinny jeans. It's going to take incremental changes across several more seasons before the category feels fully renewed.
4. 80s Mania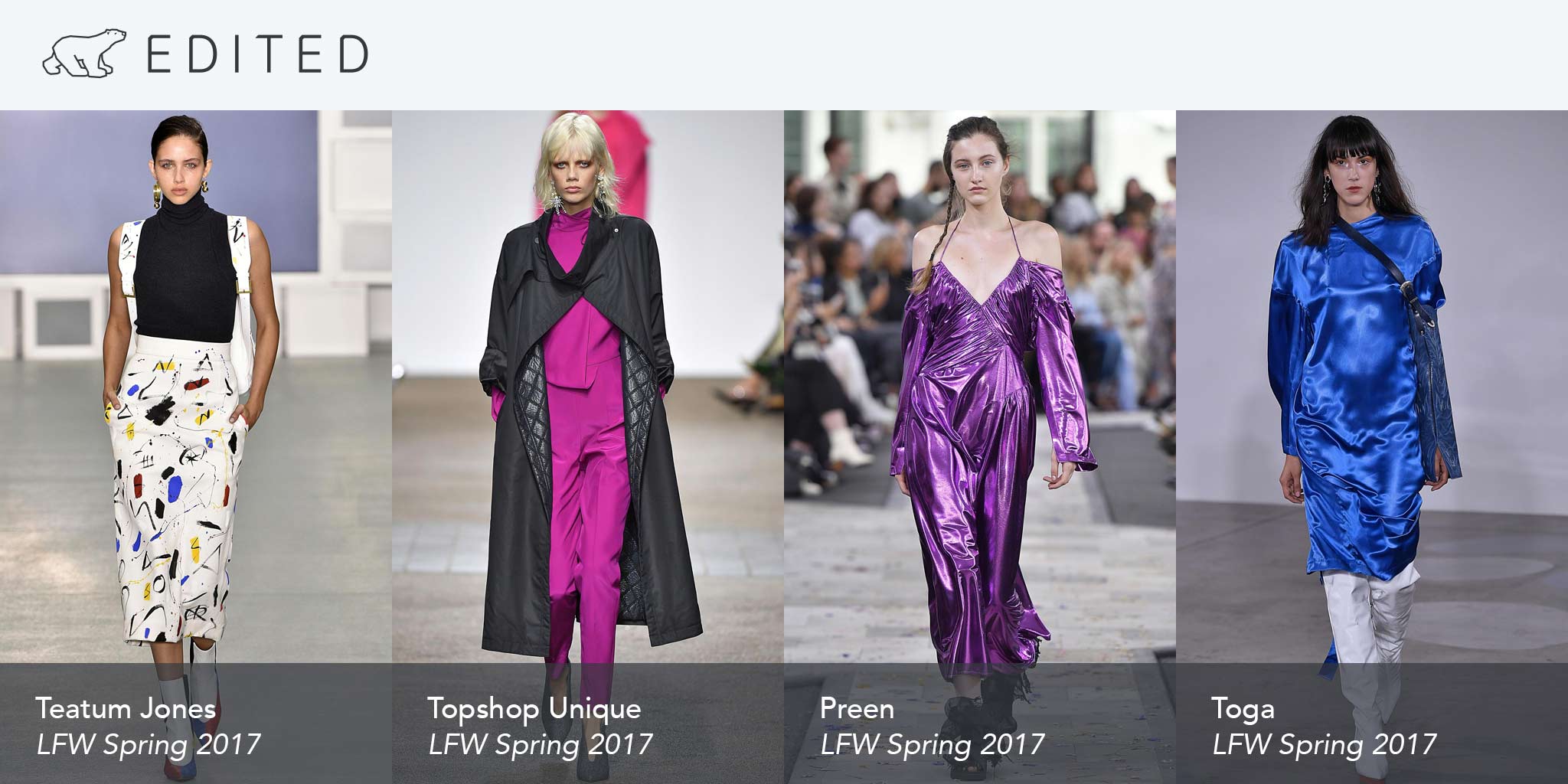 What: Think boxy and cropped, puffed sleeves and high shine pants. Traffic stopping jewel tones, including Topshop's cerise, lace layers and high necklines. The theme is ripe for footwear – shoe boots and over-knee boots – and accessories, with the return of the single statement earring.
Why: This one is primed for anyone who isn't pained by their eighties wardrobe first time round: aka, Millennials. The nineties, though still floating around, have maxed-out their content potential. Refresh for the new season with the theatre of eighties silhouettes. Spring 2016's ruffles and frills have warmed the consumer up to new proportions. Take full advantage by moving them onto this high-attitude trend for next season.
How: Fill the eighties theme in where the nineties did best: that means the mass market should lead, given that's where 70% of Spring 2016's bestsellers sat. Simple garments, a jersey dress or rib knit, can be given an eighties twist with a circular zip pull. For higher priced items, a draped cut or a generous sleeve will suggest the theme. The current print-heavy Esprit X Opening Ceremony collaboration will drive consumer demand for eighties garments. Retailers, ready yourselves.
5. Picnic-ready Gingham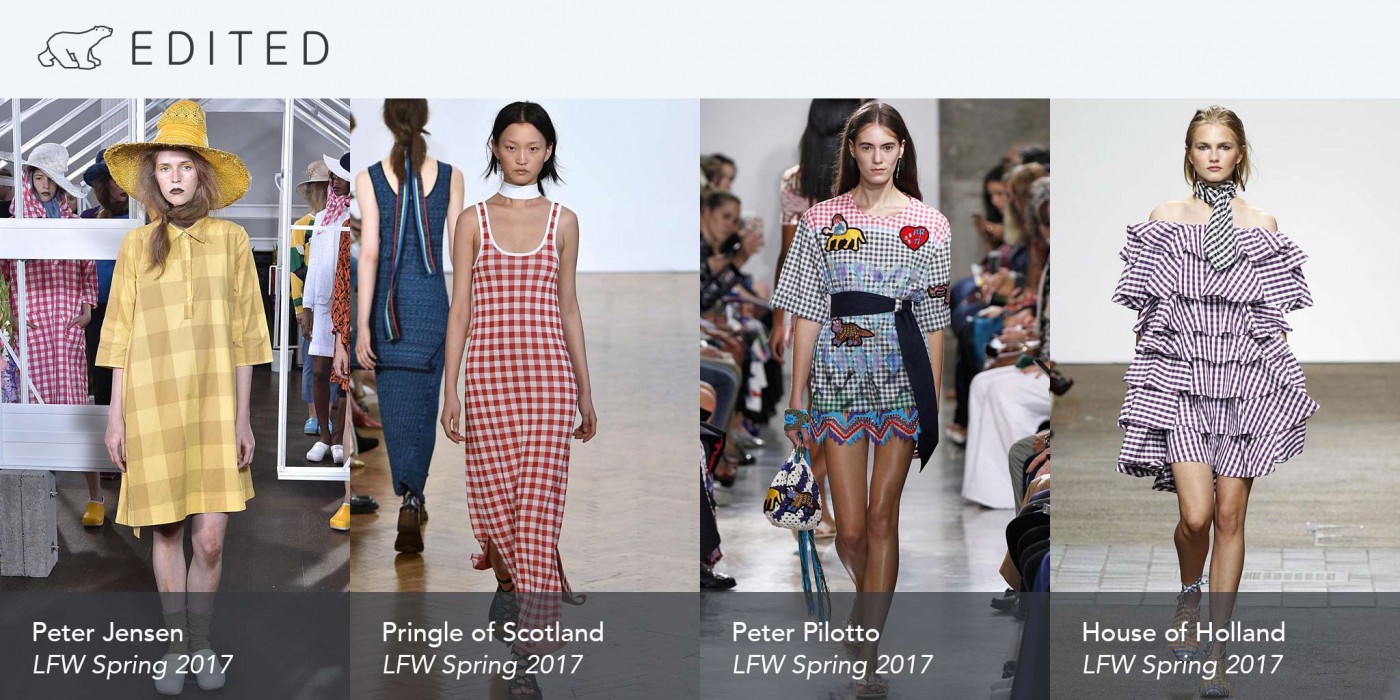 What: A safe, preppy print made punchy in dramatic allover looks, over-blown scale or contrasting colors.
Why: It's an on-trend print which will speak to all markets. Older segments of the market, or less trend-directional can work this print into a seasonal story that will suit a more classic consumer. Younger and trend-led market segments can up the drama with those bigger scales and with abundant use, like House of Holland (check that ruffle dress, neck scarf and boots).
How: This is a print that already carries connotations – preppy, naive or retro – so don't use it in overtly twee or kitsch garment shapes. For Spring 2016, J.Crew's gingham print shirts which tie at the waist screamed Grease Lightening, but they ended up heavily discounted. Meanwhile their gingham boy shirt and motorcycle jacket performed well. Across womenswear, 35% of Spring 2016's best sellers were in the tops category. T by Alexander Wang and Altuzarra will keep this print's kudos charged through fall months: they've all had gingham products arrive onto the market since the start of September.
'Historical romanticism + Crocs'? It can only be LFW Spring 2017 trends.
Next week we'll be covering Milan's trends, so stay tuned. And EDITED users, log in now for the full London overview of prints, shapes, themes, colors and fabrics.