Here's where I'm at this year.
I've got two days until Valentine's day. Zero dates. Four dating apps. Seven upcoming weddings to attend. Two wrap skirts and five pleated skirts in my Topshop cart to narrow down. And finally, one report about Spring 2016 trends to write. Hi, I'm an analyst at EDITED.
Recently I decided to use Tinder to fix some, if not all, of that. My plan was to ask the Tindermen of London what they make of Spring 2016's top trends and, if I was lucky, get a date. Here's how that turned out.
1. Okay, so let's start with bomber jackets
First up, Pierre.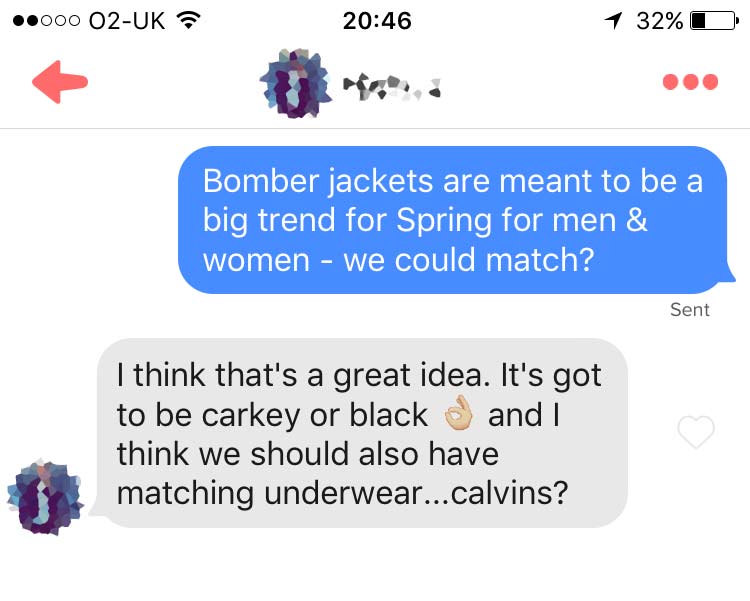 Hey, straight to the underwear talk! Nice one, Pierre. Since you mention it, 102% more Calvin Klein underwear has entered the market in the run up to Valentine's this year. So you kind of nailed that. With a total of 1,524 available options online in UK alone, you've got plenty of chances to match undies with someone. Anyone. Just not me.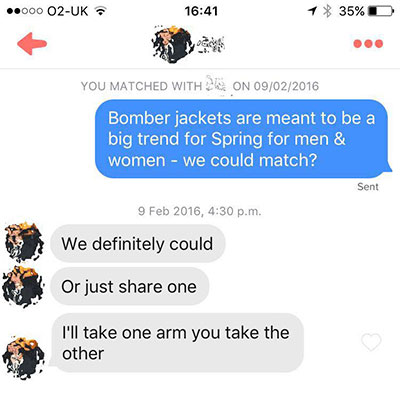 Charlie, there's a job somewhere in product development waiting for you.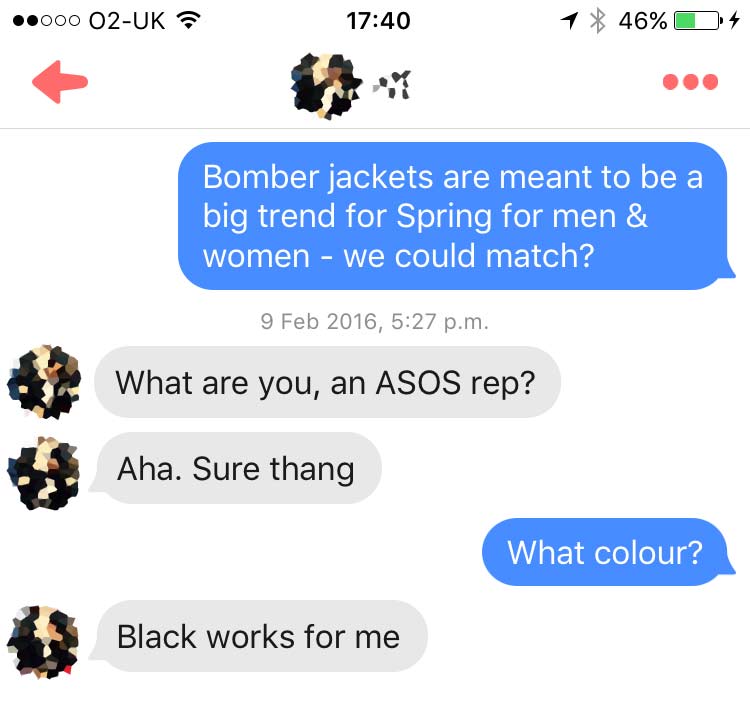 Cover. Nearly. Blown.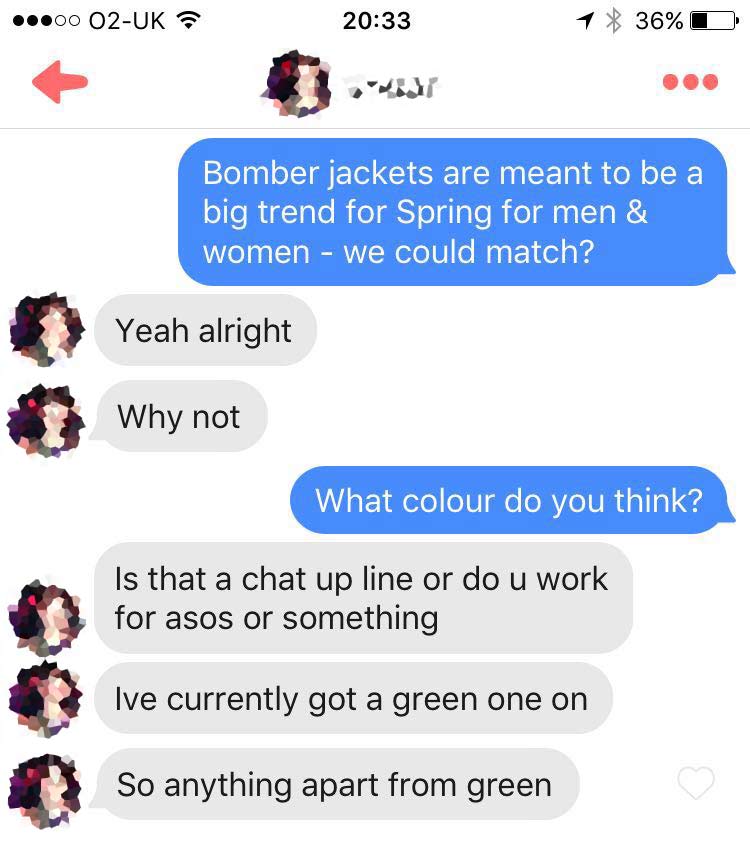 Guys, ASOS aren't the only retailer selling bomber jackets. In fact, there's 490 other retailers selling the style. H&M and Nike are selling them well, for example.
2. Now let's see what our gents think of the pajama dressing trend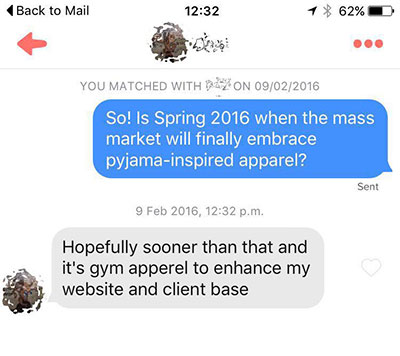 Wait. Who is using who here? But okay, Garry raises a good point. Perhaps the phenomenal success of sportswear and the rise in loungewear can lure consumers into feeling comfortable with PJ inspired apparel. Or maybe not. Zara is the only retailer to attach the word 'pajama' as an adjective to a new product through January.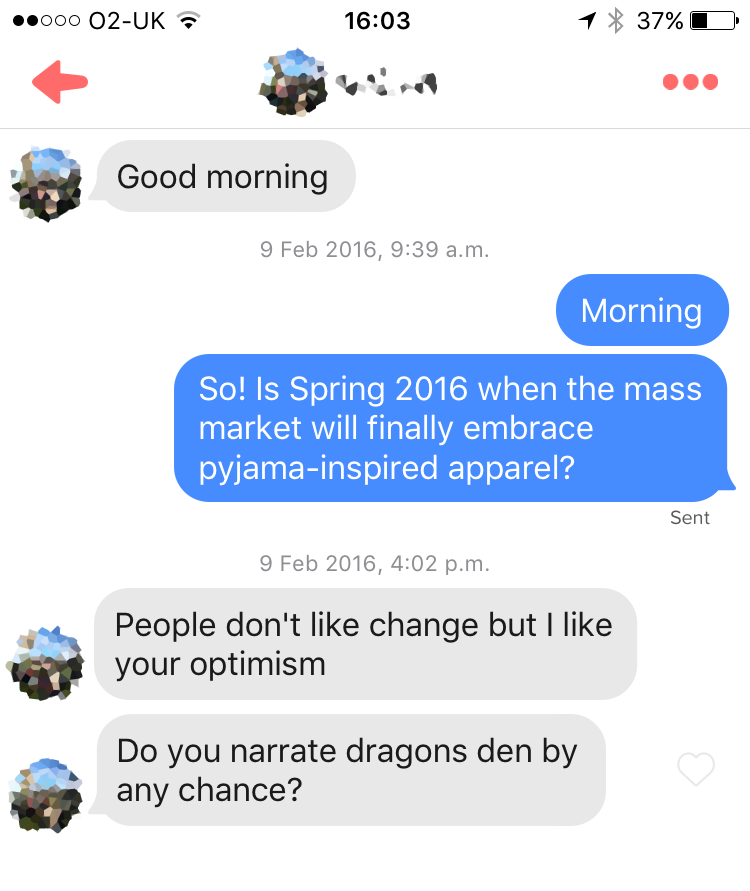 Gosh, this got real deep real quick.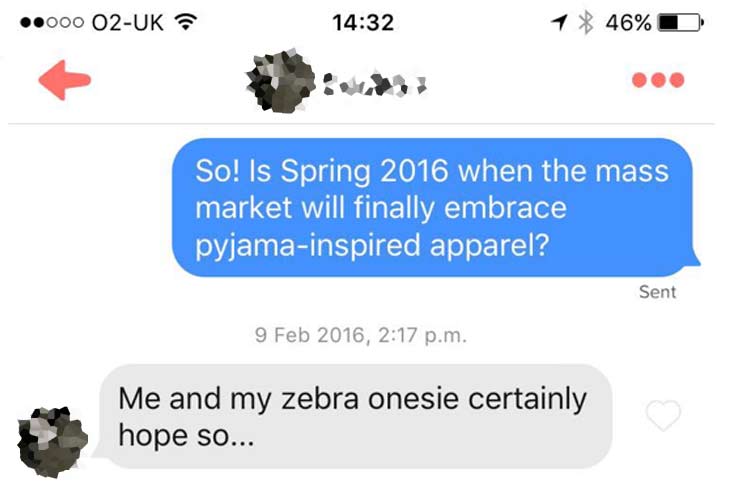 Bad news Neil, there's 84% less confidence in onesies amongst retailers this year. Next and Boohoo championed the style early in 2015 with 13 and 15 new styles respectively, but both have zero new in so far this year. That puts this one to bed.
3. What about the cold shoulder look? And frills?
"Would you give me the cold shoulder if I wore cold-shoulders?"
"Of course." "Yes." "Definitely."
An incredible 75% of answers were blunt and negative. Ouch. There was one offer of 'exposure in solidarity' (Hi, no), but it was Bobcat who put my mind at rest.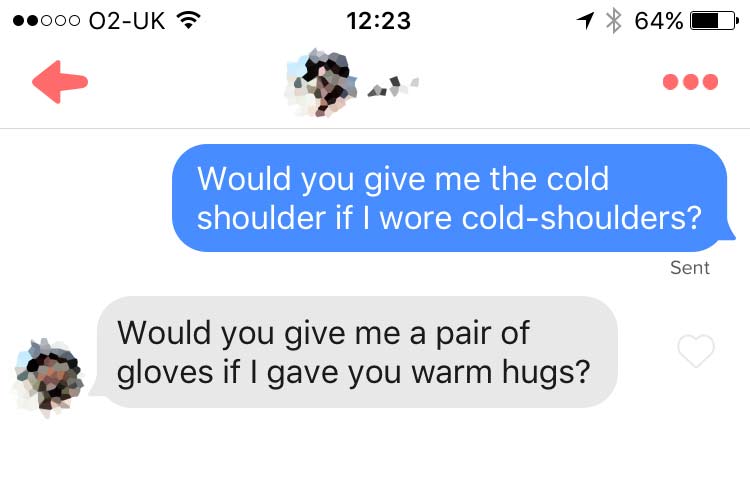 Nah.
4. Wrap Skirts or Pleated?
It was a close call when it came to wrap vs. pleated, with 54% of men opting for the wrap over skirt. Retailers, however, are more definitive. There are 41% more wrap skirts entering the market now than at this time last year, and 6% less pleated styles.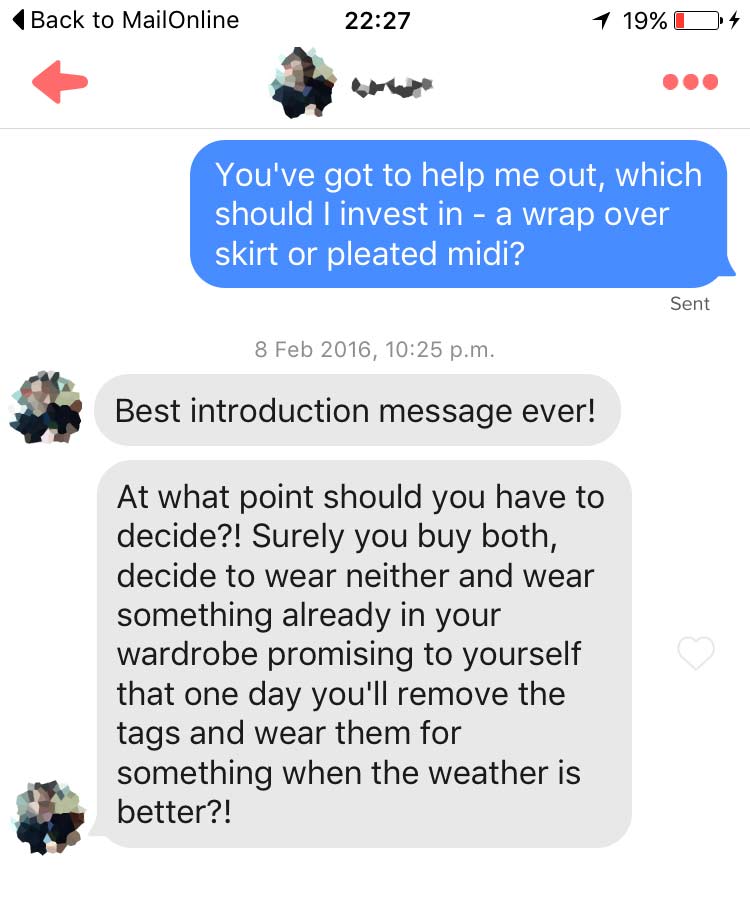 Wait, do I know you?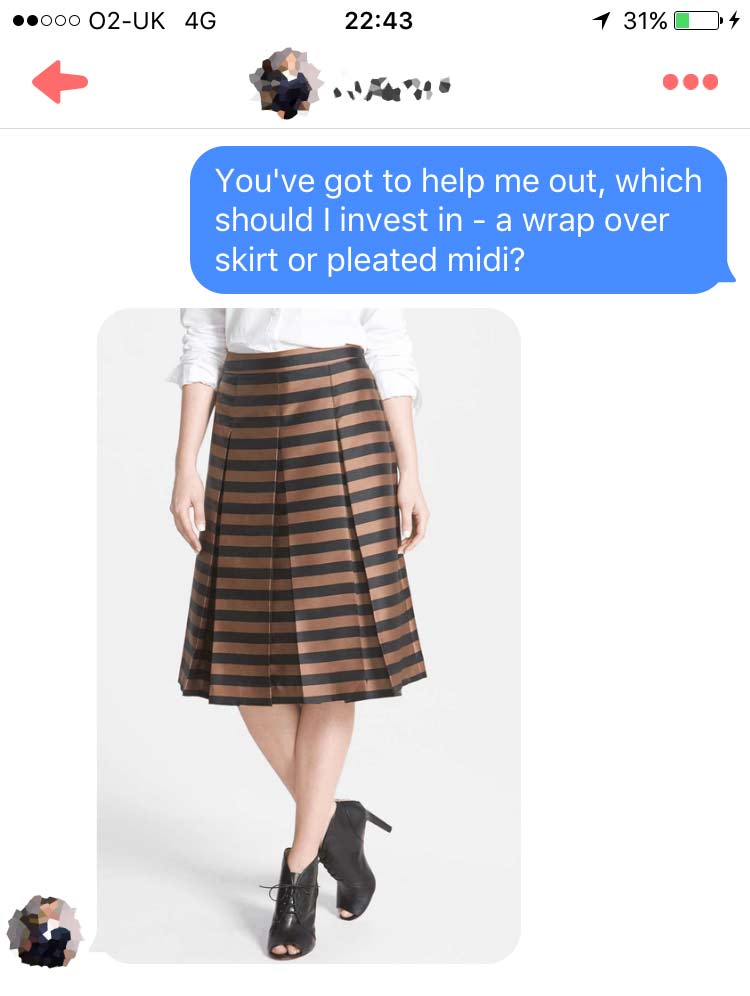 Well that was easy. Click, buy.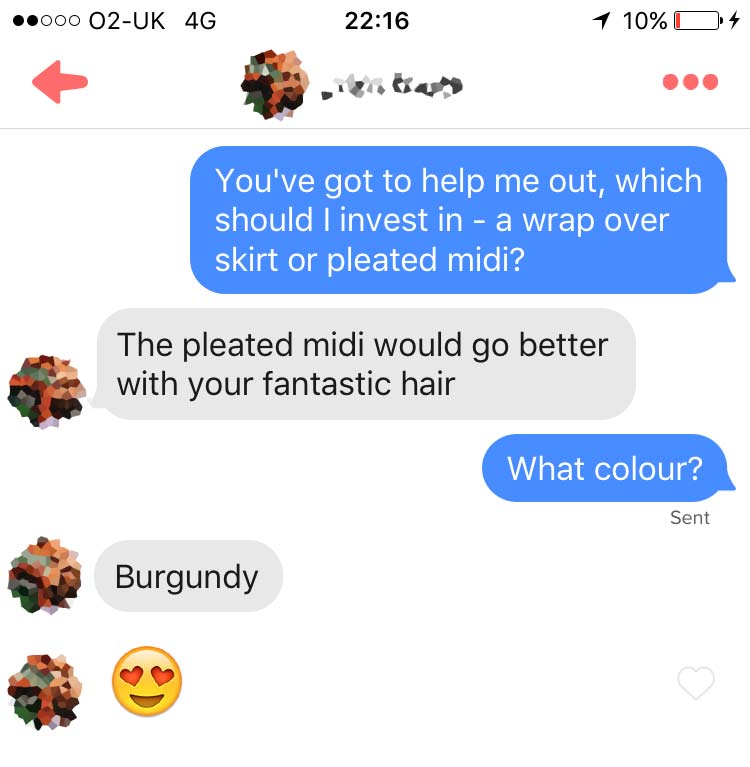 You had me at "fantastic hair". Love eyes back at ya.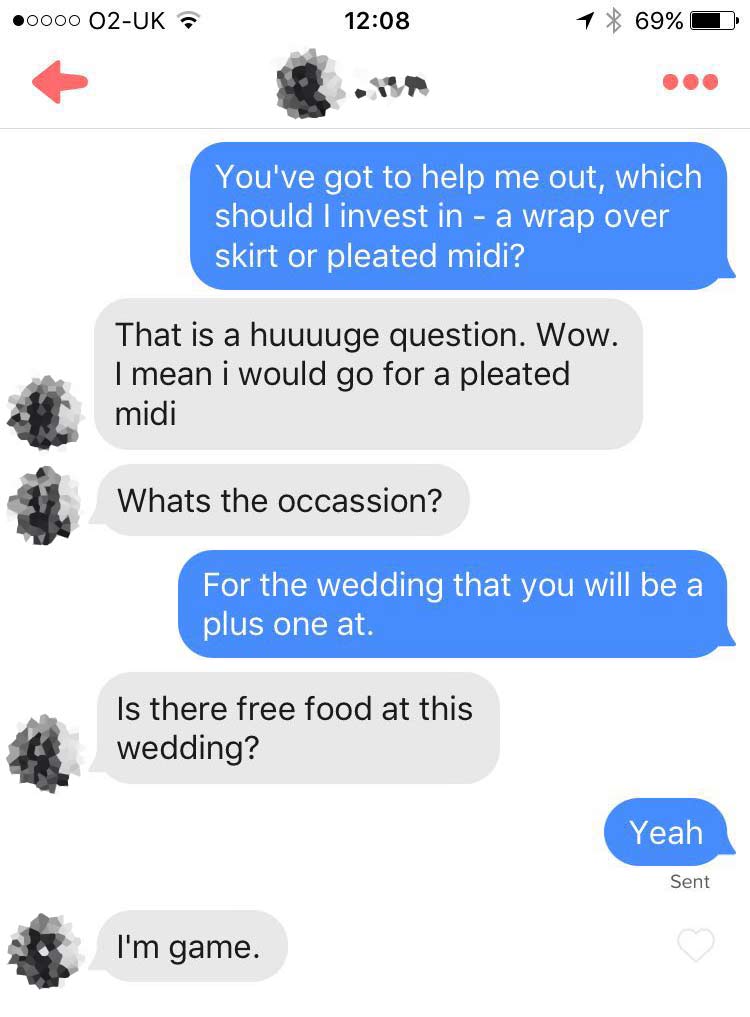 Yeah, there's food, but back to me.
5. Frill Seeker
With the pressure on. I updated my profile to, 'Seeking wedding plus one: must be free last weekend in August' and got straight to the matter of what to wear.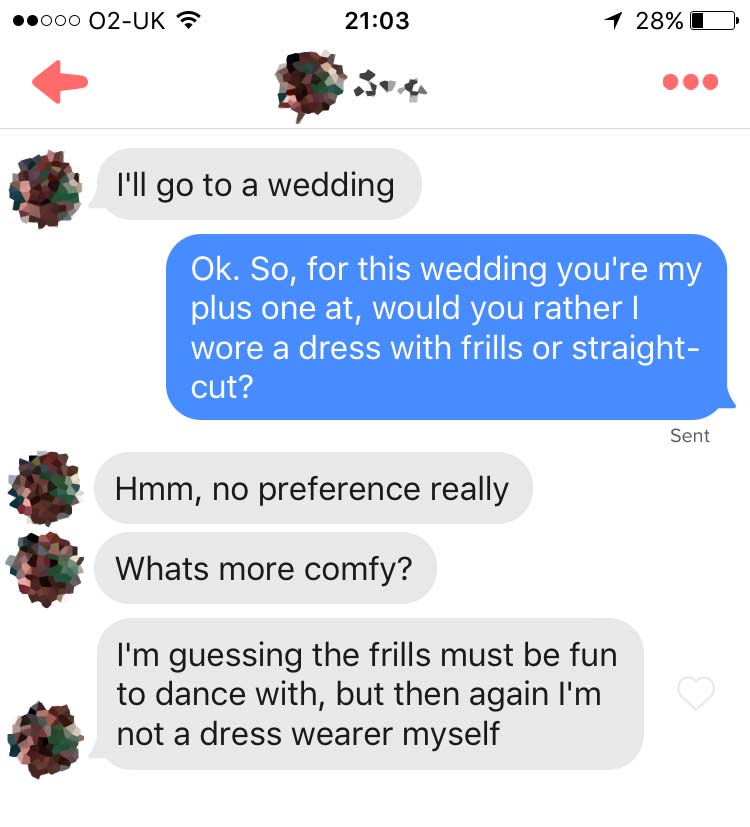 All function with this guy – kudos for considering danceability.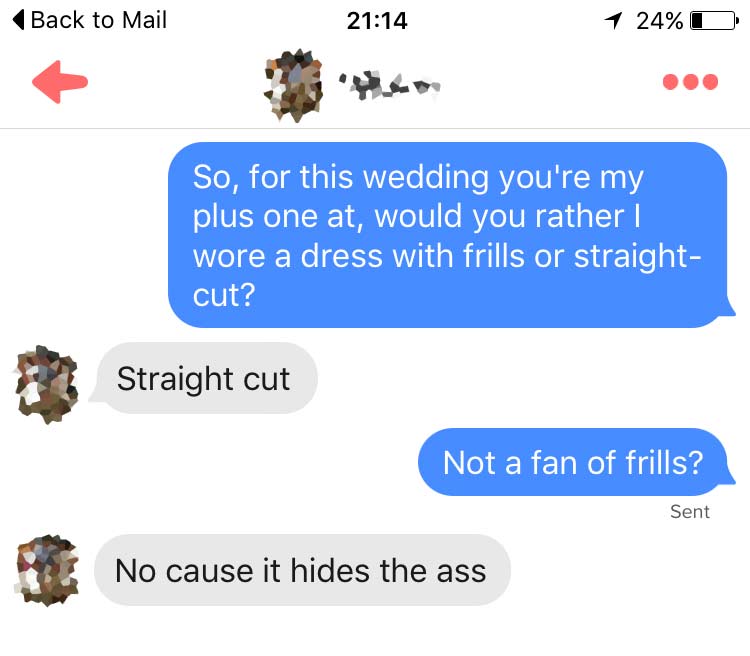 Now, I do want to have fun dancing, but I don't want to hide my ass (except from, well, you). Let's try third time lucky: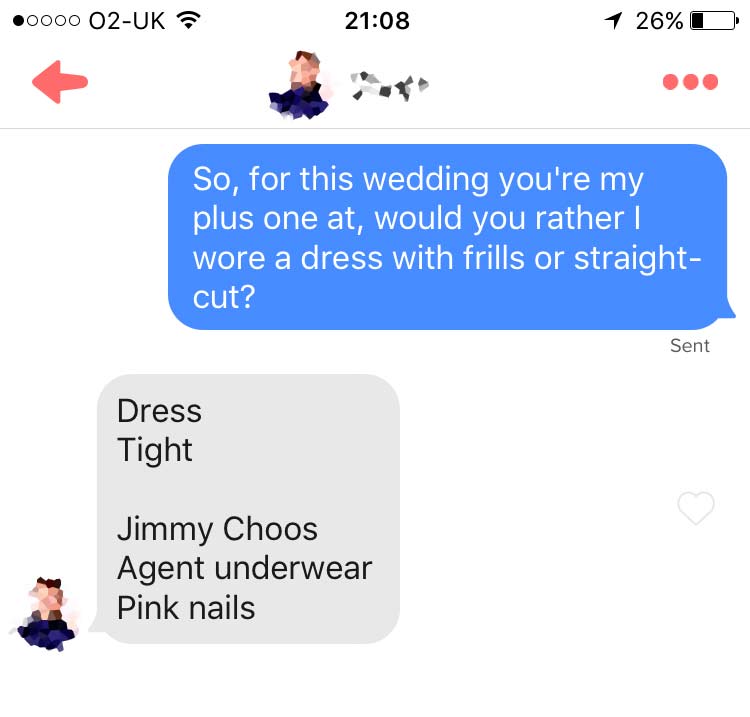 Something tells me life would be hard with Sid.
Sigh, I may not be any closer to finding love. But at least I can wear cold-shouldered tops in my loneliness. My super, 100% on-trend loneliness.
Happy Valentine's day?
*All names have been changed, because duh.