Pop Quiz! Aldi is offering schoolwear bundles for less than a fiver. Are other UK retailers slashing prices to keep up? Is Amazon Prime Day the new US back-to-school sale? What products are parents snapping up so far?
According to NRF data, Back-to-School and Back-to-College spendings are projected to reach $80.7bn with clothing and accessories topping the list of expenses for school-age children. We've done our homework and pulled the need-to-know data influencing the BTS market for 2019.
Understand the shifting landscape
Last year, we reported the number of BTS products are shrinking. Global retailers like Macy's, Neiman Marcus, Barney's and Nordstrom were responsible for this decline by pulling back their assortments. Honing in on the US mass market, the total number of new BTS products arriving between May and September 2018 dropped by 7.4% when compared with 2 years prior. June and September usually stand out as the peak times for BTS deliveries however last year, July outpaced June arrivals by 36%. A similar pattern appears to be emerging this year with BTS arrivals experiencing a 7.3% increase YoY over the past six weeks.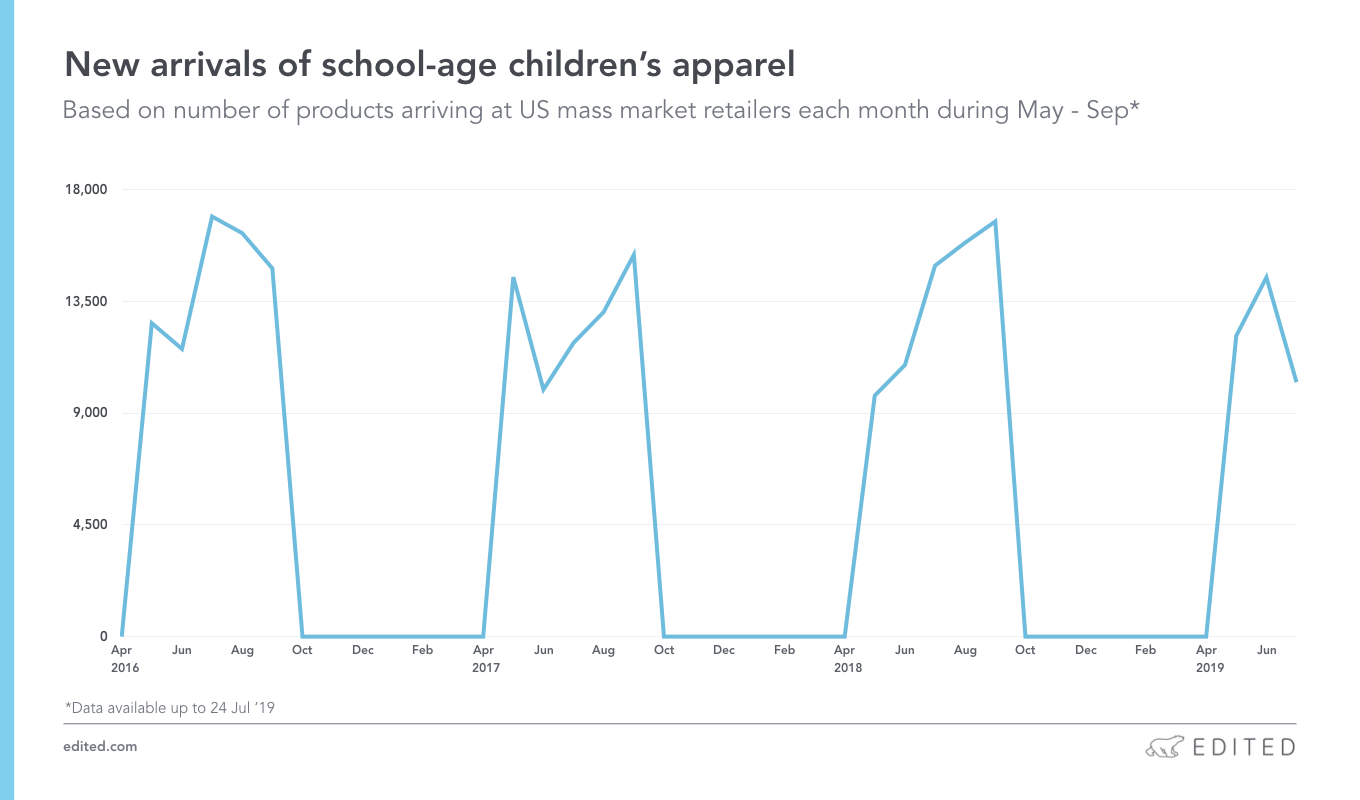 Which brings us to the event responsible for shifting these trends.
Amazon Prime Day's role in BTS
BTS is a notoriously tricky period for retailers to define with no clear start or end date. With early school shopping becoming the norm, Amazon Prime Day is an incentive for retailers to deliver on time for the sales. And parents are catching on too.
NRF reports 59% of consumers planned to shop for BTS on Amazon's Prime Day deals.
Another 26% wanted to buy online at the many other retailers offering sales of their own over the two-day event. Altogether, Prime Day is forecasted to boost BTS spending by 9%.
Smart retailers capitalized on this by combining BTS and Prime day deals in their email communications. Within Target's 2-day shopping event, 'Deal Days,' the big box retailer included an offer for 30% off school uniforms in its email newsletters. While Old Navy's 'Cyber Shopping Event' advertised 50% off school uniforms and BTS products. Justice sent out a specific back-to-school themed email with deals over the two Prime Days. And Kohl's highlighted its BTS edit with its '2 Day Summer Deals.'
Our retail data platform can help simplify your BTS merchandising. Get started here.
Back-to-School essentials pricing
In the UK, Aldi has caused a stir offering schoolwear bundles for £4.50 ($5.60). With a 50p saving on last years offer, the pack consists of two polo shirts, sweatshirt and skirt or trousers, and ticks the eco-friendly box. Aldi partnered with the Cotton Made In Africa (CMiA) initiative, which aims to improve conditions for cotton farmers and their families.
But how does this affect the pricing structure of school essentials at other UK retailers?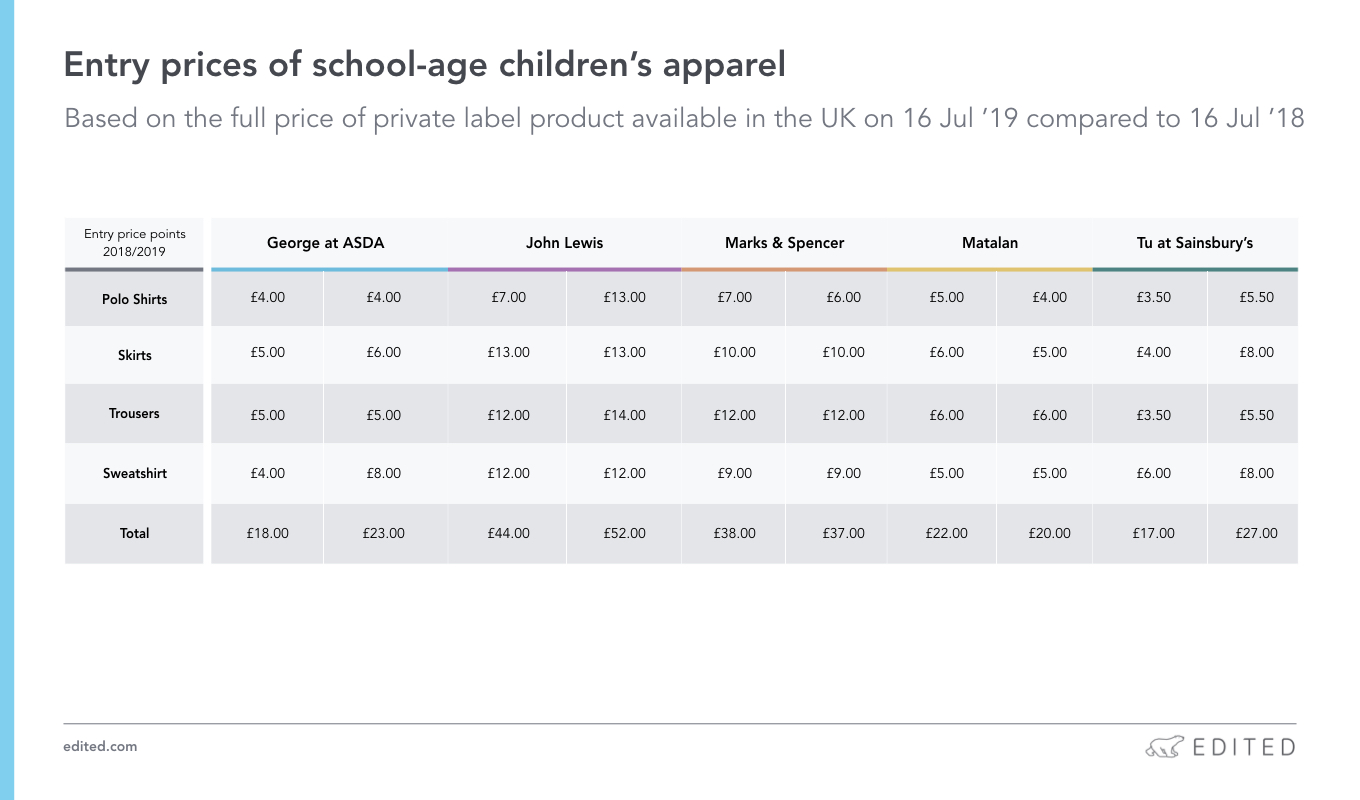 Using EDITED's retail data platform, we aggregated the full entry-level price of like products and analyze changes over time. Taking discounts out of the equation, Matalan has reduced their polo shirts and skirts by £1 last year. Marks & Spencer's polo shirts have also dropped £1. John Lewis is showing the highest entry prices compared to the other retailers as well as the deepest discount. The average advertised discount for essentials at John Lewis is 43%. George at ASDA is showing an average advertised discount at 17% while Matalan, Marks & Spencer and Tu at Sainsbury's have no current advertised reduction. The data indicates schoolwear at John Lewis required a price reduction to compete with the other retailers on affordable schoolwear essentials.
Back-to-School bestsellers
What product categories should you have on your radar? Athleisure is, of course, crucial as both parents and kids are shopping for comfortable and functional clothes. This is reflected by the top-performing items arriving from the beginning of May. Products coming out on top include sweatshirts and track pants with cues taken from the '90s and retro sportswear. Additionally, sneakers continue to gain traction for this event, particularly in the US where uniforms aren't mandatory, increasing by 9% YoY.
As gender lines continue to blur, retailers are providing more fluid options for the school term. School-age clothing described as 'unisex' have increased a staggering 870% YoY in the US.
Here are the top-performing styles for back-to-school so far in the US:
In the UK:
While Back-to-School is a complex holiday to break down, data can take the guesswork out of assortment planning. EDITED has the power to give retailers the insights they need to stay ahead of the game. Get in touch, and one of our dedicated Retail Strategists can show you how it's done.
Want to know more about how EDITED can help your business?
Request a live demo with one of our product specialists.
GET A DEMO →