Swimmers. Bathers. Togs, if you're Australian. Whatever you call them, you're about to see a whole lot more. The weather is heating up, retailers are pushing their swimwear edits, and business is booming!
According to Statista, the US is driving the swimwear market, generating $47m in revenue as of 2019. Revenue in sports and swimwear amount to $2.1m in the UK and is expected to grow by 2.4% each year (from 2019 to 2023), with retailers such as John Lewis already announcing an increase in swim sales.
We expect to see mass market retailers attribute to this growth with fast fashion brands adding swimwear to their assortment. In the past year, mass market retailers have expanded their swim assortments 10% YoY in the US and 8% in the UK. Competition is heating up as new entrants join the playing field, such as Quiz, who dropped their first swim collection at the end of March.
Want to know how your business can best optimize their swimwear assortment? Here's the data behind which trends to invest in, emerging markets and the impact of the body positivity movement. But first, bikini or one-piece?
Bikini vs. one-piece
Last year, bikinis made up the bulk of swimwear assortments. Looking at the increase of swimwear sales for 2019, bikinis are not going anywhere. New styles for Q1 experienced an 11% increase in the US and 22% in the UK YoY. Boohoo UK drove this growth by bolstering their bikini assortment by 56% and Net-a-Porter US also increased theirs by 24%.
The one-piece continues to be a high demand item, clocking a 23% increase for Q1 YoY in the US & UK combined. Retailers investing in this style over bikinis include Target, who dropped 191 new one-piece swimsuits in the past month, Kohl's with 228 and Fashion Nova, 191.
The chart below reveals the growth of both styles in Q1 YoY. Have you updated your assortment accordingly?
The comfort factor
This quarter reveals a continued shift into more functional and comfortable swimwear. As sporty styles continue to trend in apparel, the swim market follows suit. Active swimwear experienced a 25% increase in Q1 2019 compared to Q1 2018 in both the UK and US.
We've charted the demand for bikini top styles in the UK mass market. In 2018, triangle bikinis dominated, yet in 2019 this shape saw a 2% decline as retailers backed tops with more coverage. Bandeau tops experienced a 52% increase YoY becoming the favored shape for Q1.
Cropped, sporty tops are also trending up by 48%, and bralettes have increased by 20%.
Every body is a bikini body
After shelving their swimwear line back in 2016, Victoria's Secret re-released their assortment in March catering only up to a large (US size 14). Research by the International Journal of Fashion Design, Technology and Education, states the average US size sits between 16 and 18. This shines a light on Victoria's Secret's missed opportunity to sell their range to the majority of the market.
Diverse sizing is essential in swimwear, which has started to see shifts within the shop by fit market. Looking at the UK & US mass market combined, petite swimwear has increased by 15% YoY, and plus size is trending up 31%. Tall swimwear remains an untapped market with only 2% growth in the UK and a 68% decline in the US. This flags opportunity for brands to cater to this body type – especially for one-pieces. A taller customer would need a swimsuit with a longer body length than the average height.
As demand for inclusive swimwear grows, searches that promote unhealthy body expectations decline. The graph below shows arrivals for new plus size swimwear against Google Trend results for the search of "bikini body" over the past 18 months.
Popular colors and patterns
Which swimwear trends have seen commercial success for 2019 so far?
Tropical florals made up 33% of new arrivals in both the UK and US mass markets over the past month. This print was favored for mix-and-match bikini tops and bottoms at Very and PrettyLittleThing. Target and JC Penney adapted this print into their tankinis.
Animal prints continue to trend for women with leopard as the most influential pattern. Snake print swimwear arriving in the past month saw a 237% increase in the UK and US mass market combined compared to last year.
Excluding black – navy, green and red were the most popular colors of new UK swimwear drops in the past month. The US leaned towards a color palette of lighter blues white and pink. In both markets, neon hues of yellow and green were prominent particularly in bikinis for women and shorter-length swim trunks for men.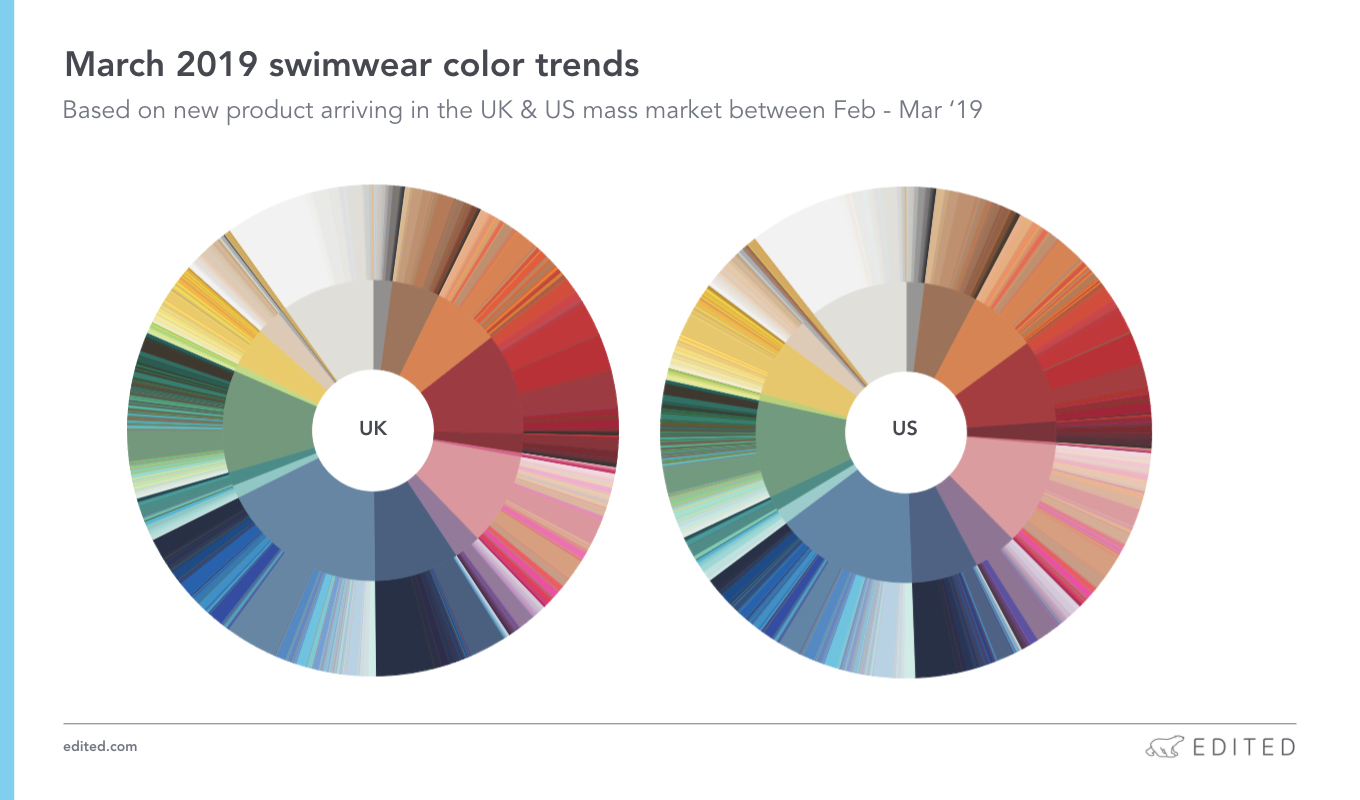 Got EDITED access? For more swimwear insights, check out our March womenswear top movers reports for the UK and US. Is menswear your category? Find out more swim short trends for 2019 here.
Emerging markets making a splash
So what's next for swimwear? Modest swimwear is a missed opportunity within the UK & US mass market. Muslim spending on fashion is predicted to reach £286 billion by 2021, so it's not one to ignore. Look at bulking out swim options with longer cuts, cover-ups or garments you can bathe in.
Sustainability is a hot topic in fashion and swimsuits are no exception. Your humble bikini was built to withstand sun, chlorine and salt water so it won't breakdown even when the bottom starts to go saggy. This adds to the fashion industry's enormous contribution to landfill. In the UK alone, swimwear with sustainable elements has increased by 88% since 2017. More brands are stocking eco-friendly swimwear lines such as Reformation, Zara, Monki and Madewell, all who have adopted the use of recycled materials within their products.
There's also a missed opportunity in the maternity market, where swimwear only accounts for 3% of the total assortment mix in both the UK and US. Despite this, it is growing fast. Maternity swimwear has bumped up (pardon the pun) by 30% in the UK and 22% in the US market YoY. Keep the moms-to-be in mind when looking to grow your swimwear offer.
However you approach this category, make sure you're using data to back up your decisions. Talk to us to find out more!