Last month, Tesco's apparel line F&F opened their first US store, in Long Island. The 6,571 square foot site is the first of seven stores the retailer plans to open this year with Retail Group of America, their US operating partner. With such buoyant plans amid a crowded fast-fashion market, the supermarket retailer is clearly doing something right. We've analyzed data to understand their recipe for success. What makes their apparel stand out amongst the groceries?
1. Category emphasis on childrenswear
Supermarket retailers typically place more emphasis on childrenswear than their non-supermarket, value counterparts. At F&F, kids' apparel accounts for a huge 41% of merchandise – far higher than UK competitor Matalan's 27%. For busy shopping parents, the supermarket is the ideal place to make a bargain clothing purchase, at prices which sit happily alongside the weekly food shop. This is key to F&F's strategy, where the bulk of the childrenswear offering sits between £4 and £9 and the average price is £7.26.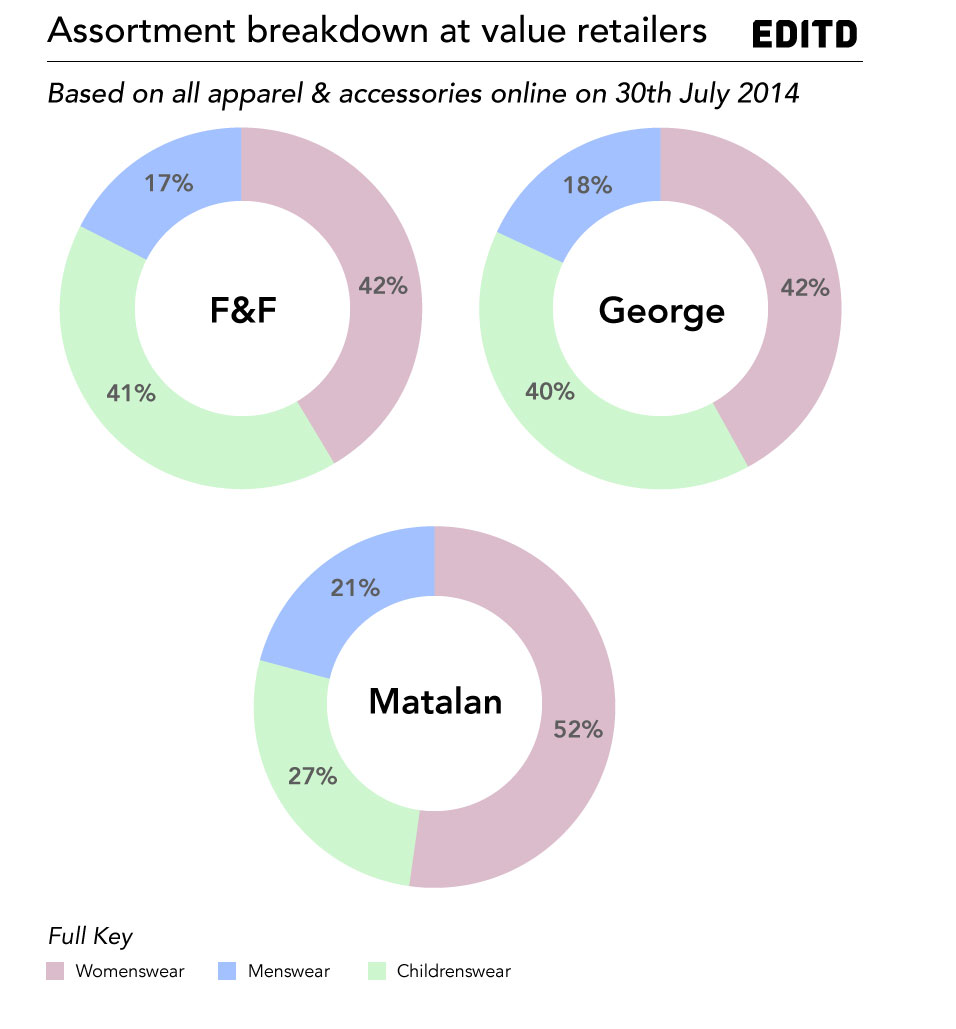 2. Frequent newness
F&F's high levels of new product is the perfect way to appeal to consumers on a weekly basis – with fresh stock presented every time they go into store or online. July's 1,990 new arrivals online places F&F amongst Topshop, Gap, Mango and Boohoo and highlights that F&F isn't simply an offshoot line for a successful supermarket retailer: it's a mammoth business in its own right. ASDA's George line introduced 42.5% fewer products in July.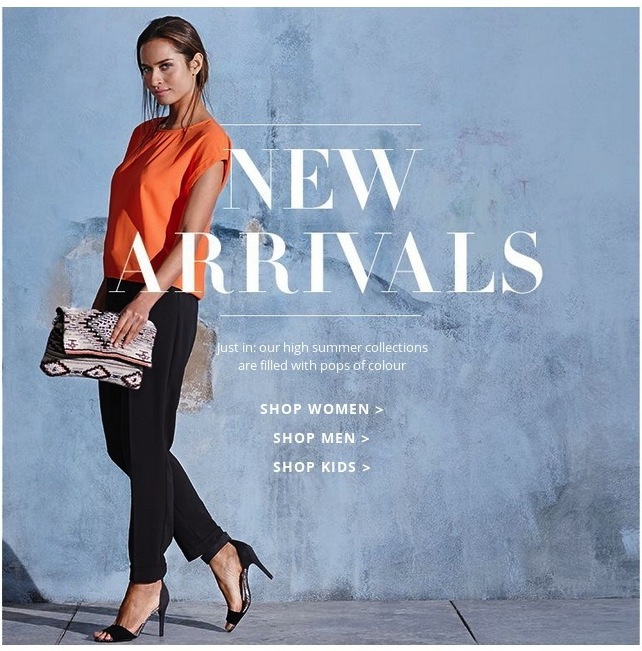 3. Right product selection
F&F's product selection is where their real excellence lies: the breadth of their offering is simply unbeatable. In womenswear they're able to offer every key trend. Take the competitive women's dress category, where F&F are currently stocking a huge number of key trends: scuba skater dress, drop waist, camisole dresses, tropical print florals and maxis all included. F&F are stocking some of the fastest selling trends on the market currently: bomber jackets, kimonos, pastel colored outerwear, acid wash boyfriend jeans, as well as growing trends in culottes and pink jeans.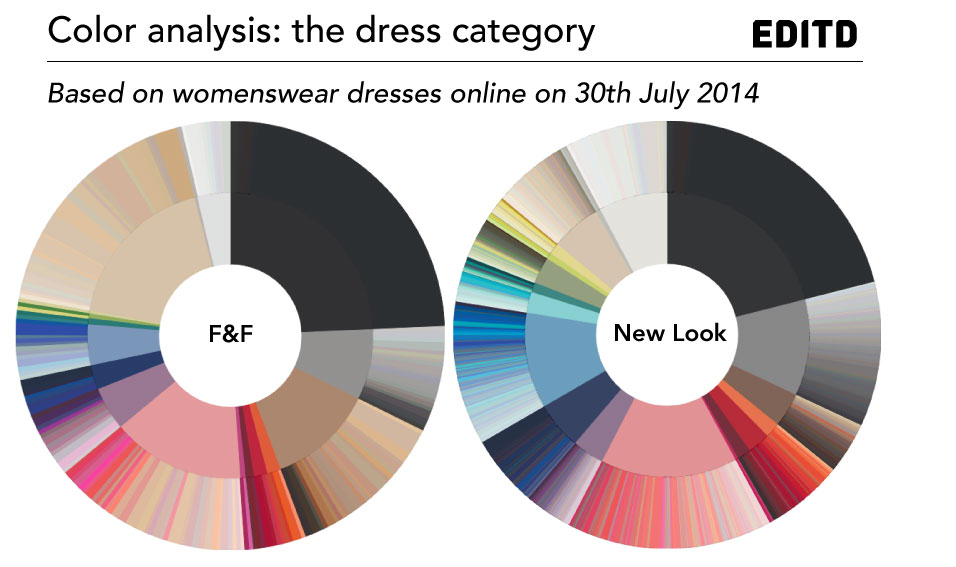 And yet at the same time, they're able to stock key basics and simpler styles to appeal to every customer.
It's not just womenswear where F&F have nailed trend selection: the menswear stocks key print trends like Aztec prints and dip dyed effects on polka dot shirts, as well as kitsch 50s retro prints. In childrenswear cut-out ankle boots, marl joggers and fantastic bomber jackets are well balanced amongst uniform and licensed product.
Prints are where the retailer really excels – catching shoppers' attention and demonstrating creativity at value price points. Many of F&F fastest selling garments are printed: take their women's palm print sleeveless dress at £18 which sold out three weeks after its 14th June arrival into store.
4. Unique price point
The span of F&F's pricing places the retailer in a clever position – allowing them to simultaneously compete with value retailers and the mass market. The bulk of both men's and womenswear sits between £8 and £18 (with menswear taking the higher average price of £16.47 compared to women's £14.95) and the bulk of childrenswear sits between £6 and £16, with an average price of £12.59. These prices undercut the average for the value market, yet F&F's exit pricing extends far beyond competitors George at ASDA and Matalan – again cementing their ability to appeal to a vast range of shoppers.
5. Clever brand offering
Appealing to many can be a risky strategy, as messaging becomes distorted and stops resonating with the consumer. F&F have avoided this in two ways. Firstly, they have create sub-brands in F&F Limited Edition, F&F Signature, F&F True (sizes 16-28) and F&F Active, with the plus size and sportswear categories tapping into lucrative market opportunities. Breaking ranges out into sub-brands, F&F did a great job in helping steer shoppers towards the right product and it helps navigating F&F's e-commerce store an easier experience.
F&F stock nearly 80 brands alongside their own product, with childrenswear brand Name It being their most-stocked. The array of brands adds depth to F&F's offering – bring technical properties or sports kudos being added via Trespass, Gossard and Nike, as well as appealing to children with licensed ranges from Disney and Peppa Pig, amongst others.
And some things to watch out for:
F&F have a low replenishment rate – it seems they favor bringing new product into store than attempting to recreate success with repeat orders. Certainly newness is a good way to delight customers, but restocking confidently in products which data evidences to be longer-lived trends will cut out time and optimize customer demand.
In comparison to their value market competitors, F&F have a small accessories offering – just 6% of their entire product range, while Matalan's accessories represent 17% of their range and H&M's accessories are 12.6% of the range.
Color in some categories is not as varied as it could be. Take women's dresses, a key category for trends at F&F – the variety of color on offer (as shown by EDITD's commercial color analysis) is not as varied as New Looks'. New Look do have a broader offering of dresses, but F&F could push back on the neutrals and inject some greater variation around blues and greens.
Recent F&F Top Movers and Price Architecture: