As we enter the summer sales season, markdowns get competitive and retailers clamor for shopper attention with splashy red sales banners. It's a risky time for retail and markdowns are carefully planned to optimize on a product's life cycle and margin, whilst ensuring stock is cleared at the correct time: not too early, nor too late.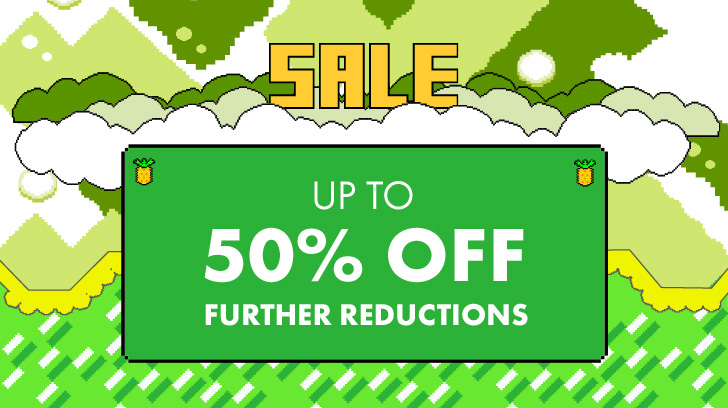 This is a crucial time for retailers to rely on data – driving action from careful analysis of competitors' actions and timing of trends, as well as planning ahead with historical data. In this article, we look at the differences in the markdown calendars in the UK and US markets, tactics at the world's 7 largest retailers and reveal which market segment has the highest level of discounting.
1. The luxury market discounts hard
The luxury market, despite having the smallest proportion of its offering reduced, has the highest proportion of reductions of 50% or more. In fact, luxury has a greater number of reductions of over 50% than of under 50% – the only market displaying this behavior. That's especially interesting from a buying perspective, suggesting that when luxury buyers get it wrong, they get it really wrong. Too few luxury retailers are relying on metrics to avoid markdowns, and the risk that costly dead stock poses them is high.
The premium market is the most discounted – with 58% of current offering receiving some sort of markdown. Meanwhile, the value market is the industry's least discounted – rightly so given the low cost, and margin, of products within this market.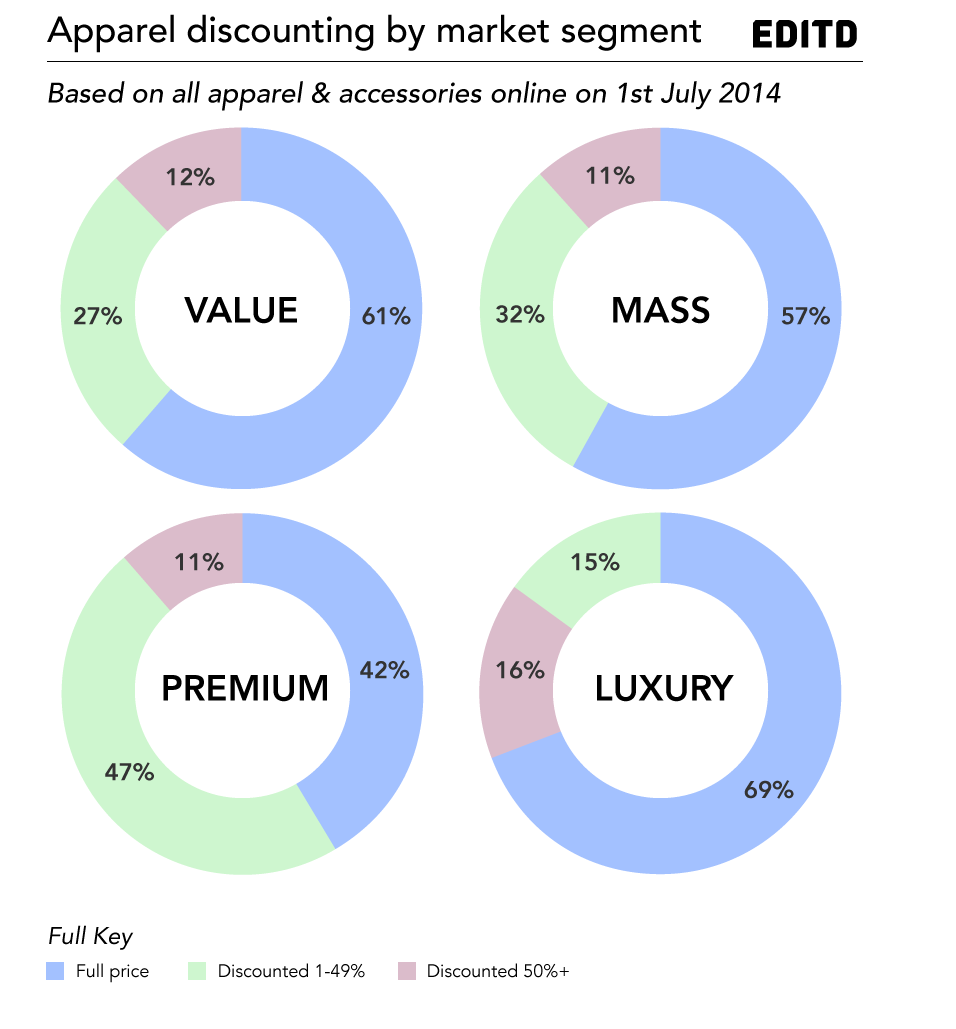 2. Farfetch's huge offering is risky
A view of the world's largest online retailers reveals Farfetch to have the largest offering. However, with nearly 68% of their offering discounted or price reduced, their full-priced assortment is too small. Their dropshipping concept from global boutiques means dead stock doesn't clog up their own warehouses, but having such high levels of reductions will damage the credentials of the site. In contrast, Nordstrom have a very low rate of discounting, just 23% of their entire range is currently marked down.
Zappos could reduce the scale of their sale assortment by increasing the proportion of markdowns in the 50% off and higher category – moving product through the sale cycle faster and not damaging brand by having a high level of discounting. House of Fraser and Kohl's have healthy proportions of full priced and low and high discounting, while ASOS's shoppers can snare a bargain with their high volume of product reduced by 50% and more. In their case, where trend-led product is key, clearing stock with a short lifespan fast is important, and justifies this weighting.

3. The UK & US operate very different discounting calendars
Naturally, retailers looking to expand globally need to pay close attention to the local market. The US and UK have starkly different sales periods, and not understanding these, specific to a retailer's segment, could result in unnecessary loss of margin or damaging levels of dead stock. The US market runs to a traditional sale calendar, with a high level of markdowns around November's Thanksgiving sales. In the summer season, the US discounts dramatically in May, easing off in June. Retailers come back with heavier markdowns during July. Meanwhile, the UK runs into summer reductions earlier, with mid-season sales push in March, which goes relatively unnoticed in the US. UK retailers then focus the majority of price drops in June, not July, like the US market.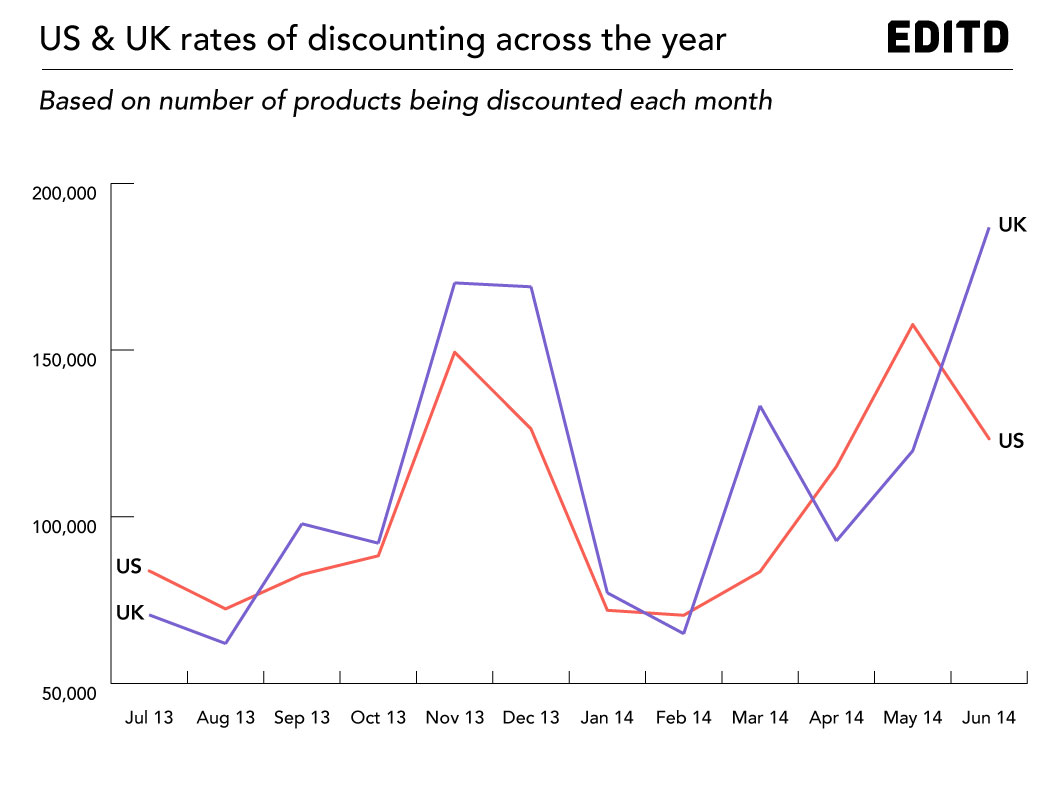 4. 27 emails in one month? Kohl's over-communicate their sale
EDITD's Visual Merchandising software tracks every output from hundreds of global brands and retailers, allowing us at a glance to view the number of newsletters a retailer has sent out in a month. We've plotted how many of the newsletters the world's biggest retailers sent in June featured full-priced product and how many were overtly focused on sales. It's clear to see that Kohl's are over-communicating their reductions, with 27 sales emails to one full-priced email! Zappos meanwhile are mute on their reductions. Nordstrom, however, strike a good balance.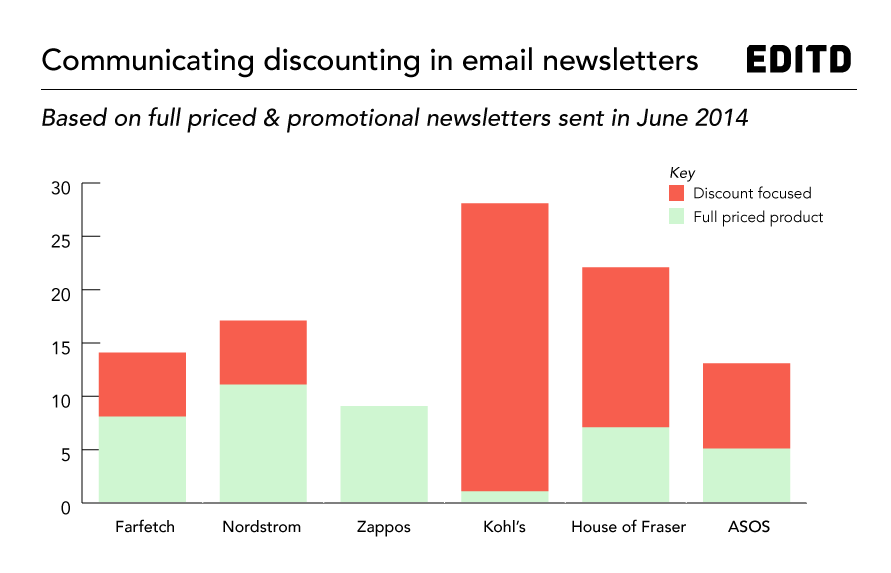 5. Tops are the category where the biggest price slashes lie
Currently the category with the highest level of discounting is tops, followed by dresses and bottoms. Beauty is the segment with the least discounting. Menswear sees a higher rate of discounting than womenswear – 51% of menswear is currently reduced, compared to 42% of women's and 41% of childrenswear.
Conclusion: sales are enduring for longer than 2 years ago
Sales periods are lasting longer than they did two years ago, and high levels of discounting kicks in earlier. In June 2012, 15% of discounts were greater than 50%, by June 2013 that had climbed to 25%. This June saw 24% of discounted products reduced by 50% or more. Retailers must carefully navigate these extended sales periods in order to optimize margins and continue to delight consumers.
EDITD customers can log in to view our Summer Sales Visual Merchandising Trend Report.
A note on methodology
Discounting in sections 1 & 2 is based on the live prices of the 1st July which show downward amendments. Discounting in sections 3 & 4 is based on the number of 'first discounts' applied each month – the first time a price point has been adjusted.