Suede and leather (along with their faux counterparts), have been pitched as major trends throughout 2015 with designers including both fabrics in their collections for spring and fall. Leather's popularity comes thanks to the runways of Miu Miu, Prada, Topshop Unique and Gucci. For suede, we owe it to Chloé, Derek Lam, Altuzarra and Saint Laurent. With power players like that on their teams, suede and leather were always going to make an impression on the runway, but at present which one is working best in retail?
The size of both trends
How do they scale up? Excluding footwear and accessories, womenswear currently has 17,976 leather/faux leather apparel products and 2,896 suede/faux suede apparel products online at US and UK retailers. That's more than six times as much leather – but market presence doesn't necessarily translate into sales. In total, 30% of suede apparel arrived online in the last month, compared to 21% of leather apparel. That's a really healthy rate of newness which hints at the sort of trend interest which can define a season.
More telling is the growth of suede apparel in the last year. In April 2015, the number of suede products arriving online grew by 227% compared to April 2014. In the same period, leather apparel fell by 7.3%.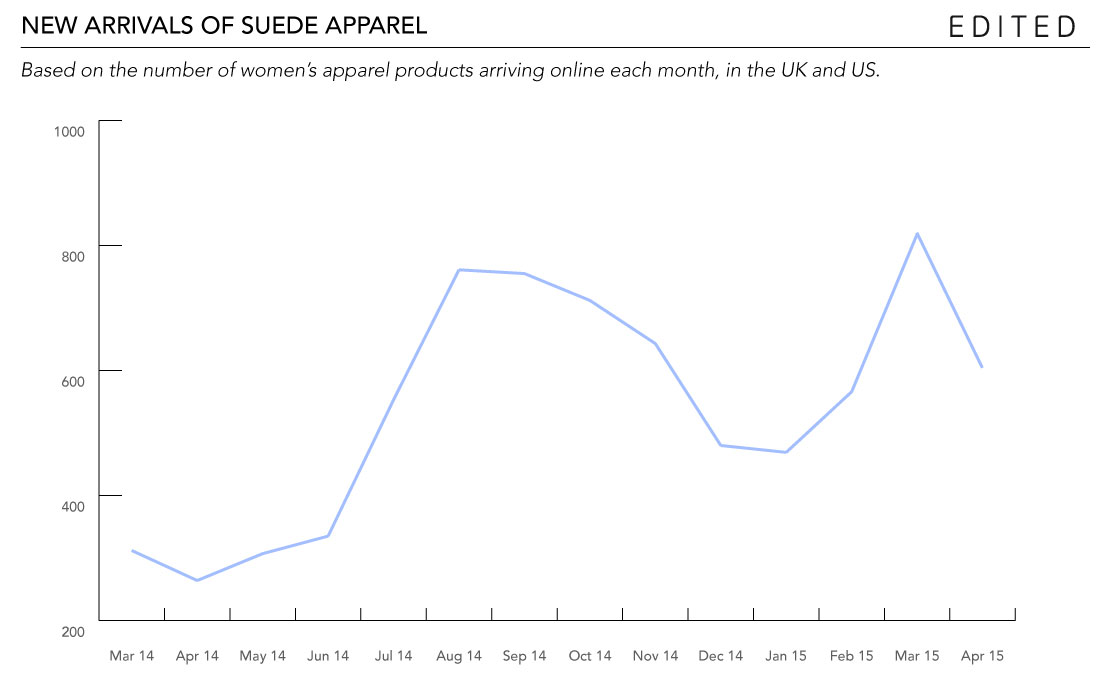 How hard are retailers promoting the two trends?
What major retailers choose to feature in their email newsletters is a good indicator of what trends are seeing big wins. Since March 1, Topshop has showcased suede apparel in its newsletters three times, leather none. Zara and H&M have both championed suede apparel, ignoring leather. River Island has pushed leather once, but suede twice.
Which trend is selling better?
Compared to suede, there's a greater proportion of the leather market discounted (40% of products currently) and fewer leather products are replenished, just 8.8%. Leather items are slower to sell, too. It takes 108 days on average for a piece of leather clothing to sell, compared to 84 days for suede. Suede has rocketed in both market presence and product performance.
Let's see that story reflected in specific products. Below, you'll see two garments. One is a faux leather jacket with fringing, £35.00 at Missguided. The other is a faux suede jacket with fringing, £39.99 at Bershka. Despite the higher price point, Bershka's suede version sold better. It was out of stock three days after it first arrived on March 6. Since then a subsequent restock has sold out too. The leather jacket also arrived March 6, but it's already been reduced by 22%, and six of seven sizes are still in stock.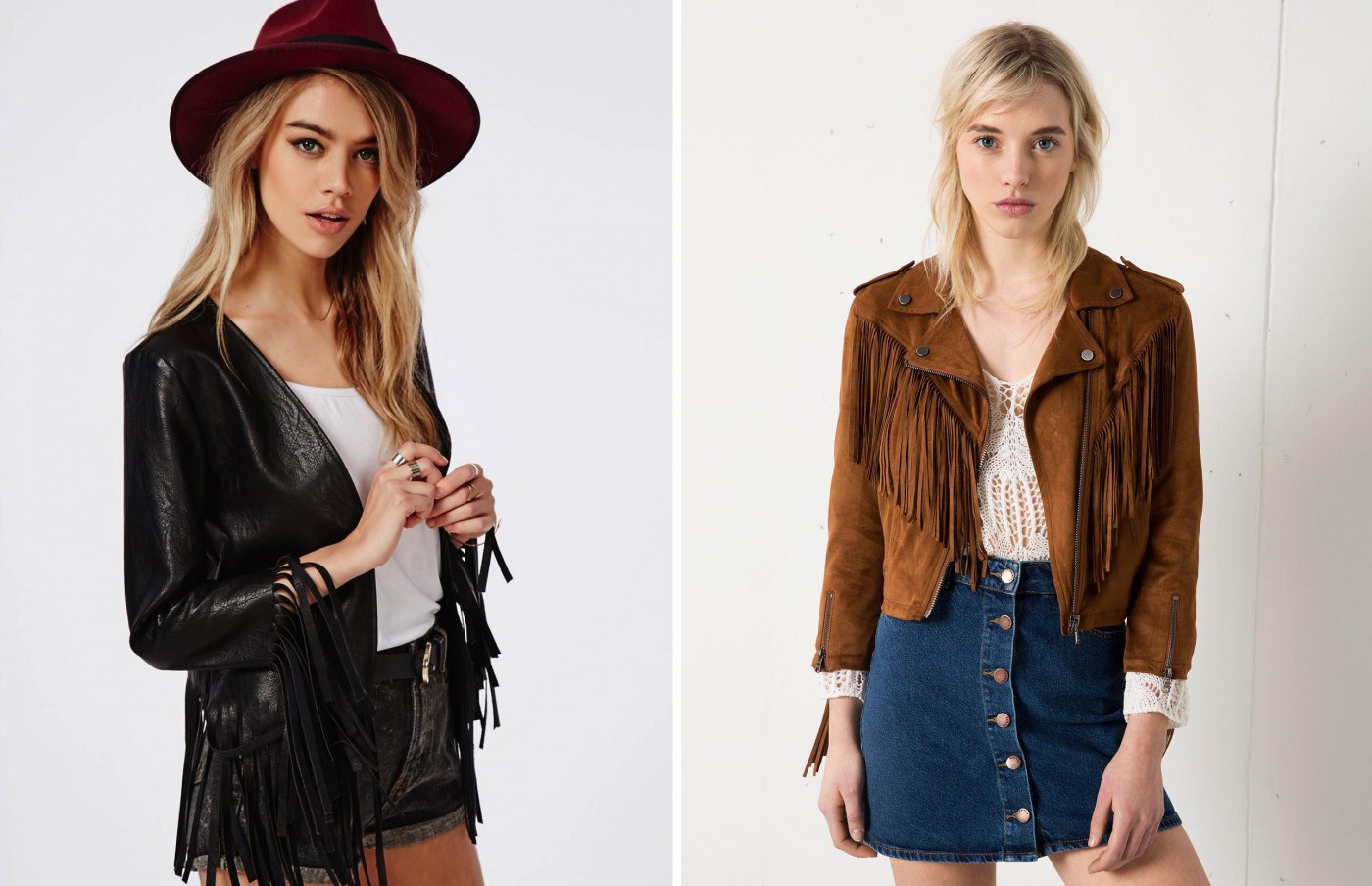 How much life does the trend have?
Suede is still getting prominent mentions in retailers' email newsletters, showing there's still wind in its sails. At the moment, the majority of suede apparel products are retailing in the luxury market – 41% in total. While that luxury/mass divide stays in favour of the higher price point, suede will be a trend worth investing in.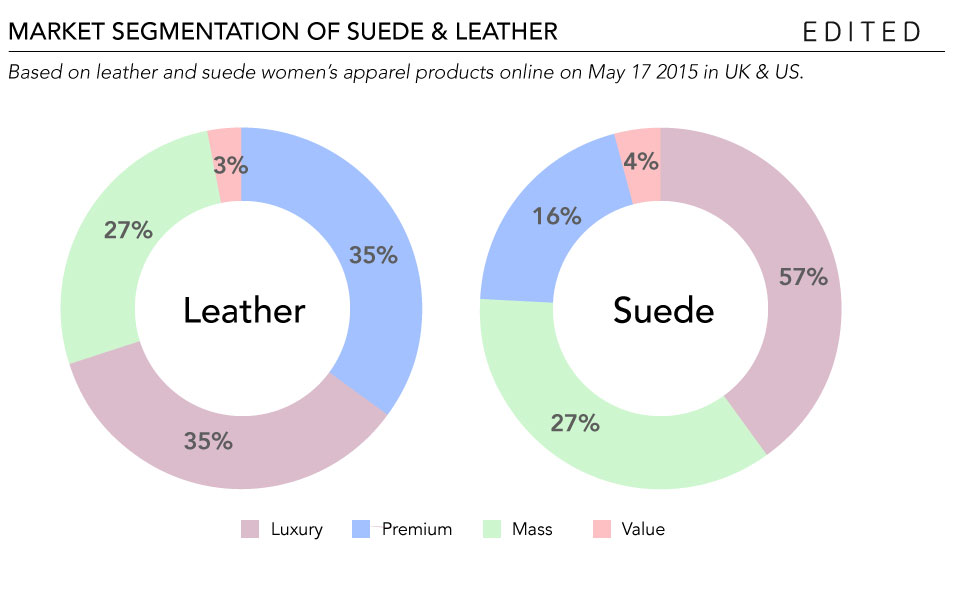 Fall 2015 runways support that, with military suede a big theme. Retailers can update their camel and pastel colored spring pieces with khaki, navy, grey and green thanks to Burberry, J.W. Anderson, Ralph Lauren and Michael Kors. Leather's dominance of the market earmarks it as safer territory for the longer term. But access to data guarantees you're ready to capitalize on trends, so why ignore the opportunity?
Incidentally, I took my mass market suede skirt to be dry cleaned this morning. At a cost of 43% of the garment's original value, and due to take two weeks. So I'm glad the trend will be sticking around. Will the care costs deter other mass market shoppers in the future? Yes. H&M, it may be time to open up in-store dry cleaning facilities…