Menswear is busy. It's currently steaming its way to a 14% growth, expected to reach $33 billion by 2020. And 2015's $29bn wasn't too shabby. In fact, menswear is growing faster than womenswear and the luxury market.
Back in January, we talked about the rapid growth in this market, and pinpointed some key areas for optimising. Now, following London Collections: Men, amidst the Milan menswear shows and ahead of Paris and New York's turn, we're back to check in on that progress.
Retailers in the know
Menswear has come a long way, in little time. That growth has been particularly noticeable (and blissfully measurable) online. Reflecting on the number of new product drops in Q1 of this year compared to three years ago, there's a few stand-out retailers. Notably in pure play e-commerce, Mr Porter, which launched 5 years ago, has racked up a 94% increase. That's a bigger growth than womenswear at sister brand, Net-a-Porter, which increased 75% in the same time.
Also online experts, ASOS have paid close attention to the category, growing the amount of new menswear drops by 42%. But proving it's not just pure play that's seen opportunity is British department store House of Fraser, who backed 64% more products in Q1 this year than three years ago.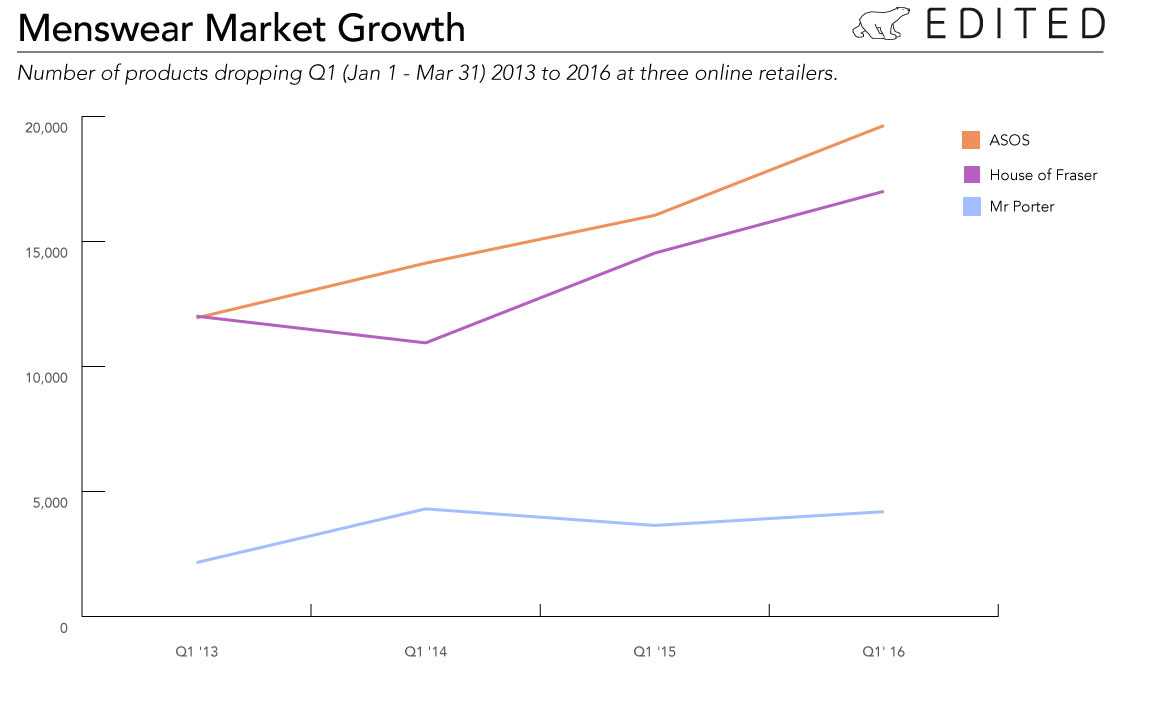 Focussed growth
When you look beyond specific retailers, a more interesting picture emerges at different price levels within menswear. Between Q1 2013 and 2016, the ten biggest luxury menswear retailers (including Barneys, Saks and Harrods) grew 100% online. Even bigger news is the ten biggest retailers in the premium market (including Brooks Brothers, Tommy Hilfiger and Ted Baker), who grew 278%. Meanwhile, menswear at the ten biggest mass market retailers shrunk by 5%.
Menswear soars: the online premium market has grown 278% in three years.
What does that tell us? Firstly, the mass market was faster to get online – most mass and fast fashion retailers were well established in 2013. Meanwhile, premium and luxury lagged.
But there's also a big consumer shift going on here. We didn't suddenly get a whole arrival of new men land on the planet. Those men have always been consumers, have always needed clothes. The mass market has always been selling to them. However, in recent years what we have seen is an increase in the number of men bothered about fashion.
Menswear having its own fashion month is pretty solid evidence of that. The growth in premium and luxury product tells the same story. And that's great for the entire industry.
Even mass? Yes, because the more informed and passionate the menswear customer is, the more trend and innovation will move through the market. Even if the super fashion-forward menswear consumer is a small minority, they still persuade and drive the greater market. They create a more interesting retail climate.
And we can see that impact the current online menswear assortment. In 2013, tops had 39% dominance. But in Q1 of this year, tops had lost 2% of the market share to other categories. Accessories, bottoms and outerwear are all up.
So who's scoring?
Activewear, duh. The most successful brand so far this Spring (in terms of new product selling out, at full price) is Nike. In fourth and fifth spot is Adidas and Puma. (In second and third place are Jack & Jones and Burberry.)
Sneaker culture, relaxed modes of dressing and technical capabilities have changed menswear, potentially for good. No longer do fashion conscious male shoppers have to show their style with tailoring: activewear's profile lift means there's a greater range of options, more suited to functional lives.
The Spring 2017 trends
We're only mid-way through the shows but EDITED Menswear Analyst, tara, says athleisure's stronghold isn't over yet. "For Spring 2017 designers at London Collections: Men gave continued backing to the 90s sport aesthetic. That's great news for retail, where sweaters and tracksuits have dominated." The challenge will be in finding ways to refresh the offering, though Drury hints at new directions. "Thankfully, for the new season there's bolder slogans and oceanic tones."
Drury recommends the following pieces for new season success:
Workwear referenced in trucker jackets
Slogan tees and sweaters – look out for Topman's tourist sweaters, House of Holland reworking British food packaging and Bobby Abley's naughty suggestions.
If you're an EDITED user, log in now to review London's menswear trends or see what's selling in your market today.