No matter where you stand on circus-themed metaphors, you'll probably agree that retail is a lot like a juggling act.
You've got to make stuff that people want, ensure it's the price they'll pay for it. Then you've got to put it in places people will buy while figuring out how to tell them it's worth buying. Oh, and you need to sell it before it's undesirable. Also, don't forget that throughout it all you need to reinforce your brand story and create an experience shoppers will remember. And you need to do it year round.
Exhausted? Stay with me. There's more.
While doing all of that, you've got to be also able to stay on top of what people will want next.
Welcome to the reality of every retailer out there. Today's consumer – though I love you dearly – is fickle. On the one hand, their attention-spans and brand loyalty are on the wane. On the other, they're incredibly informed, permanently curious and constantly connected. Their tastes are complicated and their wants move fast. Faster than Snapchat, and just as ephemeral.
To delight these shoppers, retailers need more than a finger on the pulse, they pretty much need to anticipate it.
Understatement: spotting new stuff at its earliest stirring in retail is important. Reality: it's vital.
Problem is, few people in this industry have time to go to the source on this stuff (e-commerce put paid to 'Closing Hours'). And there's little reason to do it. For most retailers, only a statistically marginal group of consumers is likely to buy-in on a trend come day one (read: little return). So how do the best buyers and merchandisers do it?
Well, we've got a better solution: help retailers detect the critical tweaks in retail metrics that signal something is heating up. It's like detective work, only a whole lot easier when you've got up-to-date data to support you. Let's look into why. Deerstalker optional.
Identify Your Charismatic Leaders
The thinking on this goes: cutting-edge products will hit cutting-edge luxury retailers first. Directional luxury customers buy it, magazines cover it and the trend torch is passed down the market. To premium retailers let's say. From there, on it goes. Right the way through to value retailers and outlet stores around the world.
Nine times out of ten, it works exactly like that. Case in point, the current kitsch accessories trend. That one's got a clear path from runway (Fendi, Christopher Kane, Moschino) into luxury retail and is now tapping on the mass market's door. Oh, remember sports-luxe? There's no question what role that played in delivering athleisure to the masses.
Every retailer exists somewhere along that chain. And every retailer has a watch zone – an area along the chain that's 'high interest'. You probably have a good idea of where your watch zone is, but with data you can pinpoint it and monitor obsessively. Never missing a thing.
Your watch zone could be a handful of brands and retailers, a market segment or a geographical region. Whatever it is, identify it and bring in the data. For a start, look for sudden changes in your zone's product data.
Buyers using EDITED set up dashboards, a targeted view of these watch zones that track specific products, categories, brands or price points and act as their view of the market. Live data streams through these dashboards round the clock. Using that data, they can see exactly when there's a shift worth looking into.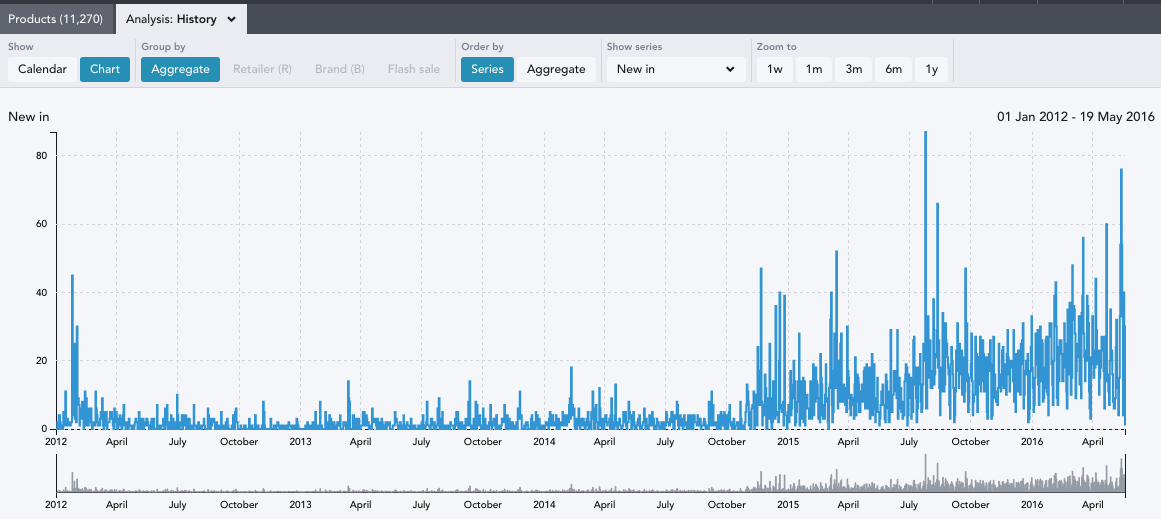 The clever part is spotting something in time to act. These dashboards help with that, sending out email alerts when products spike. That's when buyers know they've got to pick up the phone and, well, buy.
But things aren't always that simple. Trends appear at unexpected points along the price chain all the time, and they move fast. Scrap your 'bubble up' or 'trickle down' theories. This stuff just explodes, simultaneously across any market. All it takes is a Kardashian.
That's when we need another tack. Here's a reliable one:
Spot Where Demand Outstrips Supply
You see demand, you supply. That's retail at its most beautiful. It's a heady mix when you can get it. We help retailers tap into that sweet stuff by identifying 'Top Movers'. They're items which sell out fast with no discounting required.
If you can get a product into store in three weeks, you might want to know what arrived last week and has already sold out. You might want to know about last week's one-shoulder scuba dress at ASOS or the metal toe-capped sneakers from Miu Miu. Stuff that's hit the nail on the head. Stuff that's carped the diem, not the era.
Or you might be a retailer who moves at a more measured pace, and needs to take a few more factors into consideration. You could define your 'Top Movers' as items on the market which arrived in the last three months, have sold out once and then were restocked, at full price. There's a clever off-shoulder effect dress at For Love & Lemons and some great denim updates on the premium market that you might want to know about.
Find a few relevant examples of supply not meeting demand and you've got a good case for giving a product a run. But a word of warning:
The next 'big' thing might not actually be that big
There's a misconception that the 'next big thing' is radical and unknown. Searching for the exotic can blind a retailer to the lower hanging, more plentiful fruit. It shouldn't. I'm guessing that everyone reading this probably wears clothes. So ask yourself, will you want to completely reinvent your look in a couple of months time? Unlikely. Instead, you'll expect your tastes and influences to shift by increments, over time.
We don't need to reinvent the wheel. In retail data there are clues littered everywhere about where the next big commercial hit is. We just need to be smart with what the insights on that data.
For example, look at the last year in lingerie trends. Bras with extra strap detailing across the bust sold (and are still selling) brilliantly, across all price points. That filtered through into swimwear. Buyers looking to move on last year's top trends had that data at their fingertips. Spaghetti-strapped cami tops sold well last year. A couple of tweaks later, you've got a cami top, with extra harness-like straps. In the last month, that shape has sold well for Topshop, Express, New Look, Boohoo and Miss Selfridge.
When you hit upon an opportunity supported by data it feels as exciting as magic. It's just a whole lot more dependable. And that's what impresses the boss.
Of course, the same tools can be used for monitoring the end of a trend's life and are critical in optimising margins when discounting. Find out more about our data here.