How do you tell an industry to tame its ambition?More to the point, why would you? Let's wind it back to when e-commerce took off and the apparel industry began chasing growth at a frenetic pace. Suddenly the race was on to become the destination for online shopping within your market.
Having a huge assortment was correlated with more eyeballs and higher sales. If your competitor had 500 sweaters, you wanted 550. And the speed was addictive – it wasn't hard to achieve 200% sales growth online when your site was only two years old.
At the same time, with mall traffic dwindling, retailers were opening more stores in different locations on a quest to find their customer.
Apparel was about having more, making most and doing it fast. Many of the biggest players in the business today were launched at that time – retailers who've changed the game forever. As businesses boomed, they listed and then the pressure was really on to chase growth harder.
The industry inflated and then things kind of… stopped.
And that's where we are today. Former stalwarts of retail are shutting stores or have wound down altogether. Sales forecasts are being downgraded and even the most robust or innovative aren't seeing straight quarters of gains.
Unfortunately, retail needs to stop chasing big growth. Consumers have changed and so must we.
Retailers downsizing
We compared our retail data from the first half of 2017 with 2016 to understand how retailers have increased or decreased the number of new products they're introducing.
We found evidence of retailers across every market level reducing their newness. However, the amount they've cut back varies greatly. There's the minor shifts like the 1.2% shrink at Nordstrom and a 1.3% shrink at Debenhams.
More confident are cutbacks like a 3.7% reduction in newness at Ralph Lauren, 3.5% at Macy's, 3.7% at Urban Outfitters, 4.8% at Mango and 7.7% at Nordstrom.
At the top end of the scale is Marks & Spencer, trimming back their newness by 28.4% and J.Crew pulling back by 32%. Both retailers, troubled in recent years, are taking positive steps to ensure their futures in a changing retail landscape.
Brand mix shrinking
Understandably, in the downsizing, retailers are also curating their brand mix.
With a trimmed assortment, it makes sense for a retailer to buy deeper into the brands that best represent their customer, than to buy shallow selections across a wider range of brands. It will create a cohesive aesthetic for the retailer and helps the buyer-brand relationships grow.
We've detected that Urban Outfitters cut brand newness back by 34% in the first half of this year compared to last, opting to not introduce new product from Carolina K, Eastland and The Narrows, among others.
Nordstrom also shrunk brand newness 17%, by not restocking any new products from Speedo, Prabal Gurung, Emilio Pucci, Araks or Superfine, to name a few. While Macy's trimmed back by 10.4%.
We applaud these retailers for cutting back
They've addressed the fact that consumers have changed and having wide assortments that don't connect only leads to mass discounting.
Going forward, rather than quantity, smart retailers are prioritizing things like better quality or sustainably made, or attributes that are hyper-relevant to their niche of consumers.
So which categories are impacted by the scaling back?
At the retailers where we detected shrinkage in newness, there were consistent themes in which categories were down-played. Mainly, apparel took the hit while accessories, footwear and beauty grew.
At Urban Outfitters, the dress category had 24% less newness, at Marks & Spencer, its popular underwear category had 31% less newness and Ralph Lauren shrunk outerwear newness by 13%, while growing accessories 27% and footwear 16%.
As we all know, consumer spending on stuff has slumped – we're spending more on experiences, entertainment and technology. This doesn't mean there's no point in selling apparel. It means that the products you do sell need to be very carefully selected.
The boom in beauty reflects the consumer shifts, driven by a huge online millennial conversation around the category. Accessories are a low-cost way of driving newness without the stock commitment of sizing.
The footwear growth is interesting – does this signify more trends moving through the category? Or an influx of more functional footwear, driven by sneakers? Something to explore further!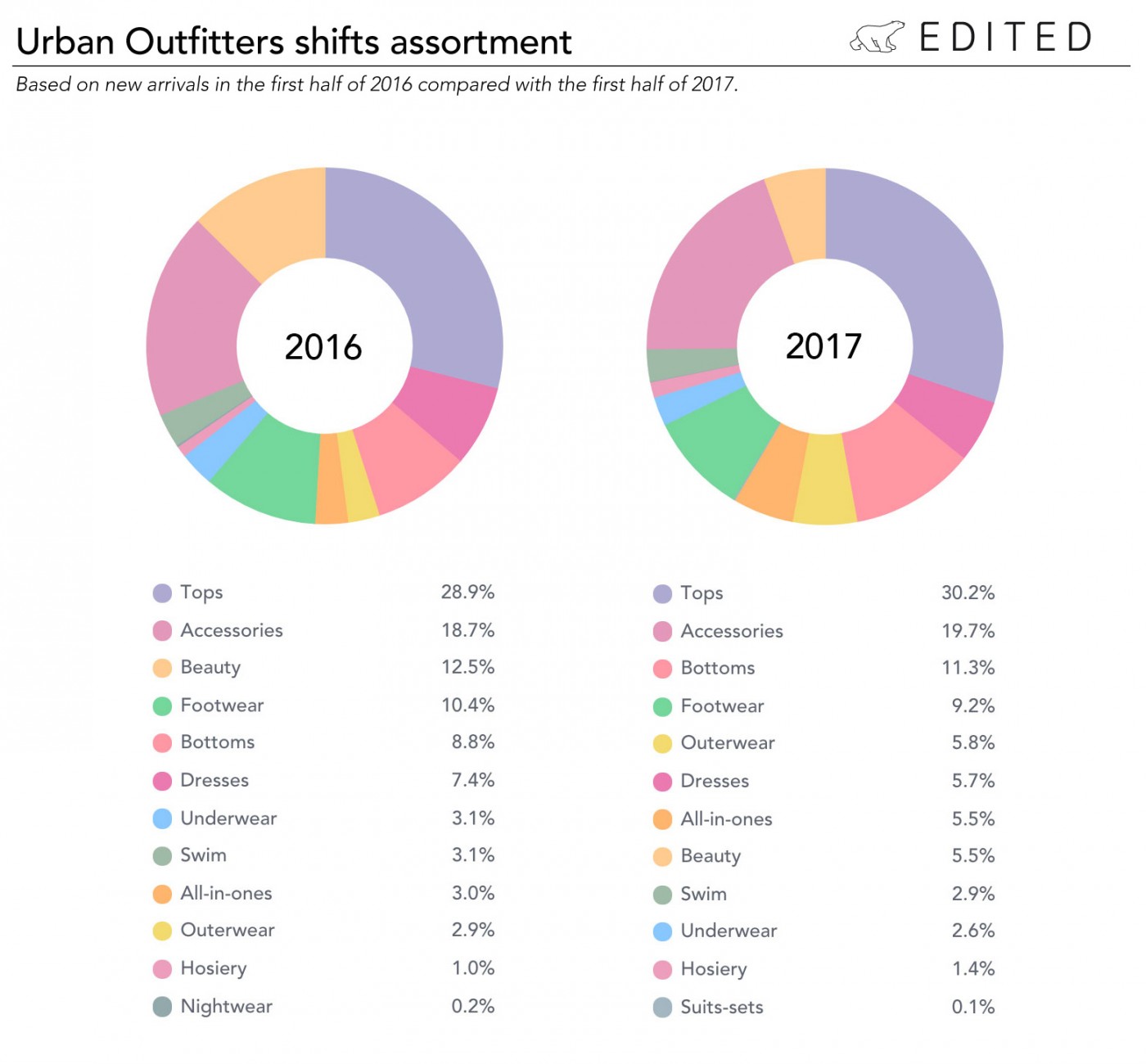 And it works!
Nearly all retailers we detected as having shrunk their newness also cut back on discounting in the first half of this year.
Notably, Ralph Lauren cut back on discounting by 19% and increased full price sell outs by 58%. Mango had a similar level of success, trimming the number of products it discounted in the first half of the year by 8% and increasing its full price sell outs by an astounding 295%. By selling less, these retailers are making fewer mistakes.
Downsizing assortments: by selling less, there's a group of retailers making fewer mistakes.
Not everyone is shrinking
Don't think that all retailers are cutting back – far from it! Neiman Marcus, Saks Fifth Avenue and H&M have all increased their newness, while cutting back on discounting and increasing full price sell outs.
Other ways to measure growth
Of course, the pressure to grow is driven by investors and stakeholders. Do these groups need more ways to measure or understand how a business is performing in the current climate? They could include metrics around:
Loyalty of consumers
Full price versus discounted
Sell through and replenishment
Retailers shouldn't fear this process. Although 'shrinking' carries negative connotations, 'fine-tuning' sounds skilled, 'curating' sounds nuanced and 'editing' sounds necessary. Let's embrace these terms!
Want to know more about how EDITED can help your business?
Request a live demo with one of our product specialists.