Ski season is here! Whether you're a seasoned ski bunny or a jerry, this sport is BIG business. In the US, the ski season contributed $11.3 billion to the national economy. In the UK, the industry has a value of £3 billion ($3.9 bn).
So strap on your skis, here's how you can get a piste of the action.
What's hot in minus degrees?
There's a significant interest in retro and vintage jackets, playing into 80s nostalgia. Color is key here and not just for fashion – you don't want to lose your friends on the slopes! Women's onesies have made a comeback with quantities doubling YoY in the British mass market, thanks to ASOS, Next, and Topshop.
Black makes up 34% of new women's skiwear arriving in the UK and 32% in the US. Think sleek and chic. You only have to check one of the Kardashian's Instagram to know polished ski looks come to play here. For a dash of color, neon and silver trims are trending. This look is all about sleek, fitted silhouettes.
For the masses
While we see the Royal family and the Beckhams hit the slopes in our newsfeed, snow sports are no longer reserved for the rich and famous. We've got budget flights and Airbnb to thank for opening up ski season to us regular folk. And fast fashion retailers for helping us dress the part.

Over the past few years, UK & US retailers who aren't ski specialists have dipped their toes into the market. These retailers keep their ranges tight due to the cost and production time on technical garments.
But there's been growth! We analyzed new women's skiwear arrivals from October 2018 to February 2019. Focusing on a selection of mass-market retailers, there has been a 65% increase YoY in the UK. Topshop have expanded their SNO range from 28 pieces to 40. ASOS 4505 have included skiwear options for tall, petite and curvy. Dorothy Perkins launched a range of ski jackets, salopettes and accessories at the end of 2018, despite not touching this market since 2011.
In the US, Walmart dominates the market for affordable ski apparel. Walmart aside, there was a 22% increase YoY in the women's mass & value market YoY. For 2017/18, Forever 21 tried their hand at a ski line which bore an uncanny resemblance to Topshop's SNO collection. The product launched in October/November 2017 and by Christmas, all items were reduced. They did not relaunch for 2018/19, indicating slow performance.
Price and product gaps
Despite mass market retailers lifting the numbers of skiwear apparel, it's still very much a luxury lead category. Since October 2018, we saw 260% more women's skiwear arrive in luxury than mass in the US.
Premium outdoor retailers are also sought-after in this space. Although sitting at a higher price point, these brands have seen commercial success. Patagonia reported sales have quadrupled over the past decade. And North Face's US revenue has grown by 15% for the quarter and 8% for the first nine months of 2018.
So how does mass market pricing compare? Can you get more bang for your buck?
We've tracked the average price of ski wear at mass retailers stocked in the US since October, along with key pricing and assortment opportunities.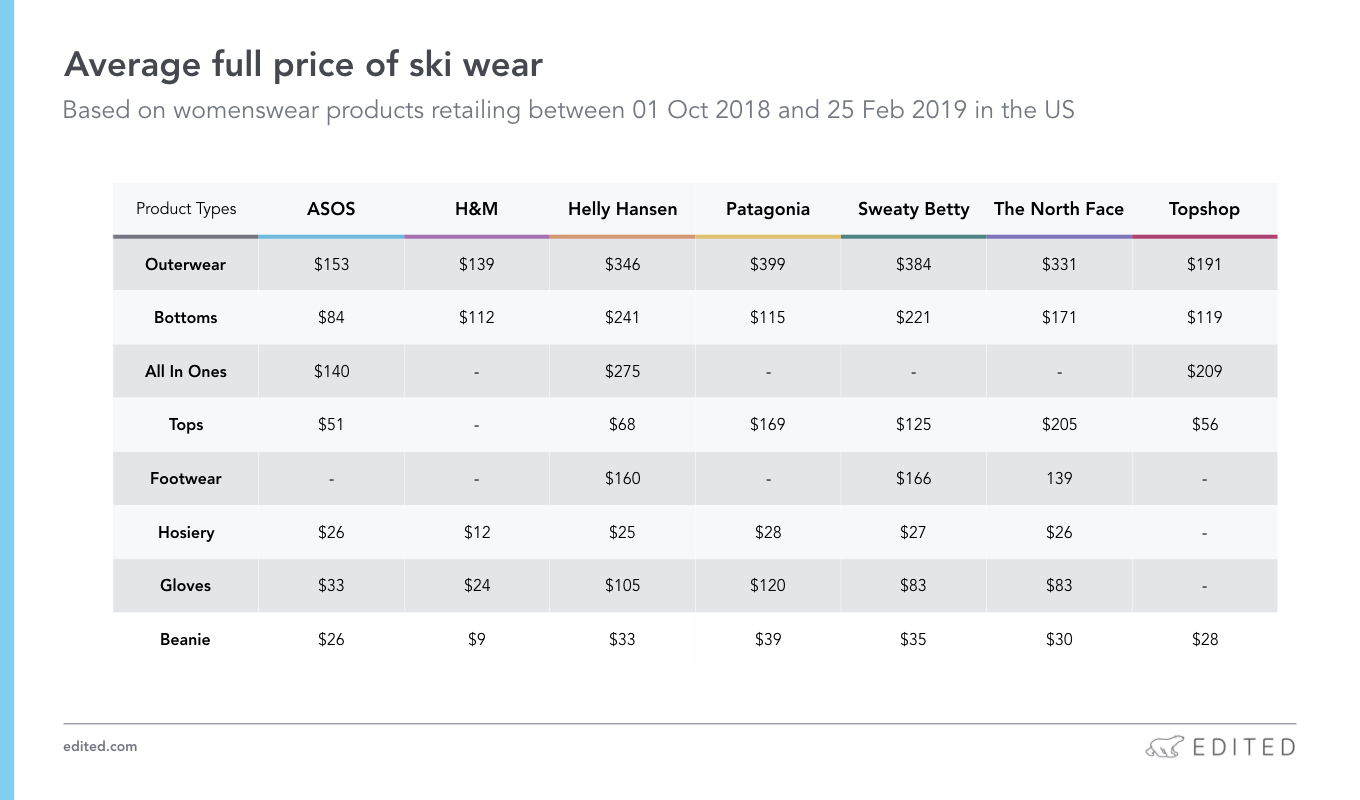 From the retailers analyzed, Patagonia outerwear clocked in with the highest average price. This is with good reason – their ski jackets are pretty technical. They are water-repellent, windproof and packed with features like pit zips to release heat, a 2-way adjustable hood and an internal stash for your essentials (après-ski brew).
Topshop SNO have kept their outerwear prices consistent over time, but upped the price of their all-in-ones more than $15 YoY. H&M dabbled in outerwear, salopettes, and accessories – however, the only ski-themed tops offered outside their standard knitwear range were "Apres-Ski" graphic tees. While ASOS didn't include snow boots in their 4505 range, they filled the void by bringing back retro ski brand Moon Boots for the first time since 2014.
Discounting periods
How do discounting periods line up with ski season? Looking at the graph below, it's interesting to note in 2017 the UK took the majority of their discounts first in December.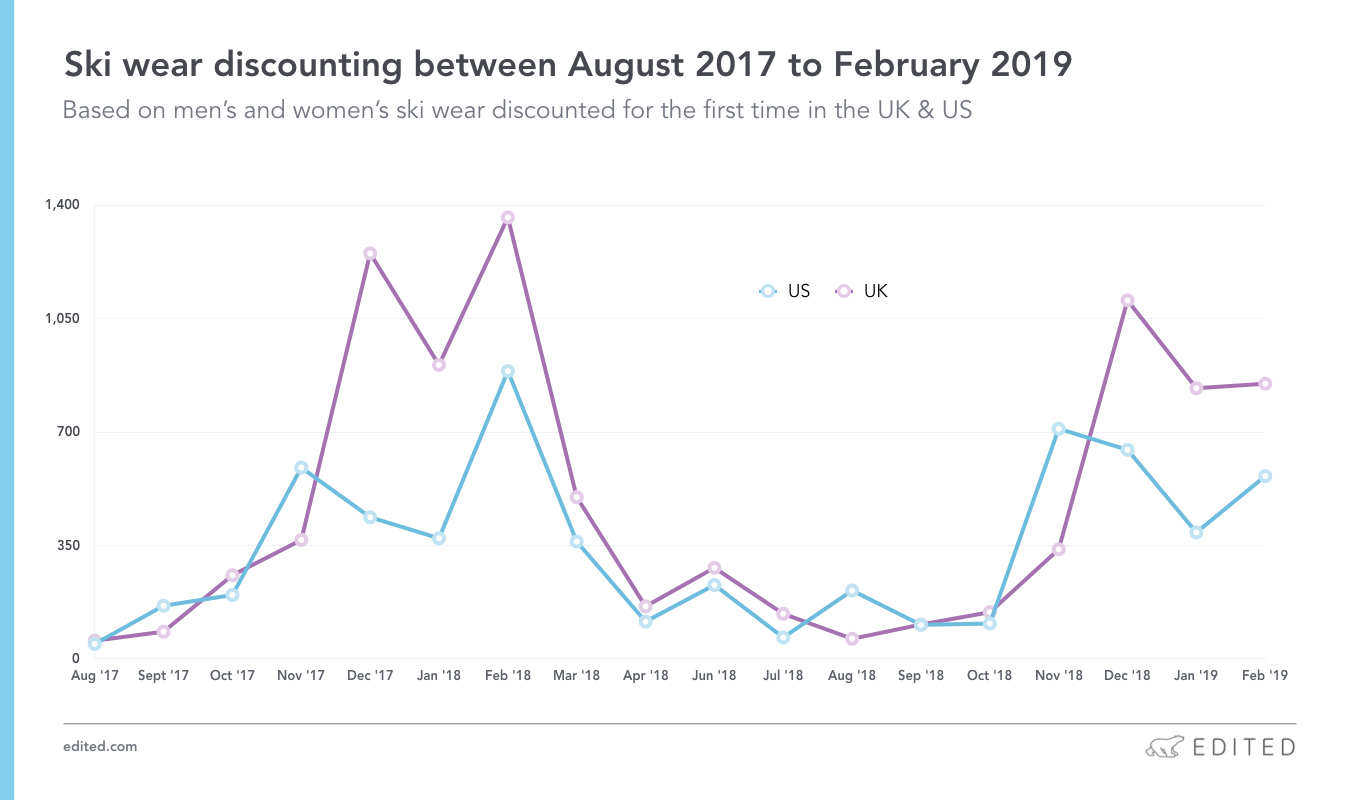 While the US saw a brief spike in November, the bulk of skiwear wasn't reduced until February 2018. As the US ski season runs longer (November until May/Early June compared to Europe shutting down in April), it makes sense to discount products later in the year.
Following a similar pattern in 2018, the US started making the majority of their discounts in December. There are fewer products being reduced across both markets as we near the end of February.
Comparing discounts by brand, last year the Topshop SNO line was first discounted in the UK one month ahead of the US. This pattern rings true for 2019, with styles from this season currently reduced in the UK yet still full price in the US.
So that's ski wear wrapped up! Mass-market skiwear is on the rise for womenswear and there's room for brands to grow their menswear assortment. If you've got EDITED access, you can check out key skiwear themes and product trends here.